A Comprehensive Guide to NY DMV Practice Permit Test
Driving is one of the most valuable and useful skills. To drive a car or any other motor vehicle in the state of New York, you have to obtain a driver's license. Having a learner's permit is the first step toward that goal.
In this article, you can find everything about learner's permits, driver's licenses, and the best DMV practice tests in New York.
We will show you what you need to apply for a driver's license and how to pass a written driver's exam.
What Does the New York Driving Test Consist Of?
Driving tests can differ from state to state. Each state has its rules and regulations that residents have to know by heart to be able to drive a motor vehicle. To get a driver's license in New York State, you have to take three separate tests. In the following table, you can see what the NY driving test consists of:
Driving Test Part
What Does It Include?
What Do I Need To Pass?

Vision screening

Doctor checking your overall eye health, depth perception, color recognition, and peripheral vision

Your score on the visual acuity test must be at least 20 out of 40 in at least one eye, with or without contact lenses

Knowledge exam

Test with 20 questions from the

Driver's Manual

about laws, rules, road signs, traffic markings, and safe driving techniques

You must answer two out of four questions about road signs correctly. The score has to be 14 or more to pass

Road skills test

Driving examiner testing your driving skills, including turning, parallel parking, driving through intersections, traffic stops, and much more

The examiner grades you with negative points. You must have less than 30 negative points to pass
How To Prepare for the NY Written Driving Test
As with any other test, the key to acing the knowledge test is preparation. The best way to get ready for the written portion of the NY driving test involves:
Studying from the handbook

—Reading the driver's manual is obligatory for a reason! Some information can only be found there. Driving any vehicle is a responsible task, so it's in your best interest to learn all the laws, rules, and regulations

Taking practice tests online

—Practice tests mimic the form of a real written exam, which allows you to get a clear idea of what you are preparing for

Repeating previous steps

—Rereading the manual is beneficial, especially if you can't recall some important rule. Retaking practice tests will pinpoint the information on which you should focus the most
Take the Best NY Permit Practice Test With DoNotPay
You read your driver's manual from cover to cover, and now you want to test your knowledge. With DoNotPay, you can practice as much as you want without worrying about the authenticity and quality of the questions.
If you decide to switch lanes and drive a commercial vehicle, you can practice for the Commercial Driver's License (CDL) general knowledge exam and HazMat test using our app.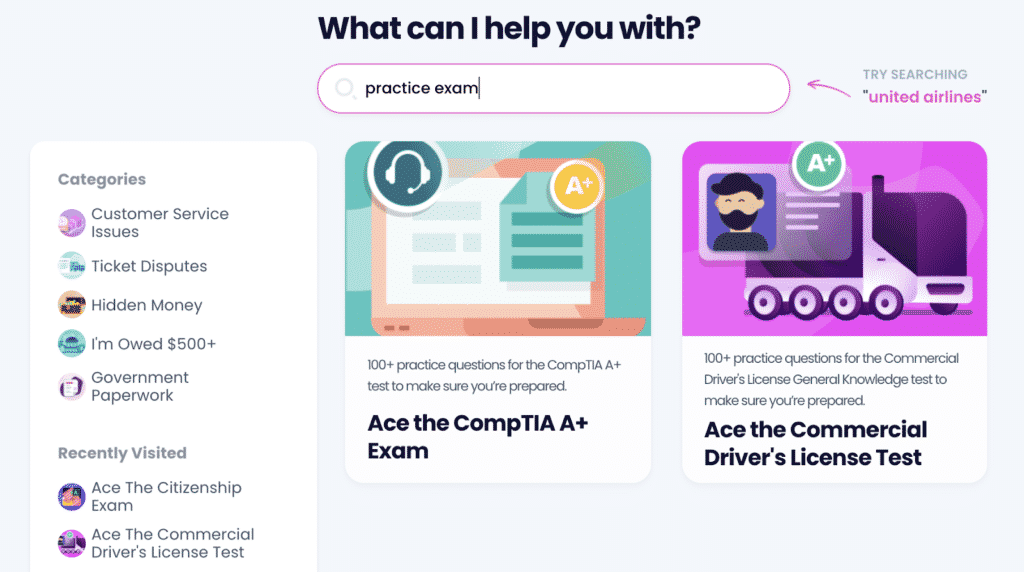 Follow these step-by-step instructions to take a DMV practice test:
Open DoNotPay in a

web browser

Search the type of test you want to practice for

Choose the test length—10, 20, or questions

Start your practice test
You can choose to retake the questions you answered incorrectly right away or check the results once you finish the practice.
If you're interested in taking a driving test elsewhere, we got your back. Take a look at some driving practice tests we have for:
What Else Does the Government Test Prep Service Offer?
We created a convenient feature that you can use to test your knowledge for various government tests. Our service has proven invaluable in getting our clients the best scores on the Armed Service Vocational Aptitude Battery (ASVAB) test and other tests, such as:
How To Schedule Your DMV Driving Test in NY State
Once you pass the vision test and written exam, you get to take the road test. If you feel ready and confident to take your knowledge to the streets, you should schedule a DMV appointment.
Here's how to make a DMV appointment in New York:
To schedule your DMV appointment online, you should follow these steps:
Go to the

Department of Motor Vehicles

website

Select the

Schedule Road Skills Test

option

Type in your DMV ID

Enter your date of birth

Confirm you're not a robot

Click

Log In
On the day of your road skills test, make sure to get enough sleep, arrive on time, and go through your driving test checklist.
Keep Your Data Safe With DoNotPay
Do you love free trials but are reluctant to disclose your credit card details, phone number, or email address?
Our app lets you try out different subscriptions in a risk-free way!
Use DoNotPay's Burner Phone feature to sign up for services without providing your phone number! We'll make sure robocall scammers and text spammers cannot harass you!
With our virtual credit card, you can sign up for any free trial and not worry about canceling it! Since the card is not linked to your bank account, no one will be able to charge you once the trial expires. An additional perk is that the card comes with a free email address, which means no spam emails from the company. 
DoNotPay Helps You Fight for Your Consumer Rights
Did you know that companies often reject first-time warranty claims?
You're probably familiar with how complicated the process of appealing parking tickets is. Trying to get a refund for an unsatisfactory purchase or a delayed flight has likely made you mad at least once.
Not anymore! DoNotPay makes all these issues go away in less than five minutes, and that is not all we can do for you!
You don't have to deal with customer service reps of any company on your own anymore—we do it all for you!
DoNotPay bypasses any bureaucratic obstacle for you—scheduling DMV appointments, delaying bill payments, getting in touch with your incarcerated loved ones, filing lawsuits in small claims courts, and claiming insurance policies.