The Secrets Behind a
Power Purchase Agreement
Thinking about changing your energy provider? Considering switching to solar power? You must be wondering whether signing a power purchase agreement is a smart move.
Signing any contract that you don't understand can be confusing—more so when the other party is a (potentially) big energy provider. 
Not to worry! We'll provide you with relevant info and explain all the protocols and rules revolving around power purchase agreements!
That's not all! Sign up for DoNotPay, and let us help you by drafting other agreements in your stead!
What Are
Power Purchase Agreements
?
Power purchase agreements are legally binding contracts signed by two parties:
The electricity provider

The electricity consumer
This agreement is used to set out the rules and obligations that both the provider and the buyer of electricity have to honor. This is usually a long-term contract that ensures continued energy supply to the consumer (buyer). The electricity buyer, in this case, can be a homeowner, small business owner, a company, or an institution.
What Does a
Power Purchase Agreement Include
?
To know exactly what you're signing, check out a list of the items that are generally included in the power purchase agreement:
Names and addresses

Effective date

Preemptive termination date

Delivery point

Pricing

Billing and payments
Names and Addresses
The names of both parties are usually the first item in the agreement. This should be followed by the seller's address and yours.
Effective Date
The effective date of your agreement is the date the document is signed, and it guarantees that the seller won't sell the output to someone else. This clause also ensures that you won't purchase the output from another seller.
Preemptive Termination Date
Terminating the agreement before the date both seller and buyer agree upon can happen. In such circumstances, it is important that you have the rules clearly set out about what to do and how the deal will be canceled.
Delivery Point
The delivery point where the sale of electricity takes place is usually determined by the buyer. If that's not the case, the power purchase agreement should specify where the transaction will take place.
Pricing
The electricity rates and prices can change over time if both parties involved are willing to negotiate. The power purchase agreement should specify how much energy the supplier should be producing every year and the amount that you have to pay for it.
Billing and Payments
This section should elaborate on everything that you should know regarding payments and invoices. The details should cover:
The payment method

Invoices

Late payments
Benefits of the
Power Purchase Agreements
If you want to know what the benefits of the power purchase agreement are, here are the two most common ones:
Steady and predictable costs

—You'll agree to a fixed rate in the agreement and won't have to worry about any unexpected costs later on regarding the market prices that constantly change

The easiest solution to gain access to solar energy

—You won't have to think about how solar energy will be delivered to your facility since the provider will deal with installation and maintenance
Thinking About Switching to Solar Energy? Learn About the
Solar Power Purchase Agreement
A power purchase agreement is a must, even if you're switching to solar energy. 
A solar power purchase agreement is a contract between the three involved parties—the solar developer, the host customer, and the third-party solar provider. This agreement ensures that the developer will take care of the solar panel installations from top to bottom.
The installation happens on the property of the host customer, and the developer covers the costs of everything, from financing to installation.
Wondering How To Create Legal Contracts Trouble-Free? DoNotPay Will Walk You Through It!
If you've been searching for the easiest and most efficient way to compose your legal documents, DoNotPay is the way to go. With our app, you will save a ton of time and skip the confusion altogether. We draft your documents for you!
Follow the instructions provided below, and your document will be drafted in minutes!
Subscribe to DoNotPay

from any web browser

Provide us with the

name of the document or contract

you want us to generate

Give us some additional info, such as the parties' names and addresses
Depending on the document you want, it may be required that the parties involved get it notarized besides signing it.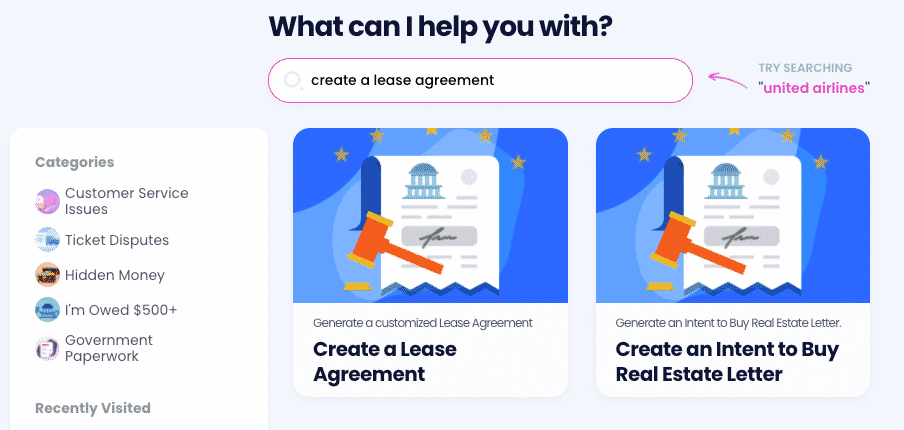 There is no shortage of contract templates we can offer you and legal documents we can assist you with creating! If you need help with any of the ones we listed below, count on DoNotPay to provide you with the most efficient and easy-to-follow instructions:
Business
Other

Intent To Purchase Real Estate

Estoppel Certificate

Quitclaim Deed

General Affidavit

Promissory Note
Can't Afford a Lawyer? DoNotPay Will Jump In!
Did you know that you don't have to waste money on expensive legal help just to get rid of some minor bureaucratic issues? DoNotPay is here to save you hundreds of dollars with ready-to-use solutions that require mere minutes.
Our AI-powered bots gather the most important information via short questionnaires, draft required legal documents, and provide you with online fax services. If you need specific public records to support your case, we'll point you in the right direction.
With our virtual lawyer's help, you will be able to:
Spend Your Time on More Enjoyable Activities
With DoNotPay's help, you're bound to have more free time. If you're considering a new streaming platform subscription, make use of its free trial without worrying about unwanted charges. Need to get rid of other subscriptions? Use DoNotPay to cancel them without contacting customer support centers.
Don't worry about phone number identification at the signup. With our Burner Phone feature, spam text messages won't be bothering you ever again!