A Complete Guide to Creating a Power of Attorney in Wisconsin
A power of attorney (POA) is a legal document that can give immense power to the attorney-in-fact. A POA needs to be drafted with care as the principal needs to have a document that suits their needs perfectly. If you want to know what the requirements for a power of attorney in Wisconsin are, DoNotPay will gladly help!
Our article will provide you with all the necessary details regarding the power of attorney documents and show you how to get one without a hassle!
What Does the Law Say About a Wisconsin Power of Attorney?
A power of attorney is a legal document that grants authority to a person (the agent) to act in another person's (the principal's) stead. In the State of Wisconsin, a POA is considered durable by default and is effective upon the execution of the agreement unless the document states otherwise.
Durable Power of Attorney
A durable power of attorney allows the agent to handle the principal's financial and business matters. It stays in effect even in the case of the principal's incapacitation or inability to make their own decisions.
Springing Power of Attorney
A springing power of attorney is triggered by the occurrence of an event stated in the document. The principal can authorize one or more persons to determine and confirm that the event took place, after which the POA gets activated. If the POA is to become effective upon the principal's incapacity and they haven't authorized anyone to determine that, the POA will become effective if:
A physician or a psychologist confirms that the principal is unable to make decisions for themselves
A judge or a governmental official determines that the principal is incapacitated
What Are the Powers That a Financial Power of Attorney in Wisconsin Transfers?
Upon signing a power of attorney letter, the agent gets the powers mentioned in the document and has to fulfill them. Check out the table below for more details:
Authority To Deal With:
Duties To:

Real property
Tangible personal property
Digital property
Stocks and bonds
Commodities and options
Banks and other financial institutions
Operation of entity or business
Insurance and annuities
Estates, trusts, and other beneficial interests
Claims and litigation
Personal and family maintenance
Benefits from governmental programs or military service
Retirement plans
Taxes

Act in good faith
Do what the principal expects and act in their best interest
Do nothing beyond the authority granted by the power of attorney
Disclose their identity whenever acting for the principal
Act loyally for the principal's benefit
Avoid conflicts that would impair the ability to act in the principal's best interest
Act with care, competence, and diligence
Keep a record of all receipts, disbursements, and transactions made in the principal's stead
Cooperate with any person that is allowed to make health-care decisions for the principal
Attempt to preserve the principal's estate plan
How To Get a WI Power of Attorney
To get a power of attorney document in Wisconsin, you will have to:
Draft one yourself—In case you want to create a POA on your own, you need to:

Choose an agent who's reliable and trustworthy
Include the legal names of all parties, including their contact information
Select the specific powers and duties the attorney-in-fact will have
Add the date of document execution
Get the power of attorney notarized (it's not required by the state laws, but it's highly recommended as a notary's signature will add legal weight to the document)

Hire a lawyer—Hiring a lawyer to draw up a POA for you is a safe and reliable solution, but it will cost you a pretty penny as these services entail sky-high fees
Download a template—Various websites have free POA templates available for download. You need to be careful when looking for one because some templates contain grammatical errors and might not suit your specific needs
Use DoNotPay—If you want a solution that's both reliable and won't break the bank, DoNotPay will provide it for you. Once you sign up, our Create a Power of Attorney product will draw up a professional POA in your stead that's tailor-made
Getting a Durable Power of Attorney in Wisconsin With DoNotPay Is a Piece of Cake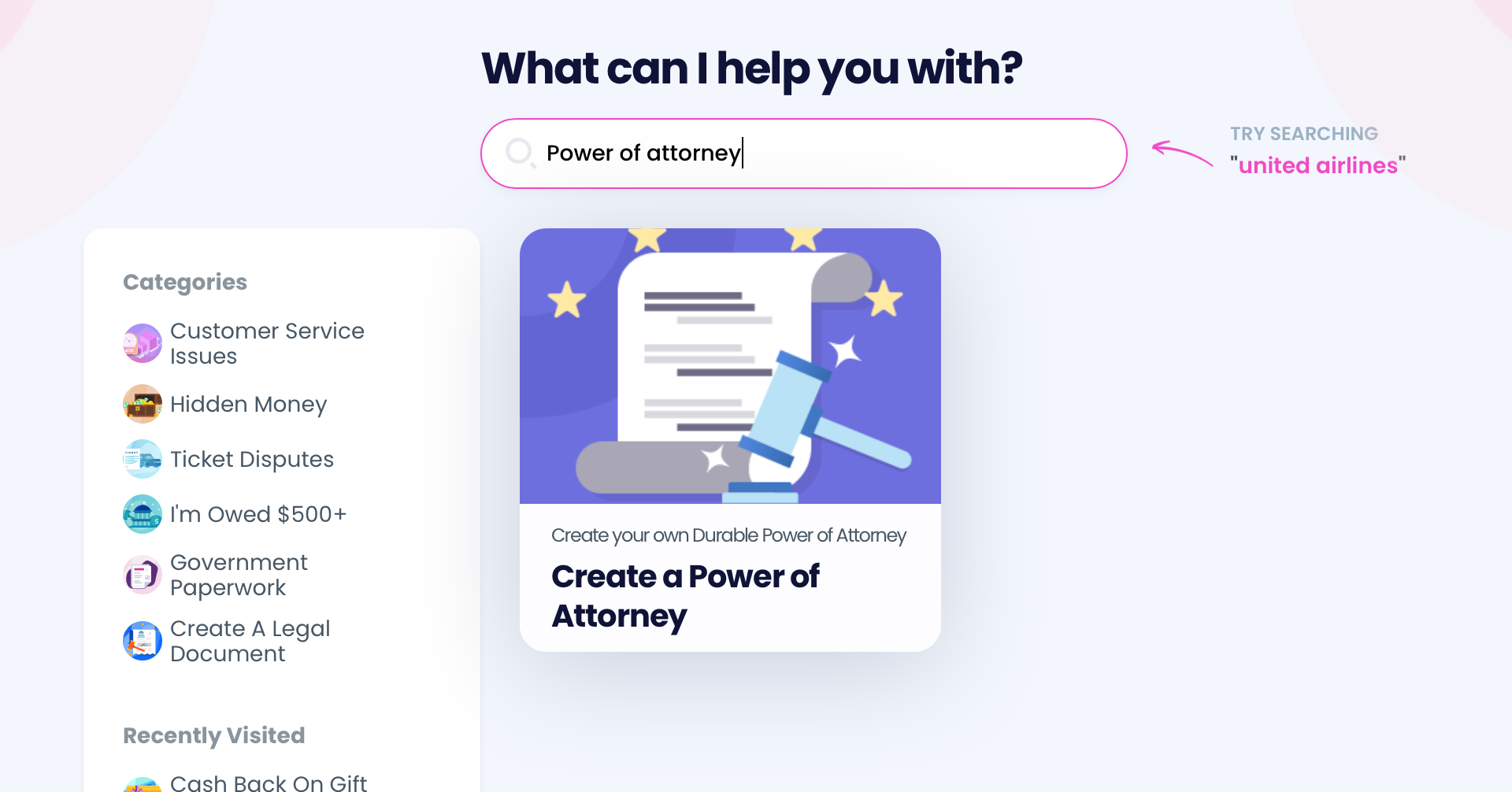 The easiest and most effective way to get a durable POA in Wisconsin is to use DoNotPay. We will generate a power of attorney document for you in a few minutes, and all you have to do is:
Select our Create a Power of Attorney product
Choose which powers you want to include in your POA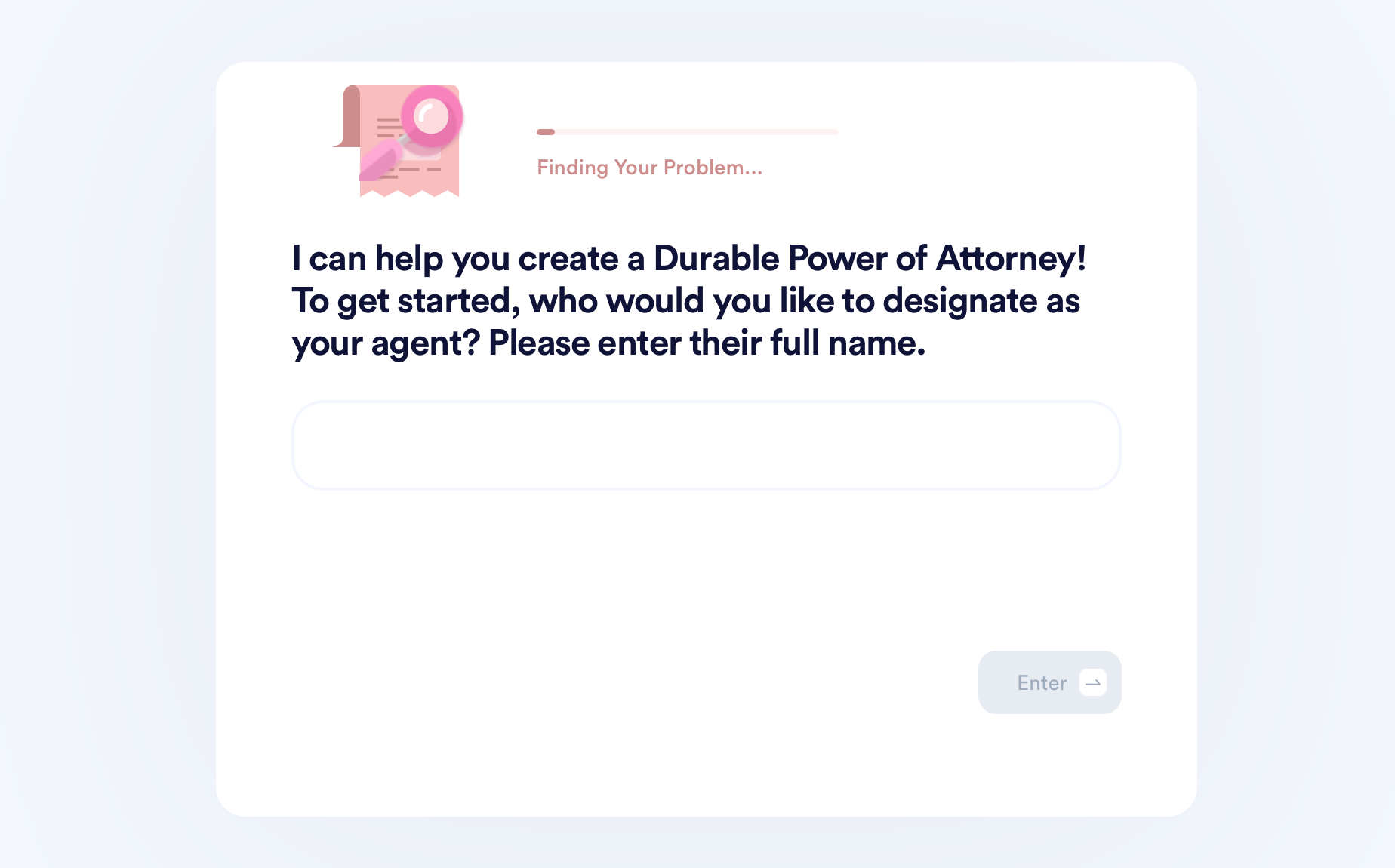 We will automatically generate your power of attorney agreement, along with two important notices that need to be read by both the principal and the agent.
If you want to get your POA notarized the easy way, you can use DoNotPay for that, too! Our Notarize Any Document product will set up an appointment with an online notary in no time, and you'll obtain their signature and stamp without leaving the app.
If you need additional information about different types of power of attorney documents, check out these articles DoNotPay has prepared for you:
| | |
| --- | --- |
| Power of Attorney Types | Frequently Asked Questions About POA |
| | |
DoNotPay Makes All Issues Go Away in Several Clicks
Using DoNotPay comes with plenty of advantages, the main one being that you can resolve just about anything in a matter of clicks. It doesn't get any easier than that!
Do you need to fax a document, draw up an agreement, submit a FOIA request, get a contract notarized, file a warranty or insurance claim, get a burner number, schedule a DMV appointment, or appeal a parking ticket as soon as possible? Sign up now and clear out your schedule because we'll handle it all!
Are you looking for your missing money? Do you need help with your utility bills or property taxes? We're here to help!
Get Rid of Paperwork With Your AI-Driven Assistant
Even though paperwork belongs in the past, we have to keep dealing with it almost daily. To avoid this annoyance, you can just use DoNotPay!
If you need to compose a demand letter to a rude neighbor, submit a claim for a late or missing package, request compensation from an airline, or sue any company in small claims court, we have your back!
All you need to do is sign up, tell us what you need, and resolve any issue in a matter of minutes!