Power of Attorney in Washington State—The Essentials
How do you create a valid power of attorney? Apart from deciding which authorities you should grant and to whom, you need to make sure the document complies with state-specific laws. Before creating a power of attorney in Washington, you need to familiarize yourself with the state's rules about writing and enforcing the document.
In this article, we will provide the details about writing a power of attorney in Washington state. We will also show you how to create the Washington durable power of attorney with a few clicks!
Washington State Power of Attorney—Different Types
According to Washington state law, a power of attorney (POA) can grant an individual (agent) powers to make various decisions on behalf of the document's creator (principal). Those decisions can relate to:
Health
Family
Business
Finances
Real estate
General matters
Depending on the duration and scope of authority they are willing to grant their agent, the principal can choose one of the following types of POA:
General—It gives the agent all property-related and financial decision-making powers. The contract automatically expires once the principal dies or becomes incapacitated
Durable—The principal authorizes the agent to make decisions on their behalf even after they become incapacitated
Limited—The agent has limited powers (they can decide on specific matters or for an established period)
Medical—It gives the agent authority to make medical decisions for the principal if they become physically or mentally incapable (e.g., fall into a coma)
Financial—The agent is responsible for managing the principal's financial matters
Springing—This document comes into effect after a specific event in the future (typically leading to the principal's incapacitation)
Any power of attorney created according to Washington state law is automatically considered non-durable. That means the agent's powers will expire once the principal becomes incapacitated unless the document specifically states otherwise.
What Are Washington State Power of Attorney Requirements?
A power of attorney in Washington has to meet the requirements of a Washington Uniform Power of Attorney Act. The document must contain the following information:
Principal's and agent's full names and addresses
Powers granted to the agent
Limitations to the agent's powers, if any
Start and end date of the agent's authorities
Date of the document's execution
Signatures of the principal, agent, and a notary public
Does a Power of Attorney Need To Be Notarized in Washington State?
The Washington state law considers a power of attorney enforceable only if the signatures on the document are:
Acknowledged by a notary public or another individual authorized by law to take acknowledgments
Attested by two or more objective witnesses who aren't:

Home care providers for the principal
Care providers at the adult family home or long-term care facility in which the principal resides
Relatives of the principal or agent by blood, marriage, or state-registered domestic partnership
How To Get a Power of Attorney in Washington State
Creating a power of attorney is not easy since you must ensure that the document:
Contains all crucial sections
Is clear and concise
Meets all state-law requirements to a tee
If you decide to create a POA according to the Washington state law, you can do it in various ways, such as by:
Hiring a lawyer—Lawyers are reliable and know all about specific state laws, but their services are typically quite expensive for an average citizen
Using a POA letter template—Online contract templates require a fair amount of customization
Signing up for DoNotPay—Our app combines affordability and professionalism to deliver a top-notch power of attorney
Take a look at the table below for a summarized assessment of each method:
| | | | | |
| --- | --- | --- | --- | --- |
| Ways To Create a POA | Reliability | Affordability | Professionalism | Simplicity |
| Lawyer assistance | ✓ | ✗ | ✓ | ✓ |
| Contract template | ✗ | ✓ | ✗ | ✗ |
| DoNotPay | ✓ | ✓ | ✓ | ✓ |
Create a Durable Power of Attorney in Washington State With DoNotPay
Creating a durable power of attorney is a huge responsibility, but that doesn't mean it has to be an expensive and complicated process.
Our app can create a bullet-proof durable power of attorney in minutes and help you notarize it using the same platform!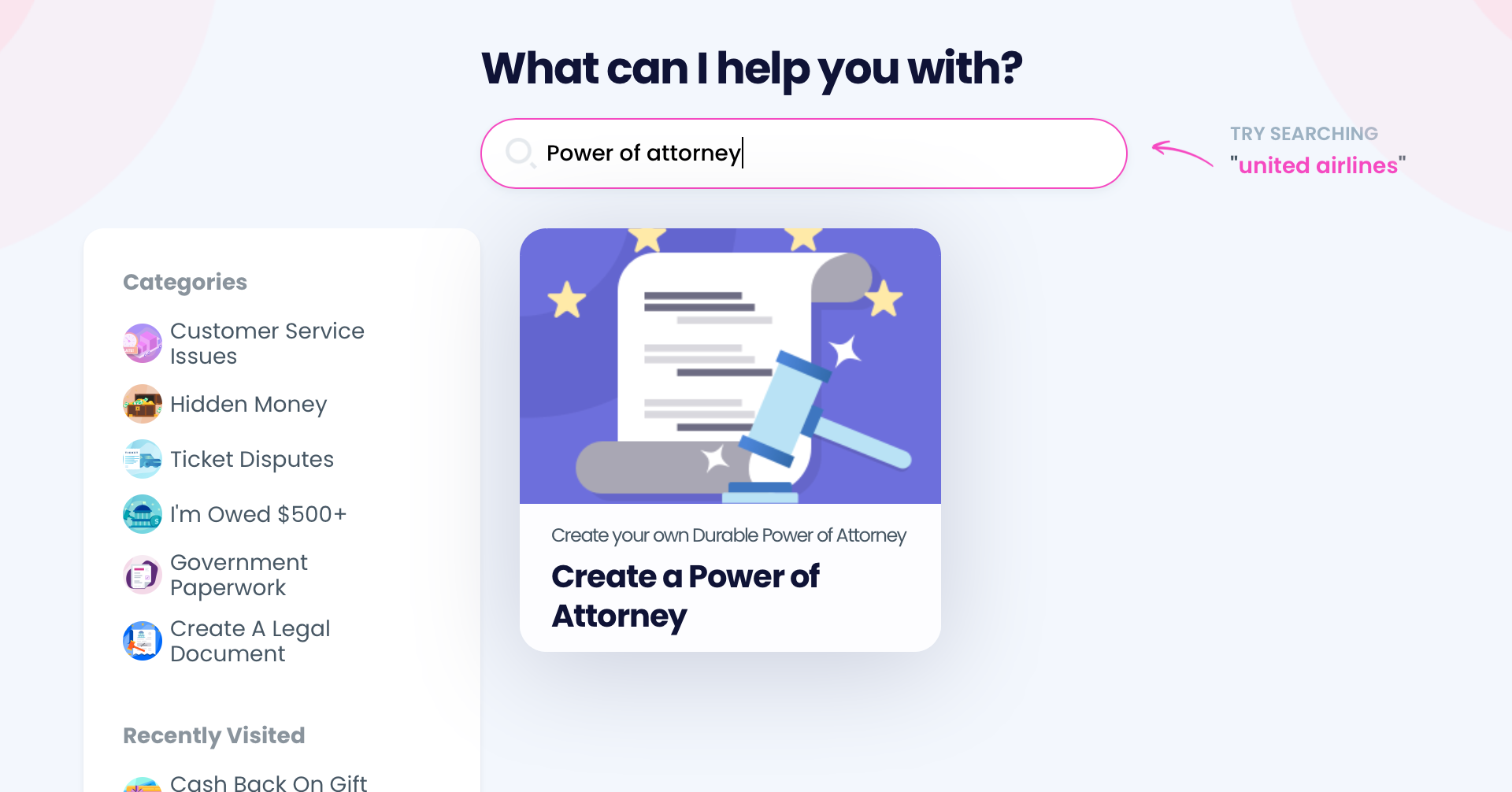 Here's what you should do:
Access DoNotPay from a web browser
Select our Power of Attorney tool
Provide essential details about your agent, state of residence, and power you're granting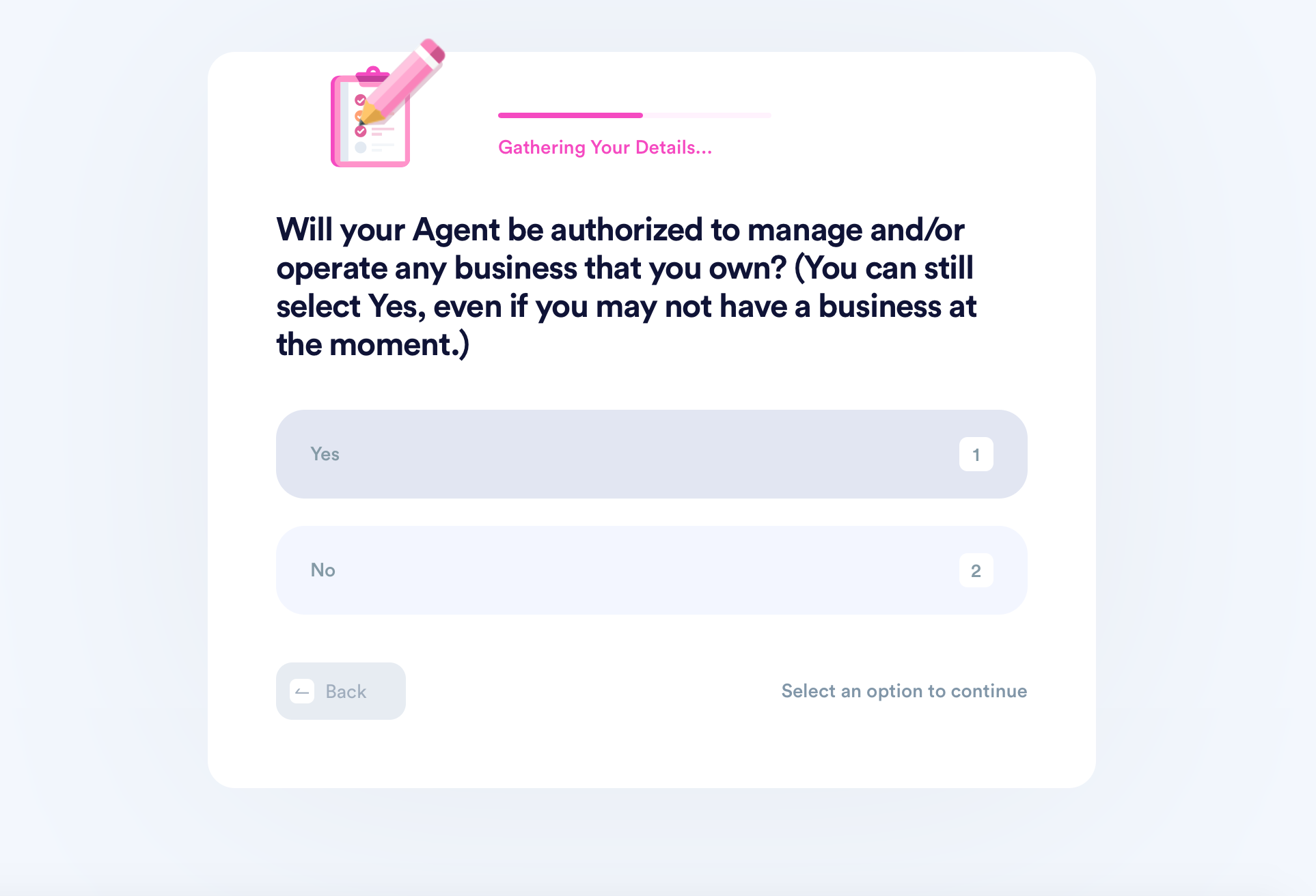 Our app uses the provided information to create a personalized and law-compliant document. We will send it to you together with two notices you and your agent are required to read before signing.
Since you should get the POA notarized, make sure to choose the appropriate option in our questionnaire so we can connect you to an online notary. You can complete the whole process from the comfort of your chair!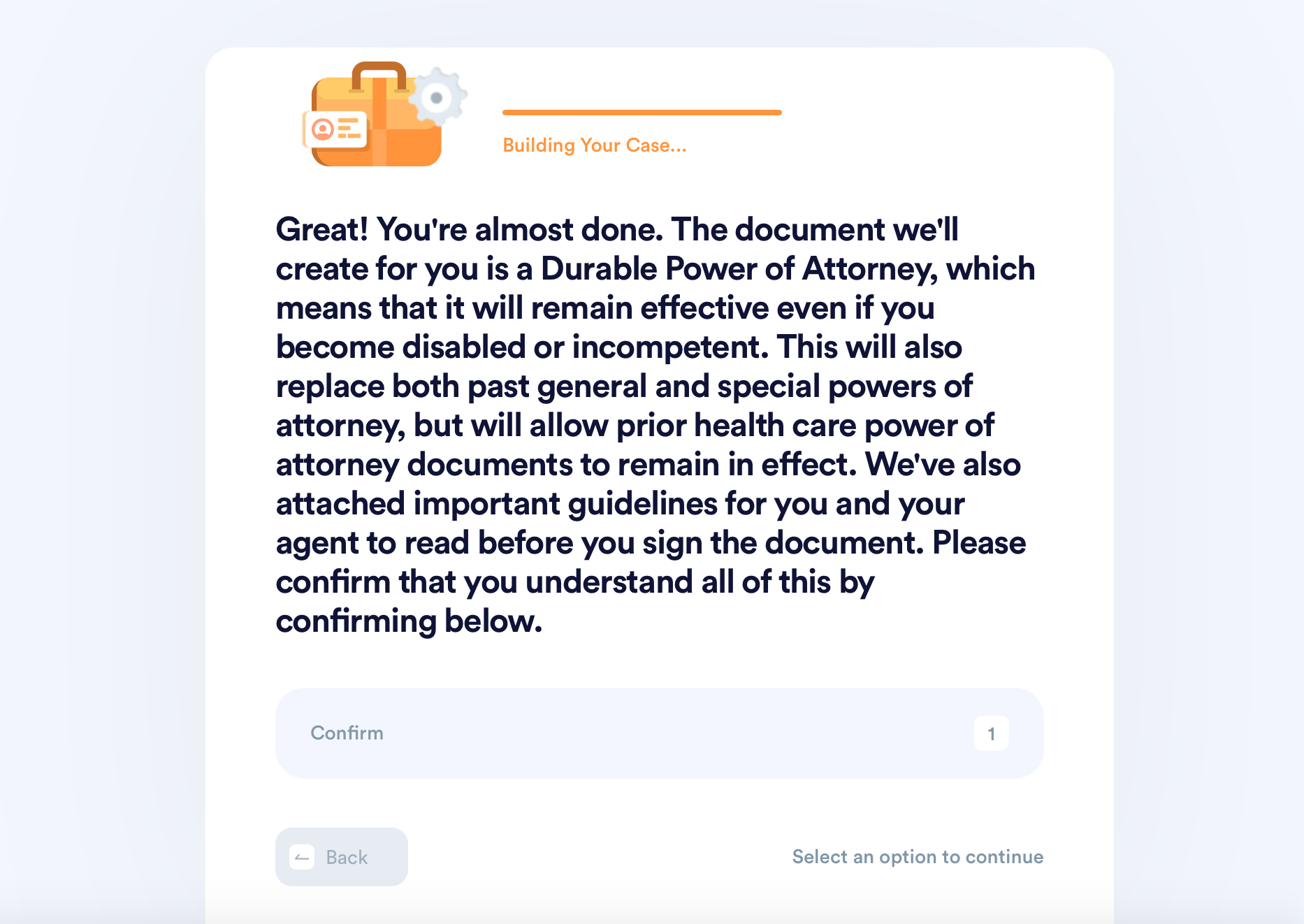 Interested in finding out more about powers of attorney? Read our articles and get informed on the following:
Good Things Come in Small Packages
Siri and Google Assistant are great in their own right, but their skills leave a lot to be desired when it comes to the practicalities of our daily lives. DoNotPay is an app, a true pocket-sized assistant that has the power and the know-how to help you deal with navigating bureaucracy and fighting for your rights efficiently.
Our platform, accessible from your phone or computer, is brimming with products that will help you:
From Government Tests Preparation to Copyright Protection
Whether you are getting ready for your driving test or wish to protect your creative work, DoNotPay has something in store for you.
We can help you handle some serious tasks—like suing someone in small claims court or reporting workplace discrimination—or deal with more mundane activities, such as getting that leftover money from your used gift cards.
The best part is that your DoNotPay subscription gives you access to all our services, be it online fax or virtual credit cards!