Power of Attorney vs. Health Care Proxy—Main Differences
If you were wondering what the difference between a health care proxy and a power of attorney (POA) is, you're on the right website. In this article, we'll explain the main "power of attorney vs. health care proxy" differences, and we'll show you how to create a durable POA in a few steps.
The Main Difference Between a Health Care Proxy and a Power of Attorney Explained
The main difference between a power of attorney and a health care proxy is that the latter is used only for healthcare-related decisions, while a power of attorney grants broad authority to an agent, mostly regarding financial matters.
Generally, lawyers advise against combining these two documents into one because the principal might decide not to choose the same person to be their agent and medical proxy. The person who has the power to make both financial and medical decisions on behalf of someone would have a lot of power.
An agent appointed by a power of attorney should be someone trustworthy when it comes to financial decisions, while a medical proxy should be someone who shares moral, ethical, and religious values with the principal.
Before you decide which document you need to create, you should learn as much as possible about both of them.
What Is a Health Care Proxy?
A health care proxy—also called an advance medical directive or medical power of attorney—is a legal document that grants the agent (proxy) power to make health care decisions on behalf of the principal. It comes into effect once the principal is mentally or physically unable to make decisions by themselves.
Any adult of 18 years or older may be a health care proxy. People usually choose a close friend or a family member as an agent. If the principal names a spouse as their health care agent and they get divorced or separated, the spouse can't act as a proxy.
The principal can also decide to appoint their doctor as the health care agent, in which case the doctor can't treat them anymore.
Before signing a health care proxy, the principal should discuss the powers granted in the document with their potential agent. When the principal chooses an agent, they need to make sure that the healthcare providers will honor their wishes. The agent will start making decisions on behalf of the principal once the doctor determines that the principal is no longer able to do so.
In case the principal didn't appoint anyone as a health care proxy, the court will assign someone to make medical decisions in their stead.
What Is a Power of Attorney?
A POA is a document that transfers certain powers from one person—the principal—to the other—an agent. The rights that the agent will have depend on the kind of power of attorney the principal creates. Check out the table below to learn more about all the POA types:
Type of Power of Attorney
Details
General
This type of document permits the agent to act on behalf of the principal in all matters, as allowed by the state. The agent may have the power to:

Manage bank accounts
Sign checks
Buy or sell real estate
File taxes

A general power of attorney terminates if the principal becomes mentally incapable of making their own decisions

Durable
A durable POA is a document that enables the agent to take care of finances on behalf of the principal. It doesn't end if the principal becomes incapacitated.

This document stops being valid only if:

Principal passes away
Agent is unwilling to continue acting on the principal's behalf
Principal revokes the document

Limited
A limited power of attorney permits the agent to act upon the specific aspects of the principal's finances. This type of POA can be limited by time too
Financial
A financial POA allows the agent to deal with all sorts of financial matters in the principal's stead
Springing
A springing POA is an agreement that goes into effect after a specific date or occurrence stated in the document
How To Create a Power of Attorney
If you'd like to write a POA, these are the steps you should follow:
Select the agent
Download or buy a POA form
Decide which powers the agent will have
Fill out the form
Make the document official
Creating a POA by yourself can be difficult and complicated, but if you use DoNotPay, you will do it in a few minutes.
Rely on DoNotPay To Create a Durable POA in Minutes
DoNotPay's Create a Power of Attorney will help you create a POA in a few clicks. We will do everything on your behalf—all you need to do is answer a few questions. The information we'll need is:
Agent's name and address
Co-agent's name and address (if you want to appoint one)
Powers that you want transferred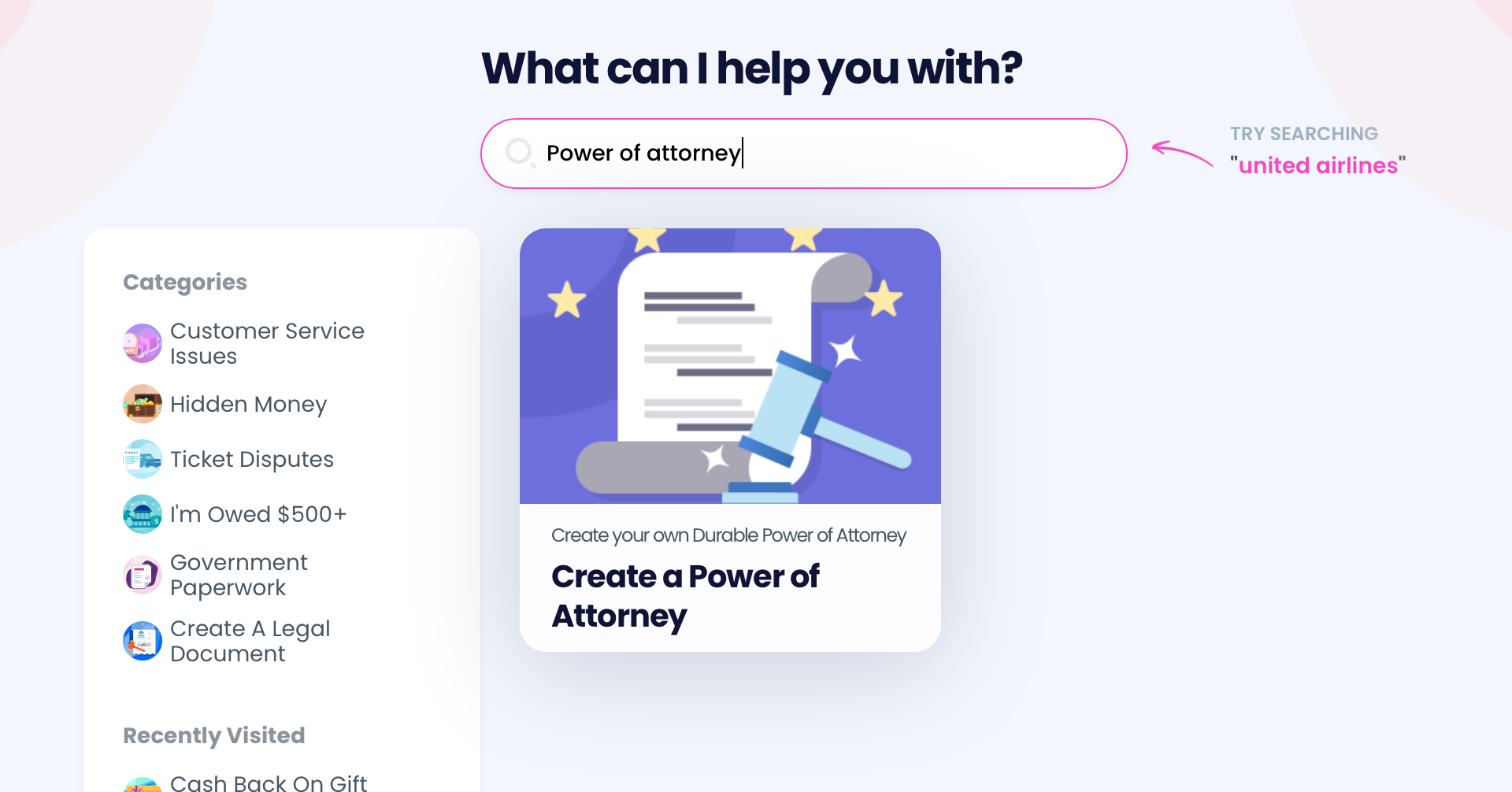 Sign up for DoNotPay and follow these steps to create a durable POA in no time:
Find the Create a Power of Attorney product
Input all the necessary information
Click on Confirm
After you complete these steps, our platform will create your POA letter automatically. We'll also provide you with two notices that you and your agent need to read before signing.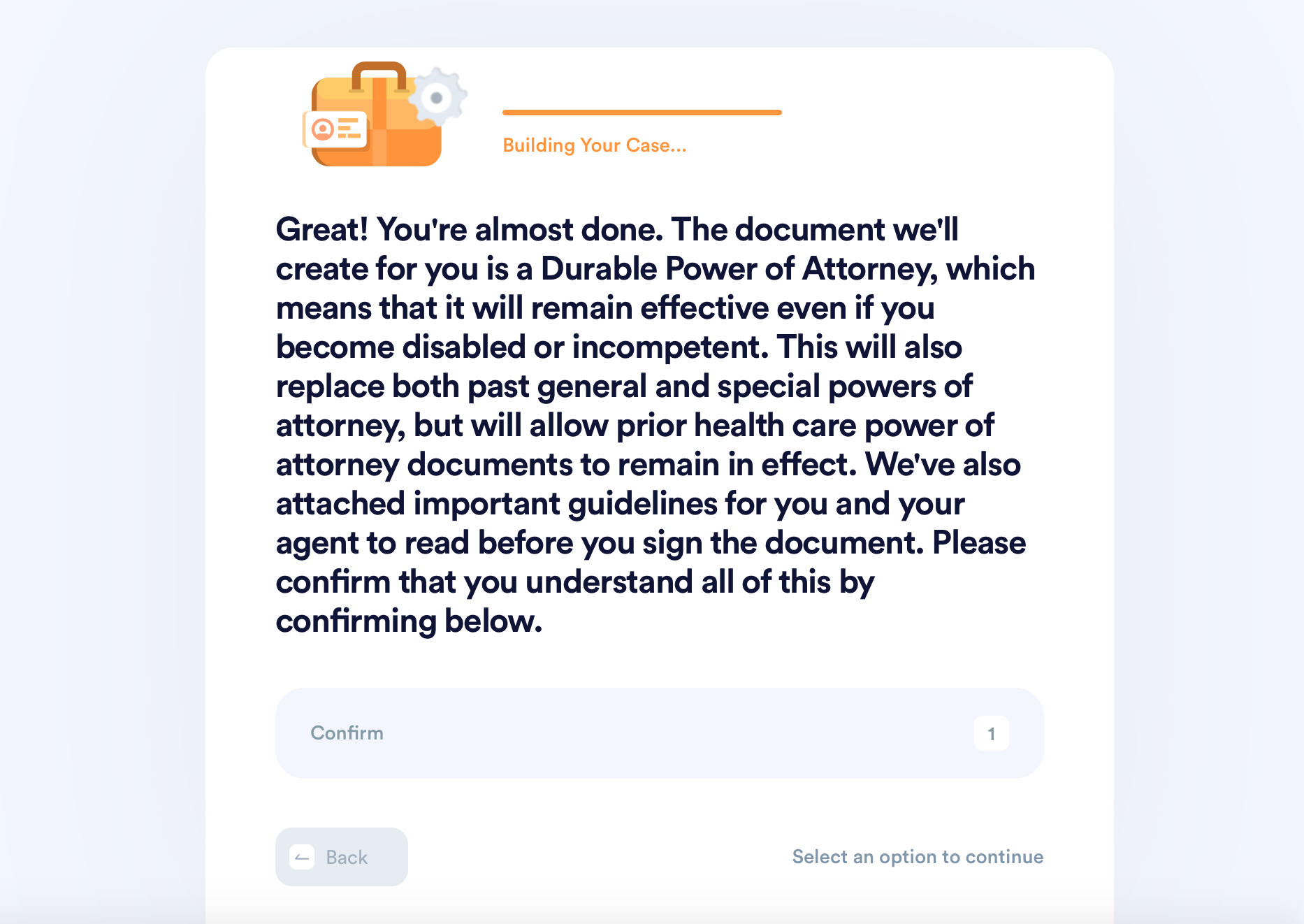 If you live in one of the states where the law requires all POAs to be notarized, we can help with that too. You can select this option directly from the Create a Power of Attorney product at the end of the questionnaire. We will schedule an appointment with an online notary, and they will witness your signing of the document via a live video call.
DoNotPay—Easy Fixes for Your Daily Struggles
Calling customer support takes hours. Dealing with refunds and chargebacks takes weeks or sometimes months. And don't even get us started on DMV appointments. The good news is that, with DoNotPay, you don't have to stress out about these tasks any longer.
Our platform can help you turn exhausting administrative troubles into two-minute tasks. Thanks to AI technology, you can easily create legal documents, request compensation for canceled flights, send a complaint letter to your neighbor, or book appointments with online notaries.
Diversity of services is one of the biggest advantages DoNotPay offers, and the best part is that our subscription won't cost you an arm and a leg.
Do You Need Help With Anything Else?
All you need to do is ask, or in this case, sign up for DoNotPay, and the world of practical, user-friendly products awaits. Finishing boring or annoying tasks with the help of our AI bots is fun, easy, and super intuitive—you won't need any special knowledge of legalities or administrative terminology.
With our help, you will be able to: