Step-by-Step Instructions on How To Create a Power of Attorney in Virginia
Do you need a well-written power of attorney (POA) in Virginia? Look no further! DoNotPay is here to provide all the details regarding a POA document and offer instructions on how to create one yourself. We can also help you draft a durable power of attorney in a few clicks so that you can avoid hiring a lawyer or going through this complicated process alone!
How Does a Power of Attorney in VA Work?
A power of attorney is a document that gives certain powers to the appointed attorney-in-fact, also known as an agent. The person who grants these powers is called the principal.
Depending on which authorities they want to give, the principal can choose one of these POA types:
General—Permits an agent to make financial and health care decisions in the principal's stead. The agent's powers end if the principal becomes mentally incapacitated
Durable—Remains in effect even after the principal becomes incapacitated. The agent can make only financial and legal decisions on behalf of the principal
Springing—Spells out the conditions under which a durable POA comes into effect
Limited—Grants limited financial powers to an agent
Financial—Allows an agent to oversee the principal's finances and pay bills or handle various business and real estate transactions on the principal's behalf
Virginia is one of the 26 states that follow the Uniform Power of Attorney Act, which means that every POA is durable by default unless stated otherwise. As opposed to a general POA that stops being valid once the principal becomes incapacitated, a durable power of attorney stays effective even after that happens. It stops being valid only if the principal revokes it while of sound mind or passes away.
What Are an Agent's Powers?
An agent's powers mainly depend on the type of POA that's being signed, but they generally include the following:
An Agent Can
An Agent Cannot

Act within the authority that the POA grants
Manage the principal's financial affairs and conduct business
Manage the principal's bank accounts
Sign checks
Sell property and other financial assets
File taxes
Make health care decisions (if they sign a general or medical POA)

Make alterations to the principal's will, trust, or other estate planning documents
Act outside of the principal's interests
Vote instead of the principal
Transfer the powers to someone else
Make decisions when the principal passes away
What Are the VA Power of Attorney Requirements?
One of the main requirements for a POA in Virginia is that it must be in writing. The document must contain the following:
Signatures of both parties
Principal's and agent's contact information
The date when the agreement is made
Powers that the principal grants
The time when the POA begins and ends (if applicable)
Signature of a notary
In Virginia, the notarization of a POA isn't a requirement, but it is strongly recommended.
How Long Does a POA in VA Stay Valid?
A power of attorney in Virginia is effective until:
Principal passes away
Agent passes away, resigns, or becomes mentally or otherwise impaired
Principal revokes the POA
Agent carries out the purpose of the POA
Parties agree to revoke the document
Even after the principal appoints someone to be their agent, they don't lose the power to make decisions or conduct business. As long as the principal is mentally capable of doing so, they will have the right to manage their affairs.
How To Appoint Power of Attorney in Virginia
To grant and receive power of attorney in Virginia, both the principal and the agent need to be:
At least 18 years old
Of sane mind
Able to understand what they're doing
Creating a POA can be challenging, but if you decide to do it on your own, you should follow the steps below:
Choosing the agent
Selecting the right POA type
Specifying the details
Filling out a POA form
Signing the document and getting it notarized
Choosing an Agent
Since being an agent is a huge responsibility, the principal needs to make sure that the person they're choosing is trustworthy and willing to act in that role. If the principal doesn't have a friend or a family member who is willing to carry out their wishes, they can hire a fiduciary.
Selecting the Right POA Type
Picking out the correct type of POA is an important decision since it will govern the powers of the agent. If the principal chooses to hire a fiduciary, they should create a limited power of attorney. When it comes to a family member or a friend, the principal can choose a durable POA.
Specifying the Details
The principal should write down exactly what the agent will be authorized to do to avoid confusion and misinterpretation.
Filling Out a POA Form
After deciding what powers the agent will have, it's time to fill out a form. POA forms can be found online or in office supply stores. If you want to take the easy way out, sign up for DoNotPay and let our chatbot create a flawless POA in a few minutes.
Signing the Document and Getting It Notarized
Whether the principal needs to have the document notarized depends on the state they live in. In Virginia, the principal isn't obligated to get the POA notarized. The POA will be effective as soon as it's signed. If the principal wants their document to carry more legal weight, they should get it notarized.
Use DoNotPay To Create a Well-Written Virginia POA Effortlessly
Writing a power of attorney by yourself can be complex, but paying a lawyer to draft this document is usually an expensive option. We suggest you use DoNotPay if you want to create a POA in a matter of minutes without breaking the bank.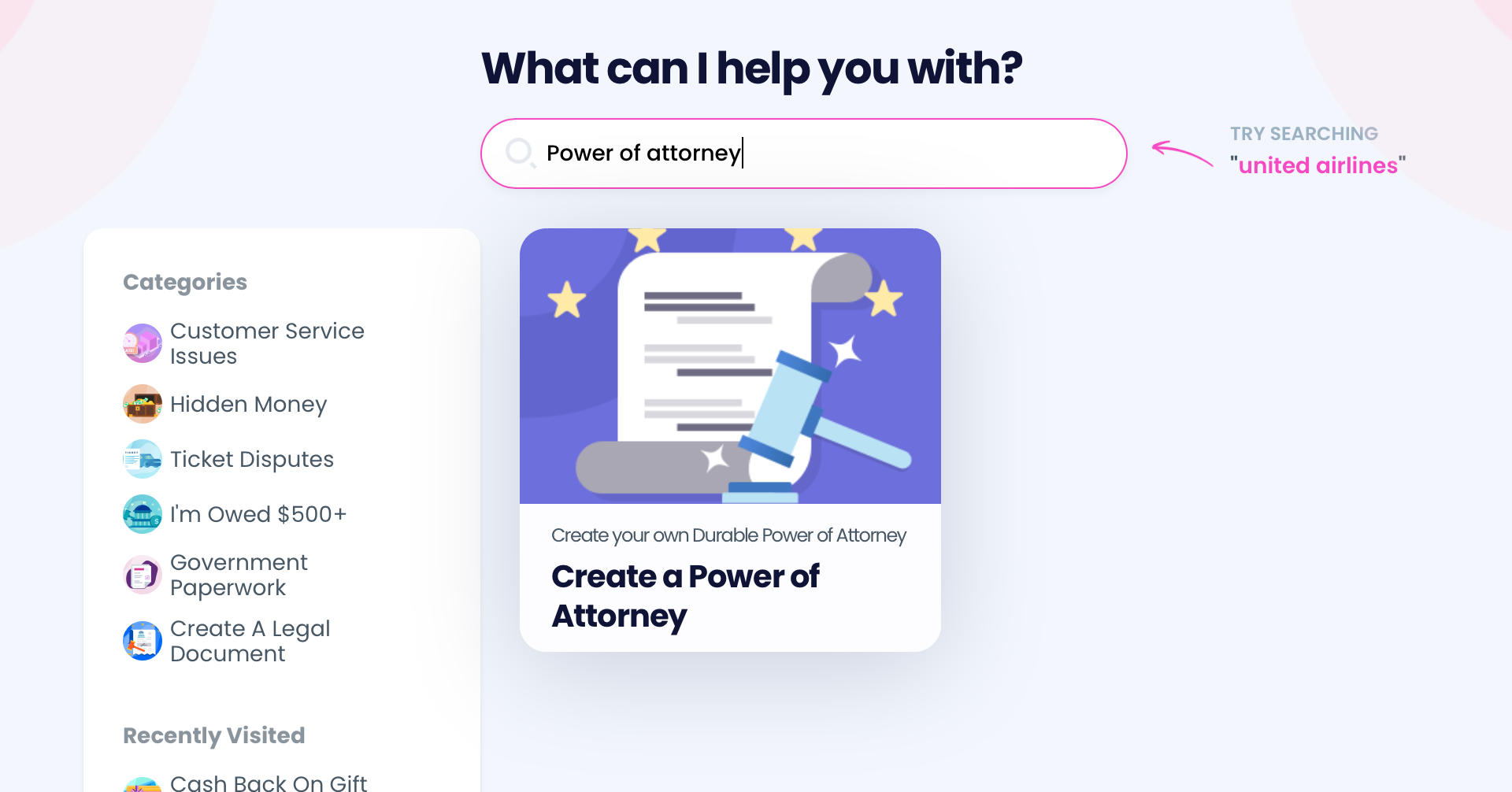 Our chatbot will take you through the entire process. All you need to do is complete the following three steps:
Find the Create a Power of Attorney product
Answer our chatbot's questions
Click on Confirm
That's it! We will generate your POA letter automatically in a few seconds. DoNotPay will provide you with two notices that you and your agent should read before signing.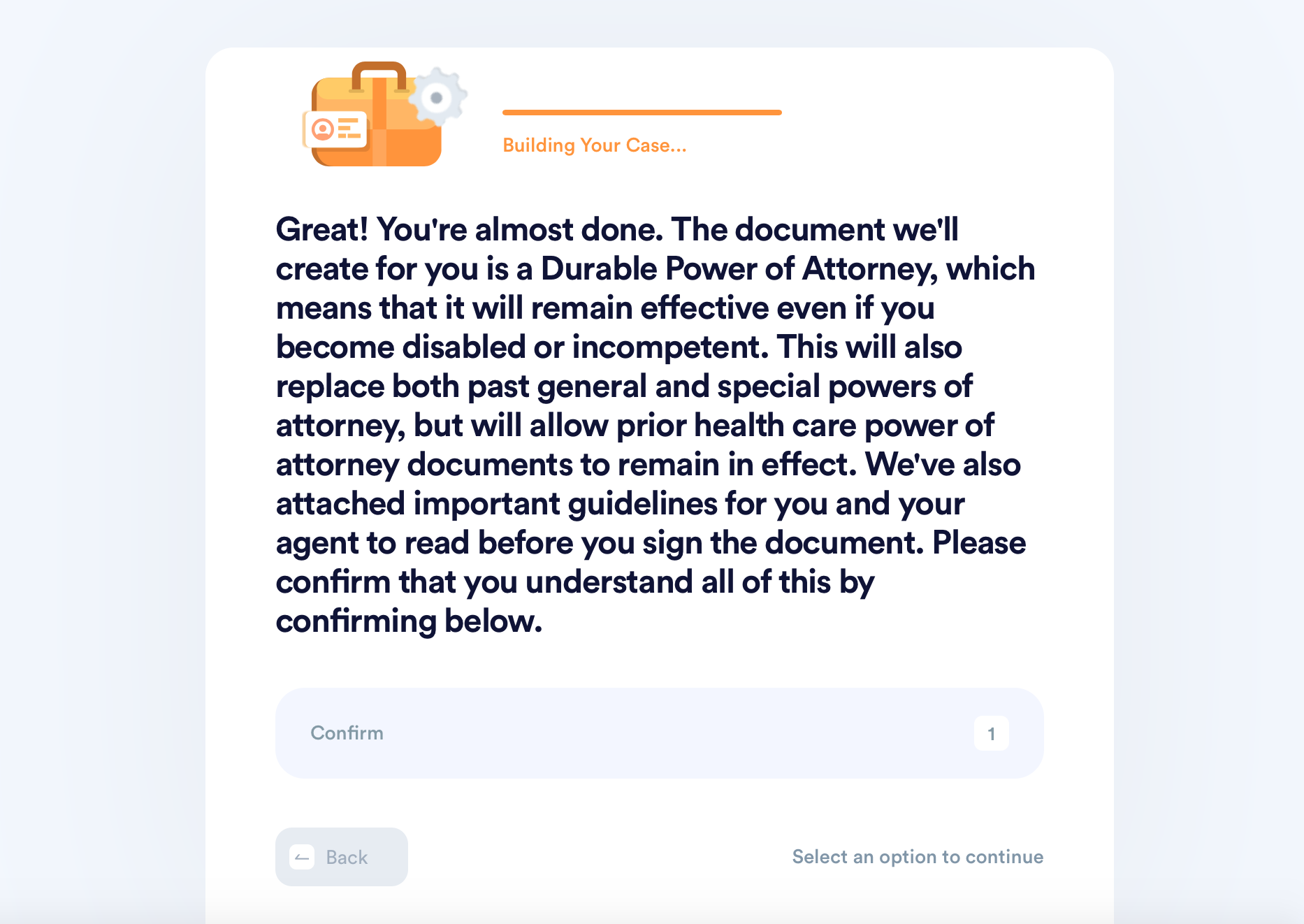 DoNotPay—Easy Fixes for Your Daily Struggles
Calling customer support takes hours. Dealing with refunds and chargebacks takes weeks or sometimes months. And don't even get us started on DMV appointments. The good news is that, with DoNotPay, you don't have to stress out about these tasks any longer.
Our platform can help you turn exhausting administrative troubles into two-minute tasks. Thanks to AI technology, you can easily create legal documents, request compensation for canceled flights, send a complaint letter to your neighbor, or book appointments with online notaries.
Diversity of services is one of the biggest advantages DoNotPay offers, and the best part is that our subscription won't cost you an arm and a leg.
Do You Need Help With Anything Else?
All you need to do is ask, or in this case, sign up for DoNotPay, and the world of practical, user-friendly products awaits. Finishing boring or annoying tasks with the help of our AI bots is fun, easy, and super intuitive—you won't need any special knowledge of legalities or administrative terminology.
With our help, you will be able to: