Power of Attorney Responsibilities Explained by DoNotPay
If you're planning to get a power of attorney (POA) document, you need to familiarize yourself with the responsibilities it entails to avoid any confusion later on. POAs can be difficult to understand at first, but don't worry—DoNotPay is here to assist!
Our article will explain the power of attorney responsibilities and show you how to get a personalized POA in no time.
Power of Attorney Duties—The Basics
A power of attorney is a legal document that grants one person (the agent) powers to act in another person's (the principal's) stead. The type of responsibilities an agent has depends on whether they signed a financial or medical power of attorney.
Financial Responsibilities of a Power of Attorney Agent
An agent that signed a financial POA needs to help the principal with the following responsibilities:
Filing taxes
Paying for health care, utility, and other bills
Making investments
Collecting debts
Managing their property
Applying for public benefits, such as Medicaid or veterans benefits
The Responsibilities of a Medical Power of Attorney Signee
If given the powers of a medical POA, the agent may have to decide:
In which hospital the principal will be staying and what kind of medical care and treatment they'll receive
Which doctors and care providers will look after the principal
Who will bathe the principal if they're unable to do it on their own
What the principal will eat
Where the principal will live (assisted living residence, memory care, or nursing home) if they're unable to be taken care of at their home
How Long Does a Power of Attorney Stay in Effect?
The duration of the document depends on the type of power of attorney. The most common power of attorney types are:
| | |
| --- | --- |
| Type of Power of Attorney | Details |
| General POA | A general POA allows the agent to act in the principal's name on all matters as long as the state laws allow for it. The agreement ends automatically in case the principal becomes mentally incapable of making decisions for themselves |
| Durable POA | In most states, a POA is considered durable unless stated otherwise. The responsibilities that an agent has must be clearly specified in the document. The agreement stays in effect even after the principal becomes physically or mentally incapacitated |
| Limited POA | An attorney-in-fact who signed a limited POA has specified and limited powers over the activities proposed by the principal. This type of POA agreement lasts for a limited amount of time that should be noted in the document |
| Springing POA | A springing POA comes into effect when one or more physicians determine that the principal is incapacitated. It lasts until it's revoked or the principal dies |
What Are the Statutory Duties of a Power of Attorney?
According to the law in most states, an agent has a fiduciary duty to the principal. This means that the attorney-in-fact has to:
Act solely in the principal's best interest
Maintain accurate records and history of all principal's financial transactions
In case the agent fails their job as a fiduciary, they may be prosecuted both civilly and criminally.
Frequently Asked Questions Regarding the Responsibilities of a Power of Attorney Agent
If you want to familiarize yourself with the responsibilities that come with a POA, you should know the answers to some of the frequently asked questions, such as:
What are the duties of a bank power of attorney?
Which powers does a DMV attorney-in-fact have?
Can an agent refuse to take on power of attorney responsibilities?
What Are the Duties of a Bank Power of Attorney?
Upon signing a bank power of attorney, the attorney-in-fact needs to:
Make deposits, transfers, and withdrawals from any of the principal's accounts
Write, make, and endorse checks and drafts related to the principal's bank
Open new checking accounts, savings accounts, certificates of deposit, IRA's, and other accounts in the principal's name
Approve and authorize automatic withdrawals
Perform any activities that involve the principal's bank accounts
Which Powers Does a DMV Attorney-in-Fact Have?
A DMV attorney-in-fact can make decisions regarding the principal's motor vehicles, such as:
Applying for and receiving new registration
Receiving a certificate of title
Transferring ownership
Recording or releasing a lien
Applying for and receiving a copy of a motor vehicle record
Can an Agent Refuse To Take On Power of Attorney Responsibilities?
Being an agent is not an obligation, so you can refuse to take on POA-related responsibilities. Anyone who wants to be appointed as an attorney-in-fact needs to consider whether they're available and ready for that sort of duty before signing the POA document.
How To Draft a Durable Power of Attorney Like a Pro With DoNotPay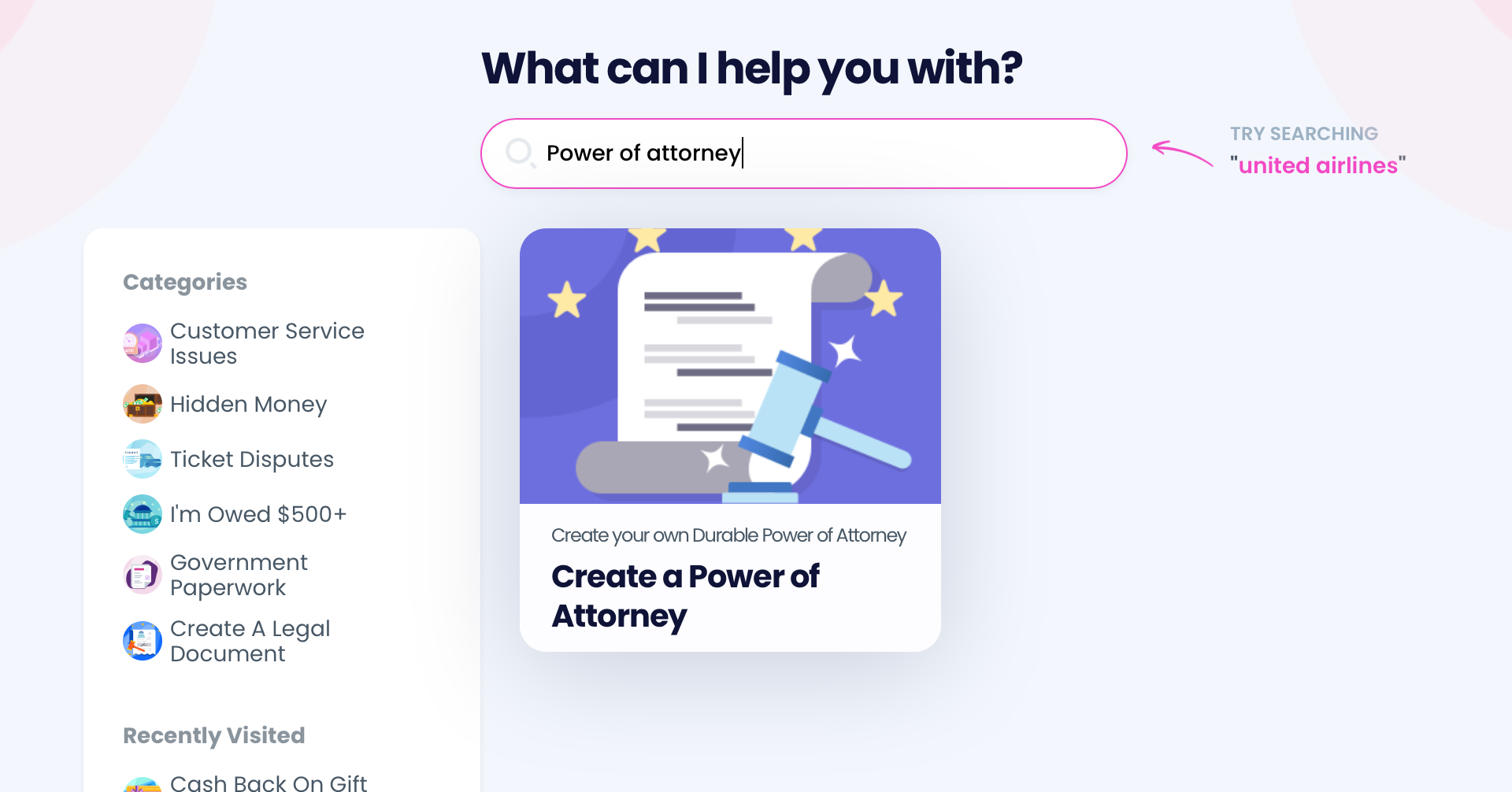 Need a durable power of attorney document but don't want to write it yourself or hire expensive lawyers to do it for you? DoNotPay has a solution! We'll draft a professional POA for you in a matter of minutes, and all you have to do is:
Specify the powers you want to give to your agent
Answer a few simple questions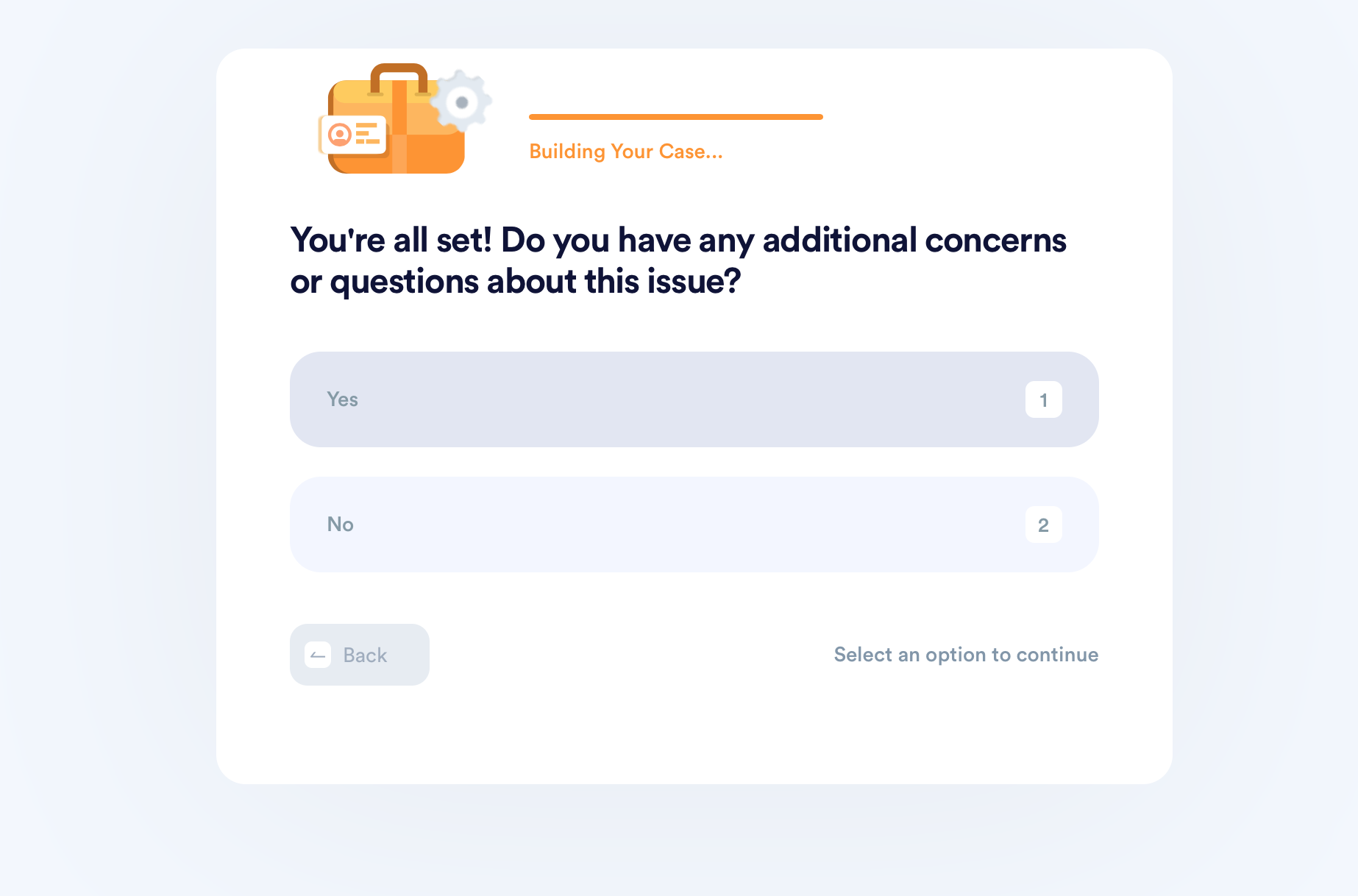 If you live in a state where you're required to get your POA notarized by law, DoNotPay can set up an appointment with an online notary in your stead. All you need to do is inform us that you need a notary's signature while completing the above-mentioned questionnaire, and we'll help you get the notarization process started in no time!
Check out some other power-of-attorney-related articles DoNotPay has prepared for you:
Rely on DoNotPay's Tips and Tricks To Deal With Any Task Stress-Free
DoNotPay is here to help you out no matter the issue. We can provide our assistance if you want to get rid of:
Suffering in silence is never the answer—with the world's first robot lawyer by your side, you won't have to keep anything to yourself. We will fight for your right and help you get what's rightfully yours!
Prevent Companies From Overcharging You
As soon as you sign up for our app, you won't have to deal with greedy companies anymore. DoNotPay can help you sue any company in small claims court, demand a refund, claim compensation from airlines, get a burner number at a low cost, draw up any legal document, and get a child travel consent form.
If you need to have any of your important documents notarized or fax them, you'll be able to do all of that and so much more once you sign up.