Power of Attorney Requirements by State Explained in Detail
A power of attorney (POA) is a document that has far-reaching consequences for both the principal and the agent.
Depending on where you live, the process for drafting and signing a POA differs. If you are wondering whether your POA is valid in other states or what you have to do to set up a POA in a new state of residence, we can help!
DoNotPay brings you the ultimate guide to the power of attorney requirements by state.
Is Power of Attorney State or Federal?
Power of attorney laws are state ones, but they are fairly uniform in the way they work. There is no federal law determining how a power of attorney should be formulated.
The Uniform Power of Attorney Act (UPOAA) was drawn up by the Uniform Law Commission (ULC) and has been in force at the federal level since 2006. It is not a mandatory law but rather a set of guidelines for states to use to unify the way powers of attorney are handled.
The UPOAA offers guidelines for financial POAs and medical powers of attorney—also known as healthcare proxies.
How Does the UPOAA Work?
The UPOAA's guidelines include four articles, as follows:
Article one—General Guidelines
Article two—Agent Authority Definitions
Article three—Statutory Forms
Article four—Relationship to Other Legislation
Article One—General Guidelines
The first article of the act gives general guidelines on how a POA can be used. It also includes mandatory provisions that limit the power of an agent to act unless specifically allowed to by the POA in question.
Article Two—Agent Authority Definitions
Article two of the UPOAA defines the areas of authority that an agent can receive under a POA. It is, in essence, an updated version of the 1988 Uniform Statutory Form Power of Attorney Act.
Article Three—Statutory Forms
The third article of the UPOAA provides generic forms for each type of POA that states can modify and use. The forms include step-by-step instructions for the principal and are easy to fill out.
Article Four—Relationship to Other Legislation
The final article clarifies how the UPOAA interacts with other state and federal legislation governing powers of attorney, probates, and contracts.
Which States Have Adopted the UPOAA?
As of 2021, 29 states have adopted the UPOAA. These states are:
The District of Columbia and Massachusetts have introduced legislation to adopt the UPOAA but have not yet ratified it.
What Does the UPOAA Mean in Practice?
The UPOAA provides for the following kinds of financial power of attorney:
| | |
| --- | --- |
| Type of POA | Explanation |
| Durable POA | A durable POA covers all the principal's financial affairs and continues to be in force even if the principal is declared incapacitated |
| General POA | General POAs also cover all aspects of the principal's finances but terminate when the principal is declared incapacitated |
| Springing POA | A springing POA only comes into effect when the principal is declare incapacitated |
| Limited POA | Limited POAs only confer certain powers on the agent or delegate full financial control for a limited time |
The default type of POA under the UPOAA is a durable one—any change to this must be noted in the text of the POA.
In practice, the UPOAA means that powers of attorney have to be:
Countersigned by two adult witnesses
Some states have adopted the statutory forms contained in article three of the act, but every state allows POAs that were legally executed in other states to be enforced.
If your state of residence has adopted the UPOAA forms, the principal should use them.
What About States That Haven't Adopted the UPOAA?
Non-adoptive states still rely on their existing legislation to regulate powers of attorney.
In these states, the major variations between jurisdictions can be seen in the requirements for
Signing
Notarization
Witnessing
Signing
Every state requires the principal to sign a POA, but California, New York, and Vermont demand that the agent signs as well.
The following states also need the agent to sign an acknowledgment form that signifies their understanding of their responsibilities:
Notarization
Almost all states insist on a POA being signed in the presence of a notary.
Witnessing
Requirements for witnesses vary from state to state, but almost all states recognize that one or two witnesses add legal weight to a POA.
If a POA is contested in court at a later date, witness statements that the parties were of sound mind and not under duress when they signed the POA may be invaluable.
Can You Draft Your Own Power of Attorney?
If your state does not provide a statutory form, you can draft your own power of attorney document, making sure that you include:
The names and details of the principal and the agent
Clear and detailed scope for the powers to be delegated
Commencement and termination dates
Even if your state provides a statutory form, you may be able to use an out-of-state power of attorney. Under most states' laws, it will be valid as long as it complies with the laws of the state where it was drafted and signed.
The good news is that you don't need an expensive lawyer to draft a power of attorney letter—DoNotPay can create a customized durable power of attorney for you in minutes!
Get Your POA Online in a Flash With DoNotPay!

Creating a customized power of attorney with DoNotPay is a matter of a few clicks—here's what you need to do:
Sign up with DoNotPay in your web browser
Click on our Create a Power of Attorney product
Give us the details you want included in your document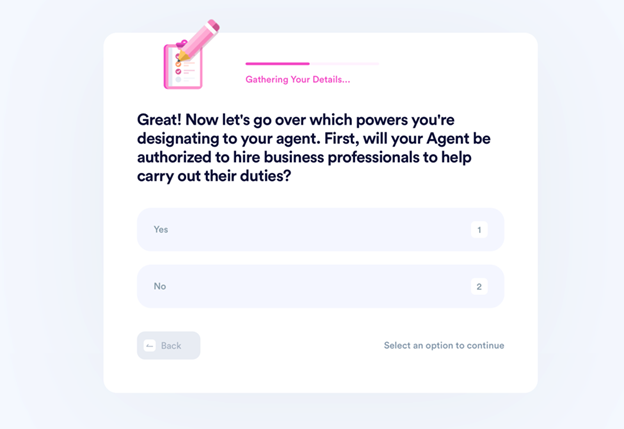 All you have to do now is find an online notary with DoNotPay's help and sign your document!
Not Sure if You'll Have Enough Money at the End of the Month? We Can Help
Most Americans go through financial hurdles daily. You don't need to put up with it all—as soon as you sign up for our app and voice your struggles, we will provide our assistance! DoNotPay is capable of:
Dealing With a Greedy Company? No Need To Worry
Are you dealing with a company that doesn't want to cooperate and keeps ignoring your consumer rights? No problem—DoNotPay can help you sue the company in small claims court and win your case.
If you need us to draw up a legal document, get it notarized, and fax it to the court, we can do that as well.
Have you been trying to reach the company's customer support reps with no success? Don't get stressed—our app will gladly wait in the phone queue in your stead and notify you as soon as someone picks up.