Instructions on Creating a Power of Attorney in Oregon Fast
Do you need to give someone the authority to make decisions on your behalf? Were you asked to be a friend's or a family member's attorney-in-fact, but you're not sure what that implies? Whichever the case may be, you should know all about a power of attorney (POA) document and learn how to create one.
If you're wondering how to draft a power of attorney in Oregon, you're in the right place. DoNotPay is here to write this document for you in a few minutes.
What Does the Law Say About Powers of Attorney in Oregon?
A power of attorney is a document that transfers certain powers from one person—the principal—to another—an agent. The powers that are being granted depend on the type of POA the principal chooses.
Check out the list below to learn which powers an agent can have according to each POA type:
General—Gives an agent the right to act on behalf of the principal in any and all matters as allowed by the state. The agent is authorized to handle bank matters, purchase or sale of real estate, investments, and similar. A general power of attorney ends when the principal becomes incapacitated
Durable—Authorizes an agent to handle finances and conduct business on behalf of the principal. This type of POA continues to be valid even if the principal becomes incapacitated
Limited—Grants an agent limited and clearly defined authority over specified financial affairs. This POA can also limit the time in which an agent has certain powers
Medical—Allows an agent to make medical decisions in the principal's stead if they become mentally incapacitated and can't make those decisions by themself. This type of document is known as a health care proxy
Financial—Gives an agent the power to handle all sorts of financial matters on behalf of the principal, such as dealing with business transactions, paying taxes or bills, and similar
Key Aspects of Powers of Attorney in Oregon
In Oregon, powers of attorney are durable by default unless specified otherwise in the document. This means that a POA in Oregon:
Becomes effective immediately after both parties sign it
Stays effective even if the principal becomes incapacitated
Can't expire
Remains in effect until the principal passes away or revokes the document
If a durable POA is meant to come into effect on a specific date or under certain circumstances—such as the principal's incapacitation—it's called a springing power of attorney.
When Can a Power of Attorney in Oregon End?
A power of attorney in Oregon will stop being in effect if:
Principal revokes it
Principal passes away
Agent is the principal's spouse, and they get divorced
Agent becomes incapacitated or unwilling to perform the designated acts
How To Create an Oregon Power of Attorney
If you want to draft a POA on your own, these are the steps you should follow:
Steps
What To Do
Appointing an agent
The principal should choose an agent who's:

Trustworthy—The agent will act on the principal's behalf, so some people choose a friend or a family member they trust
Responsible—A POA is a serious document that sometimes entails making hard decisions, such as changing or terminating treatment
Willing to act on the principal's behalf—The principal can't appoint an attorney-in-fact against their will

Finding a POA form
The principal can buy a form in an office supply store or online. Another option is to to create the document with no effort
Determining what powers the agent will have
The agent can have full or partial authorization to deal with different matters in the principal's life, such as business, property, and financial transactions
Making the document official
A POA comes into effect as soon as both parties sign it. In Oregon, there's no need to get a power of attorney notarized, but it's highly recommended to do so because notarized documents carry more legal weight
Use DoNotPay To Create an Oregon POA in a Snap
As is the case with most legal documents, creating powers of attorney can cost a fortune if you head over to a lawyer's office. The good news is that this isn't your only option.
DoNotPay has a product that enables you to create a POA document in a matter of minutes without paying an arm and a leg for lawyer fees. The process is quick, convenient, and affordable.
All you need to do is and complete three simple steps:
Find the Create a Power of Attorney product
Provide all the necessary details
Confirm all the information and your email address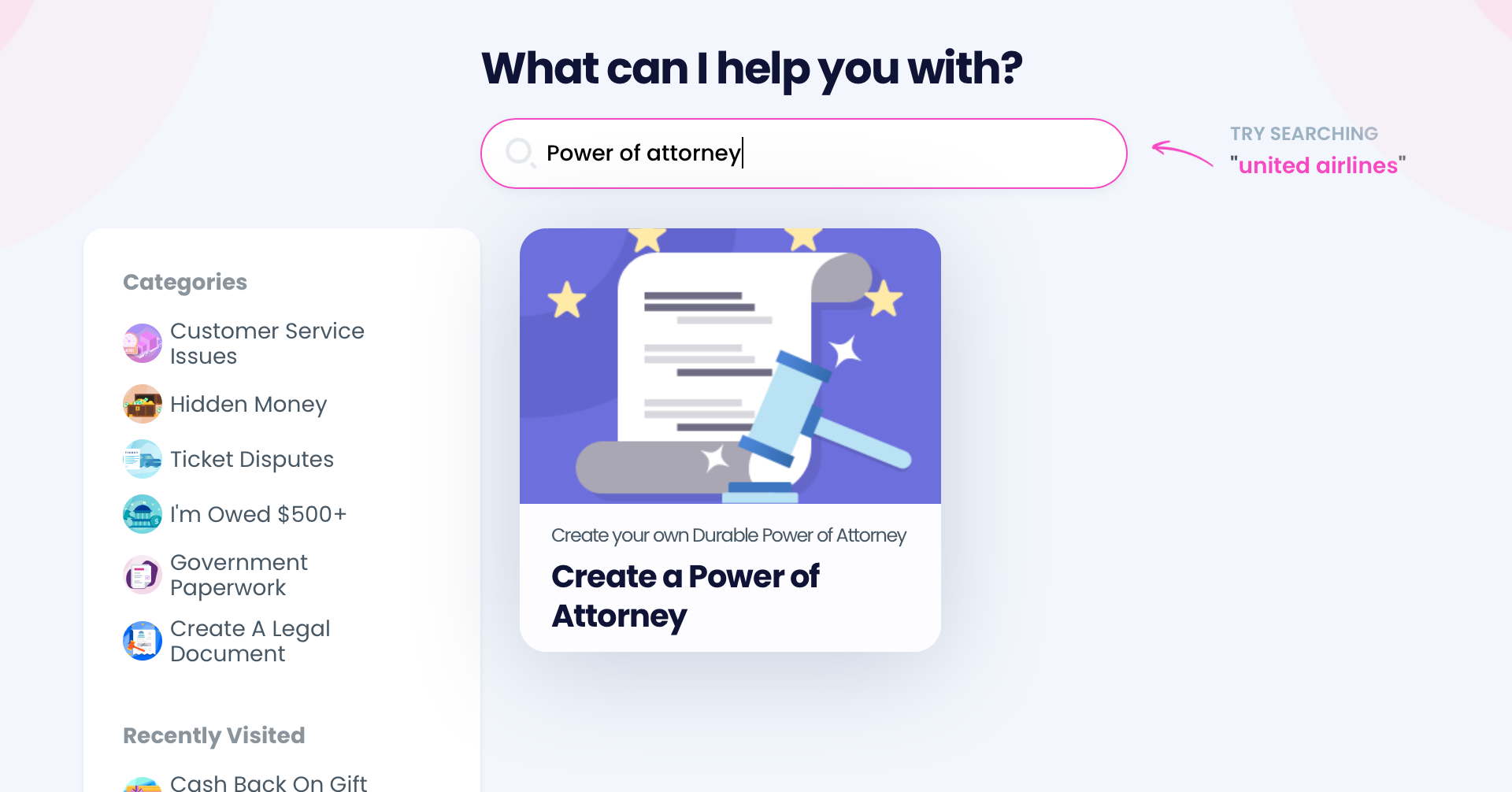 DoNotPay will generate your document automatically and provide you with two notices that you and your agent need to read before signing the POA.
You can choose to notarize your POA letter via DoNotPay as well—we will offer you this option automatically as the last step. Our platform will connect you to an online notary who will witness the signing of the document via a video call and provide their signature.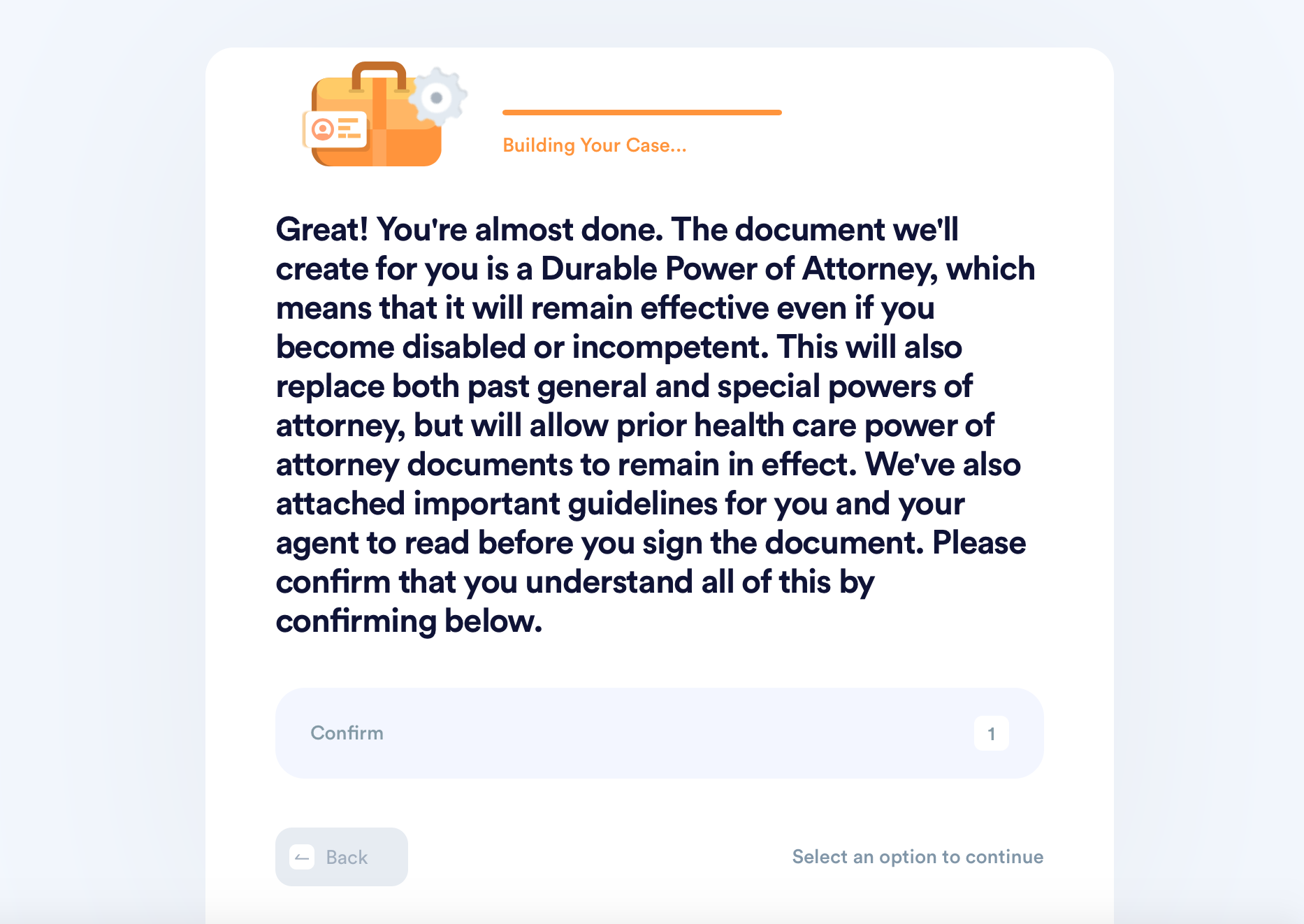 DoNotPay—Quality and Quantity
Our platform provides a multitude of useful tools, products, and services that anyone can benefit from. DoNotPay is a proper virtual assistant that can minimize your paperwork, protect your consumer rights, increase your productivity, or keep you safe online.
The best part is that we keep adding more awesome features all the time—all available for a small subscription price. Take a peek at a small part of our portfolio in the table below:
| | | |
| --- | --- | --- |
| Online Safety | Customer Protection | Administration Shortcuts |
| | | |
It Gets Even Better!
With your DoNotPay subscription, not only do you get a powerful weapon to fight boring and annoying daily tasks, but you also get a great resource for earning more money.
You can use our platform to enter free raffles, secure compensation for fighting robocalls, get your cash back from used gift cards, or find unclaimed money under your name, no matter the state.