Instructions on How To Draw Up a Power of Attorney in New York Effortlessly
Are you wondering how to create a power of attorney (POA) and authorize someone to make decisions in your stead? Were you asked to act as attorney-in-fact and handle your friend's or family member's financial matters? Whichever the case might be, you should know as much as possible about this document and learn how to draft one with ease.
If you need to write a power of attorney in New York, you're in the right place. We will tell you everything you need to know about a POA and help you create one in a few clicks.
How Does a New York State Power of Attorney Work?
Every state has its rules about powers of attorney. In New York, a POA document enables the principal to delegate powers to an agent. This allows the agent to make financial or medical decisions on behalf of the principal.
There are a few different types of POA in New York:
| | |
| --- | --- |
| Type of POA | Details |
| General | A general POA is a legal document that delegates broad power to the agent but ends if the principal becomes mentally incapacitated. The agent gets the power to act on the principal's behalf in any and all matters as per state law. A general POA is usually created when the principal travels abroad |
| Durable | In New York, each POA is durable unless the document specifically states otherwise. This means that the agent can act on behalf of the principal even if the principal becomes incapacitated. A durable power of attorney ends only if the principal revokes it or passes away |
| Limited | A limited power of attorney allows the agent to act on specific instructions made by the principal. It either limits the authority of the agent or the time in which he or she is authorized to act on behalf of the principal |
| Financial | A financial power of attorney permits the agent to make financial decisions on the principal's behalf |
| Springing | The springing power of attorney is a document that becomes effective on a specific date or after a particular occurrence |
What Kind of Authority Can an Agent Have?
A power of attorney in New York state grants the agent the right to do the following on the principal's behalf:
Sell or purchase real estate
Manage principal's property
Invest money
Manage banking transactions
Make legal claims
Conduct litigation
Deal with taxes
Handle retirement matters
Make gifts
The powers that the agent will have depend on the type of POA the principal creates.
New York State POA—Requirements
Powers of attorney in NYS are valid only after certain requirements are met. To create an effective POA, the principal needs to do the following:
Type or print the POA using legible letters. The size of the letters needs to be at least twelve points
Sign, put initials, and date the POA while mentally capable of making decisions
Have the POA acknowledged before a notary and two witnesses who aren't the agent
Make sure the notary signs the document if the principal is physically unable to visit the notary
Have the agent sign and date the document
Use the proper wording in paragraphs, such as:

Caution to the principal—in paragraph (A) of subdivision one of section 5-1513 of the New York state statutory title
Important information for the agent—in paragraph (N) of subdivision one of section 5-1513 of the New York state statutory title

Authorize the agent to make gift transactions in a subdivision
How To Get a Power of Attorney in NY
You can get a NY POA in a few ways. Here are some of them:
Downloading a PDF file from an online source
Buying the form in a legal supply store
Having an attorney create a power of attorney
Using DoNotPay to create a durable power of attorney
Create a NY POA in a Few Steps Using DoNotPay
DoNotPay is the world's first robot lawyer and can help you draft a power of attorney in a few clicks. You can avoid expensive lawyer fees using our platform.
DoNotPay will present you with a questionnaire and use the information you provide to create a personalized power of attorney in NY. We will need some of the following information:
The agent's name and address
Co-agent's name and address (if you want a co-agent)
The powers transferred to the agent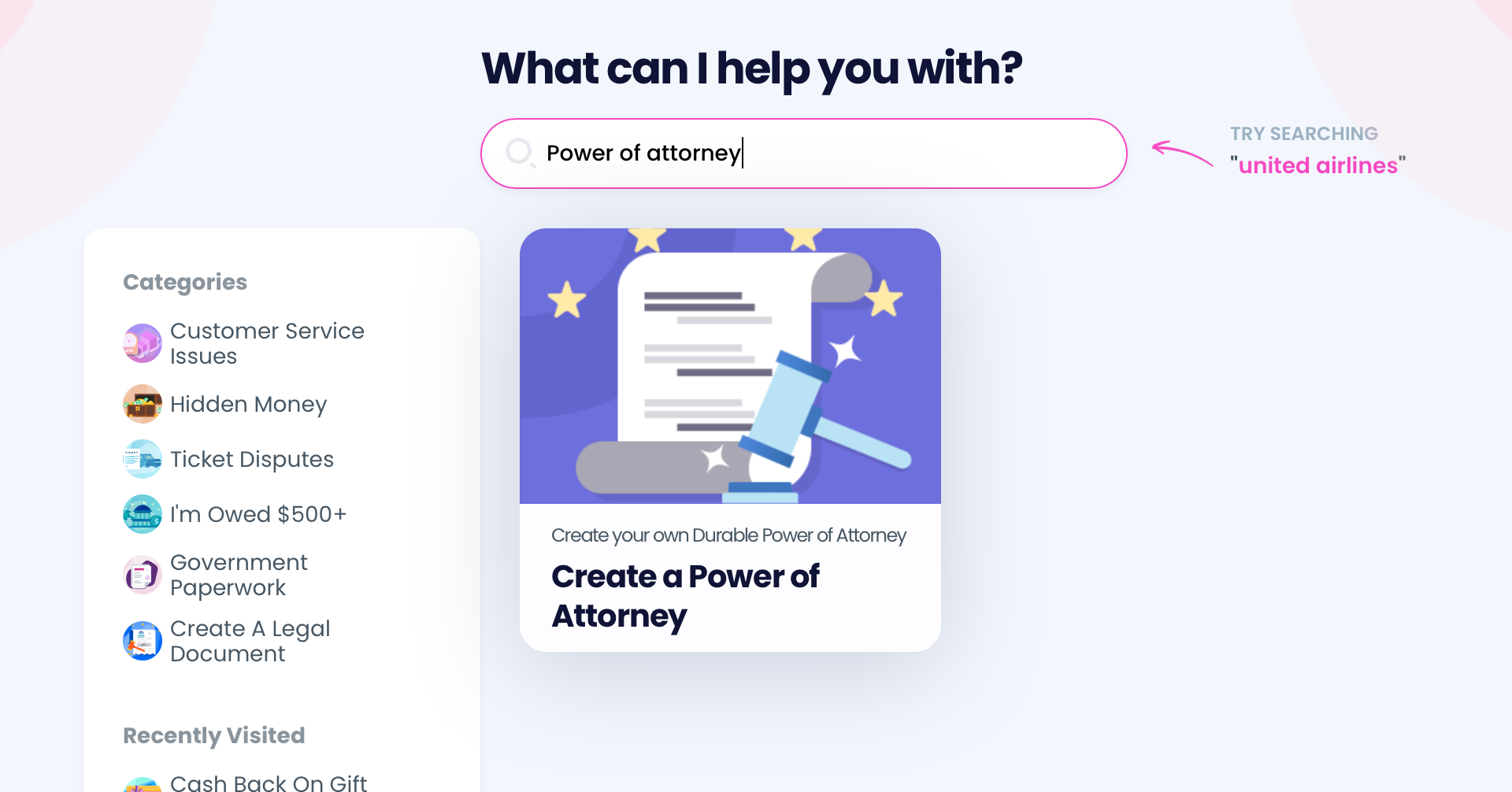 To create your power of attorney letter hassle-free, you should sign up for DoNotPay and follow the steps below:
Open the Create a Power of Attorney product
Provide information about your case
Tap on Confirm
Once you complete the steps, DoNotPay will create your POA automatically. We will also provide you with two notices that you and your agent should read before signing.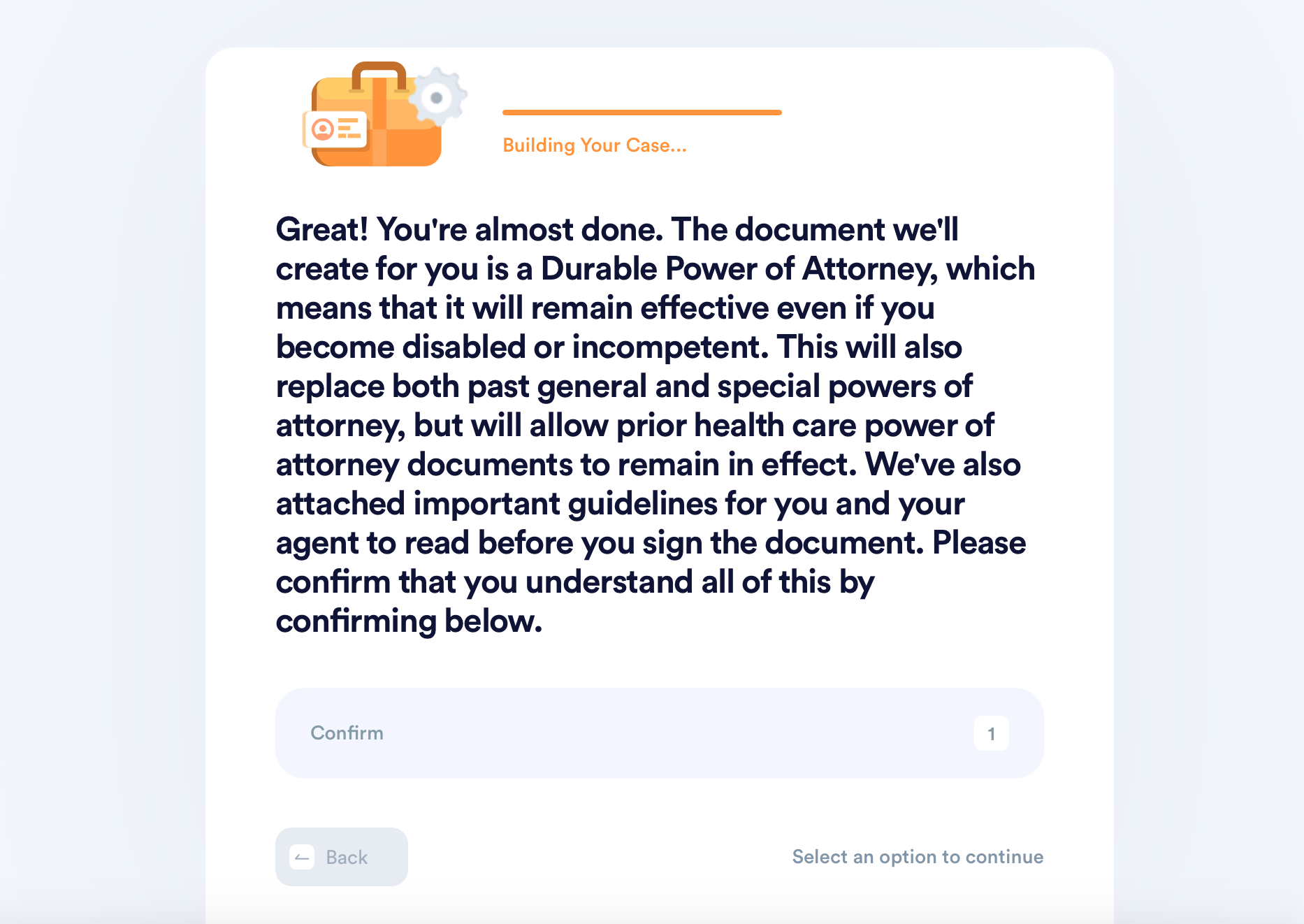 Use DoNotPay To Get Your POA Notarized
DoNotPay has a useful notarization feature that you can use to get your power of attorney notarized without leaving your home.
DoNotPay will find you a notary once you complete the questionnaire and connect you with them. The notary will witness your signing and perform notarization over a live video call.
DoNotPay—Quality and Quantity
Our platform provides a multitude of useful tools, products, and services that anyone can benefit from. DoNotPay is a proper virtual assistant that can minimize your paperwork, protect your consumer rights, increase your productivity, or keep you safe online.
The best part is that we keep adding more awesome features all the time—all available for a small subscription price. Take a peek at a small part of our portfolio in the table below:
| | | |
| --- | --- | --- |
| Online Safety | Customer Protection | Administration Shortcuts |
| | | |
It Gets Even Better!
With your DoNotPay subscription, not only do you get a powerful weapon to fight boring and annoying daily tasks, but you also get a great resource for earning more money.
You can use our platform to enter free raffles, secure compensation for fighting robocalls, get your cash back from used gift cards, or find unclaimed money under your name, no matter the state.