How To Create a Power of Attorney in New Mexico in a Flash
If you need to create a power of attorney in New Mexico but aren't sure about the rules, we will provide you with all the instructions you need. DoNotPay can help you generate your POA document in a few easy steps!
Durable Power of Attorney in New Mexico—How Does It Work?
A durable power of attorney is a legal document that allows one person to make important decisions on behalf of another individual who is incapacitated. The person who creates the document is known as the principal, and the one who gets the powers is called an agent or attorney-in-fact. POA rules normally differ across the country, so it is necessary to know how to create a document that follows your state's guidelines.
A critical aspect of the process of drawing up a POA document is choosing the right person to act as your attorney-in-fact. They need to be reliable and trustworthy and be an adult or an emancipated minor.
Since your agent will perform tasks of immense importance, you should be careful when choosing.
What Authorizations Can an Agent Have in New Mexico?
The principal decides exactly what the agent will be able to do. Here are some matters the agent can make decisions about:
Real estate transactions
Personal and family maintenance
Stock and bond transactions
Tax matters (including transactions with the Internal Revenue Service)
Decisions regarding life-saving medical treatment
Medication and hospitalization in a nursing home
Decisions relating to nursing care, medical treatment, and surgical treatment
Tangible personal property transactions
Trust, estate, and other beneficiary transactions
Claims and litigation
Benefits from Social Security, Medicare, civil or military service, and other government programs
Banking and other financial institution transactions
Insurance and annuity transactions
Retirement plan transactions
Business operating transactions
The principal usually has the option to pick the powers they want to give to the agent. You can also include a section that states the principal gives the agent all of the ones mentioned above.
How To Revoke a POA in New Mexico
Due to a change of mind or some unpredicted circumstance, the principal has the right to revoke the power of attorney in New Mexico. To do so, they need to:
Decide to end the agreement while they are still of sound mind
File for divorce (if the agent is the principal's spouse)
Get a court's statement about the document being invalid due to fraud
What Are the Legal Requirements for a Durable Power of Attorney in New Mexico?
A durable power of attorney in New Mexico needs to meet these requirements to be valid:
Must be in writing
Has to be signed by the principal
A power of attorney can also include individual instructions. If you want to create a POA in New Mexico fast and without stress, you should use DoNotPay!
Use DoNotPay To Draw Up a Power of Attorney in New Mexico
You don't need to draw up a power of attorney letter on your own or hire a lawyer to handle the task. DoNotPay is here to assist you! Our app will create an airtight legal document that will meet your requirements perfectly. To get your POA in New Mexico fast and without trouble, follow these steps:
Sign up for DoNotPay in a web browser of your choice
Enter Power of Attorney in the search bar
Inform us what powers you want to include in your POA
Once you're done completing the questionnaire, we will send you the POA right away.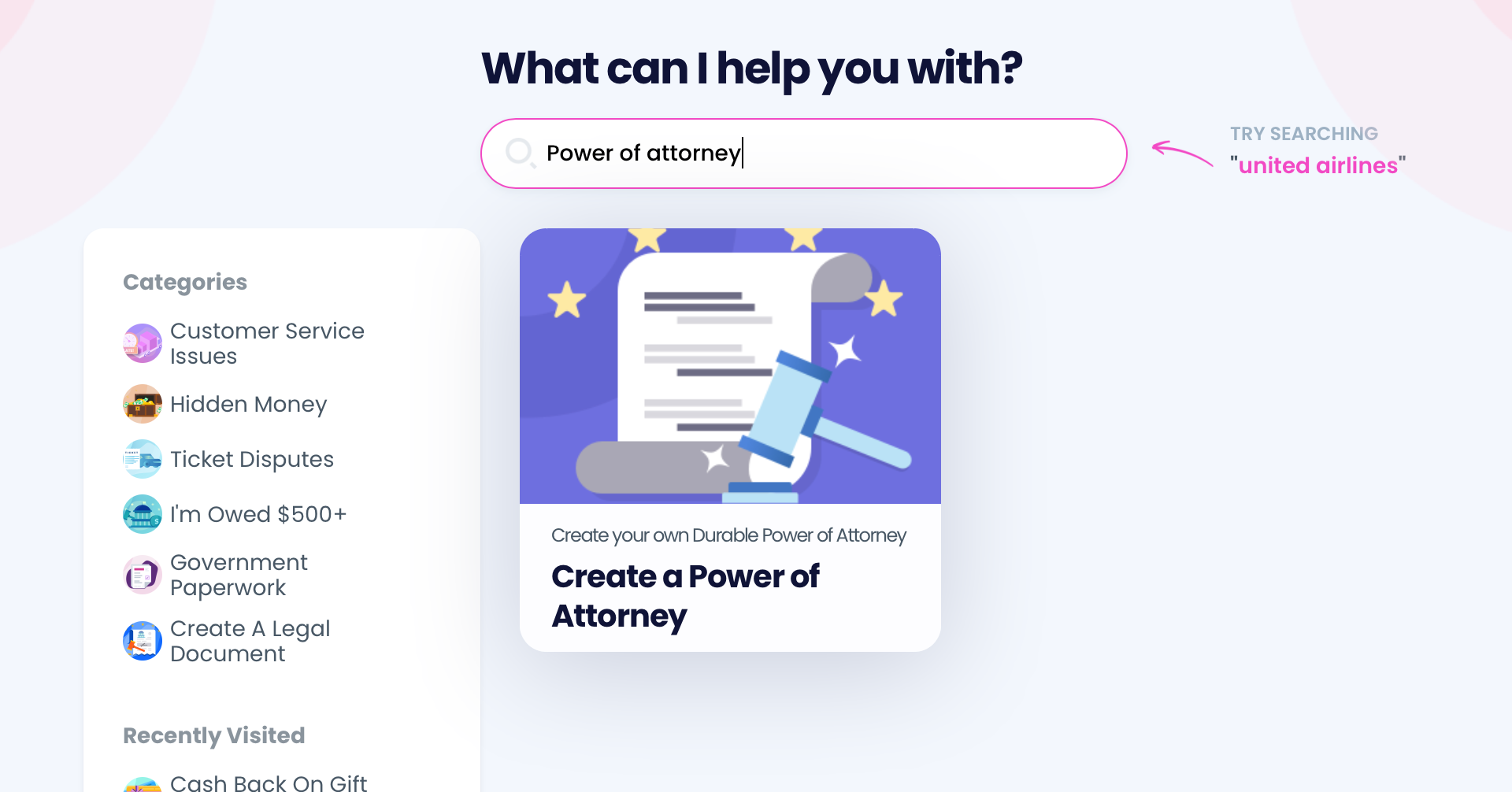 Get Your Power of Attorney Notarized With DoNotPay's Help
You have to get a power of attorney notarized in New Mexico if you want the document to be valid. The good news is that you can handle this task with DoNotPay's help as well. Make sure to tell us that you want to get your POA notarized when completing our short questionnaire mentioned above. DoNotPay will find an online notary for the job no matter the state you live in!
All the Power of Attorney Types DoNotPay Can Help You Create
DoNotPay can help you draw up a few types of power of attorney documents you may need. Check out the table below for more information about different POAs:
| | |
| --- | --- |
| Power of Attorney Type | Brief Explanation |
| General POA | The agent can't make decisions in the principal's stead if the principal is disabled. This POA is usually used when the principal is not in the state over a prolonged period of time |
| Springing POA | This POA comes into effect only when the principal becomes incapacitated |
| Limited POA | The agent has limited power over certain legal matters, or they can only act on the principal's behalf during a limited time |
| Financial POA | The agent is in charge of handling the principal's financial matters (e.g., taxes or mortgage) |
Shop Online on Your Terms
Have you ever had to deal with complaints about lost, late, or damaged parcels? Is reaching customer service over the phone always a pain? Don't you wish there was an easier way to request refunds and chargebacks for bad purchases?
Shopping can easily turn into a nightmare, but DoNotPay will take away some of that stress. We can help you with all of these issues and more!
If you need to file warranty claims for any kind of product, our AI bots will make the process painless. Those who like to try out new services will fall in love with our virtual credit cards and foolproof methods of signing up for free trials without risking charges.
When you get sick of your subscriptions, cancel them with DoNotPay. Also, don't throw away your used gift cards with a few bucks left—we can help you get your cash back.
DoNotPay Protects Your Interests
There are already so many ways you can use DoNotPay to improve your daily life, but we keep developing more and more features that will make our subscribers even happier.
On our platform, you can find useful resources to: