Get the Lowdown on a Power of Attorney in Nevada
Giving someone legal authority to make decisions regarding your health or finances is a serious matter and should be treated as such. Before creating a power of attorney (POA), you should learn about your state's specific rules and guidelines regarding the document.
This article will provide all the information you need about a power of attorney in Nevada!
Understanding the Nevada Power of Attorney
By signing a POA document, you are giving one or more people legal permission to act in your name and make decisions regarding medical, financial, or personal matters. A person granting the power is called the principal, and the one accepting it is the agent or attorney-in-fact.
Being mentally or physically incapable of managing your own affairs isn't the only reason to get a power of attorney. Having a financial POA is useful—and often necessary—when important business transactions take place while you're away.
The person you select as the attorney-in-fact will have the power to control your assets and decisions, so you should choose carefully. Your agent will owe you a fiduciary duty, meaning that they will have to put your best interests over their own.
Nevada Power of Attorney Requirements
To be legally valid in Nevada, a POA has to meet certain requirements. Here's what your power of attorney letter should include:
Legal execution—A POA has to include the date of execution and the principal's signature
Personal information—The document must include contact information of all signing parties
Granted authority—You have to specify which powers you're granting the agent(s)
Springing POA statement—If you want a POA to become effective in case of a precisely defined circumstance, you should include a springing power of attorney statement
Termination date—A power of attorney should contain a termination date. In case it doesn't, the document will remain effective until you pass away or revoke the POA
Does a Power of Attorney Need To Be Notarized in Nevada?
You can get your Nevada power of attorney notarized, but you don't have to. The alternative to signing the document before a notary is signing it before two witnesses who know you personally. You can check the witness requirements in the table below:
None of the Witnesses Can Be
At Least One of the Witnesses Has To Be

Provider of health care
Employee of a health care provider
Operator of a health care facility
Employee of a health care center
Your agent

Someone who isn't related to you by:
Someone who isn't entitled to any part of your estate after you die
Types of Power of Attorney in Nevada
There are many power of attorney types—limited, general, medical, durable, financial, and more. In Nevada, you can choose between two:
Conventional—If you want to grant permission for a defined period of time and a limited, specific purpose, you should opt for a conventional POA type
Durable—A durable power of attorney is used when you want to grant powers for an unlimited amount of time (i.e., until you pass away) and for a broader purpose. This is the most common power of attorney type
What Is a Durable Power of Attorney in Nevada?
A durable power of attorney is used in case the principal becomes incapacitated—either in an accident or due to an illness—and can no longer make decisions on their own. You can choose between two types:
The regular durable POA becomes effective after you sign it and get it notarized. In a springing durable POA, you can specify the event (illness or accident) that will put the document into effect in the future.
How To Get a Power of Attorney in Nevada
POAs are powerful and complicated documents not everyone can create on their own. You should explore some of the following methods for making a power of attorney in the Silver State:
Hiring a lawyer—It is the most reliable but also the most expensive option
Using an online template—You can find millions of templates online for free, but keep in mind that they can be too general and not suitable for your specific situation
Registering for DoNotPay—We can generate a perfect POA for you in three steps! All you have to the is sign up for DoNotPay and follow the instructions
Let DoNotPay Draw Up a Rock-Solid Nevada Power of Attorney for You
DoNotPay is your faithful assistant whenever you need to draw up a legal document.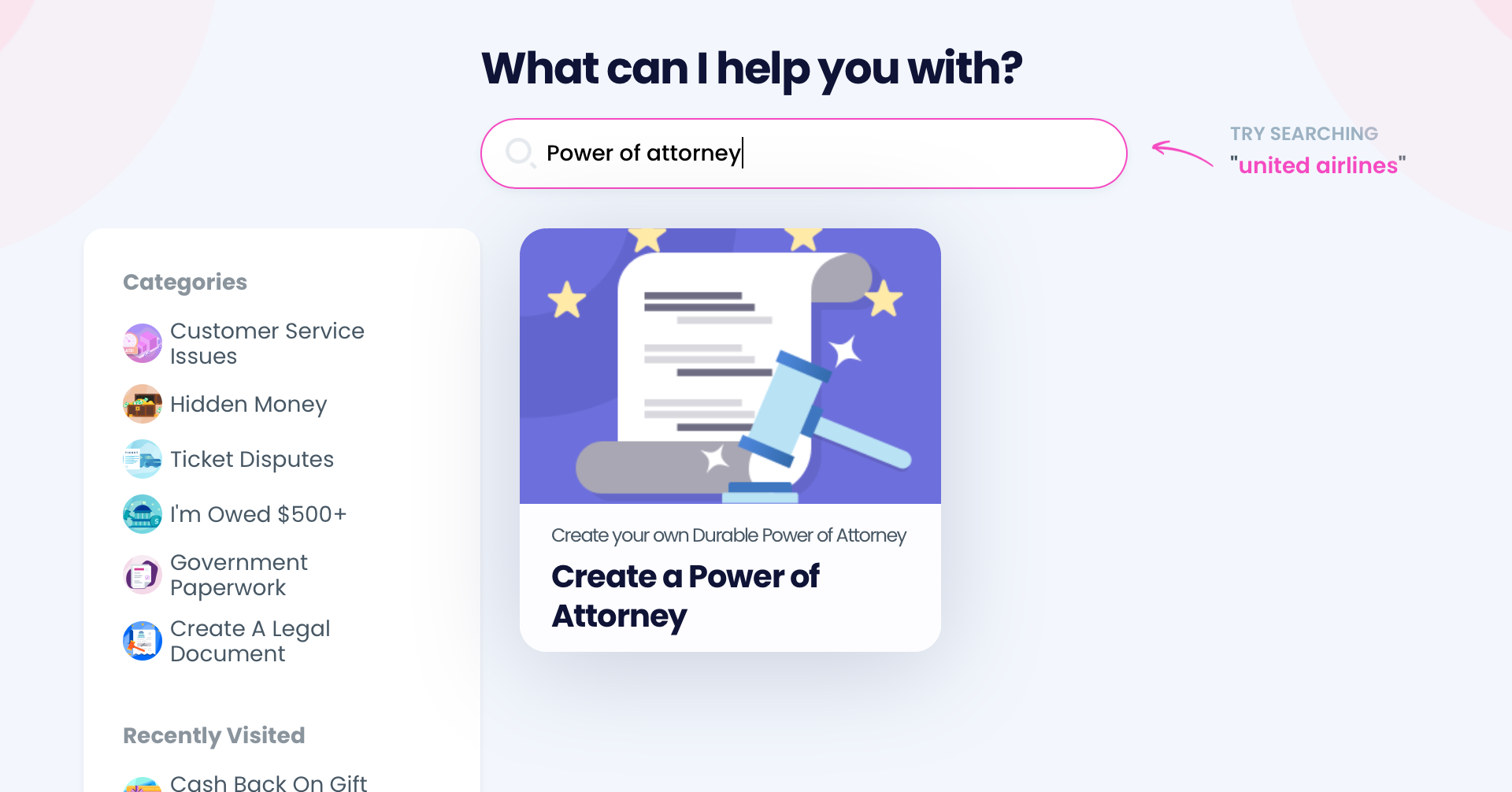 With the help of the world's first robot lawyer, you can generate a POA letter in a breeze by following these steps:
Choose the Power of Attorney feature
Answer our chatbot's questions
Once you submit your answers, we will customize a power of attorney document based on the information you provided. Along with the POA, you will receive two notices that all parties have to read before signing the document.
If you decide to get your power of attorney notarized, you can do it using our Notarize Any Document feature!
Good Things Come in Small Packages
Siri and Google Assistant are great in their own right, but their skills leave a lot to be desired when it comes to the practicalities of our daily lives. DoNotPay is an app, a true pocket-sized assistant, that has the power and the know-how to help you deal with navigating bureaucracy and fighting for your rights efficiently.
Our platform, accessible from your phone or computer, is brimming with products that will help you:
From Government Tests Preparation to Copyright Protection
Whether you are getting ready for your driving test or wish to protect your creative work, DoNotPay has something in store for you.
We can help you handle some serious tasks—like suing someone in small claims court or reporting workplace discrimination—or deal with more mundane activities, such as getting that leftover money from your used gift cards.
The best part is that your DoNotPay subscription gives you access to all our services, be it online fax or virtual credit cards!