All There Is To Know About a Power of Attorney in Missouri
People use a power of attorney (POA) when they need to authorize another person to make important decisions instead of them. Every state has its own specific rules on the power of attorney documents, and you need to learn them before getting a POA.
In this article, we'll provide all the necessary information about getting a power of attorney in Missouri.
Missouri Power of Attorney Types
A power of attorney enables one person (the principal) to grant another person (the agent or attorney-in-fact) the right to handle their medical, financial, and personal affairs. Not all powers of attorney are the same—they can vary based on the powers the principal's giving away.
The State of Missouri accepts several power of attorney types—take a look at the following table for a brief explanation of each of them:
| | |
| --- | --- |
| POA Type | Explanation |
| General | A general power of attorney in Missouri grants the agent broad powers to act in the principal's name and make decisions about their assets and personal affairs. This type of POA terminates if the principal becomes incapacitated |
| Durable | A durable power of attorney in Missouri allows the agent to act on the principal's behalf even if the principal becomes incapacitated |
| Limited | With a limited (special) POA, the principal can restrict the agent's powers. This refers to both time and scope |
| Springing | A springing POA becomes effective once it's triggered by a special circumstance, such as the principal becoming incapacitated |
| Financial | With a Missouri financial power of attorney, the agent has the rights to control the principal's financial matters, such as taxes, insurance, or property |
| Medical | A medical POA allows the agent to make decisions regarding the principal's health and medical issues |
Missouri Power of Attorney Requirements
To create a power of attorney in Missouri, you must:
Be at least 18 years old
Have a permanent residence in Missouri
Be of sound mind, meaning you understand the document's content, the powers that are being transferred, and the effect the POA has on your property
To be valid in Missouri, a POA document must:
Be written and properly titled
Include the correct language
Contain the phrase "when effective" in case of a springing POA
Does a Power of Attorney Need To Be Notarized in Missouri?
Yes, a power of attorney has to be signed in the presence of a Missouri notary public. The notary must witness and acknowledge the principal's signature for a POA to be valid in the state.
How To Get a Power of Attorney in Missouri
There are several ways to create a power of attorney in Missouri. In the table below, you can find the methods and explanations:
| | |
| --- | --- |
| Methods | Explanation |
| Writing a POA on your own | To write a power of attorney letter on your own, you need to research your state laws thoroughly. You should check the rules, statutes, and requirements to avoid making any major mistakes. Keep in mind that creating a POA document without legal experience is complicated even if you do proper research |
| Hiring a lawyer | Having a lawyer draw up a POA document for you is the safest and most reliable option. Unfortunately, not everyone can afford it. If you decide to hire an attorney, be prepared to pay sky-high fees |
| Downloading a template | Online templates for POA documents are easily accessible and often free. The problem with this method is that templates are too generic, which can be a problem when you need to specify the terms, powers, and responsibilities |
| Using DoNotPay | With the world's best virtual assistant, you get a tailor-made POA document created according to your state rules and requirements. Register for DoNotPay to get a perfect POA hassle-free |
Create a Missouri Durable Power of Attorney Swiftly Using DoNotPay
You don't have to rely on a second-rate online template or a lawyer service that costs an arm and a leg. With DoNotPay and the Power of Attorney feature, you can get a POA document in under five minutes!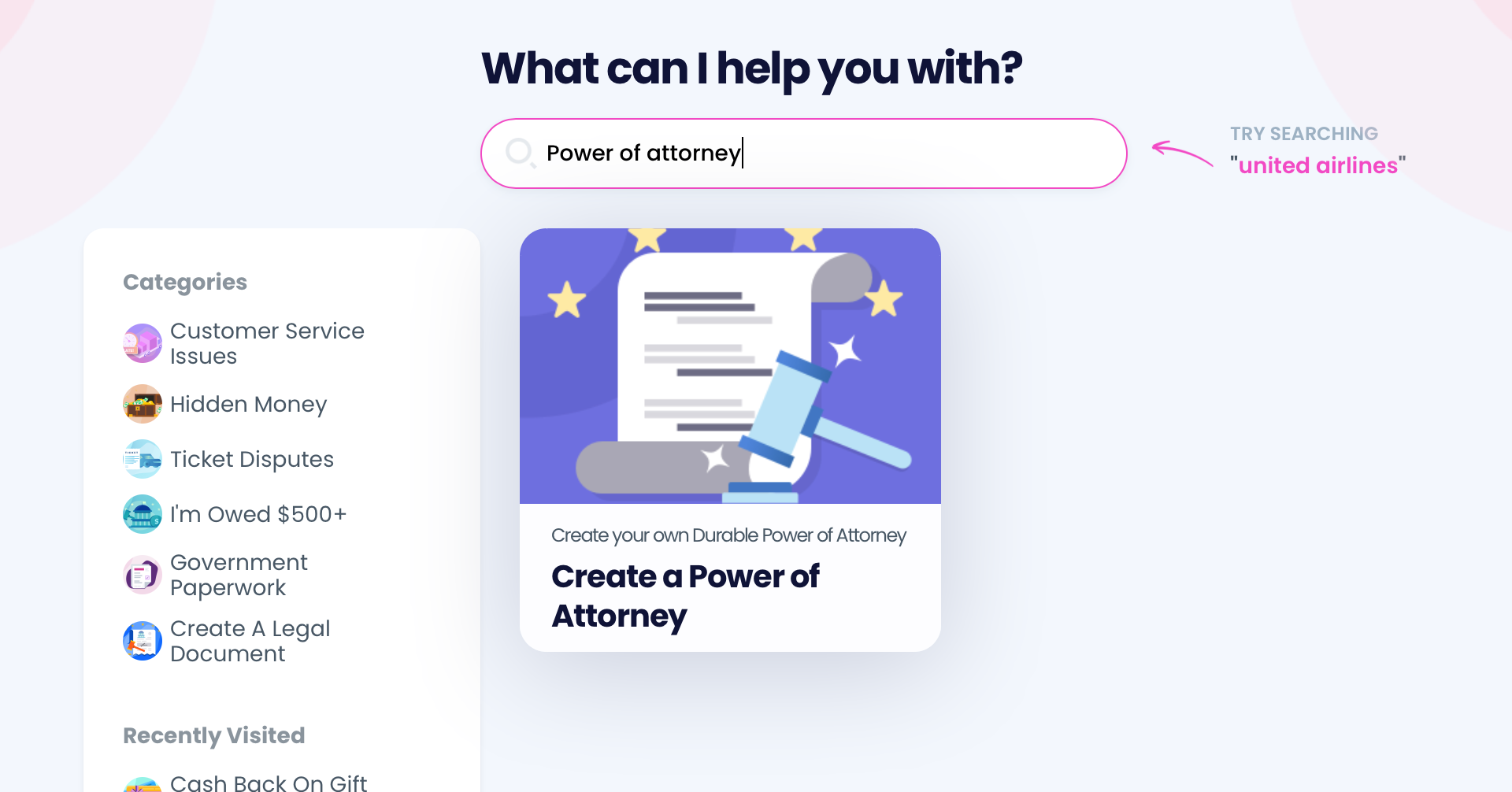 Our Power of Attorney service is:
Reliable
Practical
Expeditious
Cost-effective
You can see for yourself—follow these steps:
Locate the Power of Attorney product
Fill out our short questionnaire
We'll send you a custom-made power of attorney based on your needs and state requirements. Besides that, you'll receive one notice for the principal and the other one for the agent.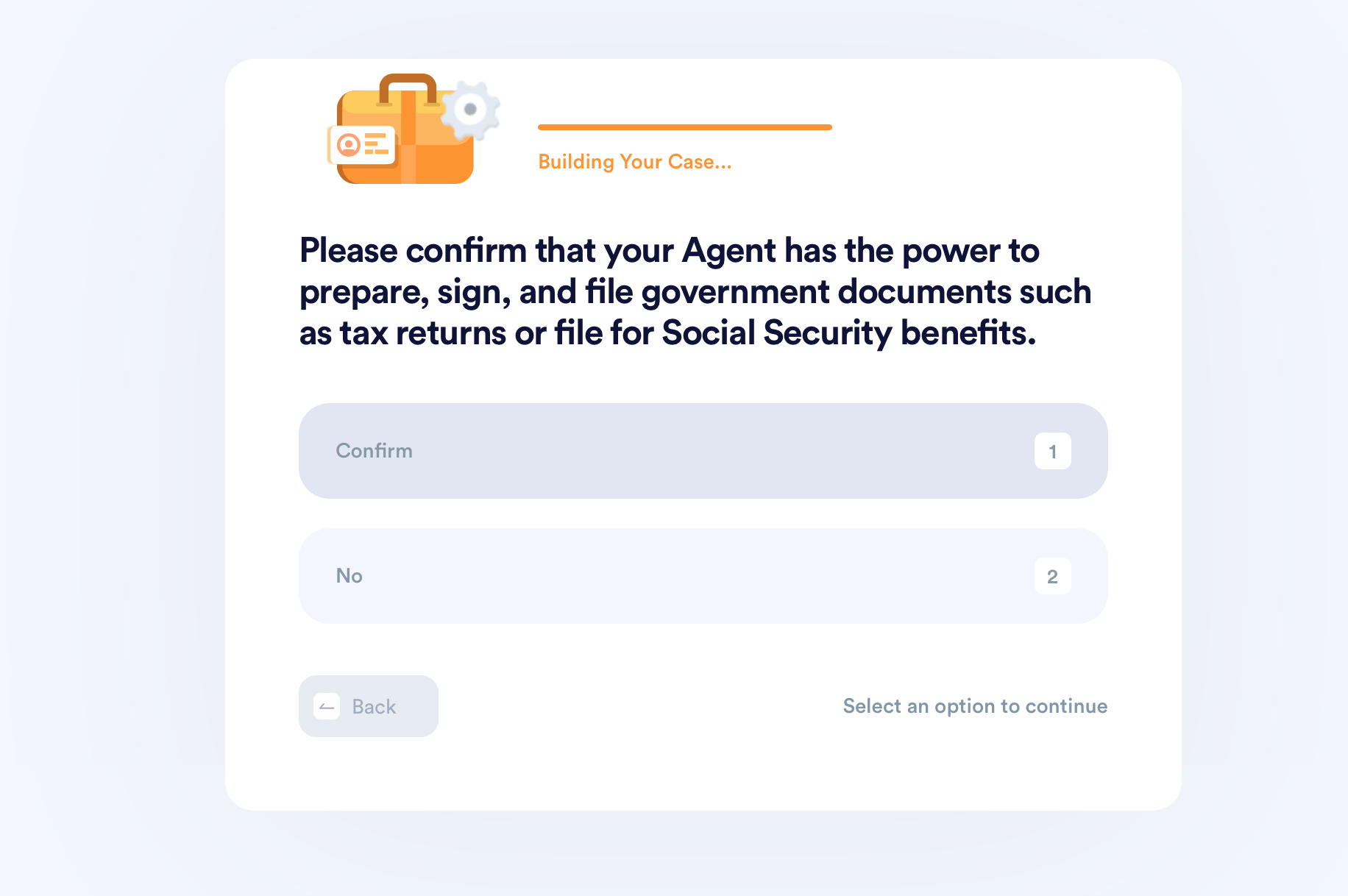 If you need to get your POA document notarized, we are happy to help! Confirm that you need a notary's signature while completing the questionnaire, and we'll provide you with the best notary service promptly.
Do you have more questions about powers of attorney? You can visit our learning center to get acquainted with anything POA-related. Find out:
DoNotPay Covers All the Bases
From getting you ready for various government tests to helping you reduce your property taxes, DoNotPay offers valuable assistance with the tasks that make most people at least roll their eyes. Dealing with bureaucracy isn't fun, but it also doesn't have to be as difficult as it is.
Every product in DoNotPay's portfolio is designed to efficiently deal with a specific issue within a few minutes and without sacrificing your comfort. Take a look at the tasks our app can make much more simple:
A Little More Money Never Hurt Anybody
Hardly anyone would turn down a chance to earn some more cash. That's why DoNotPay not only protects your rights and interests but also offers great opportunities to improve your financial situation.
With our help, you can find paid clinical trials, locate your missing money in any state, get your cash back from used gift cards, or enter various raffles and win great prizes.