Instructions on How To Create a Power of Attorney in Michigan Easily
Whether you were asked to be an attorney-in-fact or you need to appoint someone to take care of your affairs, you should know how to create a properly written power of attorney (POA). If you'd like to learn how to draw up a power of attorney in Michigan, we've got you covered! We'll explain every type of POA and help you draft a durable power of attorney in under five minutes.
All You Need To Know About a Michigan Power of Attorney
A power of attorney is a document that enables an individual—known as an agent—to make legal, financial, and health care decisions on behalf of another person—the principal. The powers the principal grants to the agent will depend on the type of POA they choose to create. Look at the table below for more information about different kinds of POA:
| | |
| --- | --- |
| Type of POA | Explanation |
| General | A general POA allows an agent to deal with a wide range of legal and financial matters on the principal's behalf. A general POA ends if the principal becomes mentally incapacitated |
| Durable | A durable POA is different from other documents because it stays effective even if the principal becomes mentally incapable of making decisions. In Michigan, the principal needs to sign a durable power of attorney that contains a clause stating that the POA is durable if they want an agent to have power over their financial affairs |
| Limited | A limited POA grants an agent limited powers over the specified aspects of the principal's finances. The principal can also make this document time-limited |
| Financial | A financial POA allows the agent to take care of business matters for the principal and handle other financial aspects of the principal's life, such as paying bills and taxes |
| Springing | A springing POA goes into effect on a specific date or after a certain event (specified in the document) |
What Are the Agent's Duties According to the Michigan Power of Attorney Statute?
The MI POA statute requires that an agent has rights, authority, responsibilities, and limitations as provided by law. According to MI law, an agent must:
Act in accordance with the standards of care applicable to fiduciaries
Follow the principal's instructions
Keep the principal informed about his or her actions
Keep records of their actions, including receipts, transactions, investments, and similar
An agent shouldn't:
Make any gifts to themselves unless it's specified in the POA
Create an account or transfer assets in joint tenancy between the principal and themselves
If an agent breaches their duty, they will be liable for any loss or damage and face legal consequences.
How To Get a Power of Attorney in Michigan
If you want a well-written power of attorney in Michigan, one of the solutions is to hire a lawyer. In case you can't pay expensive lawyer fees, you can try composing a Michigan POA yourself by following these steps:
Purchase a POA form online or from an office supply store
Fill out the form
Appoint the agent
Find two people who will be witnesses
Head over to a notary public's office and sign the POA
You don't have to go through the complicated process by yourself because you can subscribe to DoNotPay. Our platform can create a durable power of attorney for you in three simple steps.
DoNotPay Helps You Draw Up Your MI POA With No Effort
With DoNotPay, you won't have to waste money on lawyers or lose time searching for a notary. We can help you create a durable power of attorney in a snap and assist you in getting it notarized remotely. You'll get your document quickly and effortlessly without leaving your home.
All you need to do is sign up for DoNotPay and provide our chatbot with the following information:
Agent's name and address
Co-agent's name and address
Powers you're transferring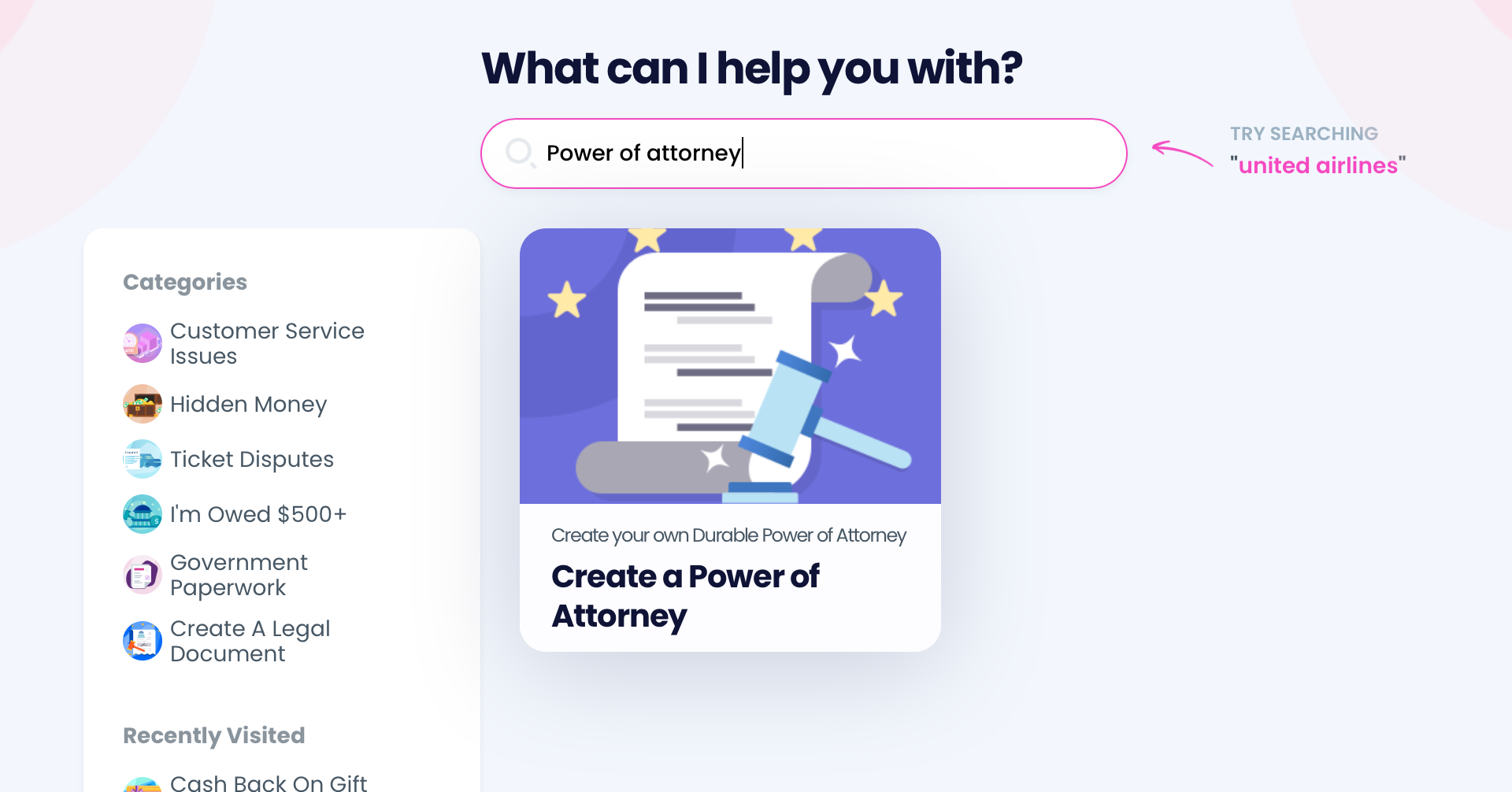 To create your power of attorney letter, open DoNotPay in any web browser and follow these steps:
Find our Create a Power of Attorney product
Answer our chatbot's questionnaire
Tap on Confirm
Once you go through the questionnaire, we will provide you with your POA and two notices for you and your agent. You should both read the provided documents before signing the POA.
Does a Power of Attorney Need To Be Notarized in Michigan?
Most states require that you get your POA notarized, and Michigan is one of them. If you want your document to carry legal weight, you need to sign your POA in front of a notary and two impartial witnesses. The witnesses must sign the POA as well.
If you are physically unable to sign and date your POA, a notary can sign it instead of you.
Don't want to waste hours searching for a notary? Rely on DoNotPay to create a POA and get it notarized quickly without leaving the app. We will connect you with an online notary who will witness your signing virtually and make your document official!
DoNotPay—Quality and Quantity
Our platform provides a multitude of useful tools, products, and services that anyone can benefit from. DoNotPay is a proper virtual assistant that can minimize your paperwork, protect your consumer rights, increase your productivity, or keep you safe online.
The best part is that we keep adding more awesome features all the time—all available for a small subscription price. Take a peek at a small part of our portfolio in the table below:
| | | |
| --- | --- | --- |
| Online Safety | Customer Protection | Administration Shortcuts |
| | | |
It Gets Even Better!
With your DoNotPay subscription, not only do you get a powerful weapon to fight boring and annoying daily tasks, but you also get a great resource for earning more money.
You can use our platform to enter free raffles, secure compensation for fighting robocalls, get your cash back from used gift cards, or find unclaimed money under your name, no matter the state.