Worried About Your Mental Faculties? Grant Power of Attorney for Mental Illness in Good Time
You may have a family history of mental illness or an early diagnosis of a disease that is likely to debilitate you mentally in the coming years.
Whatever the case, it pays to be prepared—once you have lost your mental faculties, it may be too late.
DoNotPay shows you how to plan for the future and set up a power of attorney for mental illness.
What Is a Power of Attorney?
A power of attorney (POA) is a document that gives a trusted person—the agent—the right to make decisions on your—the principal's—behalf if, and when, you become incapable of doing so.
For financial matters, there are four major types of POA:
General POA
A general POA allows the agent to do almost anything the principal can do with their finances. It is terminated when the principal becomes incapacitated by mental illness.
Limited POA
Under a limited POA, the agent can only perform the tasks stipulated in the power of attorney letter. There may also be a time limit set on the agent's powers.
Springing POA
A springing POA only comes into effect after the principal is no longer deemed fit to conduct their financial affairs.
Durable POA
In a durable POA, the agent handles the principal's financial affairs both before and after incapacity. A durable POA can only be terminated by:
The death of the principal
The unwillingness or inability of the agent to continue in the role
A revocation of the POA by the principal
When Should You Consider Granting a Mental Health Power of Attorney?
In the case of prospective mental illness, you will need a durable financial power of attorney, and this must be set up before any symptoms start taking effect.
If the principal is already incapacitated, an agent cannot take on a power of attorney—it can only be granted by the principal.
If you have reasons to believe your mental faculties are at risk in the near future, you should consider drawing up a power of attorney to make sure your loved ones are looked after financially.
How Do You Set Up a Power of Attorney?
The process of setting up a power of attorney is about deciding what you want to happen and preparing meticulously. The steps you need to follow are:
Set-Up Step
Explanation
Choose an agent
The agent you choose will be responsible for your financial affairs after you can potentially no longer understand what is happening. They should be a person you trust implicitly
Decide on what you want
A financial POA hands control of all aspects of your finances to your agent. You should determine what you want to happen to your:

Property
Investments
Business
Family day-to-day expenses
Children's inheritance

Prepare your POA document
The POA document should leave no room for misinterpretation in the way it is worded. You should check that your agent is comfortable with their responsibilities once you are incapacitated
Sign and get the document notarized
You should sign the document in the presence of a notary public, who verifies that you are:

Who you claim to be
Mentally fit
Not under pressure to sign the POA
Do You Need a Lawyer for a POA?
You can have a power of attorney drawn up by a lawyer, but this can become an expensive exercise. Having your POA notarized adds more hassle to the process, as you will potentially have to:
Arrange an appointment with the notary
Travel to their location
Wait in line for your turn
You can avoid the expense of lawyer's fees by letting DoNotPay draw up your power of attorney for you. You can then save further time by using our online notarization service.
Let DoNotPay Generate Your Power of Attorney for Mental Illness
DoNotPay is the recognized expert when it comes to simplifying legal processes, whichever service you are looking for.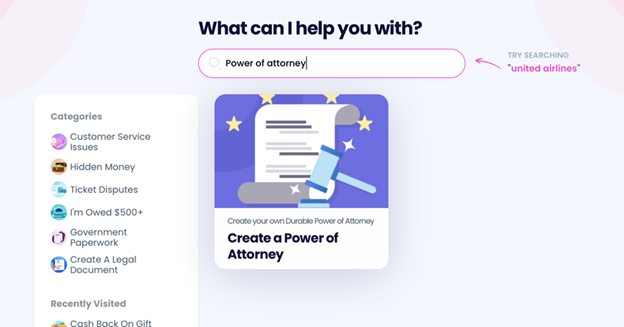 Setting up your power of attorney with DoNotPay is simplicity itself—all you need to do is:
Sign up with DoNotPay in your web browser
Click on our Power of Attorney product
Give us the details you want included in your document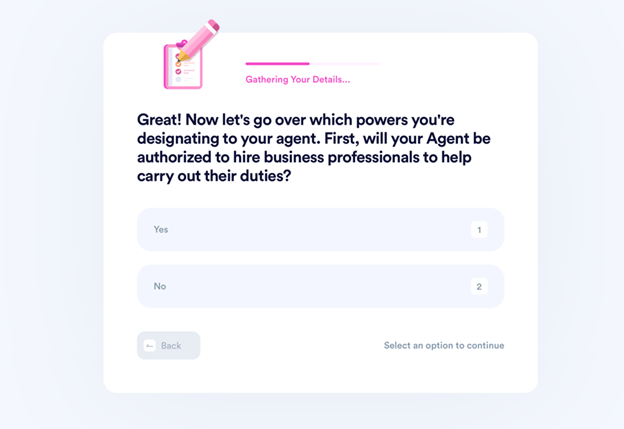 You should include considerations such as:
How should your family expenses be managed?
What should happen to your property and investments?
How should your business be handled?
What gifts are allowed?
Once you have finalized all the details of your power of attorney, your job is done, and we can take over. We will generate your document, and you can sign it in the presence of a notary—or use DoNotPay's online notarization service. You can opt for it as soon as you provide our chatbot with the details that you want included in your power of attorney document.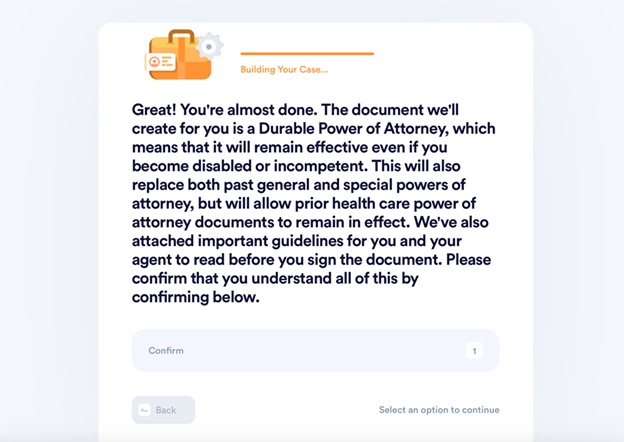 You Can Count on DoNotPay To Resolve Any Issue
Are you stuck in the never-ending subscription cancellation procedures? Do you want to demand a refund once you finally reach a customer support rep? Is the company refusing to cooperate? No need for stress—your personal assistant can lend a helping hand.
Is there anything else we can help you with? You bet! Once you sign up, we can resolve a number of issues in your stead. Count on our app if you're struggling with:
You Don't Have To Suffer in Silence
Have you been experiencing workplace discrimination lately? Do you have a real-life stalker or harasser that you're too scared to confront? Do you want to get rid of robocalls and text and email spammers once and for all? You're not alone—DoNotPay is by your side and will help you deal with all of these issues.
As soon as you subscribe to our app, you'll be able to use our products to your advantage and fight for your right worry-free!