A Complete Guide to Creating a Power of Attorney in Massachusetts
Do you want to grant someone permission to act on your behalf and make crucial decisions in your name? You should gather all the information you can about the power of attorney documents first. The Bay State, like all the other states, has guidelines that regulate all powers of attorney within its legislature.
We will provide the necessary details about a power of attorney in Massachusetts and, once you sign up for DoNotPay, we'll generate it for you!
How Does a Massachusetts Power of Attorney Work?
A power of attorney (POA) is a legally binding document that grants the power to an individual (or several individuals) to make decisions in your stead. The involved parties are the:
Principal
Agent or attorney-in-fact
Creating a POA is important, especially if you have financial assets or business interests that need to be taken care of. You should write a power of attorney letter while you are of sound mind.
The State of Massachusetts doesn't specify who can and cannot be an agent, but people usually appoint their:
Relatives
Children
Spouses
Close friends
Business partners
In Massachusetts, a power of attorney is durable unless you specify otherwise in the letter. With a durable POA, the authorization you give to the agent continues if you become incapacitated or mentally incompetent and can no longer take care of your assets and affairs. If the POA is not durable, it stops being valid after you get incapacitated.
Other power of attorney types include:
Massachusetts Power of Attorney Requirements
A Massachusetts power of attorney document has to include:
Contact information of all signing parties
Date of execution
Granted permissions
Date of termination
The principal's signature
According to Massachusetts power of attorney laws, the person you appoint as the agent has to:
Be a legal adult
Have the capacity to understand the responsibility
A power of attorney doesn't have to be notarized in Massachusetts, only signed in the presence of at least two adults.
What Is a Durable Power of Attorney in Massachusetts?
If you use a durable purchase agreement when granting permission to your agent, you should be aware that those powers don't cease to be valid after you become incapacitated. The agent continues to have authority over your assets and other businesses until you pass away.
A Massachusetts durable power of attorney has to be in written form and must contain the following words:
"This power of attorney shall not be affected by subsequent disability or incapacity of the principal or lapse of time," or
"This power of attorney shall become effective upon the disability or incapacity of the principal"
How To Get a Power of Attorney in MA
We're going to explore several options for getting a power of attorney in Massachusetts:
Hiring a lawyer
Downloading a template
Writing the POA letter on your own
Signing up for DoNotPay
Hiring a Lawyer
The safest option for drafting any type of legal document is hiring a lawyer. Besides having general legal knowledge and experience, they are familiar with state laws and rules. All of that comes at a price—if you want to hire a lawyer to create a power of attorney, be prepared to pay a lot of money for it.
Downloading a Template
A simple, three-second Google search can present you with countless power of attorney templates that you can download, fill out, print, and sign. They are usually free but far from reliable. Since you're disclosing your health-related information, finances, and other affairs, you need a personalized document because a template doesn't include the specifics.
Writing the POA Letter on Your Own
With enough information about Massachusetts rules regarding the POAs, you can try creating one on your own. In the following table, you can find the steps you'll need to take:
Steps
Details
Identify the signing parties
Insert contact information to identify the principal and agent(s):

Names
Addresses
Relationship between the parties

Define which powers you're granting
Some POA forms include the state-approved powers, so you only have to check which of them you're granting. If you want to give special permissions, you should state them separately and specifically
Provide additional information
Besides contact information, you have to include the following:

Governing law
Effective date
Third-party reliance
Termination date

Certify the signature on your power of attorney
You can go to a notary public and sign your POA before them, even if it's not required. In case you don't want to do that, you can sign the document before two adult witnesses
Have DoNotPay Draw Up a MA Power of Attorney for You in a Heartbeat
While all of the options for making a power of attorney bring something to the table, none of them provides all you need to create a rock-solid Massachusetts POA document.
Fortunately, we still have another option to explore!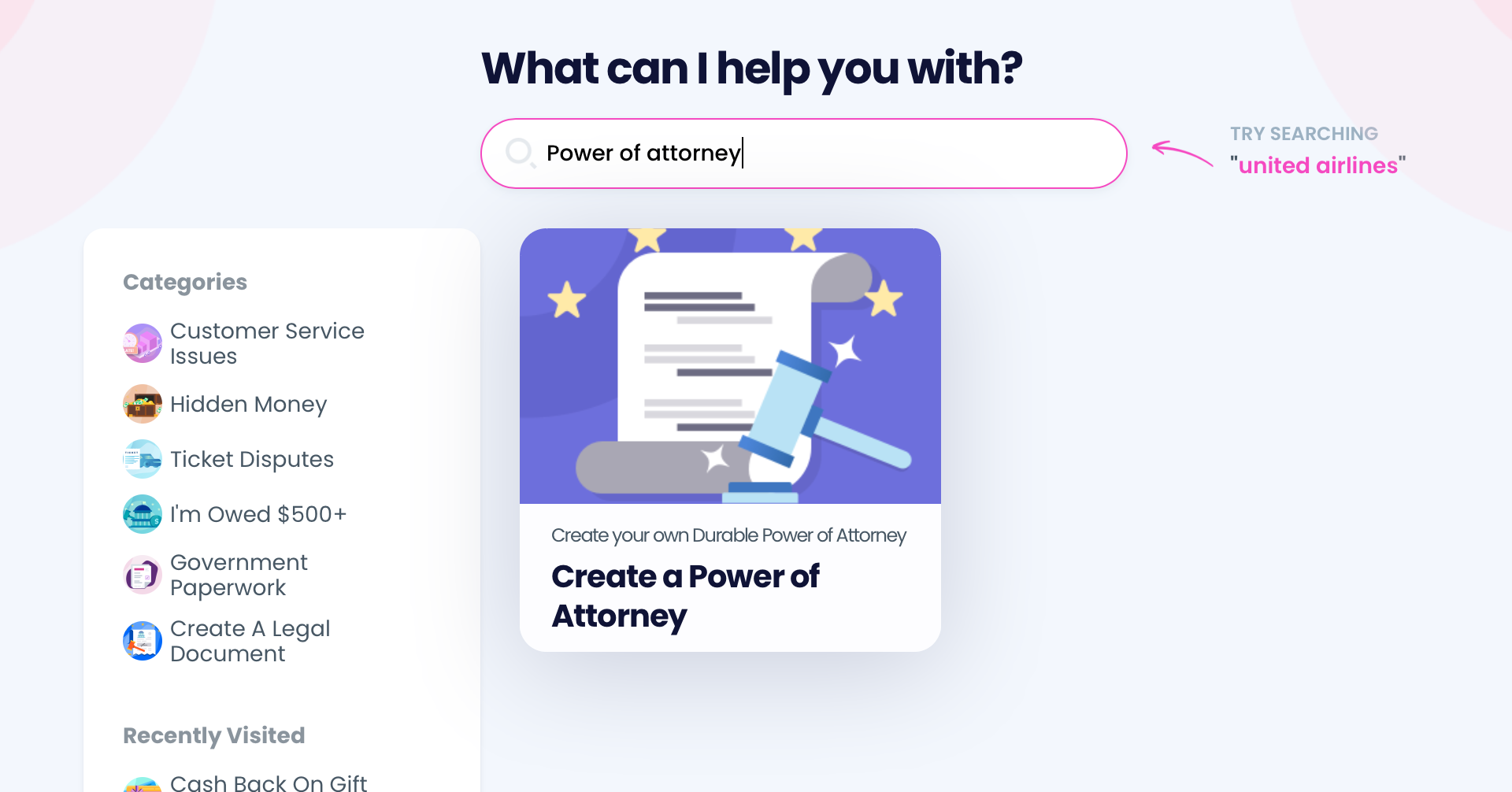 With our Power of Attorney feature, you can get your hands on a customized durable POA within minutes from registering. Besides being budget-friendly, our product is easy to use—all you have to do is follow these steps:
Locate the Power of Attorney tool
Go through our chatbot's questionnaire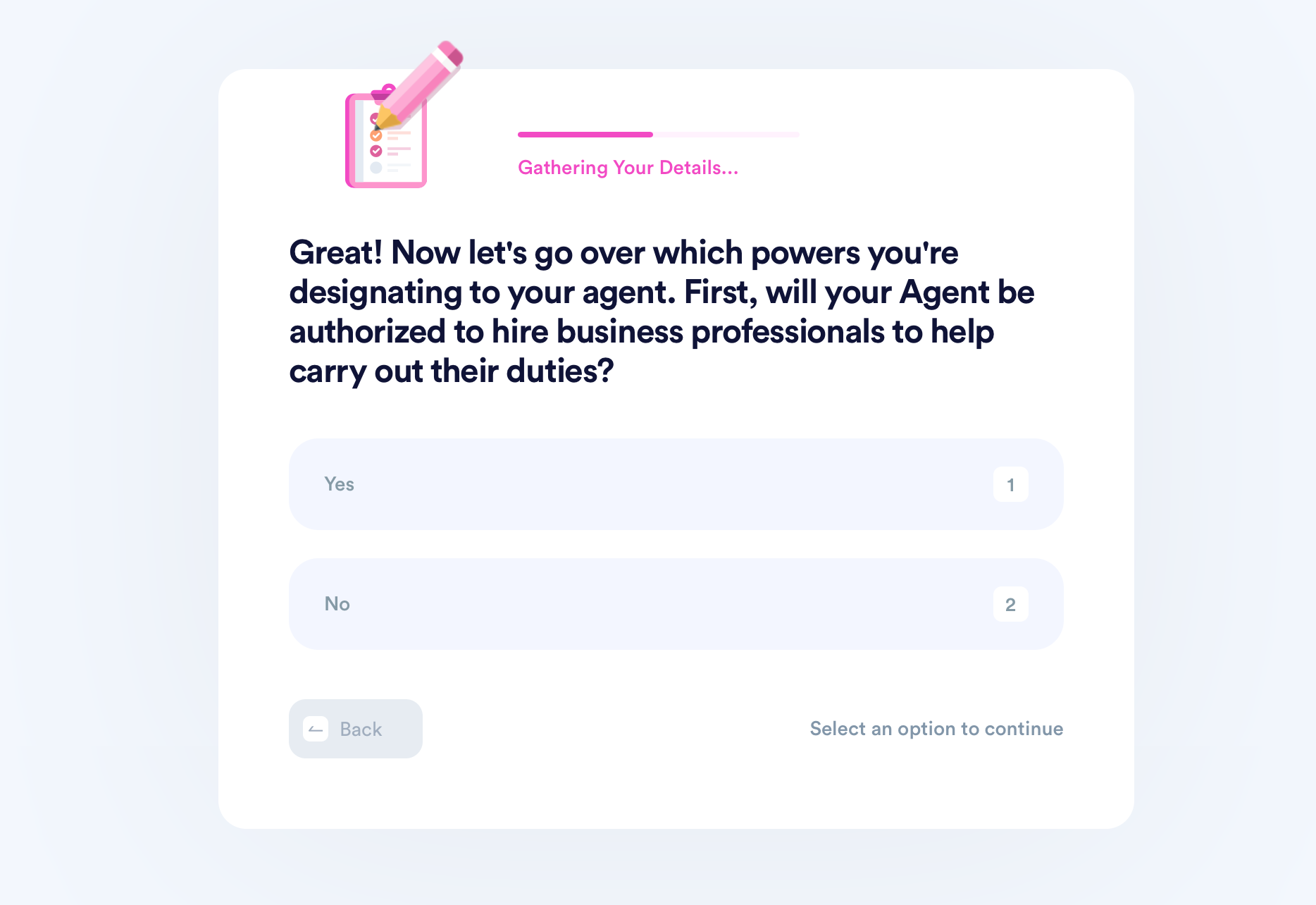 You will receive a durable power of attorney and two notices you and your attorney-in-fact should read before signing the document.
DoNotPay Covers All the Bases
From getting you ready for various government tests to helping you reduce your property taxes, DoNotPay offers valuable assistance with the tasks that make most people at least roll their eyes. Dealing with bureaucracy isn't fun, but it also doesn't have to be as difficult as it is.
Every product in DoNotPay's portfolio is designed to efficiently deal with a specific issue within a few minutes and without sacrificing your comfort. Take a look at the tasks our app can make much more simple:
A Little More Money Never Hurt Anybody
Hardly anyone would turn down a chance to earn some more cash. That's why DoNotPay not only protects your rights and interests but also offers great opportunities to improve your financial situation.
With our help, you can find paid clinical trials, locate your missing money in any state, get your cash back from used gift cards, or enter various raffles and win great prizes.