Get a Power of Attorney in Louisiana That Fits the Bill!
One of the most important documents you can sign or be bound by is a power of attorney (POA).
As a resident of Louisiana, you need to understand state law around POAs. This will make sure that what you sign as a principal or agree to as an agent will look after the principal's interests if they are no longer able to make decisions for themselves.
DoNotPay has all the info you need to use a power of attorney in Louisiana safely and effectively!
All the Details of the Louisiana Power of Attorney Statutes
Under Louisiana state law, a power of attorney is known as a mandate and is regarded as a legal contract between the principal and the agent.
As such, a POA requires:
An offer to be made by the principal
The offer to be accepted by the agent
In practice, this means that a POA in Louisiana should be signed by the principal in the presence of a notary and two witnesses. The mandate must be in writing, but the state of Louisiana does not provide a statutory form for a POA.
Getting the details of a POA right in Louisiana is critical, as any interested party can file a lawsuit to contest a mandate if they feel the agent is acting improperly.
In such a court case, Louisiana law gives the judge the power to issue:
Injunctions to stop the agent from acting
Restraining orders to limit contact between the agent and the complaining party
Court orders to recover attorney's costs from an agent
What Kinds of Power of Attorney Does Louisiana Recognize?
Louisiana power of attorney laws recognize a principal's right to appoint an agent to manage their healthcare requirements and financial needs.
A financial power of attorney in Louisiana can come in various forms, as follows:
Type of POA
Explanation
General POA
A general POA in Louisiana gives full control of the principal's financial affairs to an agent but terminates when the principal is declared incapacitated
Limited POA
A Louisiana limited POA covers either:

Limited financial responsibilities, such as the sale of a property or the management of an investment portfolio
All financial matters for a limited time, such as when the principal expects to be absent for a certain period

Springing POA
A springing POA covers all the principal's financial affairs but only comes into effect once the principal is incapacitated. It is often called a conditional POA or mandate in Louisiana
Durable POA
In Louisiana, a durable POA delegates responsibility for all the principal's financial affairs to the agent and remains in force even when the principal is declared incapacitated. It is the default form for all POAs in Louisiana
How To Set Up a Power of Attorney in Louisiana
The steps to set up a power of attorney or mandate in Louisiana as a principal are as follows:
Choosing an agent
Preparing the scope of the mandate
Drafting the document
Signing the mandate
Choosing an Agent
The choice of agent or attorney-in-fact is critical.
The person the principal chooses will take on vast responsibility and should therefore be someone they:
Trust to act in their best interests
Are convinced will not cause conflict among family members
Are confident will perform their function for as long as necessary
Preparing the Scope of the Mandate
The principal should decide exactly which areas of their finances the agent should have control over. The principal can choose to issue a general durable mandate or exclude certain aspects of their financial affairs.
As an example, they may wish their agent to control day-to-day financial matters but not to sell any property. They can exclude the agent's right to make property deals in the scope of their mandate.
Drafting the Document
Louisiana does not prescribe a form for a power of attorney, so the principal can draft a POA document using whatever form they choose as long as it includes the following:
Names and details of the principal and the agent
Scope of the POA
Commencement and termination date
Signing the Mandate
Once the POA letter is complete, the principal can sign it.
The principal needs to sign the document in the presence of a notary and have it witnessed by two adults who are not named in the mandate or related to the principal or the agent.
The notary's job is to:
Verify the principal's identity
Confirm the principal understands what they are signing
Ensure the principal is not under duress to sign
If you need a power of attorney drawn up in Louisiana, you may think you need a lawyer to do the job for you. DoNotPay has a better solution—we can create a customized power of attorney for you in seconds!
Get Your Louisiana Power of Attorney in a Flash With DoNotPay!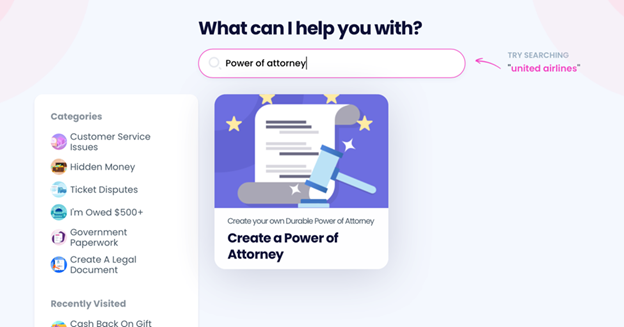 DoNotPay is the master of making legal processes easy and uncomplicated—drafting a power of attorney is no exception!
To get your customized POA, all you need to do is:
Sign up with DoNotPay in your web browser
Click on our Create a Power of Attorney product
Follow the prompts and give us the necessary details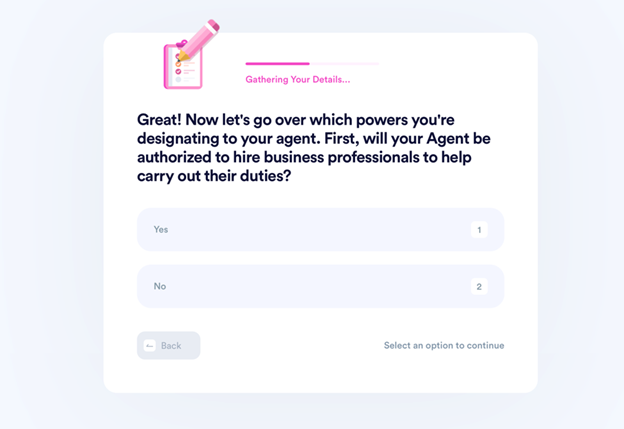 Once your document is ready, you can go ahead and find a notary to complete the process. If you want to make validating your POA even easier, you can rely on DoNotPay and get your POA notarized without leaving our app!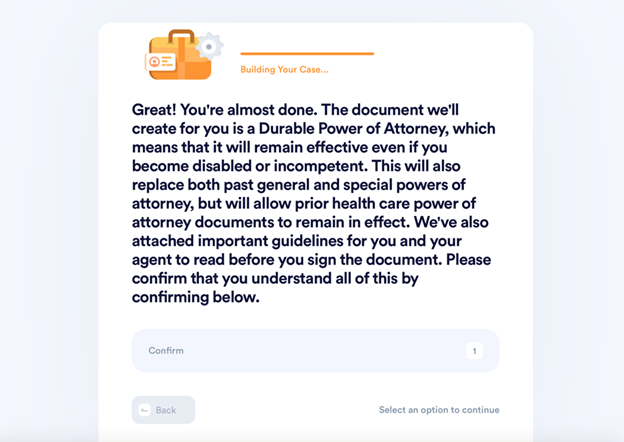 Discover DoNotPay's Product Range
DoNotPay has a vast range of products that help you earn and save money and fight bureaucracy. Check out how to get insurance or warranty, file a FOIA request, send anything through online fax, draw up a tailor-made legal document, get documents notarized, get a college fee waiver, sign up for any clinical trial, and so much more!
Your personal AI-powered assistant can also lend its helping hand if you need to fight email or text spam, get robocall compensation, request refunds from airlines, draw up a child travel consent form, prepare for government tests, and combat workplace discrimination successfully.
Save and Earn Money
The best part of using DoNotPay is that you can both save and earn money. As soon as you sign up, make sure you check out how you can find missing money, get free raffle tickets, get compensation for victims of crime, report a late or missing delivery and get a refund for it, and request gift card cash back.
If you want to sign up for a free trial risk-free, cancel any subscription-based service, request a refund from a company, sue anyone in small claims court, or jump the phone queue when getting in touch with customer service reps, you can always count on us.