A Step-by-Step Guide to Writing a Power of Attorney Letter Swiftly
Different situations in life can cause a person to delegate someone to take care of their personal and financial affairs. When that happens, writing a power of attorney document is a necessity. What should you do if you don't have experience in these matters or money for legal assistance?
In this article, you can find all the information you need for drafting the most suitable power of attorney letter!
What Is a POA?
A POA stands for a power of attorney—a legal document used to transfer power over certain decisions from one person to another.
A power of attorney is created between two parties—the principal and attorney-in-fact. The principal chooses an attorney-in-fact—also called an agent—or more of them and gives them the authority to make certain decisions in their name.
Contrary to the common opinion, people don't use powers of attorney only when they're mentally or physically incapable of making the decisions on their own. You can use a power of attorney if you travel a lot or work overseas and need someone to take care of your assets and personal affairs.
All You Need To Know Before Making a Power of Attorney Letter
Powers of attorney are one of the most powerful legal documents. Giving powers over important decisions away is not something you should brush aside. Before writing a power of attorney, you should consider the following:
Power of attorney laws and forms can vary from one U.S. state to another
There are different power of attorney types, and the main ones include:
It is smart to have separate medical and financial powers of attorney
Not all powers can be delegated—you cannot authorize the attorney-in-fact to:

Vote on your behalf
Make, change, or revoke your will

POA ceases at death
Powers of attorney are revocable and amendable, provided you are capable of making legal decisions on your own
Some states allow oral powers of attorney, but it is best to have them in written form
Most states follow the Uniform Power of Attorney Act, which outlines the powers that the principal can give to the agent
What To Include in a Letter of Power of Attorney
Take a look at the following table to see what your power of attorney document should cover:
What To Include in a POA
Details
Information about the parties
You should identify the principal and agent and include the parties':

Names
Addresses
Mutual relationship

Powers you are delegating
Consult with your state's laws and requirements and select the powers you're granting. They can depend on your needs and the type of POA you opt for
Additional information
This section usually includes the following information:

Third-party reliance
Effective date and termination
Interpretation and governing law
How To Write a Power of Attorney
You can create a power of attorney in multiple ways:
Hire a lawyer to draw up a POA for you—Having a lawyer create a power of attorney for you is one of the most reliable options, but it is also the most expensive one
Write a POA letter on your own—If you have knowledge and experience in legal matters, you can try writing a POA on your own. Bear in mind that your POA needs to meet your state's rules and regulations to be valid
Use a template—You can choose among a myriad of power of attorney templates online. The problem with these templates is that they are often too general, and you don't want to do a poor job with something as important as your POA
Sign up for DoNotPay—With DoNotPay's help, you can get a personalized power of attorney aligned with your needs and state regulations. You don't have to pay the earth for it, struggle to put it together, or waste your precious time
Need a Power of Attorney Authorization Letter? DoNotPay Can Draft It for You!
While there are many options for creating a power of attorney, none of them provides what DoNotPay does. Our Power of Attorney product is fast, budget-friendly, easy to use, and—most importantly—super reliable!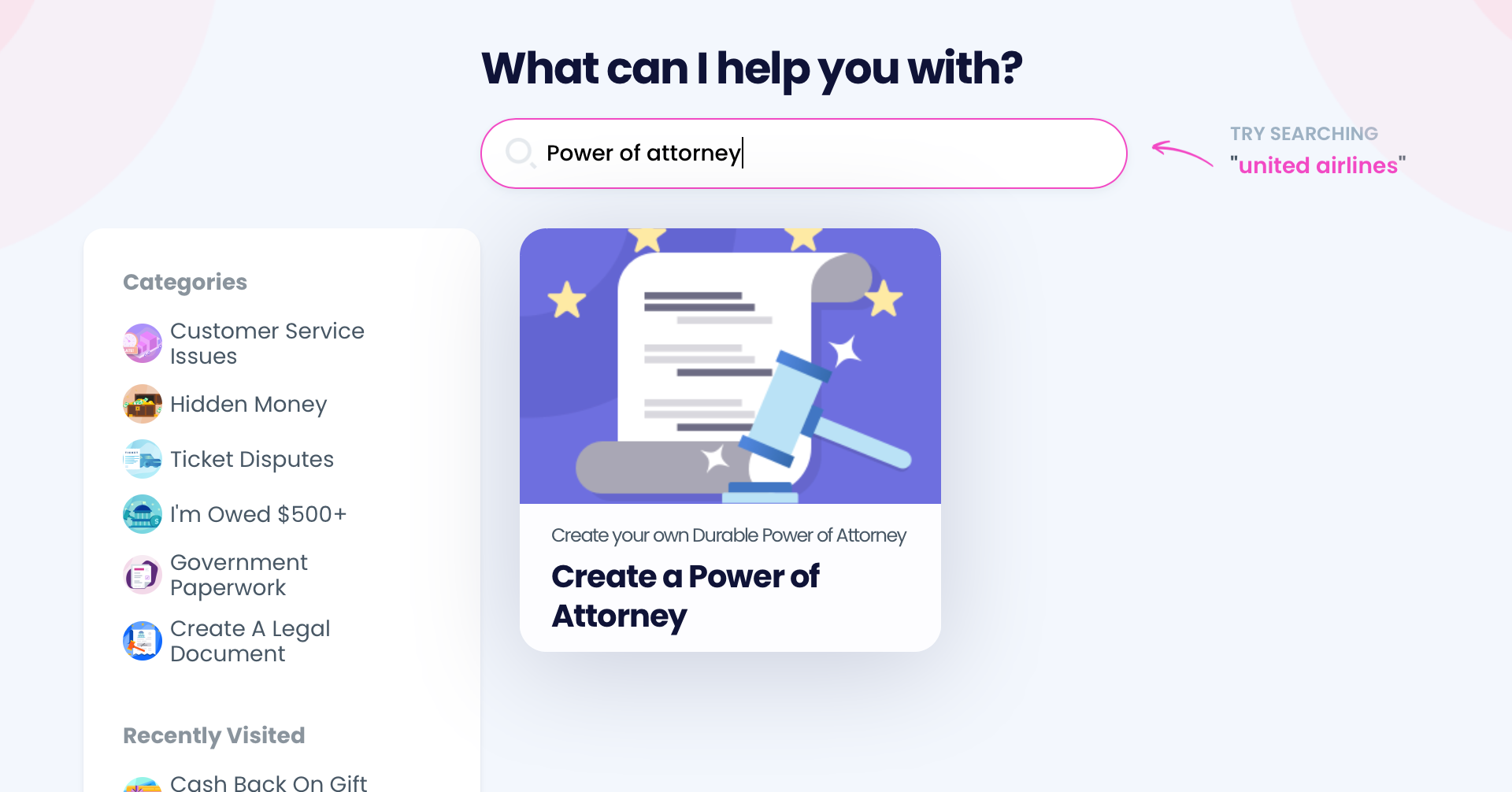 Get your hands on a personalized power of attorney letter by following these steps:
Locate the Power of Attorney tool
Answer our chatbot's questions to help us select the type of POA you need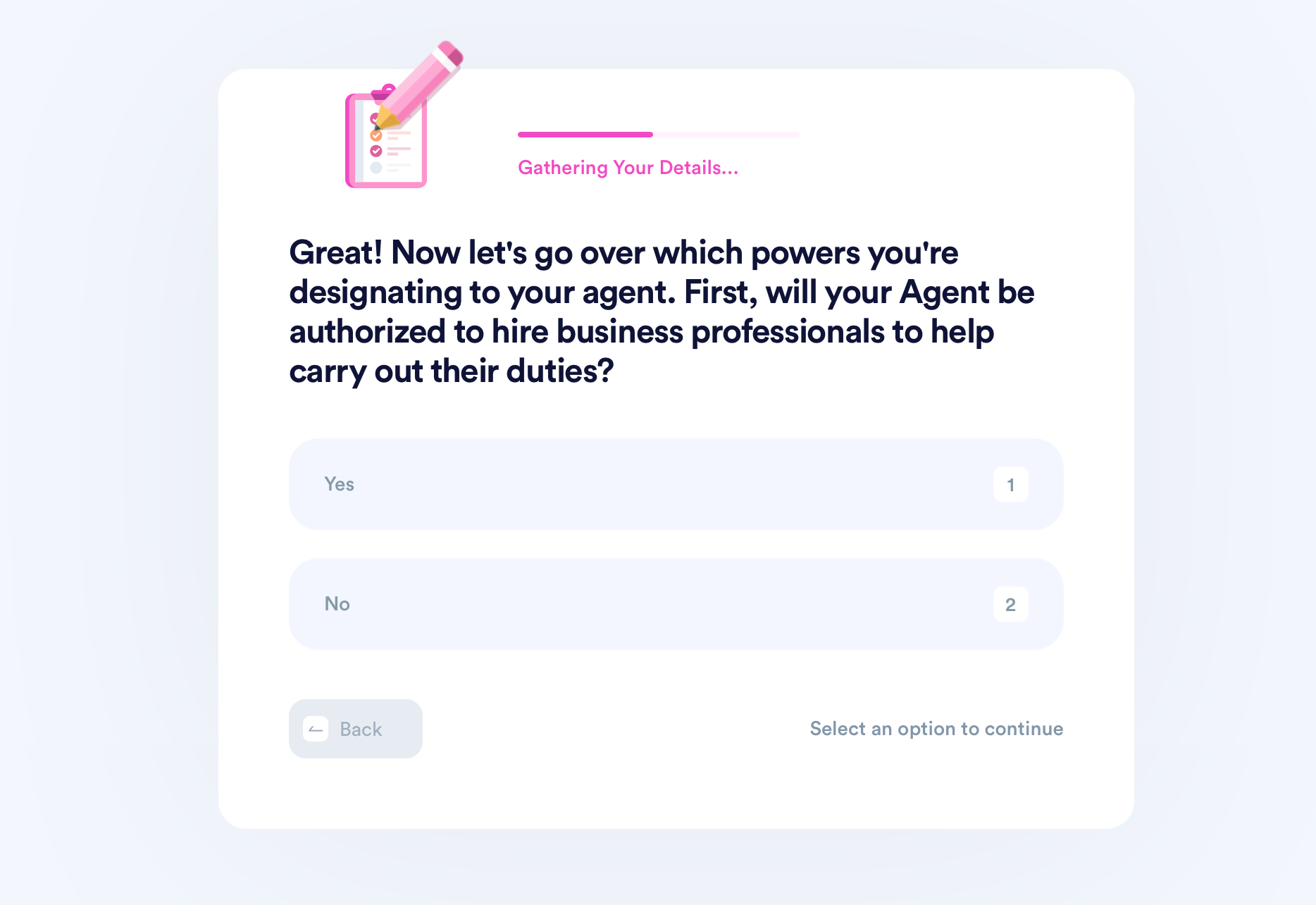 We will immediately draft a power of attorney letter and two notices—one for you and the other for your agent.
What To Do After Creating a Power of Attorney Letter
The following table shows the steps you should take once you and your attorney-in-fact sign the POA:
| | |
| --- | --- |
| Steps | Explanation |
| Get it notarized | While some states don't require it at all, you have to sign a POA in front of a notary and two credible witnesses in others. Even if it's not required, getting your power of attorney notarized is highly recommended |
| Register the document | Whether you should register your power of attorney depends on its type. You should check your state's requirements to confirm if your POA needs to be registered |
| File the document | Most powers of attorney are filed with a court or government office, but that can vary depending on your state's laws and your POA type |
Outsmart Big Corporations by Using DoNotPay
Our platform is always on the side of regular people, and the number one item on our agenda is fighting for your rights.
If you need help requesting refunds for faulty products, late parcels, or canceled flights, you can turn to DoNotPay for help. Protect your privacy and stay one step ahead with our spam email collector, burner phone numbers, and virtual credit cards.
We will provide you with everything else you need in your fight—online fax, mailing service, and products for drafting legal documents and having them notarized online.
Improve Your Leisure Time Too!
You can win some serious battles with the help of DoNotPay—after all, our app can even get you ready for small claims court—but we offer numerous useful features that will improve the quality of your entertainment.
Signing up for free trials doesn't come with the risk of losing money anymore, and if you get bored with that new streaming service, you can easily cancel it using our app.
If entering raffles is your idea of fun, you'll be glad to know we can help you participate in all kinds of these games of chance. You can also review your knowledge using our government tests prep quizzes or retrieve any unclaimed money under your name and spend it on something fun!