All You Need To Know About a Power of Attorney in Kentucky
A power of attorney (POA) is one of the most powerful legal documents. It comes with great responsibility for all signing parties, which is why you should be extra careful when making it.
This article presents all the necessary information about a power of attorney in Kentucky and the improvements that the new statute brought!
With all the rules and changes, creating a POA in Kentucky might be that much more complicated. To avoid all the hassle, you should sign up for DoNotPay and have us write a power of attorney letter for you!
How Does a KY Power of Attorney Work?
A power of attorney allows the principal to authorize the agent (attorney-in-fact) to take care of their personal or financial matters, either out of necessity or convenience.
Powers of attorney are regulated by state laws, which means a POA document can significantly differ from one state to another. Many states are now adopting the Uniform Power of Attorney Act (UPOA) created by the Uniform Law Commission (ULC). The State of Kentucky joined them in 2018.
In Kentucky, a power of attorney is durable by default unless you state otherwise in the document. Depending on what you need, you can opt for another type of POA, including:
Which Powers Can You Transfer With a KY POA?
The principal chooses which powers they'll grant to their agent. There are general grants of authority—which you can find on a POA form and select—and express grants of authority that you have to state separately. According to the Kentucky POA statute, some of the acts that require an express grant of authority include:
Making a gift
Exercising fiduciary powers
Altering rights of survivorship
Altering beneficiary designation
Creating, amending, revoking, or terminating a trust
Delegating authority granted under the power of attorney
Exercising authority over electronic communications sent or received by the principal
Waiving the principal's right to be a beneficiary of a joint and survivor annuity, including a survivor benefit under a retirement plan
What Should a Kentucky Power of Attorney Include?
To be valid in Kentucky, your power of attorney letter has to include the following information:
Contact information of the principal and agent(s)
Date when the power of attorney was made
Powers that the principal is granting to the agent(s)
Termination date
Signatures of all parties
What Changes Did Kentucky Power of Attorney Statute Make?
The new Kentucky Power of Attorney Statute became effective in July 2018. In the table below, you can see all the changes it made:
Addressed Issues
Explanation
Execution
A power of attorney must be signed in front of a notary public and two disinterested witnesses
Durability
Every power of attorney is durable unless it's stated otherwise in the document
Co-agency
The principal can appoint two or more individuals to act as co-agents, and they can do it independently (unless your POA specifies otherwise)
Agent compensation
The attorney-in-fact is granted reasonable compensation by default
Fiduciary duties
An agent has to act in good faith within the given scope of authority and by the principal's expectations and best interests.

Depending on the situation, the principal can waive some responsibilities—such as duty of loyalty—which may not be appropriate when an agent is a close friend or a family member

Third-party acceptance
Third parties—banks, insurance companies, and other financial institutions—must accept every POA acknowledged by a notary
Revision of the Kentucky Power of Attorney Act
The revision of Kentucky's Uniform Power of Attorney Act took effect in July 2020. It adopted some additional portions of the UPOA and made major changes regarding the following issues:
Witnesses—Even though it was a requirement two years prior, witnesses are no longer needed for the signing of a POA. Now, only a notary has to be present during the principal's signing of the document
Gifting—If you want your agent to make gifts on your behalf, you have to specify it in your power of attorney. Here's what you should keep in mind:

Gifts will be limited to the annual gift tax exclusion unless you specify the amount
The agent should consider your gift-making history and other factors when making gifts
You can specify the people to whom you'd want your agent to make gifts

Express general powers—The revised act defined which powers are general and which require the principal to state them in the POA
When Is a Power of Attorney in Kentucky Terminated?
According to the Kentucky UPOA, a power of attorney terminates when:
The principal:

Dies
Becomes incapacitated (if the POA isn't durable)
Revokes the power of attorney
Revokes the agent's authority

The agent:

Dies
Becomes incapacitated
Resigns

The purpose of the POA is accomplished
The POA document states when it terminates
Create a Kentucky Power of Attorney in Three Steps Using DoNotPay
Creating powers of attorney is no easy task. Hiring a lawyer to do the hard work is one option, but unfortunately, it's the most expensive one. If you need a fast, reliable, and low-priced way to create a POA, you're in the right place! DoNotPay's Power of Attorney product has all you're looking for!
Here's what you need to do:
Choose the Power of Attorney feature
Answer our questions to help us determine which POA type suits you best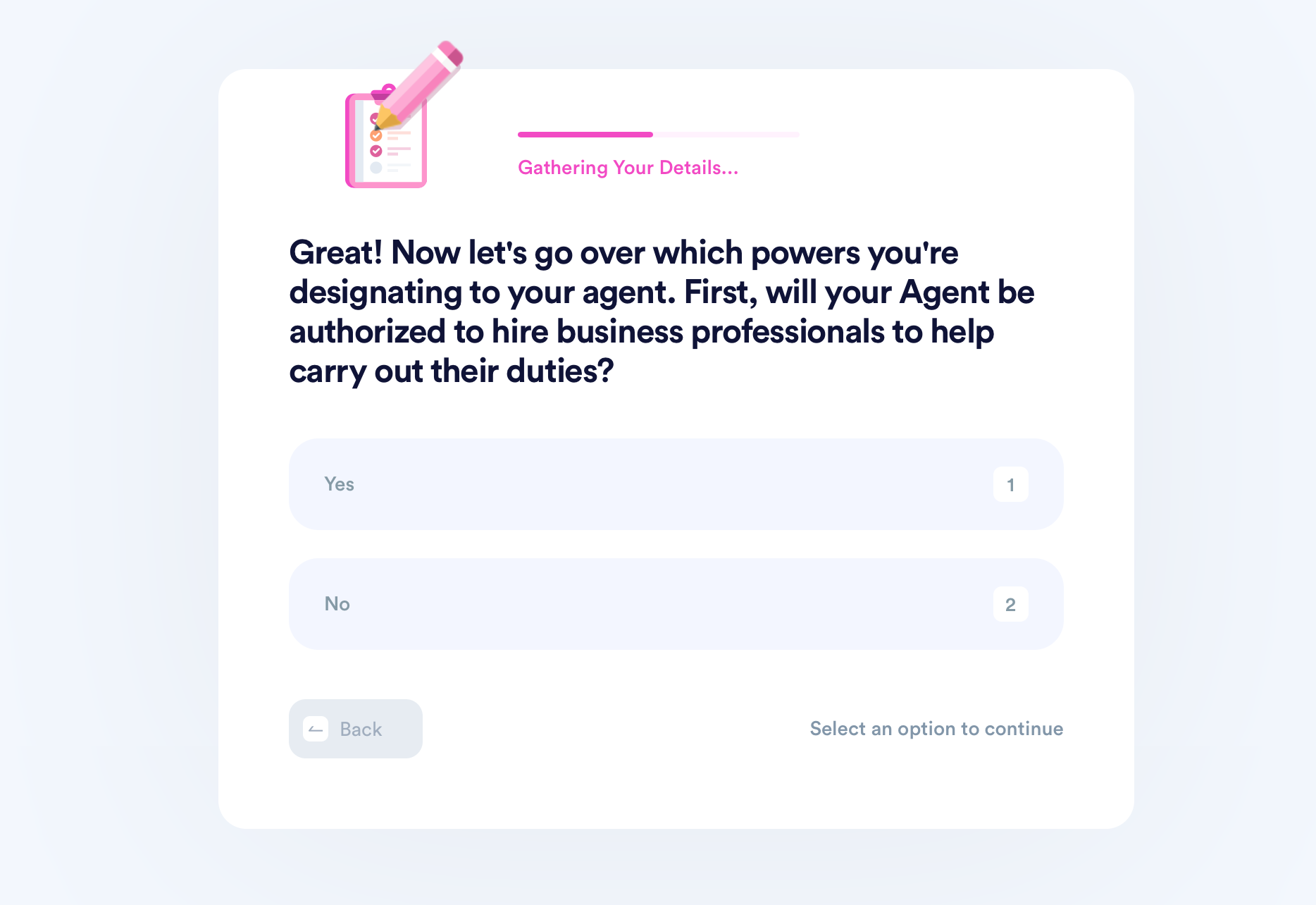 DoNotPay will create your POA document and two notices for you and your attorney-in-fact. And that's not all—you can use our notary service to get your power of attorney notarized online with zero hassle!
Good Things Come in Small Packages
Siri and Google Assistant are great in their own right, but their skills leave a lot to be desired when it comes to the practicalities of our daily lives. DoNotPay is an app, a true pocket-sized assistant that has the power and the know-how to help you deal with navigating bureaucracy and fighting for your rights efficiently.
Our platform, accessible from your phone or computer, is brimming with products that will help you:
From Government Tests Preparation to Copyright Protection
Whether you are getting ready for your driving test or wish to protect your creative work, DoNotPay has something in store for you.
We can help you handle some serious tasks—like suing someone in small claims court or reporting workplace discrimination—or deal with more mundane activities, such as getting that leftover money from your used gift cards.
The best part is that your DoNotPay subscription gives you access to all our services, be it online fax or virtual credit cards!