How To Create a Power of Attorney in Indiana in the Blink of an Eye
A power of attorney (POA) is a document that carries a lot of legal weight and responsibility, making it difficult to draw up.
If you want to make a power of attorney in Indiana without any trouble, you should turn to DoNotPay for help. Our app will make sure that the document is tailored to your specific needs and requirements.
Who Can Be an Agent for a POA in Indiana?
Picking the right agent is one of the most important parts of creating a power of attorney document because this person will be in charge of crucial decisions. The individual that the principal chooses should be both responsible and reliable.
The criteria for someone to be an agent is that they are over the age of 18. In most cases, people choose their spouses, adult children, or close friends for this role.
What Are the Duties of an Agent?
The principal is in charge of assigning duties to their agent, and these responsibilities include:
Managing real estate
Conducting banking transactions
Handling tax and retirement matters
Operating the principal's business
Making retirement plan transactions
Taking care of stock and bond transactions
Making legal claims and conducting litigation
Caring for the principal's family members
Sections You Need To Include in a POA in Indiana
If you want your power of attorney to be rock-solid, you need to include some crucial sections:
Personal information of the parties involved—Names and addresses
Document duration—Clear start and end dates
Specific powers—Details of all the powers the principal is transferring to the agent
Termination terms—Circumstances under which the document is no longer valid
Reasons for a Power of Attorney To End in Indiana
Unless you specify how long the power of attorney will last, the document can stop being valid in the following situations:
The principal decides to revoke the POA
The principal passes away
The agent is no longer capable of doing their duty
The principal gets a divorce (if the agent named in the POA is their spouse)
The court determines that the POA is fraudulent
What Types of Power of Attorney Can You Create in Indiana?
Depending on your needs and requirements, you can pick among several types of power of attorney. Check out the table below to see what POAs are available in Indiana:
| | |
| --- | --- |
| Power of Attorney Type | Short Description |
| Durable POA | A durable POA is in effect the moment the document is signed, and it remains that way even if the principal becomes disabled |
| Springing POA | A springing POA allows the attorney-in-fact to act on the principal's behalf only when the principal becomes incapacitated |
| General POA | A general POA is normally used when the principal isn't capable of handling their tasks due to physical absence. This type of POA does not permit the agent to make decisions in the principal's stead if they become incapacitated |
| Financial POA | The attorney-in-fact is in charge of handling the principal's financial matters, such as taxes, mortgage, or paychecks |
| Limited POA | With this POA, the agent can only act in the principal's stead for a limited amount of time. Limited POAs also give agents clearly defined (limited) authorization |
If you want to make a power of attorney document the fast and easy way, you should use DoNotPay!
DoNotPay Can Generate a Durable Power of Attorney in Indiana Easily
Making a power of attorney letter on your own can be a complicated and time-consuming task. You don't need to deal with that ordeal on your own—DoNotPay is at your service! Use our app to get a POA tailored to your needs in a matter of minutes!
You only have to follow these instructions:
Sign up for DoNotPay in a web browser of your choice
Find the Power of Attorney product
Inform us what powers you want to transfer with your POA
In addition to an airtight POA, you will also receive two notices that both parties need to read before signing the document.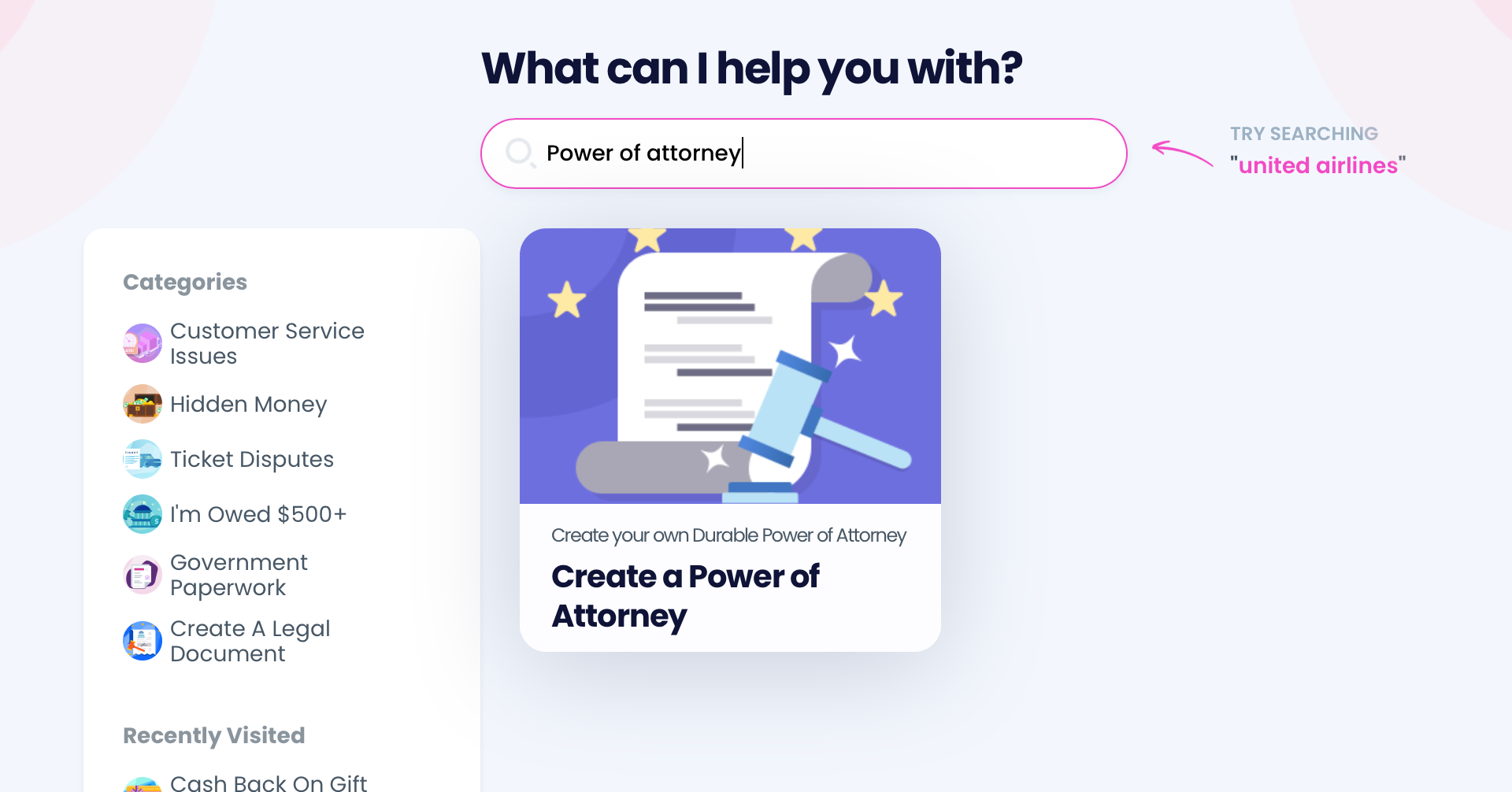 DoNotPay Can Help You Get Your POA Notarized in Indiana
Under Indiana law, you are obliged to take your power of attorney to the notary. DoNotPay is here to offer a more convenient solution—our app can match you with an online notary in just a couple of clicks! You only have to tell us that you want to get your POA notarized when filling out the aforementioned questionnaire. The process is straightforward and won't take much of your precious time.
Other Questions You Might Have About POAs
If you visit DoNotPay's Learning Center, you can find out a lot more about the power of attorney documents. Our app has answers to the following questions:
DoNotPay—Easy Fixes for Your Daily Struggles
Calling customer support takes hours. Dealing with refunds and chargebacks takes weeks or sometimes months. And don't even get us started on DMV appointments. The good news is that, with DoNotPay, you don't have to stress out about these tasks any longer.
Our platform can help you turn exhausting administrative troubles into two-minute tasks. Thanks to AI technology, you can easily create legal documents, request compensation for canceled flights, send a complaint letter to your neighbor, or book appointments with online notaries.
Diversity of services is one of the biggest advantages DoNotPay offers, and the best part is that our subscription won't cost you an arm and a leg.
Do You Need Help With Anything Else?
All you need to do is ask, or in this case, sign up for DoNotPay, and the world of practical, user-friendly products awaits. Finishing boring or annoying tasks with the help of our AI bots is fun, easy, and super intuitive—you won't need any special knowledge of legalities or administrative terminology.
With our help, you will be able to: