A Power of Attorney in Hawaii Explained From Top to Bottom
Creating a power of attorney (POA) on your own comes with many challenges. Apart from choosing the appropriate person to take over your affairs and deciding which powers to grant them, you must know and follow state regulations thoroughly.
Many states, Hawaii included, impose particular rules regarding the creation and execution of POAs. If you want to know the specifics of creating a power of attorney in Hawaii, DoNotPay has the info! In case you decide to make a durable power of attorney, we know the most practical and affordable way to do it.
What Is a Power of Attorney?
A power of attorney document is used when an individual (the principal) wants to grant someone (the agent) the right to make decisions for them. People create a power of attorney to ensure their finances, health, and other aspects of life will be taken care of if they:
Become mentally or physically incompetent to manage their affairs (e.g., fall into a coma, sustain a brain injury, or develop a debilitating illness)
Expect to be physically absent (e.g., for signing important business documents)
Don't feel equipped to make specific decisions (e.g., buy or sell property, make business investments)
In Hawaii, the principal can typically revoke power of attorney at any time, provided they are mentally competent. The principal only needs to sign a Hawaii power of attorney revocation form and notify the current agent of the revocation.
Hawaii Power of Attorney Requirements
To get a power of attorney in Hawaii, you need the following:
Principal giving power of attorney to another person
Agent who assumes the responsibility of making decisions specified by the document for the principal
Successor agent expected to take on the responsibility if the first agent is no longer capable
Power of attorney form that meets the principal's needs and Hawaii state-law requirements
Signature of a principal or another person designated by the principal to sign their name on the document
Two or more adult witnesses attesting the principal's signature
Acknowledgment by a notary public
A power of attorney in Hawaii becomes effective once it's signed and notarized unless the document specifies otherwise.
Hawaii Power of Attorney Types
Before creating a power of attorney in Hawaii, a principal has to:
Select a reliable and trustworthy person to act as their agent, for example:

Family member
Close friend
Business associate

Choose an appropriate POA type
Take a look at the detailed description of the main power of attorney forms in Hawaii:
| | |
| --- | --- |
| POA Type | Description |
| General (financial) power of attorney | It allows the agent to make financial decisions on behalf of the principal and becomes void if the principal becomes incapacitated |
| Durable (financial) power of attorney | A durable power of attorney in Hawaii enables the agent to make financial and business decisions for the principal, even if they become incapacitated |
| Limited power of attorney | The agent has limited decision-making powers, typically for particular actions |
| Springing power of attorney | A springing power of attorney takes effect upon the occurrence of a specific event (typically once the principal is deemed incapacitated) |
| Medical | The principal gives the agent authority to make healthcare decisions for them if they are unable to decide for themselves |
In Hawaii, every power of attorney is automatically considered durable unless the document clearly states that it should be revoked after the principal's incapacitation.
Say Goodbye to Lawyers and Create a Hawaii Durable Power of Attorney With DoNotPay
A durable power of attorney can provide relief and assurance our affairs will be taken care of by a trusted individual.
You don't need to spend money on lawyers or download dodgy POA letter templates to get a Hawaii-specific durable power of attorney. DoNotPay can create a POA that honors your needs and state laws and deliver it within minutes!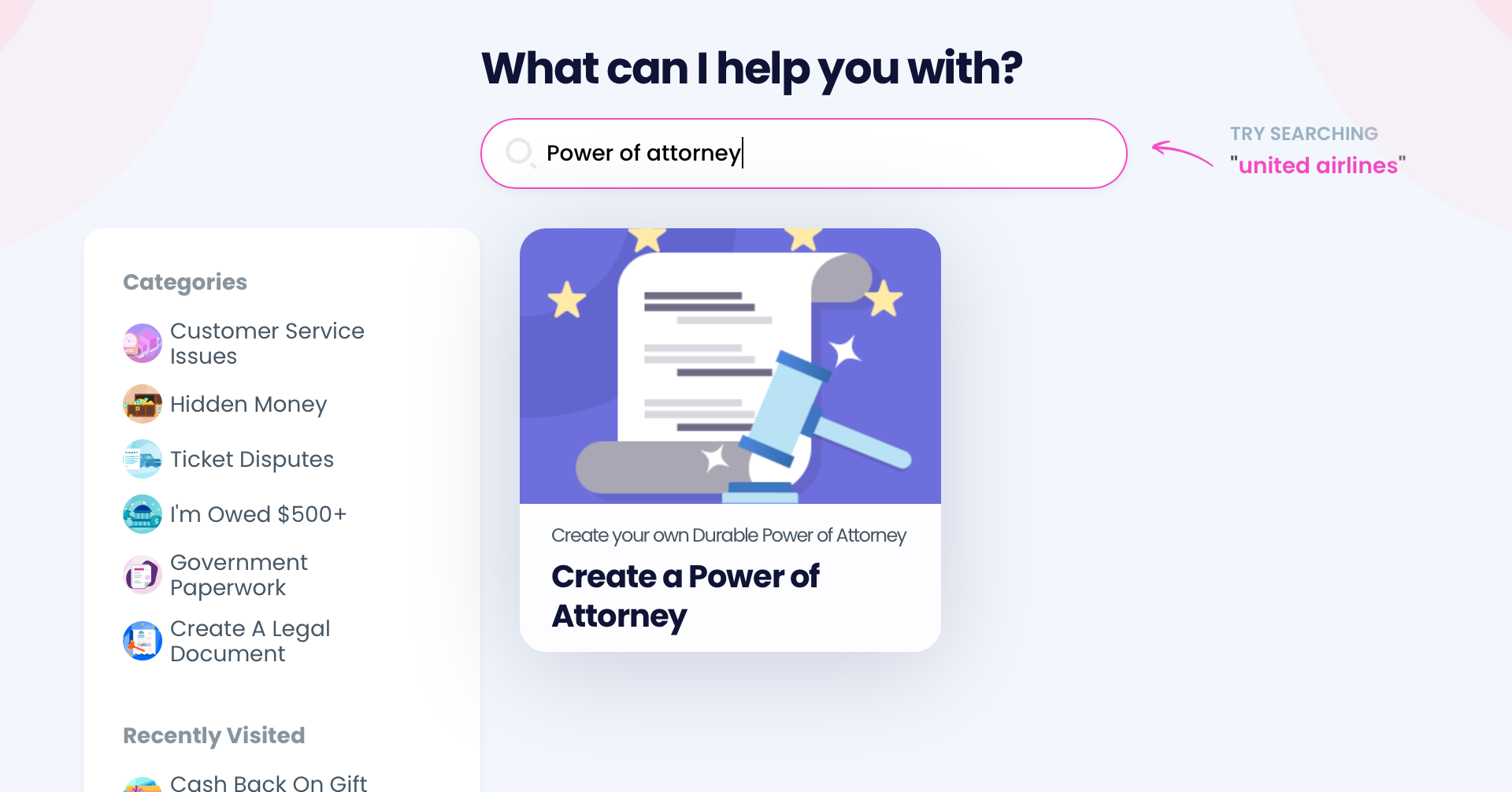 Our Power of Attorney product incorporates details you provide into a professional, tailor-made POA that will be accepted anywhere.
All you need to do is:
Open DoNotPay in any web browser and select the POA product
Provide essential information to our chatbot
Select to have the POA notarized with our help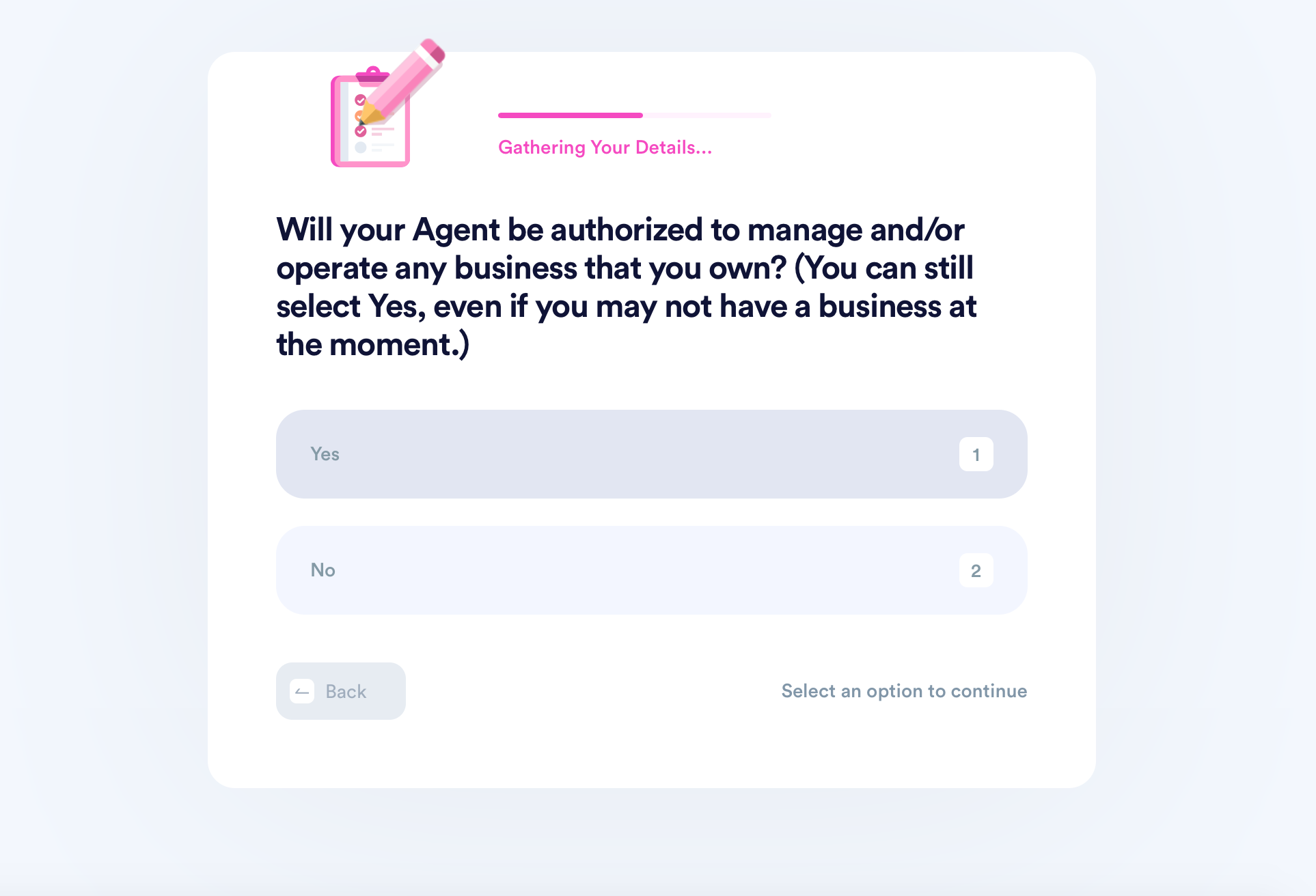 Once you complete the required steps, our AI-powered app will:
Create the POA document
Send it alongside two notices you and your agent are required to read
If you choose to have the POA notarized with our assistance, we will connect you to an online notary. You can set up the appointment whenever it suits you and complete the whole procedure effortlessly!
Use our knowledge base to clarify common doubts people have about POAs, such as how to:
DoNotPay Covers All the Bases
From getting you ready for various government tests to helping you reduce your property taxes, DoNotPay offers valuable assistance with the tasks that make most people at least roll their eyes. Dealing with bureaucracy isn't fun, but it also doesn't have to be as difficult as it is.
Every product in DoNotPay's portfolio is designed to efficiently deal with a specific issue within a few minutes and without sacrificing your comfort. Take a look at the tasks our app can make much more simple:
A Little More Money Never Hurt Anybody
Hardly anyone would turn down a chance to earn some more cash. That's why DoNotPay not only protects your rights and interests but also offers great opportunities to improve your financial situation.
With our help, you can find paid clinical trials, locate your missing money in any state, get your cash back from used gift cards, or enter various raffles and win great prizes.