Power of Attorney in Georgia—Everything You Should Know
Creating a power of attorney (POA) can be a complex task if you lack the legal knowledge to make one on your own. Why risk making a mistake during the process? Hiring a lawyer is an option, but a rather expensive one. Use DoNotPay to draw up a power of attorney in Georgia and keep your money in your wallet!
POA Georgia—Basic Information
A power of attorney is a legal document used when one person (the principal) wishes to authorize another (the agent) to handle some of their legal and financial matters. POAs are generally used when the principal is mentally or physically disabled and can't make decisions on their own.
Under Georgia law, an individual is incapacitated if they are unable to manage property or business affairs because of:
An impairment in the ability to receive information or make decisions even with the use of technological assistance—needs to be determined by a physician or licensed psychologist
Being detained (incarcerated) or outside of the U.S. and unable to return—needs to be determined by a judge or a lawyer
Power of Attorney Agent in Georgia—Duties and Powers
When choosing an agent, it is important to make sure that the person is reliable and trustworthy. Take a look at the table below for more information regarding the agent's duties and powers:
Duties
Possible Authorized Powers
The agent should act:

In the principal's best interest
Loyally
With care and diligence
Only within the scope of authority permitted with the power of attorney
With accountability by keeping a record of the receipts, transactions, and disbursements

Handling real property
Paying taxes
Operating businesses
Worrying about estates and trusts
Taking care of the tangible personal property
Handling retirement plans
Managing stock and bond transactions
Taking care of insurance and annuities
Dealing with claims and litigation
What Are the Requirements for a Power of Attorney in Georgia?
A power of attorney in Georgia needs to meet basic requirements. To be considered valid, the document has to be signed by:
The principal—in case the principal is unable to sign, another individual can sign the principal's name with their permission and in their presence
One or more witnesses
A notary public or other individual authorized to administer oaths—the notary is not allowed to be a witness
The witnesses, principal, anyone signing for the principal, and the notary must all be present during the signing.
What Powers of Attorney Exist in Georgia?
Depending on what you want the POA to involve, you can choose to make a suitable type of power of attorney. In Georgia, you can create a:
General Power of Attorney in Georgia—How Does It Work?
A general power of attorney is a type of POA that permits the agent to have powers over the principal's financial or legal matters while the principal is absent from the state. The agent cannot act on the principal's behalf if the latter becomes incapacitated.
What Is a Limited Power of Attorney in Georgia?
A limited power of attorney grants the agent with specific powers. This usually lasts over a specified (limited) period during which the agent can act in the principal's stead.
What Is a Financial Power of Attorney in Georgia?
A financial POA is a document that focuses solely on financial matters. The agent is in charge of taking care of the principal's taxes, mortgage payments, and similar.
What Should You Know About a Durable Power of Attorney in Georgia?
A durable power of attorney is a document that becomes valid when both the agent and the principal sign it. This POA lasts even if the principal becomes mentally or physically disabled, which means that the chosen agent can act on the principal's behalf in that scenario as well.
How Does a Springing POA Work in Georgia?
A springing POA is a type of durable POA with one crucial distinction. This document comes into effect only when the principal is no longer capable of making decisions on their own due to a disability. Until that situation occurs, the agent has no power.
Create a Durable Power of Attorney in Georgia in a Few Minutes With DoNotPay!
Need a POA, but don't want to empty your wallet by paying a lawyer? DoNotPay is at your service! Our app can generate a POA tailored to your needs and requirements in no time! If you wish to get this legal document without stress, follow these three steps:
Sign up for DoNotPay in a web browser of your choice
Type in Power of Attorney in the search bar
Choose the powers you want to be a part of your POA
DoNotPay will send you two notices that you should read before adding your signature to the document.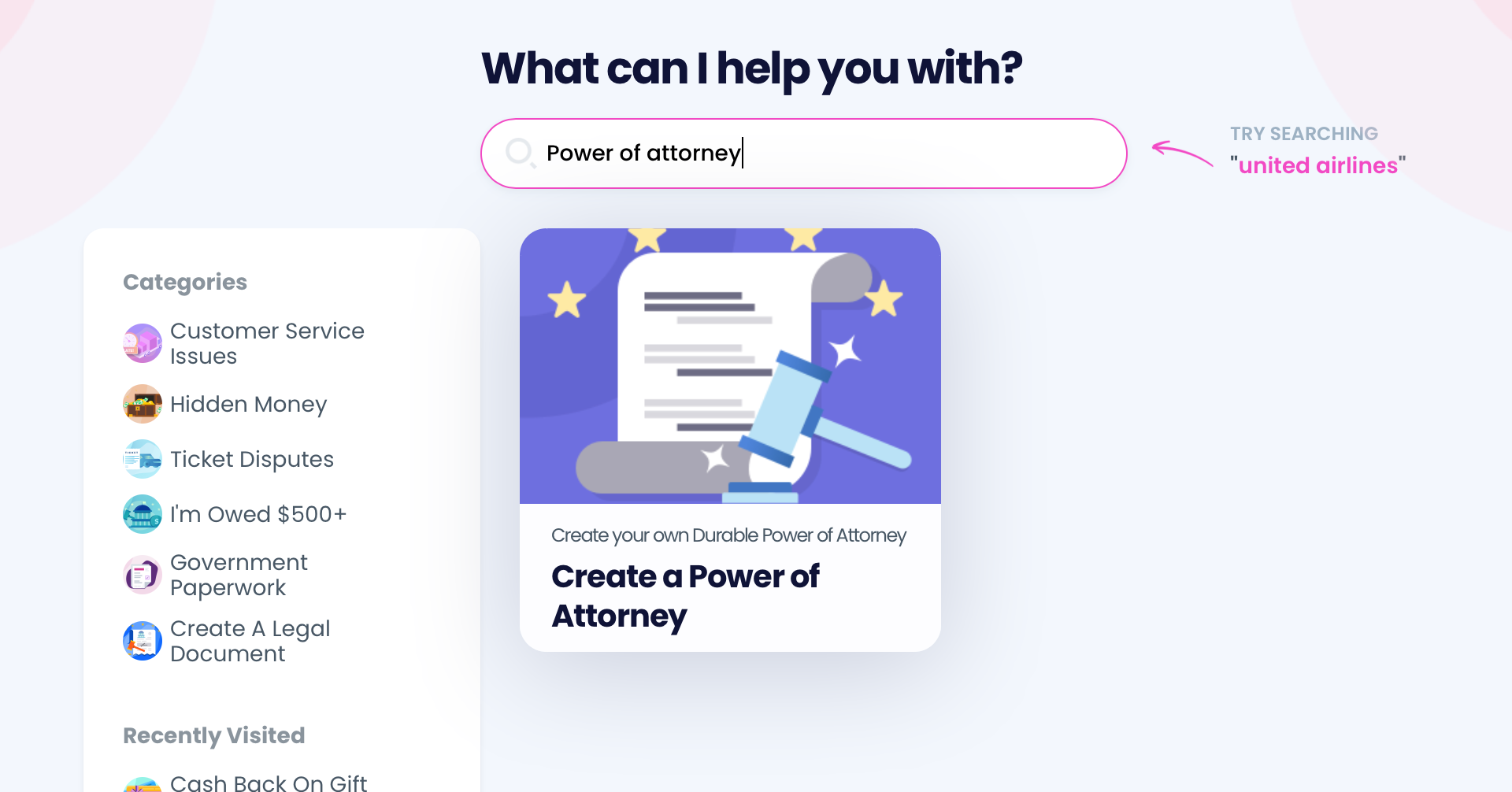 DoNotPay can also help you get your power of attorney notarized! Tell us that you wish to take this step while completing the POA questionnaire, and we will match you with an online notary in no time!
Shop Online on Your Terms
Have you ever had to deal with complaints about lost, late, or damaged parcels? Is reaching customer service over the phone always a pain? Don't you wish there was an easier way to request refunds and chargebacks for bad purchases?
Shopping can easily turn into a nightmare, but DoNotPay will take away some of that stress. We can help you with all of these issues and more!
If you need to file warranty claims for any kind of product, our AI bots will make the process painless. Those who like to try out new services will fall in love with our virtual credit cards and foolproof methods of signing up for free trials without risking charges.
When you get sick of your subscriptions, cancel them with DoNotPay. Also, don't throw away your used gift cards with a few bucks left—we can help you get your cash back.
DoNotPay Protects Your Interests
There are already so many ways you can use DoNotPay to improve your daily life, but we keep developing more and more features that will make our subscribers even happier.
On our platform, you can find useful resources to: