All About a Power of Attorney for a Minor Child in Florida
Giving someone the rights to take care of your minor child is far from easy, but it's sometimes necessary. Having a power of attorney (POA) in this situation can ease your mind. With this document, you can control all aspects of the agreement between you and the other adult with whom you're entrusting your child.
Use DoNotPay to learn all about a power of attorney for a minor child in Florida and create it in three steps!
What Is a Power of Attorney for a Child?
A power of attorney for a minor child enables the parents or legal guardians to give other adults temporary rights over their children. With a power of attorney document for a child, a non-parent gains legal rights to take care of and make decisions for the minor child they were entrusted with.
If you are aware you won't be able to take care of your child for a longer period, you should consider making the child's caregiver your power of attorney agent. As an attorney-in-fact, they will be able to make important decisions about the child's education, medical care, and other needs instead of only watching over them.
When To Get a Power of Attorney for a Child in Florida
People usually write a power of attorney letter for a minor child when they:
Have to go on work assignments far from home
Take long vacations
Are incarcerated or about to be incarcerated
Have to stay in a hospital for treatment or procedure
Are in the military and are about to be deployed for a longer period
There's no need for a power of attorney when leaving a child in someone's care for a shorter period. A consent form for medical treatment should suffice.
Power of Attorney vs. Child Guardianship in Florida
Having legal rights to make decisions for a child is not the same as having legal child guardianship. In the following table, you can see the main differences between a Florida child power of attorney and guardianship:
Minor Child Power of Attorney
Child Guardianship

The parent keeps the legal parental rights
The parent can revoke the power of attorney at any time

The legal guardian obtains permanent parental authority
The parent has no more legal rights to make decisions for the child
The parent cannot affect the guardianship
Only a court in Florida can change legal guardianship
Power of Attorney for a Minor Child in Florida—Legal Requirements
To be valid, a Florida power of attorney for a minor child needs to meet certain legal requirements, including the following:
The POA agent must have a permanent residence in Florida
Both parents or legal guardians have to sign the document in case of a shared custody
Two witnesses need to be present during the signing of the POA document
What Should a Power of Attorney for a Child in Florida Include?
A POA for a child in Florida should cover the following sections:
Information about the signing parties

Names
Addresses

Contact details of the parents or legal guardians

Phone numbers
Physical and email addresses

Information about the child

Name
Date of birth

Duration of the POA

Effective date
Termination date and terms

Delegated powers

What the POA allows
What the POA doesn't allow

Signatures of all parties

Both parents or legal guardians
Agent(s)
Two witnesses
You can hire a lawyer to draft this power of attorney document for you, but that service comes at a price. If you don't want to pay the earth to get a POA, you should use DoNotPay!
Draw Up a Power of Attorney the Easy Way—With DoNotPay
Creating power of attorney documents is a piece of cake with DoNotPay! Our Power of Attorney product checks all the boxes—it's time-efficient, budget-friendly, and super easy to navigate.
Here's what you need to do to get a rock-solid power of attorney document:
Type in Power of Attorney in the search bar
Answer a few questions about your POA needs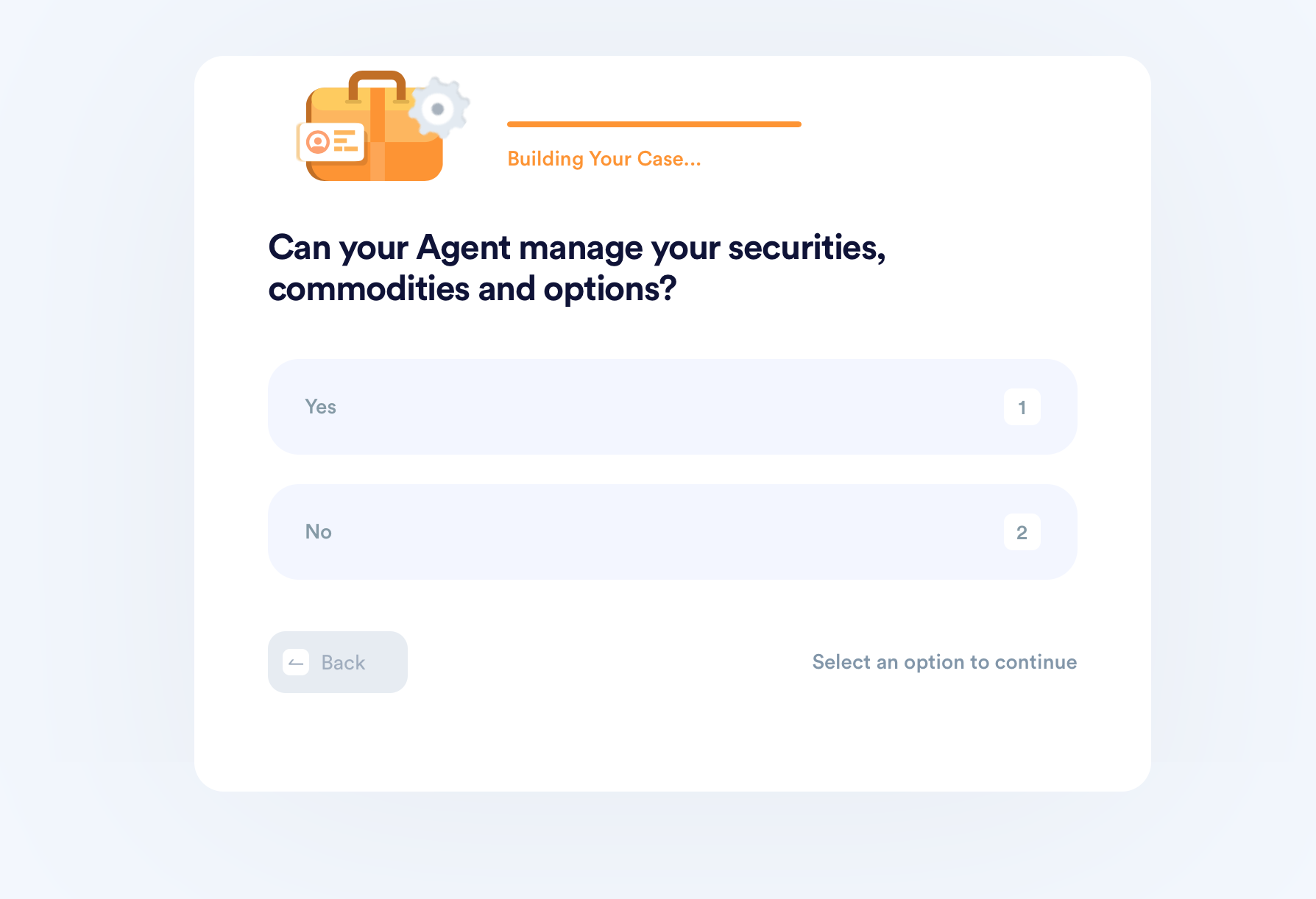 We will generate a power of attorney document that meets your needs and is specific to your situation. Besides a POA document, you will get two notices—one for each signing party.
Our services don't stop there! When you choose DoNotPay, you get the whole package. If your state requirements include having a POA notarized, we will connect you with a notary public in a flash!
Use DoNotPay To Learn All About Powers of Attorney
Generating power of attorney documents is not the only service we provide. By visiting our learning center, you can get more information about this topic, like the various types of power of attorney:
You can also get answers to many POA-related questions, including:
Outsmart Big Corporations by Using DoNotPay
Our platform is always on the side of regular people, and the number one item on our agenda is fighting for your rights.
If you need help requesting refunds for faulty products, late parcels, or canceled flights, you can turn to DoNotPay for help. Protect your privacy and stay one step ahead with our spam email collector, burner phone numbers, and virtual credit cards.
We will provide you with everything else you need in your fight—online fax, mailing service, and products for drafting legal documents and having them notarized online.
Improve Your Leisure Time Too!
You can win some serious battles with the help of DoNotPay—after all, our app can even get you ready for small claims court—but we offer numerous useful features that will improve the quality of your entertainment.
Signing up for free trials doesn't come with the risk of losing money anymore, and if you get bored with that new streaming service, you can easily cancel it using our app.
If entering raffles is your idea of fun, you'll be glad to know we can help you participate in all kinds of these games of chance. You can also review your knowledge using our government tests prep quizzes or retrieve any unclaimed money under your name and spend it on something fun!