Create a Power of Attorney for Medical Records
Once you start thinking about what might happen in case you're not able to make medical decisions for yourself, you'll consider creating a:
The latter document is beneficial if you'd like to choose someone to make decisions about your health care in case you cannot do it for yourself.
Does this person automatically get a power of attorney for medical records? This article addresses that aspect of a health care power of attorney, and DoNotPay shows you how to draw up this document.
What Is a Medical Power of Attorney?
A medical power of attorney (POA) is a legal document that permits you to name a person to make decisions about your medical treatments when you:
Cannot communicate your wishes
Are incapacitated or terminally ill
Have been seriously injured
Different states use different names for this document, such as a:
Durable power of attorney for health care
Health care power of attorney
Medical power of attorney
Keep in mind that in some states, the latter term might:
Be another name for an agent
Can You Use a Power of Attorney To Obtain Medical Records?
A health care power of attorney allows your health care agent to:
Be in charge of your health care when you cannot
Access your medical records to be able to make informed decisions about your health care
The latter provision might be limited by the Health Insurance Portability and Accountability Act (HIPAA).
Medical Power of Attorney and HIPAA Release
HIPAA imposes severe penalties on health care providers if they release any protected health information (PHI) or data kept in medical records to anyone but:
The person who the information belongs to
That person's representative, i.e., your health care agent
Parents—for medical records of their minor child
If you'd like other people—e.g., your spouse or family members—to obtain your medical information in case you're not able to share it with them, you should draft a HIPAA release form.
Restrictions on a Power of Attorney Medical Records Release
You should know that your doctor or health care provider can refuse to honor a power of attorney for release of medical records in case:
You have been a victim of domestic violence, neglect, or abuse carried out by your agent
Their professional judgment shows them it wouldn't be in your best interest
How To Prepare a Medical Power of Attorney
If you'd like to draft a health care power of attorney, living will, or advance directive, check out the following options:
Draw Up a Health Care Proxy
Specifics
Get a lawyer
While you can hire a lawyer to draw up any legal document for you, you should keep in mind that you:
Do it yourself
If you'd like to prepare the document on your own, you should:

Search for a medical records power of attorney form
Check a preferred template thoroughly
Adjust the form to meet the legal requirements and your needs

Use DoNotPay
Our robot lawyer ensures your document:

Complies with relevant state laws
Indicates your specific wishes regarding health care
Is delivered to you within minutes
Create Health Care Documents With DoNotPay
Our AI-powered app can generate an airtight living will, advance directive, and medical POA for you. We'll help you save:
The money you'd otherwise need to spend on attorney fees
The energy and time you'd have to waste on inspecting and changing unreliable templates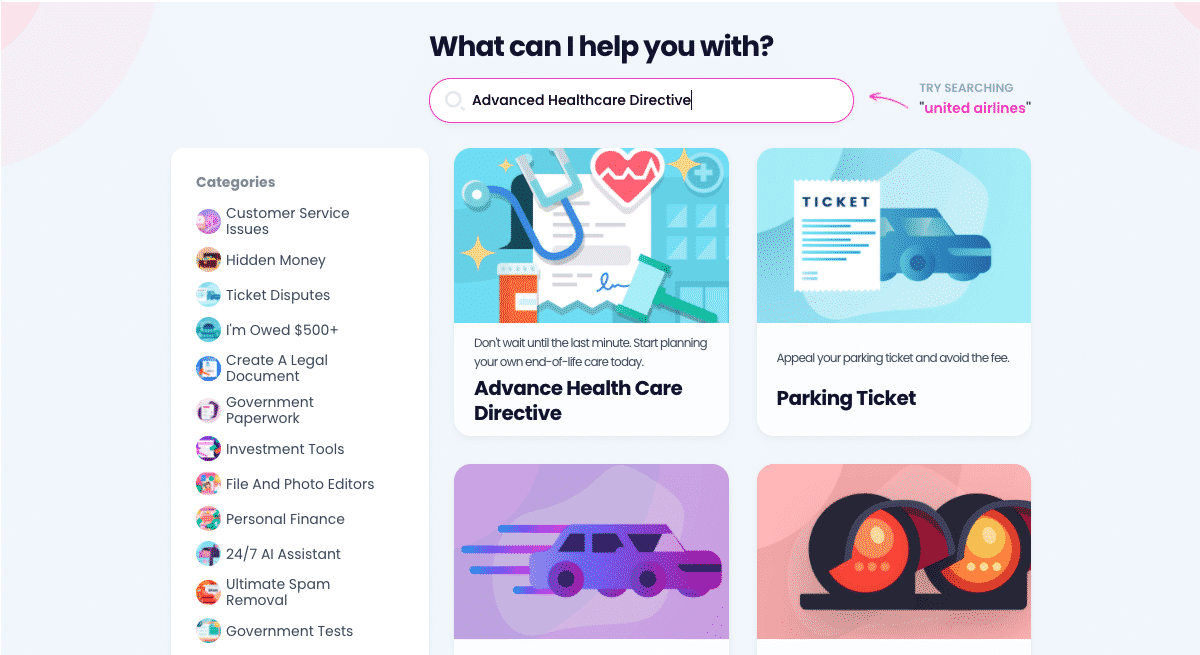 Sign up for DoNotPay and:
Navigate to the Advance Health Care Directive product
Enter the name of your agent and specify your health care preferences
List the:

Powers you are giving your health care agent
Medical procedures you (don't) want to receive

Choose to get the document notarized or provide the names of witnesses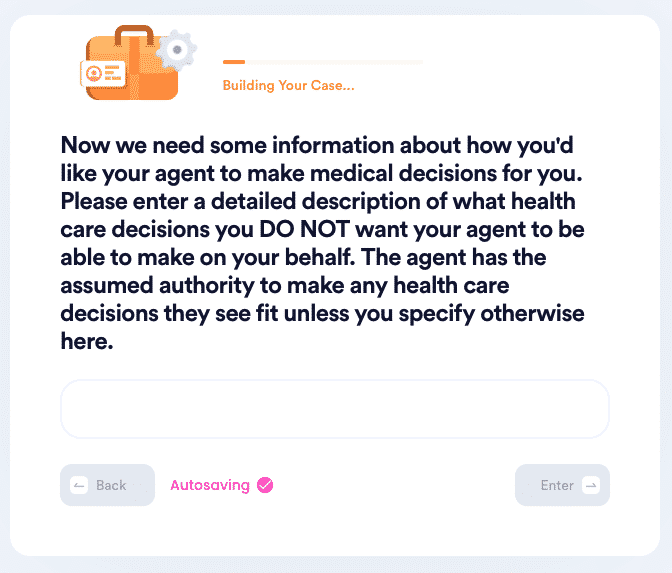 Turn to DoNotPay and Remove Bureaucratic Issues in a Snap
Does paperwork bring you to the edge of a nervous breakdown? With our help, you will skip all administrative impediments and get ready-made legal documents before you know it! No failed drafts or huge legal fees!
DoNotPay can generate:
Once you create the desired document, you can fax it online without a faxing machine or have it notarized with zero complications in the same app!
Your Info Is Safe With Our App
You don't need to leave your credit card info or personal details if you want to start free trials that won't turn into paid subscriptions without notice. DoNotPay will create a virtual credit card with a fake name and generic credit card number for you in just a few clicks. This way, greedy companies won't take a single penny from your account without your authorization!
Our app can also help you file anonymous HR complaints or create burner phone numbers to avoid disclosing your real info when signing up for apps and platforms.