Need a Power of Attorney for an Elderly Parent? DoNotPay Has Your Back
Whether your elderly parents have health issues or not, executing a power of attorney (POA) is a precaution that can be immensely helpful. Although it's best to be prepared for every possible outcome, setting up a POA document can be tricky.
You shouldn't worry because DoNotPay is here to help! We'll explain everything about these documents and generate a power of attorney for your elderly parent in no time!
What Is a Power of Attorney for the Elderly?
A power of attorney is a legal document allowing one person—the agent—the right to make decisions on behalf of another person—also known as the principal. Such a document is of utmost importance if your elderly parent cannot take care of themselves or their finances.
What Is the Best Power of Attorney for My Elderly Parent?
If your aging parent needs you to make tough medical decisions in their stead—such as ceasing medical treatment or taking them off life support in the future—you will need an advance healthcare directive.
In case they need your help with decisions regarding other matters, there are four types of POA you should check out, including:
Medical POA
General POA
A general POA is used for making both financial and health care decisions on your parents' behalf. It lasts while the principal is in a good mental state. If they become mentally or physically incapacitated, the POA will be automatically terminated.
Durable POA
A durable POA gives the agent powers both before and after the principal's illness. It lasts until:
The death of the principal
The agent is unable and unwilling to perform their role
Revocation by the principal
Limited POA
A limited POA allows the agent to perform actions specified in the power of attorney letter. There are also time limitations set on the agent's rights.
Financial POA
A financial POA gives the agent powers to oversee the principal's finances, pay bills and handle financial matters.
Springing POA
A springing POA takes effect when the principal is physically or mentally incapable of making financial decisions.
How To Get a Power of Attorney for an Aging Parent
To set up a power of attorney for your aging parent, you will need their consent while they're still of sound mind.
Check out the table below to see what POA aspects you need to discuss with your parent:
Factor
Explanation
Agent choice
You need to decide who will act as the POA agent. That person should be qualified, trustworthy, and have the best intentions for the principal
Financial control
The POA must determine what will happen with your parent's savings, property, and daily expenses, such as:

Bills
Checkbooks
Credit cards
Living expenses

Document execution
You and your parent need to sign the document in front of a notary. The public official will confirm that you are:

Signing the POA of your own will
Mentally sound to complete the obligations stated in the document
Not under the influence of any substances at the moment of signing

Consult with an elder law attorney
It is recommended that you consult with an elder law attorney because the legislation governing POAs is different in every state
Frequently Asked Questions About POA Documents for the Elderly
Here are the common questions regarding POA documents:
Do you need a lawyer to draft a power of attorney?
Can a POA agent change a will?
Do You Need a Lawyer To Draft a Power of Attorney?
A lawyer isn't required for the preparation of a POA document. If the agent is receiving significant powers, a legal expert might come in handy to review the document.
Does a Power of Attorney Need To Be Notarized?
You'll probably have to get your POA notarized because most states mandate this step.
The notarization process can be time-consuming and tedious, but DoNotPay will turn it into a piece of cake!
With our Notarize Any Document product, you'll be able to get your POA notarized from the comfort of your home. Here's how it works:
Select our Notarize Any Document
Upload the POA
Give us your email address
We will set up an appointment with an online notary, and the procedure will be as efficient as possible.
Can a POA Agent Change a Will?
A POA can't grant the agent the authority to create, make, revoke, or alter a will.
DoNotPay Can Create a Power of Attorney for Your Elderly Parent in No Time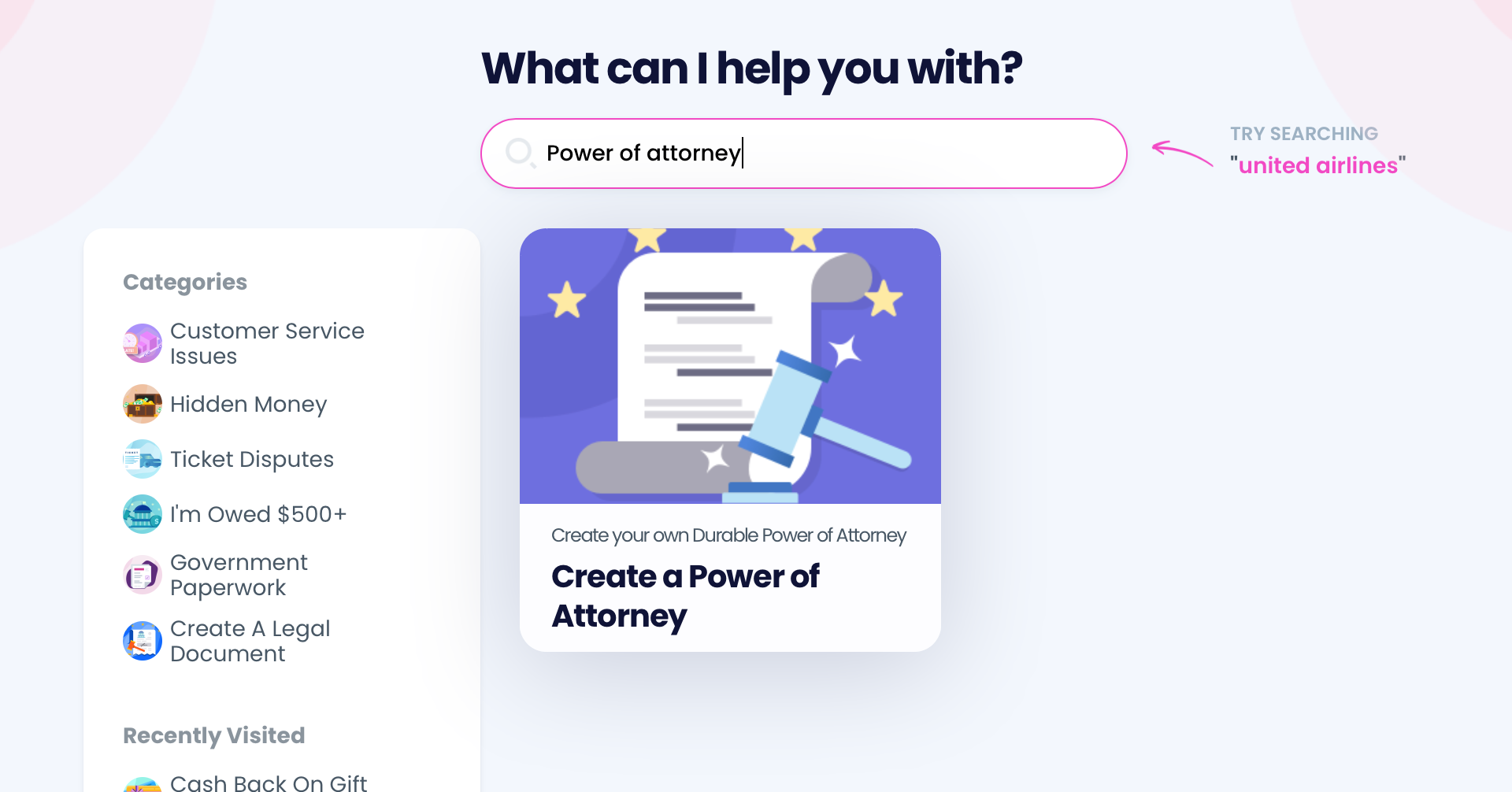 Want to get a POA document without any complications? DoNotPay's Create a Power of Attorney product can help! Follow a few easy steps:
Select our Create a Power of Attorney product
Gives us the details of the arrangement
Once you submit your request, we will generate the document for you. Our Notarize Any Document is integrated with the Power of Attorney feature, so we will offer to set up an appointment with a remote notary during the creation process.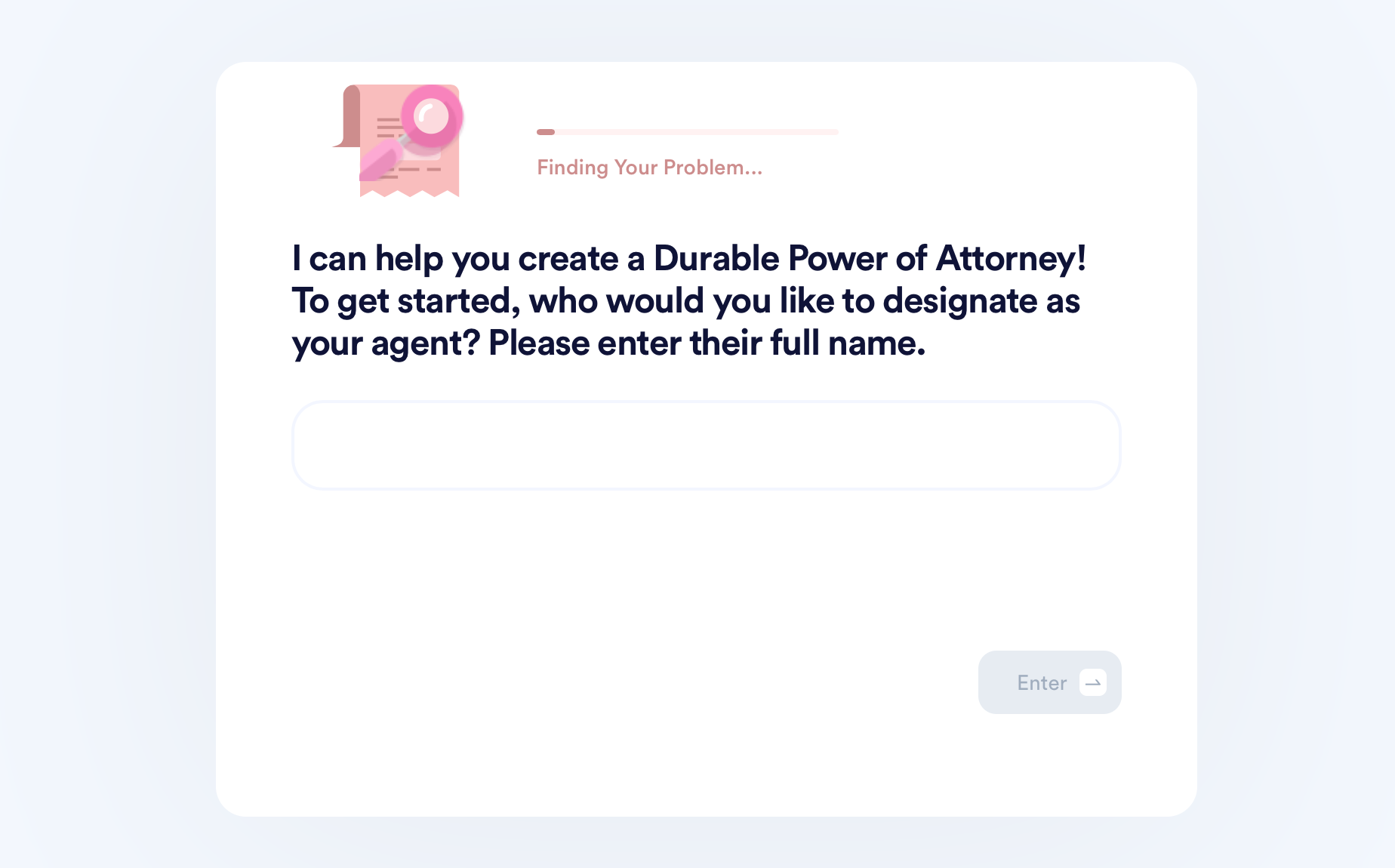 Manage Your Tasks Easily With Our Help
DoNotPay is the perfect solution whenever you need to resolve legal or bureaucratic matters. Here's a fraction of what our AI-driven app can help you out with:
No Matter What You Need, DoNotPay Is by Your Side
Do you have a bunch of subscriptions that you waste money on but don't even use? We can help you cancel them effortlessly! After that, our app can initiate a refund request and make sure you get your money back.
Facing financial difficulties? DoNotPay can help you lower your bills, get free raffle tickets, get gift card cash back, find your missing assets, and so much more!
For a low monthly fee, you'll get access to our impressive range of products, so sign up now!