Easy Vehicle Transactions With a Power of Attorney for Car Title Transfer
After property, a car is probably the most expensive thing you will buy in your lifetime.
The process of buying and selling vehicles is relatively straightforward, but sometimes you need someone to act on your behalf to complete the deal and get the title in your name. This means you need a power of attorney (POA).
DoNotPay has all the info you need on setting up and using a power of attorney for car title transfer.
When Do You Need a POA for Car Title Transfer?
There are two situations in which you may need a POA to make sure a car title is transferred legitimately:
Selling a car
Buying a car
Selling a Car
Sometimes you may not be able to be present to seal the deal on your car sale, or you have handed the car to a dealer to sell in your name.
In either case, the third party conducting the transaction for you requires a power of attorney to sell your vehicle to prove they have the right to transfer your car title.
Buying a Car
If you buy a car from a dealership, you may not want to spend hours at the Department of Motor Vehicles to transfer the title of your new car. Dealers usually perform this task for you, but they need your power of attorney to buy a car to complete the process.
What Kind of Power of Attorney Do You Need?
To transfer a car title, you will need to set up a financial power of attorney that only covers that one transaction.
The type of document you need is a limited power of attorney, which states that your agent or attorney-in-fact is only mandated to act on your behalf to complete the title transfer for the vehicle.
A limited POA is different from other common POA types, such as:
The power of attorney you will use to transfer a car title will adhere to the following criteria:
| | |
| --- | --- |
| POA Criteria | Explanation |
| Effective date | The POA will come into effect on the day of signing |
| Scope of POA | Your agent should only be given authority to conduct transactions related to the transfer of the car title |
| Termination date | The POA should terminate automatically on completion of the title transfer or after a certain time, whichever comes sooner. This means that your agent loses their power of attorney if they fail to complete the task within a reasonable timeframe |
What Needs To Be Included in a POA for Car Title Transfer?
Whether you are buying or selling a vehicle, you need to include the following elements in your POA document:
POA Element
Explanation
Names of the principal and agent
Your name as the principal and that of your agent or attorney-in-fact should be inserted together with:

Addresses
Contact details

Scope of POA
You should state that your agent is empowered to act on your behalf in all dealings with the relevant state authority to execute the transfer of car title
Signatures and witnesses
You should sign the document and date it. Depending on the state in which the transfer is taking place, you may need to have your POA witnessed and notarized
The following states recognize a POA if it is countersigned by two independent witnesses:
Michigan
South Dakota
Washington
In most other states, you have to have your POA notarized to give it legal weight.
How Can You Set Up a POA for Car Title Transfer?
Setting up a limited power of attorney to transfer a car title is a straightforward process consisting of the following steps:
Choose your agent
Prepare your POA letter
Include the relevant documents
Sign
Choose Your Agent
Your agent or attorney-in-fact—if it isn't the car dealer you are buying your vehicle from—should be a person you trust to get the job done as quickly and efficiently as possible.
Prepare Your POA Letter
Using the guidelines above, you can prepare your POA letter. Most car dealerships will have a ready-made form for you to sign, and your state motor vehicle authority may have a template you can use.
Include the Relevant Documents
To transfer your car title, your agent will need copies of your:
ID
Driver's license
Current vehicle title
Emissions certificate (if required by state law)
Odometer reading (depending on state legislation)
Sign
Once your letter is prepared and the necessary documentation is in place, you can go ahead and sign the POA in the presence of a notary.
While preparing a POA for car title transfer might be complicated, DoNotPay is here to help you create other types of powers of attorney in a matter of minutes.
Get Your POA in a Few Clicks With DoNotPay

DoNotPay is your one-stop shop for numerous legal documents and resources. If you need help drafting a professional POA, our Create a Power of Attorney product is the quickest solution!
We can prepare a power of attorney for you in a few clicks—here's what you need to do:
Sign up with DoNotPay in your web browser
Click on our Create a Power of Attorney feature
Follow the prompts and give us the details of what you need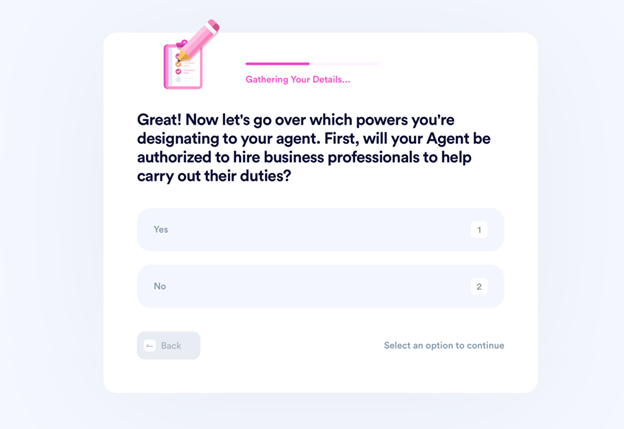 DoNotPay will generate your power of attorney in a few moments. You can then go ahead and sign it. A really smart move is to make use of DoNotPay's online notarization service at the same time and take care of your document notarization stress-free.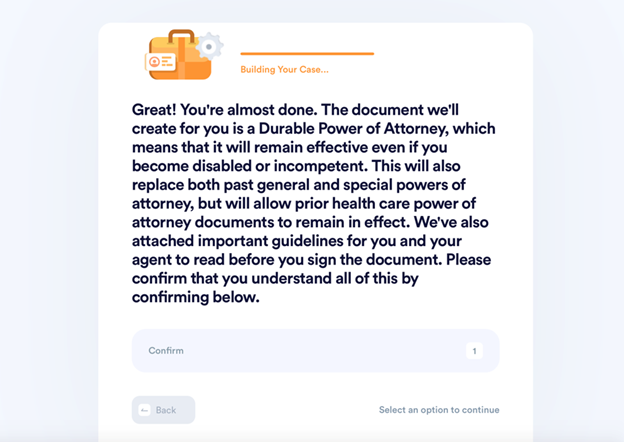 Discover DoNotPay's Product Range
DoNotPay has a vast range of products that help you earn and save money and fight bureaucracy. Check out how to get insurance or warranty, file a FOIA request, send anything through online fax, draw up a tailor-made legal document, get documents notarized, get a college fee waiver, sign up for any clinical trial, and so much more!
Your personal AI-powered assistant can also lend its helping hand if you need to fight email or text spam, get robocall compensation, request refunds from airlines, draw up a child travel consent form, prepare for government tests, and combat workplace discrimination successfully.
Save and Earn Money
The best part of using DoNotPay is that you can both save and earn money. As soon as you sign up, make sure you check out how you can find missing money, get free raffle tickets, get compensation for victims of crime, report a late or missing delivery and get a refund for it, and request gift card cash back.
If you want to sign up for a free trial risk-free, cancel any subscription-based service, request a refund from a company, sue anyone in small claims court, or jump the phone queue when getting in touch with customer service reps, you can always count on us.