A Complete Guide to Drawing Up a Power of Attorney in Florida
Preparing for a time when you might not be able to make decisions on your own is stressful but necessary. Drafting a power of attorney (POA) document ensures your financial and business matters are taken care of even when you're not able to handle them yourself.
Whether you want to appoint an attorney-in-fact or were asked to be one, you should learn as much as possible about powers of attorney.
DoNotPay is here to provide all the relevant information regarding a power of attorney in Florida and help you create one in a few clicks.
How Does the Power of Attorney in Florida Work?
A power of attorney in Florida is used when an individual—called a principal—wants to grant certain powers to another person—an agent. This document can give an agent the right to handle various affairs on the principal's behalf, including:
Selling property, such as a car or a house
Managing bank accounts
Signing contracts
Making healthcare decisions
Handling financial transactions
Making gifts
Creating trusts
What powers an agent will have depends on which type of power of attorney the principal chooses.
POA Types
Find out what kinds of POA exist in the table below:
Type of POA
Details
General
A general power of attorney is a document that enables an agent to act on the principal's behalf in any and all matters while in accordance with state law. This document permits an agent to make financial and health care decisions instead of the principal. A general POA automatically ends if the principal becomes mentally incapacitated
Durable
This POA stays effective even if the principal becomes incapacitated. In most states, powers of attorney are durable by default unless stated otherwise. In Florida, POAs have to include special wording that makes them durable
Limited
A limited power of attorney grants an agent a limited authority over the principal's affairs. For example, the principal can give an attorney-in-fact—usually a real estate agent—the power to sell their property without handling other financial decisions.

This POA can also be time-limited, which means that the powers are given for a specified duration

Springing
This document comes into effect after a specific date or occurrence. It's also called a conditional POA because it becomes valid only when certain conditions are met. Florida doesn't allow this type of contract
Financial
A financial POA enables an agent to take care of their principal's financial affairs, such as paying bills, handling business transactions, and similar
Florida Power of Attorney Statute Explained
Before writing a power of attorney, you should know more about the Florida statute regarding the validity of the document. A POA is valid if it complies with statute 709.2105, which states the following:
An agent must be someone who is 18 or older, of sound mind, and not under duress
An agent can be a financial institution that has trust powers
A POA needs to be signed by the agent, the principal, and two witnesses, and it has to be notarized
A notary public can sign the document in a party's stead if they're physically unable to sign the document
Florida law doesn't have much information about what the contents of a POA need to be. It only says that you need to include special wording—this durable power of attorney is not terminated by subsequent incapacity of the principal except as provided in Chapter 709, Florida Statutes—if you want to create a durable POA.
How To Get a Power of Attorney in Florida
Do you need a power of attorney, but you're not sure how to get one? One of the solutions you have is hiring a lawyer, but you probably know that they are expensive. Another option is to compose this document on your own.
To write a power of attorney in Florida by yourself, you should follow the steps below:
Purchase a POA form in an office supply store or online
Fill out the form
Find two adults who will be the witnesses
Visit a notary and sign the POA before them
Make sure that the other party signs as well
If you want to avoid wasting hours on this complicated process, sign up for DoNotPay and use our platform to draft a POA letter with no effort.
Use DoNotPay To Create a Well-Written Florida POA
Why waste money on lawyer fees when you can rely on DoNotPay to do all the work for you? The entire process is quick and simple—DoNotPay will ask you a few questions to collect the information and create a personalized POA according to your answers.
We need to know the following:
Agent's name and address
Co-agent's name (if applicable)
The powers you're granting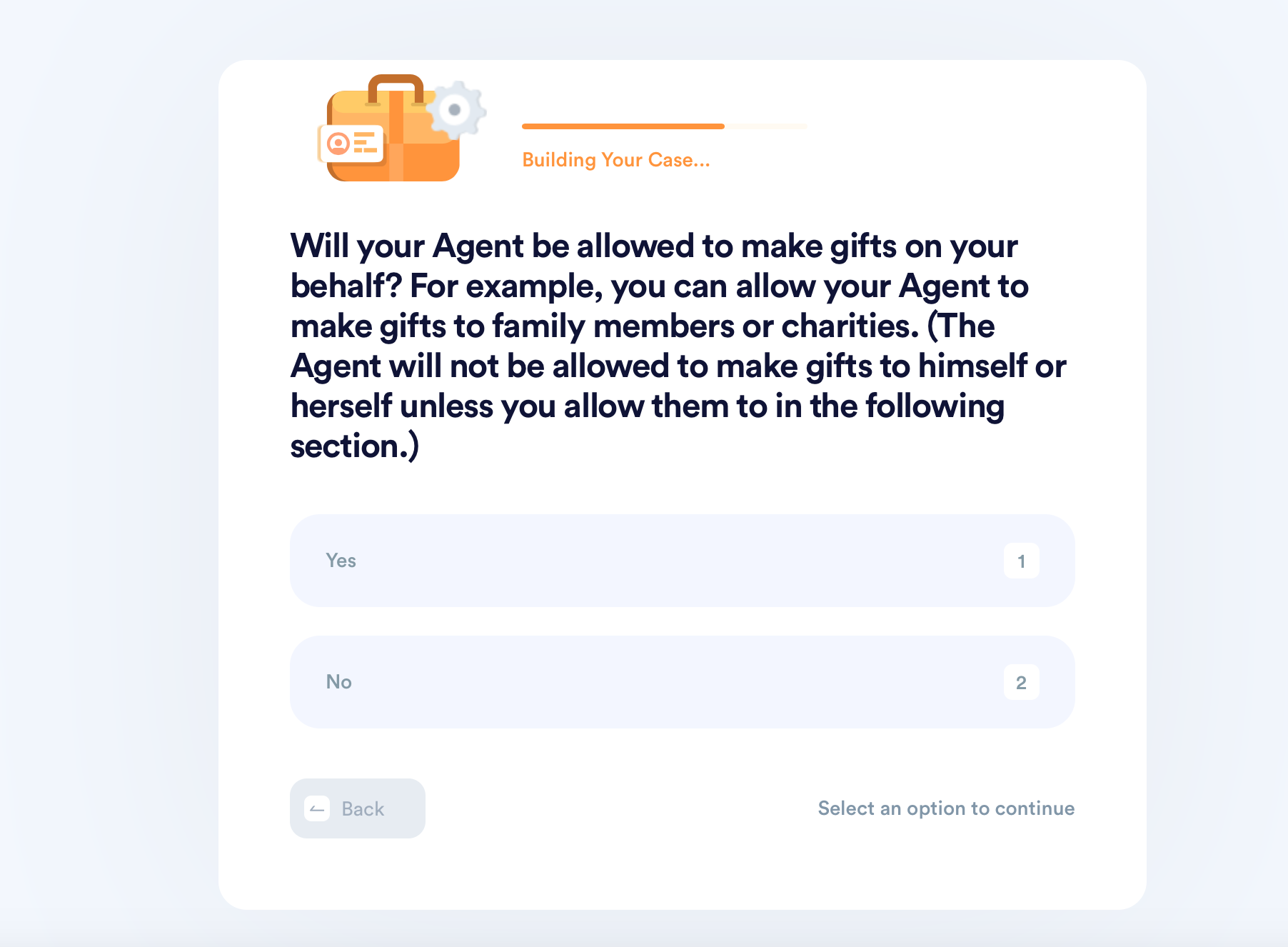 To draw up your POA in a few minutes, sign up for DoNotPay and complete the following steps:
Find the Create a Power of Attorney product
Answer the questions
Click on Confirm
After you complete the steps, we will create your POA automatically and provide two notices that you and your agent must read before signing.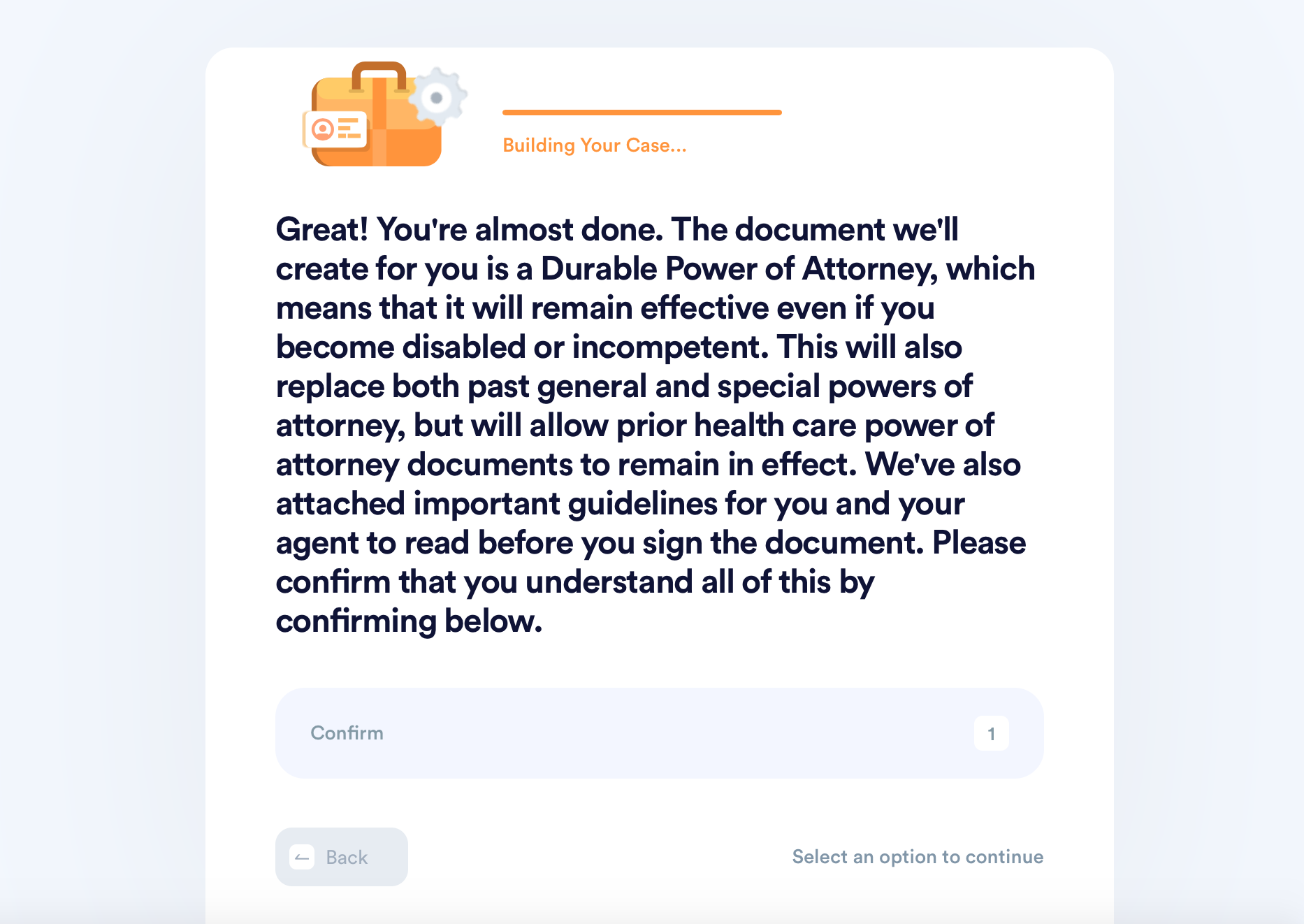 Since POA notarization is required in Florida, you'll need to find a notary. This is where DoNotPay can help as well. We will connect you to an online notary who will perform the notarization during a live video call and help you finish the notarization procedure in the blink of an eye.
Shop Online on Your Terms
Have you ever had to deal with complaints about lost, late, or damaged parcels? Is reaching customer service over the phone always a pain? Don't you wish there was an easier way to request refunds and chargebacks for bad purchases?
Shopping can easily turn into a nightmare, but DoNotPay will take away some of that stress. We can help you with all of these issues and more!
If you need to file warranty claims for any kind of product, our AI bots will make the process painless. Those who like to try out new services will fall in love with our virtual credit cards and foolproof methods of signing up for free trials without risking charges.
When you get sick of your subscriptions, cancel them with DoNotPay. Also, don't throw away your used gift cards with a few bucks left—we can help you get your cash back.
DoNotPay Protects Your Interests
There are already so many ways you can use DoNotPay to improve your daily life, but we keep developing more and more features that will make our subscribers even happier.
On our platform, you can find useful resources to: