A Power of Attorney Document Tailored to Your Needs
Getting a power of attorney (POA) doesn't have to be a complex or expensive task. Most people need this legal document to ensure their affairs run smoothly with the help of a reliable person.
A frequently asked question is—do you need to hire an attorney, or can you prepare a POA alone? You may also wonder whether to rely on online power of attorney document templates.
We present answers and provide an efficient way to generate a POA and get it notarized in one app!
Do You Need a Power of Attorney?
A power of attorney is a legal document that allows a principal to appoint an agent to act on their behalf in case the principal becomes physically or mentally incapacitated.
As the agent—also called an attorney-in-fact—needs to take care of the principal's business, financial, medical, or legal affairs, he or she should:
Put your interests before his or hers
Be a person the principal can trust, i.e., chosen wisely
The agent can get the power to make various decisions on the principal's behalf, including handling financial and healthcare issues.
While one POA can regulate both health- and money-related powers, it's better to make two separate documents and give these powers to different individuals.
What You Should Know About a Power of Attorney Document
If you'd like to create a power of attorney, you should be aware of the following:
Different U.S. states have different laws and POA forms
Some powers cannot be delegated, i.e., you cannot give an agent the power to:

Vote
Create, change, or revoke a will
Contract a marriage (although some states surprisingly allow this)
How To Give a Power of Attorney
While state regulations may differ, here are some rules you should follow regardless of your state of residence:
Steps To Take
Additional Information
Put everything in writing
While some parts of the USA might accept oral POAs, they are not as reliable as written contracts. A POA document should define all conditions and specific events in writing to prevent confusion and disputes
Use the suitable form
Depending on the type of powers you wish to grant, you need to create an appropriate power of attorney to meet both your and the state requirements
Identify the parties
You should check whether your state requires you to use specific terminology when creating a POA. In most cases, these are the parties:

The principal grants the POA
The agent—also called an attorney-in-fact—receives the POA

Grant the powers
While a POA can be general (broad) or limited, every power you wish to delegate needs to be stated and listed clearly
Specify durability
In most states, powers of attorney get terminated in case the principal becomes incapacitated. When creating a durable POA, you should indicate that it'll last during your lifetime unless revoked
What Should You Do Next?
Once you sign a power of attorney, you might need to:
Get it notarized—Many states require POAs to be notarized. Some mandate only the principal's signature, while others also demand notarization of the witnesses' signatures
Record the document—While not all types of POA need to be recorded, it is standard practice for lots of professionals and individuals. Some states, for instance, require a POA transferring property to be recorded in the county where the real estate is located
File it—Depending on your state legislation, you might need to file specific types of POAs with a court or government office. Certain states demand POAs granting guardianship over a child to be filed with the juvenile court
How To Get a Power of Attorney
You can create a POA:
By yourself—Make sure you meet your state legal requirements when preparing a power of attorney letter
Use online templates—Pick an appropriate type of power of attorney and consult the state law to amend the downloaded sample accordingly
Hire an attorney—Keep in mind that you might end up paying a hefty sum for this service
Register for DoNotPay—Provide a few answers to our chatbot, receive a POA tailored to your needs, and get it notarized in our app
How To Create a Power of Attorney With DoNotPay
DoNotPay collects relevant information on powers of attorney across the States to help you generate your POA document smoothly and efficiently.
Subscribe to DoNotPay and take the following steps:
Choose our Power of Attorney product
Provide answers to our chatbot's questions so that we know what type of power of attorney is appropriate for your specific situation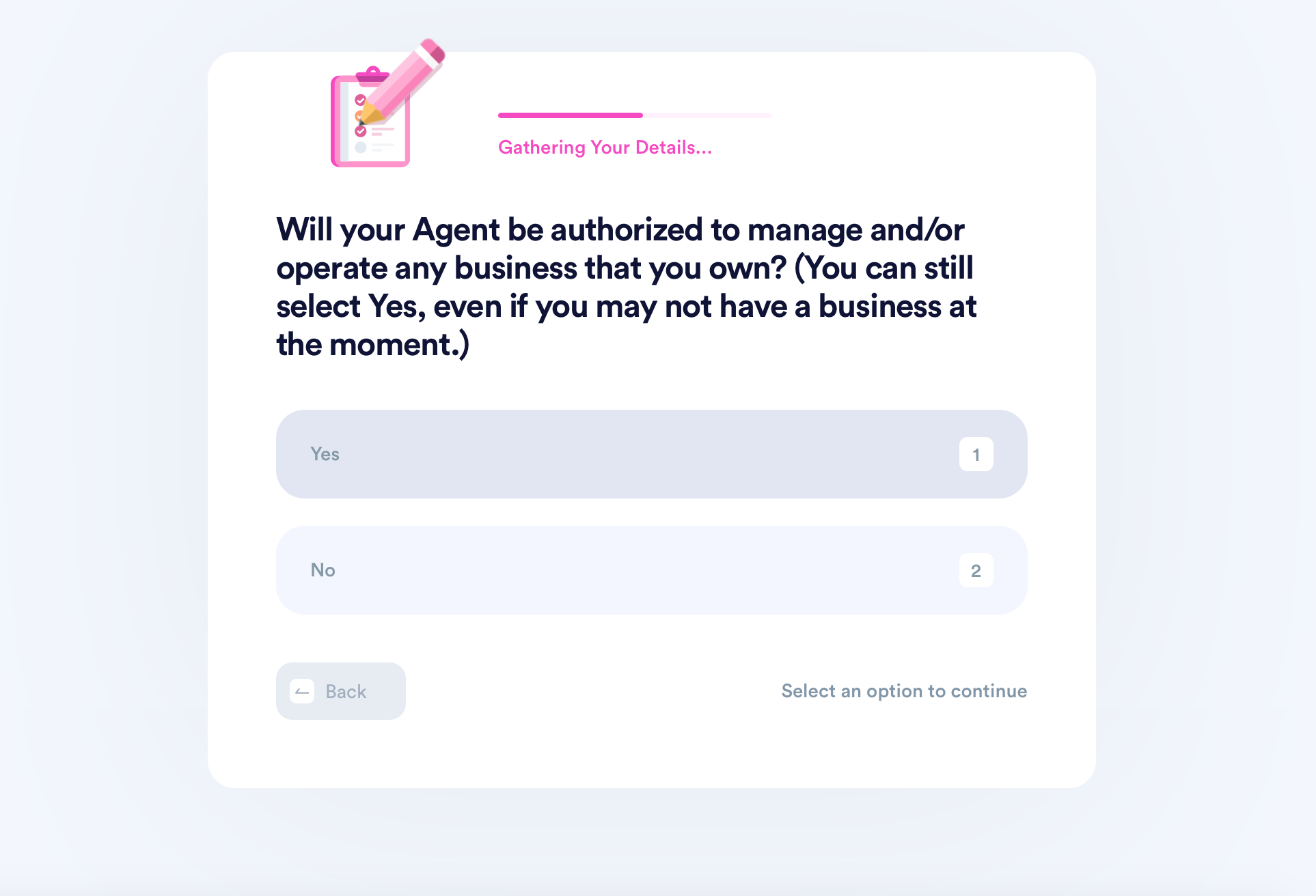 DoNotPay creates a POA document and sends it to you with two important notices you and the agent should read before signing the document.
Need Additional Help? DoNotPay Is Available 24/7
Powers of attorney need to get notarized in most states, and our AI-powered app helps you with that! We connect you with an online notary who can notarize your POA via a live video call. Stay comfortably safe in your home while a certified professional notarizes your POA or any other document.
Browse through our articles if you'd like to get more information about the power of attorney-related matters. You might be interested in finding out what exactly is a springing POA or what a financial POA should contain. We also provide state-specific POA info.
Take Control of Your Finances
DoNotPay is a great way of taking care of your money, whether you're cost cutting or looking for some extra income. Your new virtual assistant will help you:
Explore All the Facets of Our Multi-Purpose Platform
Our app is great for helping you with your money, but the benefits of your DoNotPay subscription don't stop there. The portfolio of DoNotPay's products and services is so diverse that anyone can find something useful to make their daily tasks easier.
We can help you deal with annoying DMV appointments, protect your privacy by offering a burner phone number, or avoid the trips to a post office with our mailing service!
Find a more comprehensive yet cheaper subscription—we'll wait!