Power Of Attorney in Colorado—Fully Explained
It's hard to imagine that one day you or your loved one won't be able to make decisions because of an illness or disability, but it's important to be prepared.
We will make it easy for you by giving you all the details on a power of attorney in Colorado. DoNotPay can also help you create your own durable power of attorney in a matter of minutes.
What You Need To Know About the Colorado Power of Attorney
A power of attorney (POA) is a document that grants powers over someone's legal, medical, and financial matters to another person—known as an agent or attorney-in-fact. The person who's granting those powers is called the principal.
In Colorado, all powers of attorney that give authority over the principal's financial matters are durable unless the document states otherwise, in which case a POA can be medical, general, or limited.
A POA doesn't take away the principal's rights to make decisions regarding a certain matter.
What Is a Durable Power of Attorney in Colorado?
A durable POA permits an agent to manage legal and financial matters on the principal's behalf even if the principal becomes physically or mentally incapable of making decisions on their own.
The difference between a durable and general POA is that the general one ends once the principal becomes ill or incapacitated. If the principal created a general POA before becoming incapacitated, the agent would need to obtain guardianship or conservatorship, which can be expensive. That's why drafting a durable POA is a better choice for safeguarding finances.
When Does the Power of Attorney in Colorado Take Effect?
The time when the POA comes into effect depends on the type of POA and your specific instructions. A power of attorney can take effect in the following ways:
Springing power—A springing POA becomes effective after a specific date or occurrence (most commonly once a principal is proven to be mentally incapacitated)
Standing power—A POA becomes effective as soon as both parties sign it. All powers of attorney created after January 1, 2010, are standing unless specified differently in the document
When Does the Power of Attorney in Colorado End?
When it comes to the termination of a POA in Colorado, there are a few events that take away the agent's powers. The agent must stop acting on behalf of the principal if any of the following happens:
Divorce or legal separation (if the agent is the spouse of the principal)
Principal revokes the POA
Purpose of the POA is fulfilled
Principal passes away
Agent is no longer willing to perform the duty
How To Set Up a CO Power of Attorney
To create a POA in Colorado, you need to be at least 18 or older and fully aware of what you're doing. Check out the table below for instructions on creating a POA:
Steps
Details
Finding the agent
Appointing an agent is an important first step in creating a POA. The principal should choose someone they can trust and someone whose intention is to make decisions that will benefit them. The agent should be a person who is responsible because they will manage the principal's legal, financial, and health care matters, depending on which type of POA they make
Filling out a POA form
You can find forms in a few places:

On a website that sells POA forms
In an office supply store

Deciding which powers the agent will have
This part might be the most important one because it will include all the powers that the principal is transferring to the agent. Agents in Colorado can be authorized to deal with:

Real property
Tangible personal property
Stocks and bonds
Commodities
Banks and other financial institutions
Insurance and annuities
Estates, trusts, etc.
Claims and litigation
Retirement plans
Taxes

Making it official
Both parties must sign the document. It's usually the best decision to get the POA notarized because notarization ensures the document carries more legal weight
Rely on DoNotPay To Generate a Colorado POA in No Time
Composing a POA by yourself is complicated, and hiring a lawyer could be an expensive option for some people. If you're thinking about granting durable power of attorney to a friend or a family member, DoNotPay has a solution.
We can help you draft a personalized durable power of attorney letter in three simple steps. All you need to do is sign up for DoNotPay and do the following:
Find the Create a Power of Attorney product
Complete the questionnaire
Click on Submit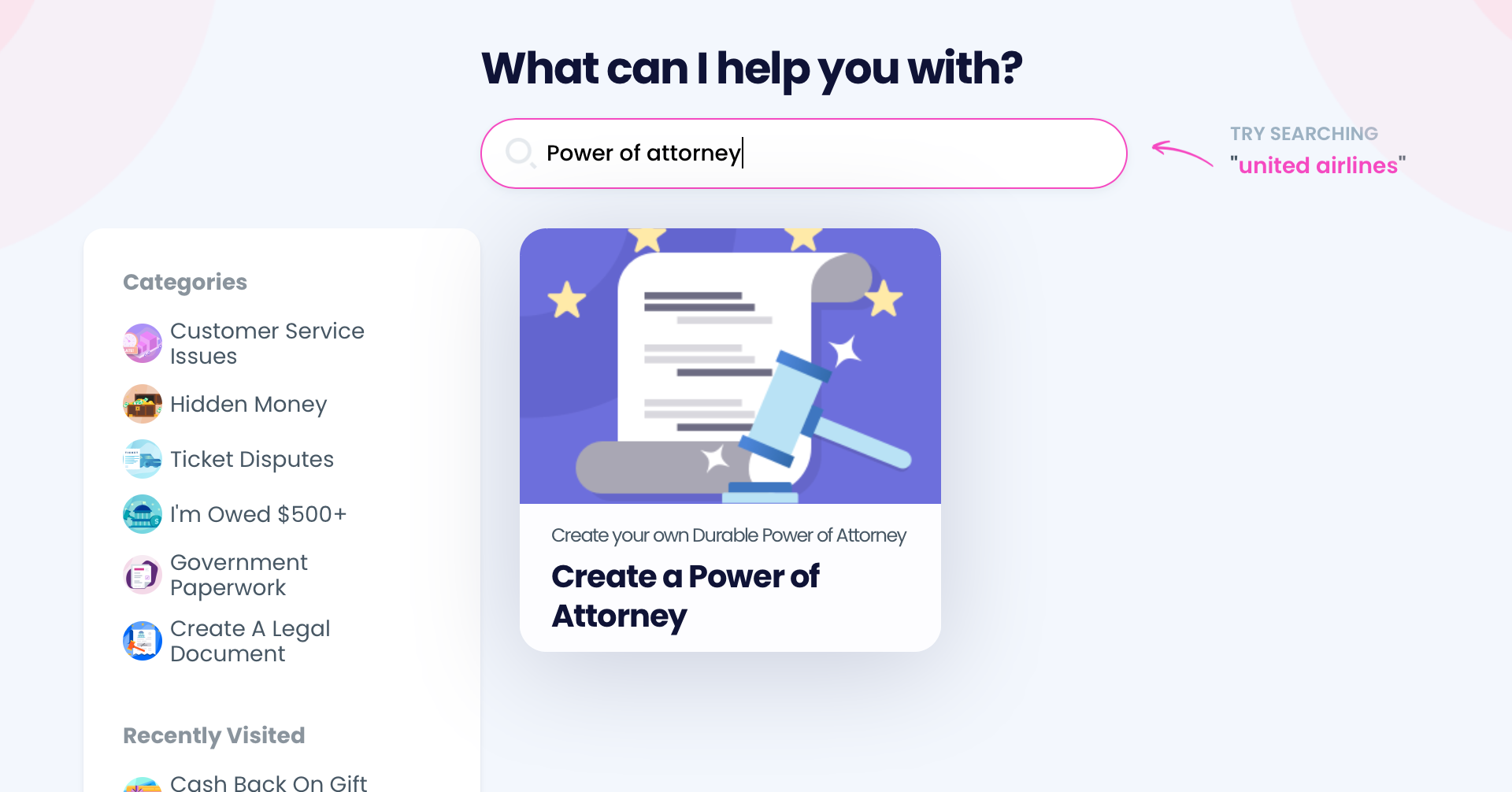 After you go through all the questions, we will create a customized POA using all the information you provided. We will include two notices that you and your agent need to read before you sign the document.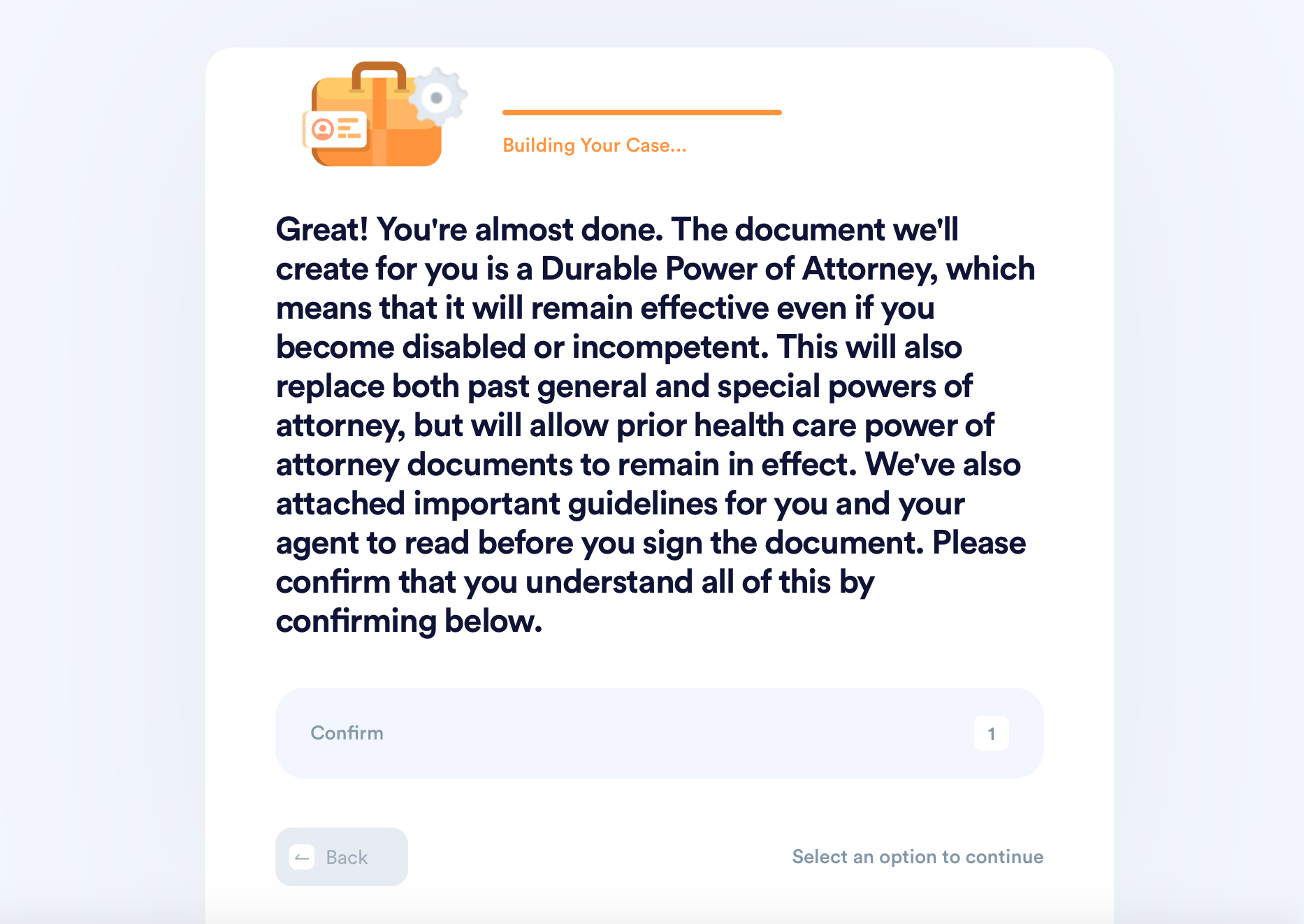 If you want to get the POA notarized, we can help with that too. You only need to tell our chatbot that you want notary services, and DoNotPay will connect you with a notary public. The notary will witness your signing during a virtual appointment.
DoNotPay—Easy Fixes for Your Daily Struggles
Calling customer support takes hours. Dealing with refunds and chargebacks takes weeks or sometimes months. And don't even get us started on DMV appointments. The good news is that, with DoNotPay, you don't have to stress out about these tasks any longer.
Our platform can help you turn exhausting administrative troubles into two-minute tasks. Thanks to AI technology, you can easily create legal documents, request compensation for canceled flights, send a complaint letter to your neighbor, or book appointments with online notaries.
Diversity of services is one of the biggest advantages DoNotPay offers, and the best part is that our subscription won't cost you an arm and a leg.
Do You Need Help With Anything Else?
All you need to do is ask, or in this case, sign up for DoNotPay, and the world of practical, user-friendly products awaits. Finishing boring or annoying tasks with the help of our AI bots is fun, easy, and super intuitive—you won't need any special knowledge of legalities or administrative terminology.
With our help, you will be able to: