Get a Power of Attorney in California With No Problems
Are you looking for a quick yet efficient way to prepare your power of attorney in California? You've landed on the right page!
We'll present the legal requirements and provide available options you can use to get your POA easily.
Understand a California Power of Attorney
A power of attorney (POA) is a legal document that allows an individual—the agent or attorney-in-fact—to handle different affairs of the principal in accordance with the terms defined in the contract.
To create a legally valid POA document, you'll need to consult the California Probate Code that contains the laws regulating the POA requirements.
Types of Power of Attorney in California
California allows three power of attorney types:
General POA—Grants the agent the authority to handle a wide variety of financial matters
Limited POA—Gives the attorney-in-fact the power to act on the principal's behalf only in specific events or situations defined in the POA document. For instance, the agent can handle property or investment transactions while the principal is out of the country
Healthcare POA—Grants the agent the right to make decisions regarding the principal's healthcare if they become incapacitated
California Power of Attorney Requirements
Here are some requirements a California POA needs to meet to be legally valid:
POA Requirements
Additional Information
Legally sufficient
For a POA to be enforceable, it needs to:

Contain the execution date
Be signed by:

The principal
Or another adult on the principal's behalf and in the presence of the principal

Granted authority
The principal can grant authority to the agent to act on their behalf in:

Any lawful matters
One or a few defined subjects or purposes, e.g., property, financial, medical care, or some other affairs

Springing POA
A springing power of attorney becomes effective only in the case of a precisely defined event. The principal can grant the power to determine that the event in question has happened to:

The attorney-in-fact
Another individual, e.g., the physician if the principal becomes incapacitated

Termination date
Unless the POA states the termination date, the document will remain effective until the principal:

Dies
Revokes the POA
Becomes incapacitated (doesn't apply to a durable POA)
A Durable Power of Attorney in California
A California durable power of attorney has to include one of the following statements in writing:
"This power of attorney shall become effective upon the incapacity of the principal"
"This power of attorney shall not be affected by subsequent incapacity of the principal"
The document must show that the granted authority should continue even if the principal becomes physically or mentally incapacitated.
Does a Power of Attorney Need To Be Notarized in California?
A California power of attorney has to be either notarized or signed by at least two witnesses.
If a POA letter is signed by witnesses, they have to be adults. According to California law, the agent cannot act as a witness.
Does a California Power of Attorney Need To Be Recorded?
Besides mandatory notarization, a power of attorney needs to be recorded in certain cases.
For instance, if a POA gives the agent the authority to dispose of the principal's property, the document must be recorded in the county recorder's office.
When Can a California POA Be Revoked?
A power of attorney can be revoked based on the revocation terms (if any apply) or in case:
The principal gives the agent notice of revocation
The principal divorces their spouse (who was also the attorney-in-fact)
The agent cannot fulfill the specified responsibilities
The agent's authority automatically ends if they:
Die
Resign
Become incapacitated
Can There Be More Than One Agent?
The principal can appoint one or more agents to make particular decisions on their behalf in different types of POA and various matters, e.g., tax, financial, medical care, real property, guardianship, estate planning, and others.
While the attorney-in-fact doesn't have to be a lawyer, it's better to hire an expert to handle specific areas, although their services come at a cost. A more affordable option is to appoint a family member or friend to act as an agent.
How To Get a Power of Attorney in California
You can get a power of attorney in California in one of the following ways:
Use predefined forms—According to California law, you need to use the state-created form for your POAs. While a general POA is available in California Probate Code Section 4401, you can find the healthcare POA in Section 4701
Hire an attorney—If you're not sure which form to use or how to fill them out correctly, you might want to consider this and the following option. An experienced attorney can create a POA document for you if you are willing to pay a handsome sum for the service
Sign up for DoNotPay—Our app can help you:

Draft a POA document tailored to your specific needs
Get it notarized smoothly
Turn To DoNotPay To Prepare Your Power of Attorney Efficiently
To get a POA that meets your needs without paying a hefty sum for legal assistance, subscribe to DoNotPay and take these steps:
Select the Power of Attorney feature
Give answers to a few questions from our chatbot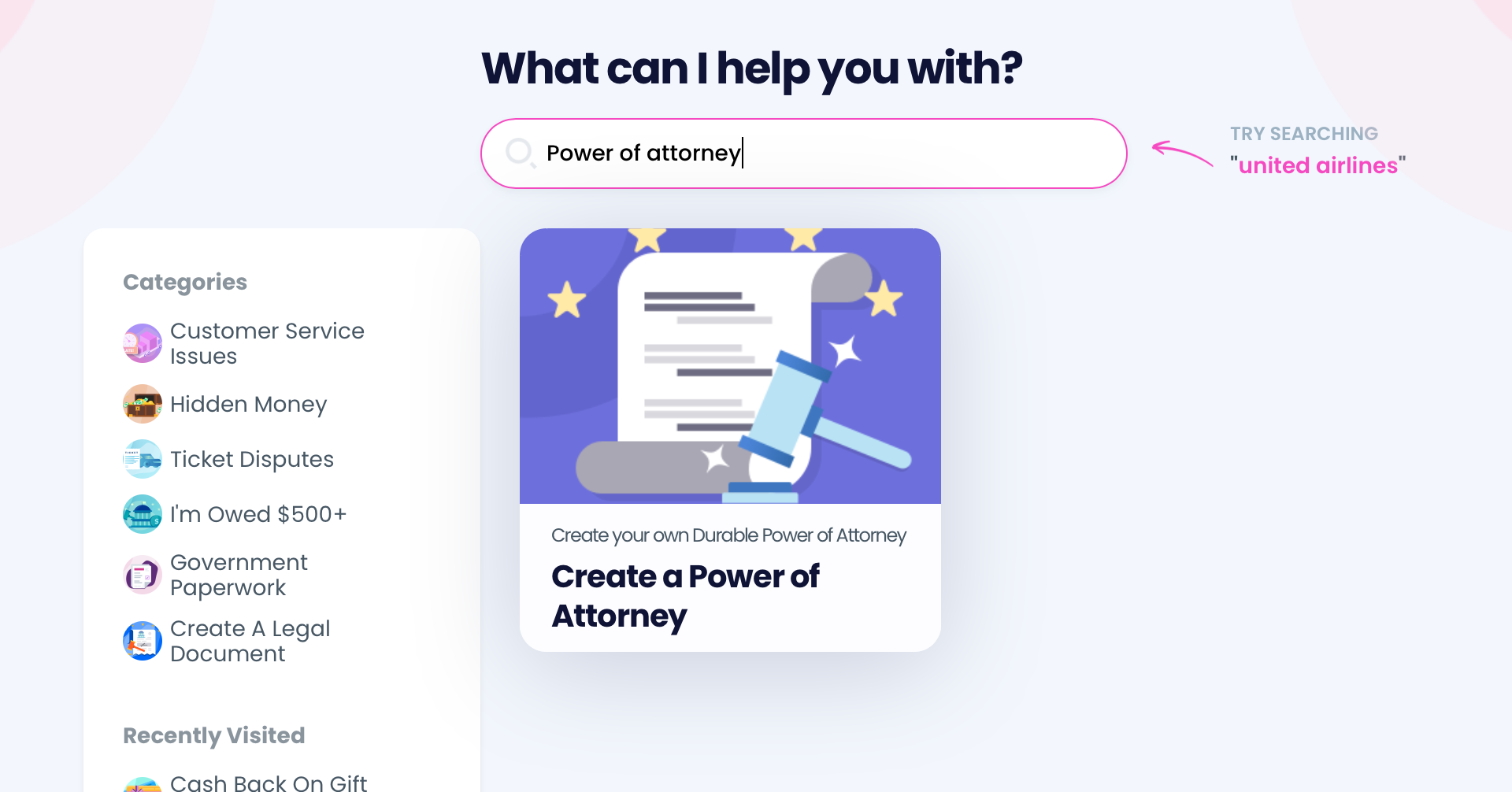 Using the answers you provide, DoNotPay creates a power of attorney for your particular situation. We will send you the document with two notices both parties should read before signing the POA.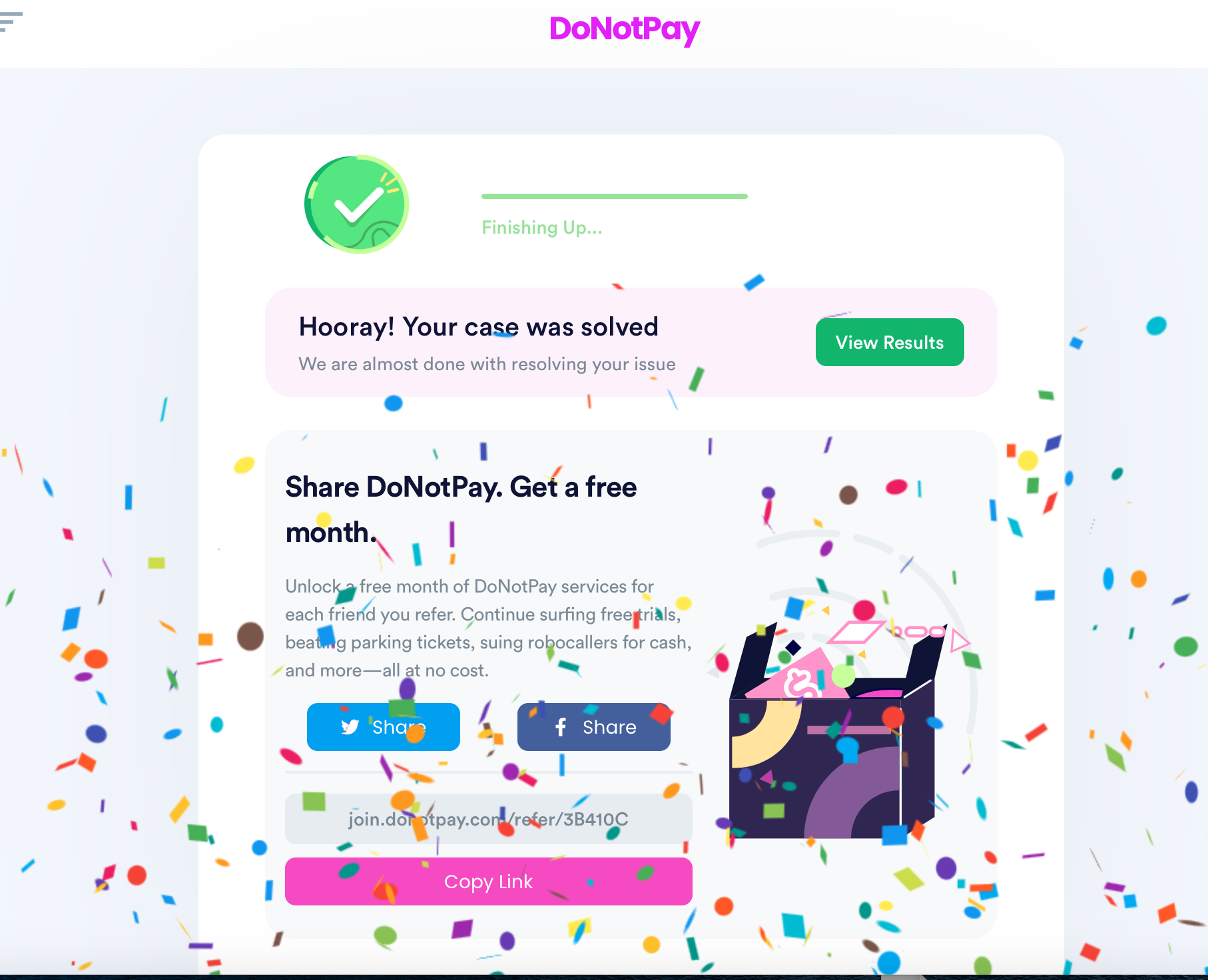 Our app will also offer to connect you with an online notary who can notarize your POA 24/7.
Paying for Lawyers? We Don't Think So!
For an average Joe, any mention of legal terminology and complicated administrative processes is likely to cause a headache, and understandably so! Still, you don't have to jump the gun and hire expensive lawyers for the smallest matters.
It's the 21st century, and everything is automated. Why would it be different with bureaucracy? DoNotPay can help you draft efficient neighbor complaint letters, prepare you for a small claims court appearance, or create standardized legal documents and have them notarized online.
Our app is a great resource for fighting workplace discrimination, stopping stalking and harassment, protecting copyrights, securing compensation for victims of crime, and even reducing property taxes—all at a fraction of the price of traditional legal help.
Need To Do Some Penny-Pinching?
Whether you're saving for rainy days or a new gadget, DoNotPay can provide numerous options to save and earn more cash.
Do you need help with utility bills? Are you wondering how to get those few dollars left on your gift cards? Are you unsure about how to find your unclaimed money? Our app has the answers to all those questions.
With our assistance, you'll be able to enter raffles, start free trials with no risks, participate in lucrative clinical trials, or claim refunds for late deliveries!