Learn All About the Power of Attorney in Arkansas and Draft It in Minutes!
Drafting a power of attorney in Arkansas doesn't have to be a burden! We'll help you understand how it works and what powers you can transfer using different POA documents.
Subscribe to DoNotPay, and draw up your durable power of attorney in a few minutes!
Understanding How the Arkansas Durable Power of Attorney Works
The durable power of attorney in Arkansas is a legal document that allows you to transfer powers and appoint a trusted agent to make decisions in your stead.
According to Arkansas law, the durable power of attorney stays in effect if you become incapacitated unless otherwise implied in the agreement. That means that you can choose whether you want your durable POA to be terminated in the event of your incapacitation or not.
What Powers Can I Transfer With the Durable Power of Attorney in Arkansas?
Wondering what powers you can transfer with the durable power of attorney document? Check out the list below for all the details. By signing this agreement, you allow the agent to:
Perform any act or deed on your behalf in the same way you would if you were present
Open and close your bank accounts and deal with them in any way they see fit
Buy, sell, lease, and manage your property
File your income, property, gift, and other tax returns
Handle your life, accident, disability, and other insurance policies
Have access to your safety deposit box
Be a representative payee for any payment you are entitled to
Request and review information about your personal affairs or physical and mental health, including your medical and hospital records
You can add additional clauses and transfer more powers to your agent when creating your power of attorney agreement.
How To Get a Power of Attorney in Arkansas
You can write a power of attorney by yourself, but you have to do it and sign it while you're still mentally competent. Although the agreement is used once you are incapacitated, both you and the agent have to be of sound mind during the signing.
The POA agreement must include the following sections:
Section
Explanation
Title
To avoid any confusion, you have to give the POA a specific title, such as Durable Power of Attorney for Financial Purposes
Dates
Specify the relevant dates, including:

The effective date of the agreement
The date when the POA is signed

Names and details
Include the full names of both you and the agent and follow it up with:

Your addresses
Contact info

Specific powers
Give a broad description of the powers you're transferring to the agent
Use DoNotPay To Create Your Arkansas Power of Attorney Instantly!
Wasting money on expensive lawyers and spending hours trying to write your POA agreement become things of the past once DoNotPay gets involved! We'll show you how to draw up your document in less than five minutes. The best part is that it takes almost no effort at all! You only need to check out the following instructions to get started:
Pick what powers you want to incorporate in your agreement
Provide the required info
Once you complete the above-mentioned steps, DoNotPay will create your POA agreement in a snap! Note that both you and the agent should read the notices and provide your signatures afterward.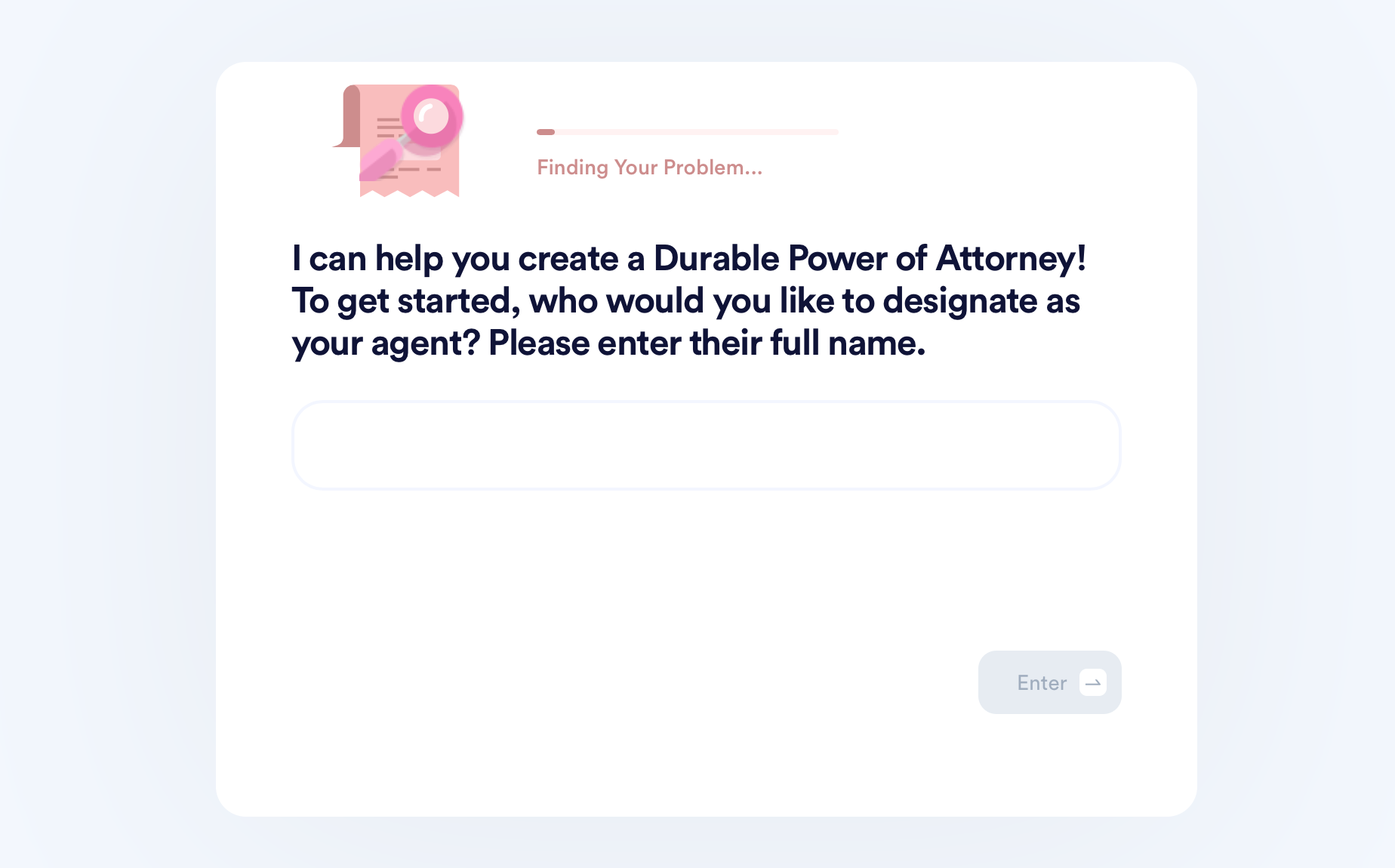 Do I Have To Get the Durable Power of Attorney in Arkansas Notarized?
By Arkansas law, the durable power of attorney doesn't have to be notarized, but the court will accept the signature as genuine only if the document was signed before a notary. Since that's the case, getting your POA notarized would be the best course of action.
Visiting a notary public in person is not your only option! You can save time and effort by using DoNotPay to get your POA agreement notarized hassle-free.
Once our app generates your durable power of attorney, you will be able to get it notarized too! It will take almost no time at all, and you won't have to bother with traveling to a notary public—the whole process can be finished from the comfort of your home!
Explore DoNotPay's Vast Database
Helping you with your durable power of attorney in Arkansas isn't all we can do! If you have additional questions regarding the POA agreement, check out the list below to find the answers:
Communication Troubles? Say No More!
Yes, communication is the key, and DoNotPay vows to provide you with the best, most convenient methods to relay or protect your message—whether it's correspondence with your business partner or a loved one who's serving time.
Check out what you get by using our platform:
Use DoNotPay for a Better Shopping Experience
If you have a tendency to shop till you drop, some issues with purchases are bound to happen. Customer rights and satisfaction is what DoNotPay is passionate about.
With your subscription, you will be able to: