Find Out All About a Power of Attorney in Arizona and Draft It in Minutes!
If you're looking for a streamlined way of drafting a power of attorney in Arizona, we got you covered! Not only can we provide you with all relevant info about POA documents, but we also provide you with a simple way to draft your POA in only a couple of minutes!
Subscribe to DoNotPay, and create your POA document effortlessly!
Power of Attorney in AZ—Explained
A power of attorney is a document used by one party (a principal) to appoint a trusted individual (an agent) to make decisions in his or her stead. The principal can choose the exact powers he or she wants to transfer and specify them in the document. The POA can also be effective immediately or upon the principal's incapacitation, depending on the document type.
The Arizona Power of Attorney Types
There are different POA types, including:
General Power of Attorney in Arizona
With a general power of attorney, the principal can appoint the agent to deal with his or her financial, health, and other affairs for as long as the principal is mentally competent. In case the principal becomes incapacitated, the POA document would get terminated.
Durable Power of Attorney in Arizona
The durable POA also grants the agent the authority to make financial, health, real estate, and other decisions in the principal's stead. This POA document is different from the general POA because it stays in effect even after the principal's incapacitation.
Limited Power of Attorney in Arizona
If the parties use the limited POA, they will be able to make the document more specific. That means that the principal can choose how long the document will last and what limited powers the agent gets.
Financial Power of Attorney in Arizona
The financial POA will let the agent deal with the principal's finances, bills, and real estate matters. It can be effective immediately or upon the principal's incapacitation.
What Powers Can Be Transferred With a Durable Power of Attorney in AZ?
The common powers that a durable POA in Arizona allows the principal to transfer to the agent are the powers to:
Provide for the principal's spouse or minor children, including food, lodging, medical services, etc.
Have access to the principal's safety deposit box
Contract employees and attorneys in the principal's stead
Perform any act on the principal's behalf in the same manner that he or she would if present
Disburse money and manage the principal's accounts
Buy, sell, lease, maintain, and alter the principal's property
File the principal's income, property, gift, and other tax returns
Access the principal's insurance policies which include the principal's life, disability, hospitalization, accident, and other policies
Engage in any lawful business in the principal's name
Take legal actions
Have access to the principal's personal information, such as legal and medical records
How To Write the AZ Power of Attorney on Your Own
Although you can write the Arizona power of attorney by yourself, you have to be extra careful and respect the legal protocols of your state. If you fail to do so, it's likely that your document won't be valid.
To prevent this from happening, hiring a lawyer would be the best course of action. Keep in mind they can charge you a lot for their service.
If you plan to draft your POA on your own, check the table below for the important sections that must be included in POA documents:
| | |
| --- | --- |
| Section | What To Include |
| Names | Both the principal's and the agent's full names, addresses, and contact info |
| Dates | The effective date of the document and/or the beginning and end date (if it's time-limited) |
| Powers | The description of the powers the principal will be transferring to the agent |
By Arizona law, the POA documents must be signed either in front of two witnesses or a notary public. If you choose to get it notarized, you can avoid an in-person visit to a notary and do it online easily! DoNotPay will walk you through the process, match you with an online notary, and help you get your POA notarized in no time.
Let DoNotPay Draft Your Arizona POA Instantly!
Why bother writing a POA document on your own when you can have our app draw one up in minutes? DoNotPay will use the info you provide to create your POA instantly, and all you have to do is follow our quick three-step guide:
State what powers you want us to incorporate in the document
Answer a few questions
Once you complete the steps, our app creates your AZ POA! Both parties provide their signatures, and you're done! Make sure to indicate whether you want your POA notarized during the drafting process.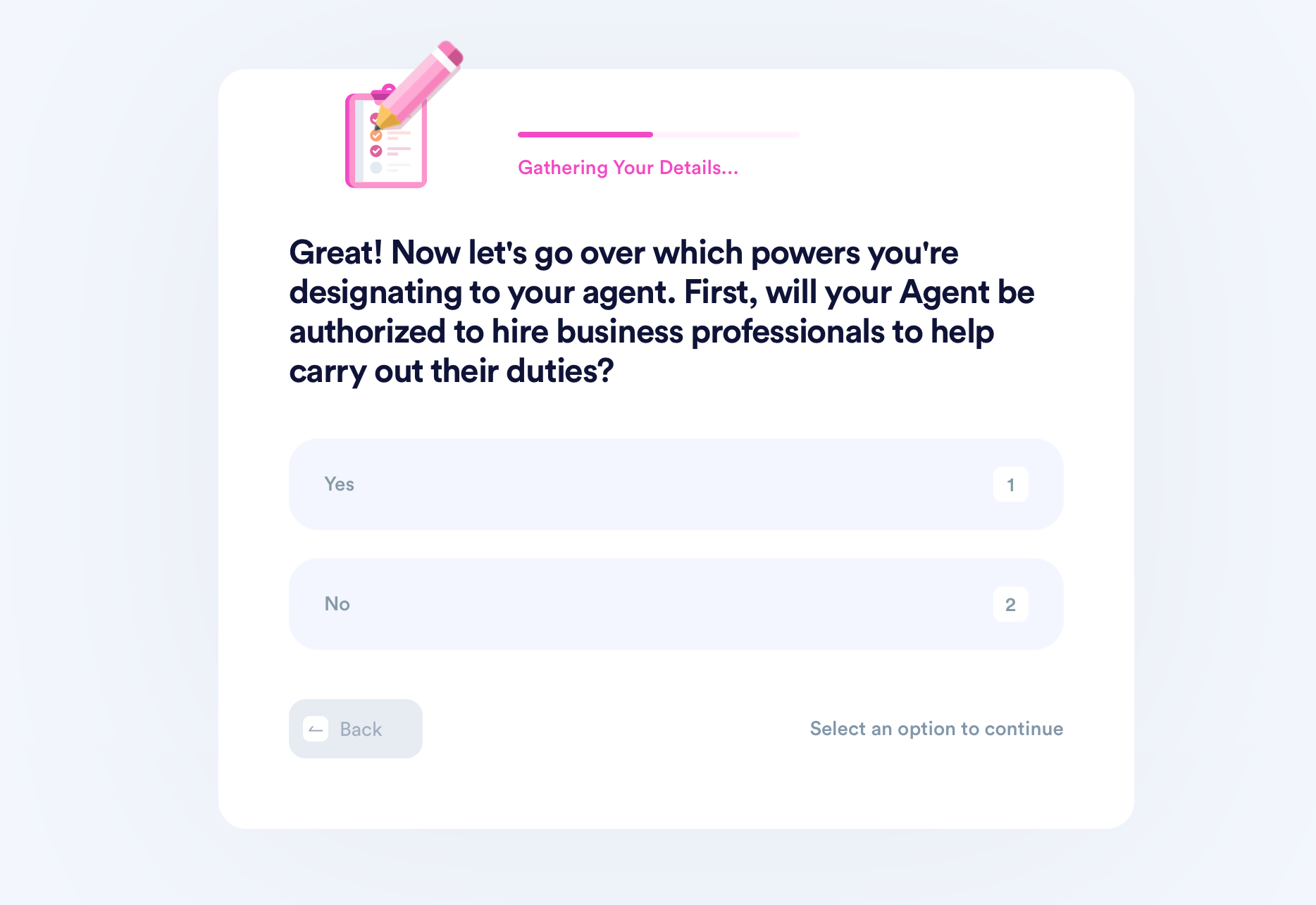 Drafting the AZ POA in your stead isn't all DoNotPay can do for you! Check out the list below, and find the answers to other POA-related questions:
Communication Troubles? Say No More!
Yes, communication is the key, and DoNotPay vows to provide you with the best, most convenient methods to relay or protect your message—whether it's correspondence with your business partner or a loved one who's serving time.
Check out what you get by using our platform:
Use DoNotPay for a Better Shopping Experience
If you have a tendency to shop till you drop, some issues with purchases are bound to happen. Customer rights and satisfaction is what DoNotPay is passionate about.
With your subscription, you will be able to: