The Nitty Gritty Details of Creating a Power of Attorney in Alaska
Creating a power of attorney document comes with numerous steps—from choosing an appropriate person to manage your affairs to deciding which authorities to grant them. Another aspect you shouldn't forget is making sure the document complies with state laws.
Do you want to know the specifics of creating a power of attorney in Alaska? DoNotPay will provide the necessary information and show you a fast and pocket-friendly way to draw up any durable power of attorney!
A Power of Attorney in a Nutshell
A power of attorney (POA) allows a designated individual to act on behalf of another person, including:
Handling various financial affairs, such as paying bills or taxes
Signing legal or business documents
Making health care or end-of-life decisions
The person granting power of attorney is called a principal, and the individual who assumes the decision-making responsibility is known as the agent or attorney-in-fact.
A principal can appoint an agent to manage their affairs if they:
Don't have enough experience in specific matters (such as business investments)
Expect to be absent during a certain period
Are preparing for the possibility of becoming mentally or physically incapacitated
One of the crucial aspects of creating a power of attorney is choosing a suitable person to act as the agent. Ideally, you should pick a trusted individual—such as a family member or a close friend—who has experience in the relevant area.
It's advisable to create a power of attorney for every eventuality and appoint a different agent for each. You can choose between the following POA types:
General—Terminates automatically upon the principal's death or incapacitation
Durable—Lasts after the principal becomes incapacitated
Limited—Grants the agent limited powers (for a designated period or related to specific tasks)
Financial—Gives the agent the authority to make financial decisions for the principal
Medical—Authorizes the agent to decide on the principal's health care if they become incapacitated
Springing—Takes effect after a triggering event (typically principal's incapacitation)
Alaska Power of Attorney Requirements
Every power of attorney in Alaska must be created according to the requirements in the Alaska State Legislature. The document needs to contain the following details:
The principal's and agent's:

Name
Address
City and state of residence

Date of the document's execution
Description of the powers given to the agent
Principal's signature
Start and end date of the agent's powers
In the optional provisions of the POA, you may:
Designate a successor agent
Name a potential guardian or conservator
Include an advanced health care directive form
If you designate multiple agents to manage your affairs, you must indicate whether they will act jointly or separately.
According to Alaskan law, the POA needs to be notarized to be considered lawful. You should also bear in mind that every power of attorney in Alaska will automatically expire if the principal becomes incapacitated unless the specific language in the document dictates otherwise.
How To Get a Power of Attorney in Alaska
Because of the document's specific nature, creating a POA often requires legal assistance. Lawyers can ensure that the document contains all crucial sections and is written according to state laws.
You should also bear in mind that lawyers charge heavily for their services. Most people can't afford to hire them, especially if they plan to draw up several POAs for different situations.
Luckily, there are other ways to get a power of attorney in Alaska. Take a look at the table below for more details:
Method
Description
Draw up the document alone
The process may be complicated since you would need to research state laws yourself. You can use one of the state-specific contract templates as a starting point and ask a lawyer to go over the document after you finish
Download a POA letter template
When using an online contract template, you should:

Pick a reliable website
Look for a state-specific form
Revise the document in case there are mistakes
Customize it by adding or removing sections

Use DoNotPay
You can simplify the process by letting our app create a POA for you. If you sign up for DoNotPay, we will draw up your POA and help you get the document notarized using the same platform
Let DoNotPay Create an Enforceable Power of Attorney in Alaska
There's no need to waste time checking your state laws or spend money on hiring an attorney. Our app requires mere minutes to generate a durable power of attorney that meets your and state law requirements to a T.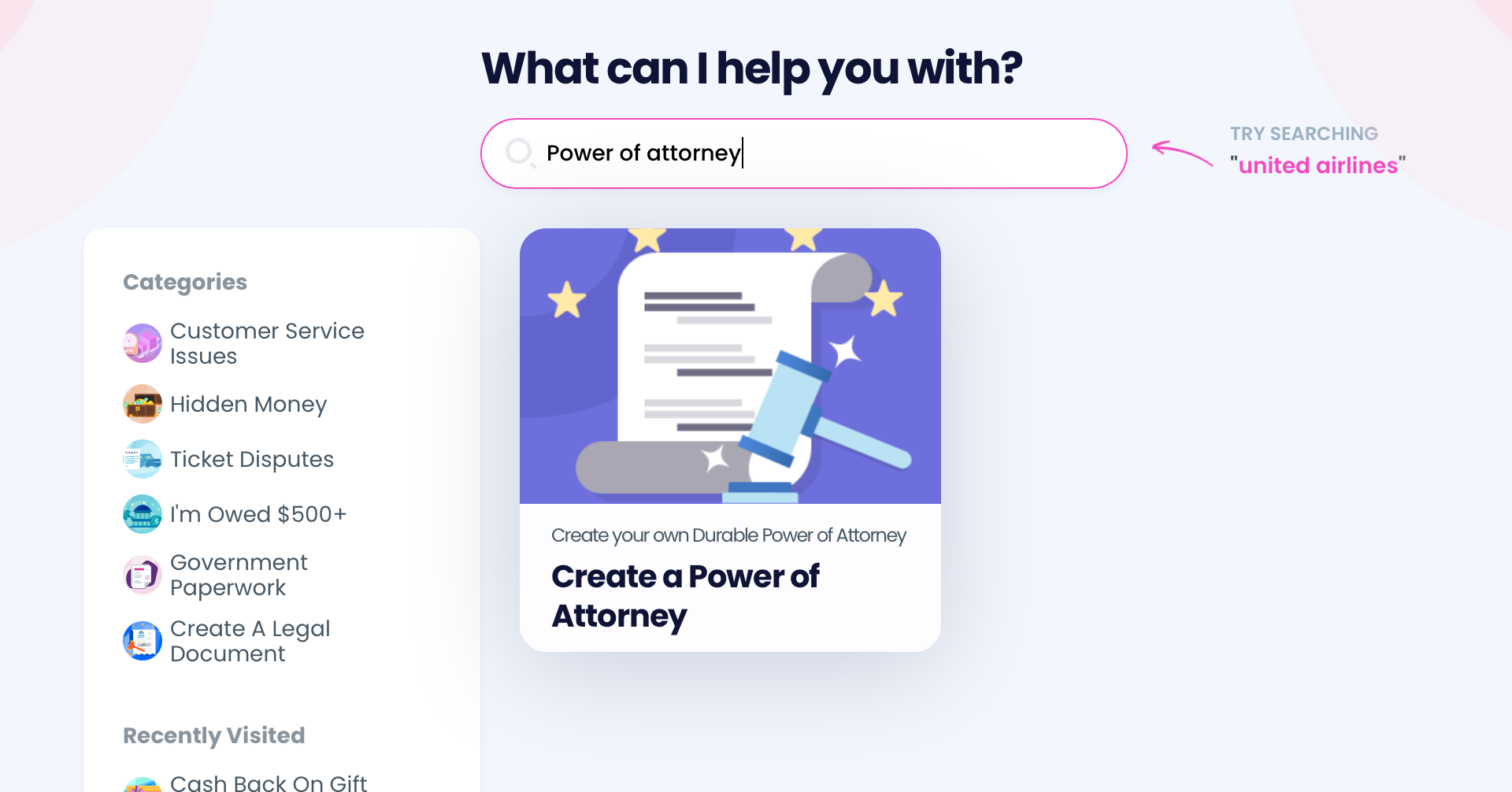 Access DoNotPay from a web browser and take the following steps:
Find our Power of Attorney product
Answer our chatbot's questions to get the corresponding document
Choose the option to have the POA notarized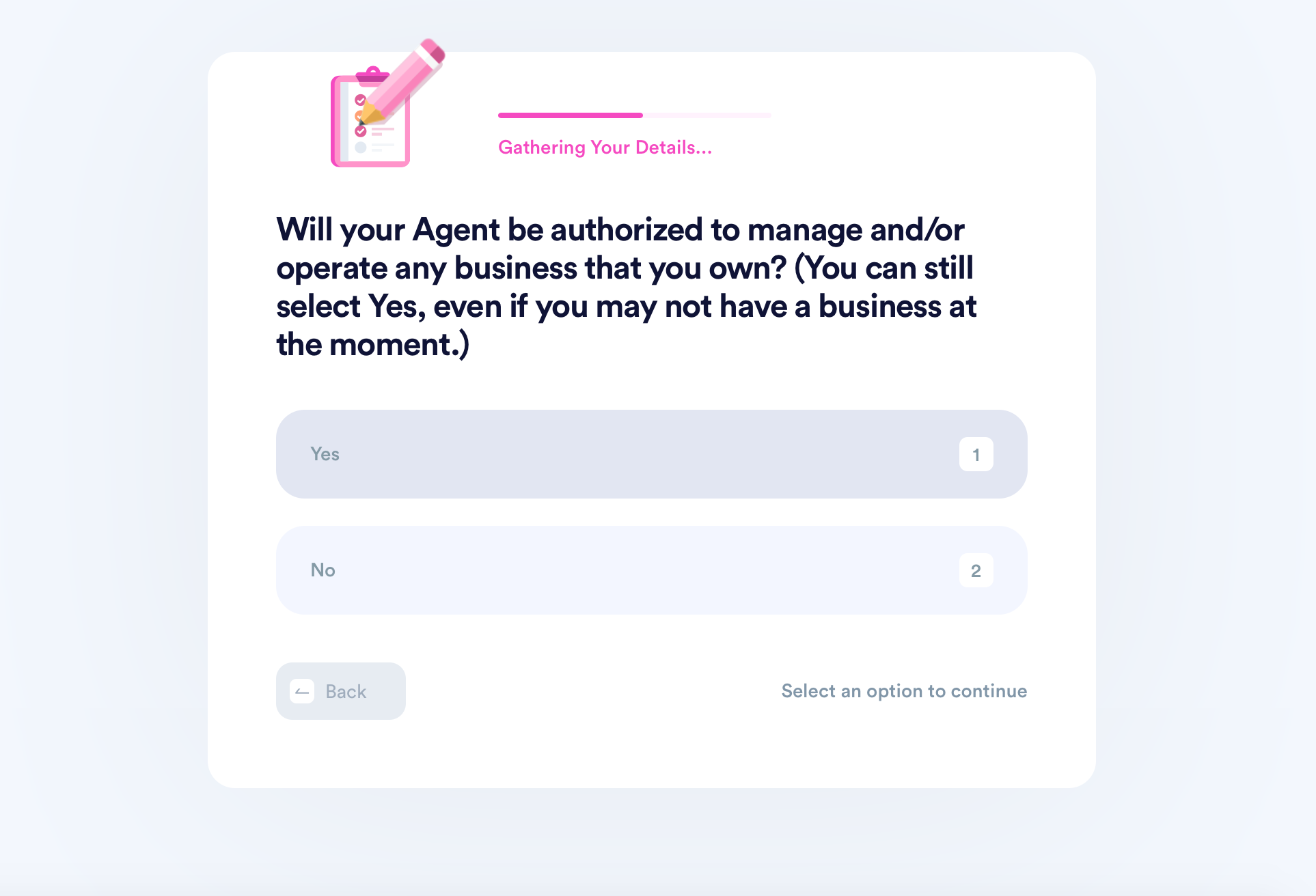 Once you finish, our app will create and deliver the document with two notices that you and your agent need to read before signing.
The next step is to let DoNotPay find you an online notary. You can schedule an appointment at a convenient time and have the document notarized without any complications!
DoNotPay Covers All the Bases
From getting you ready for various government tests to helping you reduce your property taxes, DoNotPay offers valuable assistance with the tasks that make most people at least roll their eyes. Dealing with bureaucracy isn't fun, but it also doesn't have to be as difficult as it is.
Every product in DoNotPay's portfolio is designed to efficiently deal with a specific issue within a few minutes and without sacrificing your comfort. Take a look at the tasks our app can make much more simple:
A Little More Money Never Hurt Anybody
Hardly anyone would turn down a chance to earn some more cash. That's why DoNotPay not only protects your rights and interests but also offers great opportunities to improve your financial situation.
With our help, you can find paid clinical trials, locate your missing money in any state, get your cash back from used gift cards, or enter various raffles and win great prizes.