Everything You Need To Know About Potter County Divorces
Are you and your spouse parting ways? Understanding how Potter County divorces work can help you complete the process as fast and stress-free as possible. If you decide to end the marriage on friendly terms, you won't even need a lawyer.
In this article, you'll find all the necessary information about low-cost divorces in Potter County and discover the easiest way to draft a marital settlement agreement!
Potter County Divorce—Essential Info
The divorce process doesn't consist solely of the petitioning part. Before you start preparing the paperwork, you should understand the key aspects of marriage dissolution in your state and county. Here's what you should know about divorces in Texas, or more specifically Potter County:
What grounds for divorce are acceptable
Which residency requirements you have to meet
How much a divorce costs in Potter County, Texas
How long a divorce takes in Potter County, Texas
Grounds
Texas—and all its counties—recognize both no-fault and at-fault legal reasons for divorce. If one spouse is responsible for the breakdown of the marriage, the court will consider it when making important decisions, such as custody, alimony, or property division.
Here's a brief overview of the most common no-fault and fault-based grounds for divorce:
No-Fault
Fault-Based

Insupportability (marriage is no longer endurable)
Living apart
Confinement in a mental institution due to incurable mental illness

Adultery
Abandonment
Imprisonment or felony conviction
Cruelty
Alcohol and substance abuse
Infertility or impotence
Residency Requirements
To file for divorce in Potter County, either you or your spouse must meet residency requirements:
Being a resident of Texas for at least six continuous months before petitioning
Living in Potter County for at least 90 days before filing for divorce
Cost
According to an article by USA Today, Texas is the fifth most expensive state for divorce. The average cost of divorce is $15,600 without children and $23,500 with children.
To file divorce papers in Potter County, you have to pay a $303 filing fee.
The cost of a divorce depends mostly on the divorce type and the issues you're having with your soon-to-be ex-spouse. If you wish to avoid paying costly attorney's fees, you should consider filing for a cheap uncontested divorce instead.
Duration
How long a divorce takes depends on the type of divorce you filed for. If you and your spouse cannot agree on crucial matters, the process may last from six months to a year (or even more).
The mandatory waiting period for divorce is 60 days in Texas. If you can discuss and negotiate the issues (on your own or with the help of a mediator), you can get divorced as soon as the waiting period is over. To reach a quick out-of-court settlement, you must opt for an uncontested divorce and write a divorce settlement agreement.
Uncontested Divorce in Potter County, Texas
Uncontested divorces have many perks, such as low costs, quick procedures, and straightforward resolutions. Because of these and many other advantages, a lot of people prefer it over the regular divorce—but not everyone is eligible for a simplified dissolution.
To qualify for an uncontested divorce, you have to meet several requirements:
Agreeing to terminate the marriage
Agreeing on important issues, such as:
Not having ongoing bankruptcy cases
Having a divorce settlement agreement
How Can You File for Divorce in Potter County?
Once you make sure you meet the requirements for an uncontested divorce, you can begin the process. Since it's a simplified dissolution, you can obtain it without a lawyer. Here's what you need to do:
Gather the necessary Texas divorce forms—Visit the Texas State Law Library government website to collect and download the packet of divorce forms suitable to your case
Make copies—Make two copies (or more) of each document
Submit the paperwork—Bring original documents to a local clerk's office in Potter County and submit them
Serve divorce papers to your spouse—Deliver the rest of the papers to your spouse by hiring a professional server
Draft a divorce settlement agreement—Register for DoNotPay to outline the terms of your divorce in an ironclad settlement agreement
Get a Divorce Settlement Agreement in a Jiffy With DoNotPay!
After a 60-day mandatory waiting period in Texas, you should attend the hearing at court. The judge will base their decision on your divorce settlement agreement. Don't take any chances and risk having your divorce denied—use DoNotPay to draft a top-level agreement.
Here's what you need to do:
Choose the Divorce Settlement Agreement product
Answer our chatbot's questions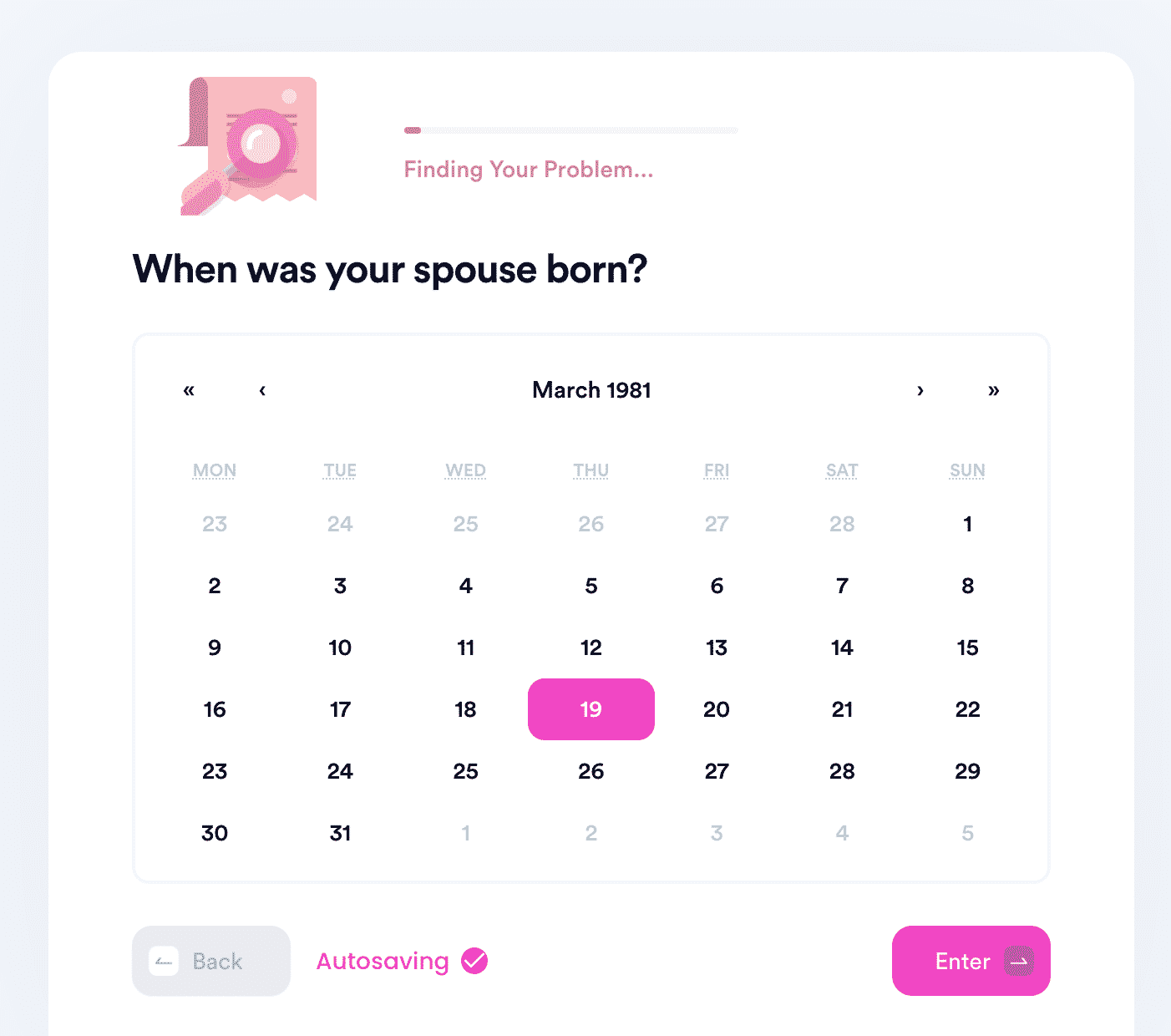 Upon receiving your information, we'll draw up and send you a fully customized divorce settlement agreement. You can print it out, sign it, and have your spouse sign it. If you need a notary, we'll help you schedule a meeting with one. All you need to do is notify us while filling out the questionnaire.
Creating the agreement is not the only way DoNotPay helps! We can answer numerous questions about divorces—general or Texas-based—such as:
DoNotPay Can Help You With Almost Anything
DoNotPay's goal is to have a multitude of features that can be useful to you with handling various issues. Whether you want to apply for clinical trials, prepare for government tests, or even get in touch with your locked-up friends or family—DoNotPay has got you covered!
For a small yearly fee, our AI-based app will help you:
Want To Save and Earn Money at Once? Subscribe to DoNotPay
DoNotPay can help you earn and save a buck or two. We'll assist you in reducing your property taxes, canceling any unused subscriptions, and signing up for free trials with our virtual credit card.
As if that wasn't enough, we'll save you money and spare you from a headache if you receive any faulty deliveries by filing a refund or an item return request in your stead! This is just the tip of the iceberg of features that DoNotPay has in store for you.