How To Postpone Jury Duty: What You Need To Know
While you can't skip jury duty without an acceptable excuse, you can try to postpone it if you feel that the timing is inconvenient. DoNotPay is here to tell you and help you prepare by writing a jury duty leave request for you in case you need to take time off from work while serving.
What Are the Acceptable Excuses for Postponing Jury Duty?
There are a number of excuses that you can use to postpone your service, namely:
Extreme financial hardship
Full-time studies
Military service
Mental or emotional instability
Breastfeeding
Essential service
Medical reasons
Conservatorship or childcare
Inconvenient schedule
Extreme Financial Hardship
If being absent from work would cause extreme financial loss, you can request postponement of duty as long as you have relevant financial documents to back up your claim. Since both state and federal courts offer compensations for jury duty, the court may reject your postponement request if the compensation covers your loss of income.
Full-Time Studies
If jury duty coincides with your studies, you need to present a copy of your student ID and school term schedule as evidence.
Military Service
While federal jurors serving in the military are exempt from serving on a jury, the same excuse doesn't apply to state jurors. To postpone your duty, you can have your commanding officer contact the jury commission office.
Mental or Emotional Instability
To support claims of mental or emotional instability, a psychiatrist or a psychologist's testimony is required.
Breastfeeding
As a breastfeeding mother, you need to provide a doctor's note or a midwife's letter to postpone your service.
Essential Service
You can postpone your jury duty with a written statement signed by your superiors if you're a:
Firefighter
Police officer
Medic
Medical Reasons
In case you can't perform jury duty because of medical reasons, make sure to submit a doctor's note as evidence.
Prior Jury Duty Service
You can postpone jury duty if you have served in the last 2–3 years, provided that you can submit proof.
Conservatorship or Childcare
If you have someone in your custody and you can't leave them for the duration of your jury service, provide a written explanation and relevant documents verifying your caregiver status.
Inconvenient Schedule
You may reschedule your jury service date up to two times in one year if the timing doesn't work for you.
How To Postpone Jury Duty
You can request postponement of duty by following these steps:
Step
Explanation
Contact your assigned jury commission office
You can get in touch with your district court:

Via email
Over the phone
Through the website

State your reason for the postponement
You will be asked about your service date, your juror index number (provided in the summons), your new suggested dates, and your postponement reasons. Depending on the excuse, you may also be instructed to send proof
Check your postponement status
You will be notified through the court's official website, via email, or over the phone
If the court rejects your postponement request, you must show up for the selection. Since the point of trials by jury is to ensure impartiality and fairness, you will be asked various questions about your beliefs, prejudices, background, and similar.
Can You Postpone Jury Duty Because of Work?
Having a job is not a valid ground for postponing jury duty, especially since, by law, employers are prohibited from firing workers for serving on a jury.
You must inform your employer about your summons a few days in advance. The easiest way to do so is by sending them a jury duty leave request letter.
Let DoNotPay Draft a Jury Duty Leave Request Letter in Your Stead!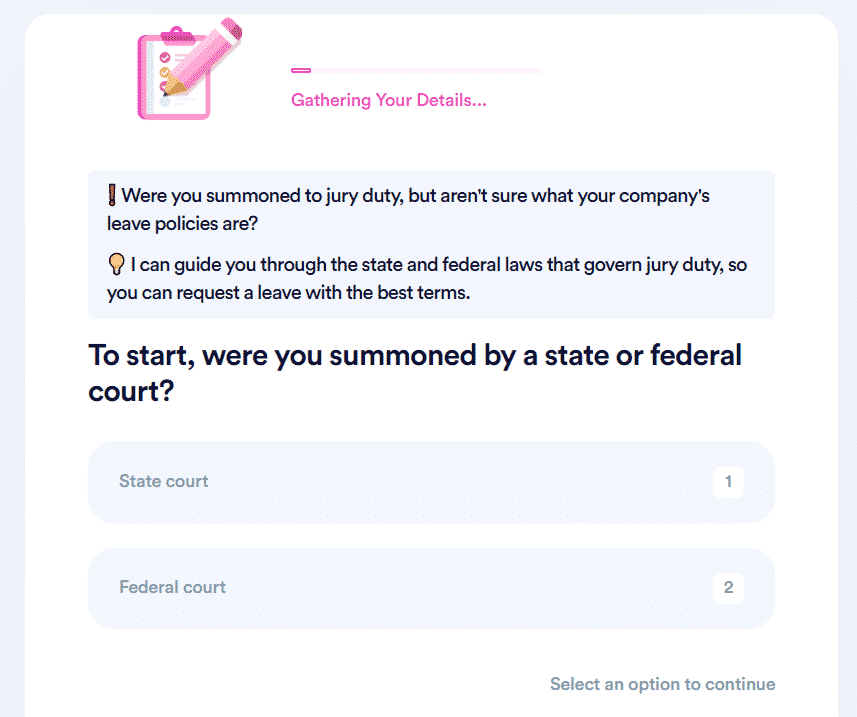 If you aren't sure how to prepare a letter to request time off from work, DoNotPay can help you with the task. Here are the steps you need to take:
Find the Request Jury Duty Leave product
Answer several questions, and upload your summons
Place an electronic signature and submit the form
You can opt to forward the letter to your employer's email through DoNotPay or print it so you can send it yourself.
DoNotPay Provides More Resources on Jury Duty
You can check out how jury duty works in each state by consulting our comprehensive guides below:
Our App Offers Assistance in More Ways Than One
As a multifaceted app, DoNotPay creates solutions to numerous problems. Check out the table below and get to know a fragment of what our app can do:
Use DoNotPay To Streamline Different Tasks
Tick the items off your to-do list faster by signing up for DoNotPay. In record time, you'll be able to request a refund, cancel a subscription, and get a free trial.
If talking on the phone is your worst nightmare, don't worry—you can use our app to schedule a meeting with an online notary, reach customer service with ease, and make a DMV appointment.
Feel free to also rely on our app when you want to prep for government tests, file FOIA requests, or connect with loved ones in prison.