How To Postpone Jury Duty in Los Angeles, CA
Have you been summoned for jury duty in Los Angeles, but the timing is not convenient for you? In this article, we will explain whether you can postpone jury duty in Los Angeles and how to do it without breaking a sweat.
Do you want to skip jury duty because your employer is not allowing you time off from work? Register for DoNotPay, and we will ensure that you can prepare for jury duty by sending a formal leave request letter to your employer.
Can You Get an Exemption From Jury Duty in Los Angeles?
Jury duty is an essential obligation that you need to fulfill to serve the U.S. judicial system. It gives people the right to be part of civil and criminal cases and ensures that everyone receives a fair trial.
You cannot skip jury duty without a reasonable excuse—doing so is considered a criminal offense. If you need an exemption from jury duty, you need to meet strict criteria as mentioned in the table below:
Criteria
Details
Medical condition

Mentally or physically unwell people are exempt from jury duty
Adults over 70 years old are automatically disqualified

Essential service
People from these occupations are exempt from jury duty:

Military personnel
Police officers
Firefighters
Court judges and clerks
Doctors

Childcare

Breastfeeding mothers and parents with children under ten years old can request to be excused

Financial hardship

You can request a delay in jury duty if you believe that attending would cause financial hardship to you or your employer
How To Request an Excusal From Jury Duty in Los Angeles
To request an exemption in Los Angeles, here is what you need to do:
Fill out the Excuse Form (at the back of your jury summons)
Include the reason for requesting a postponement
Mail the form back to the court
It is up to the court to decide whether it will accept your request or not. Bear in mind that you can only postpone your service twice within one year.
Didn't Get an Exemption? Request Time Off From Work Using DoNotPay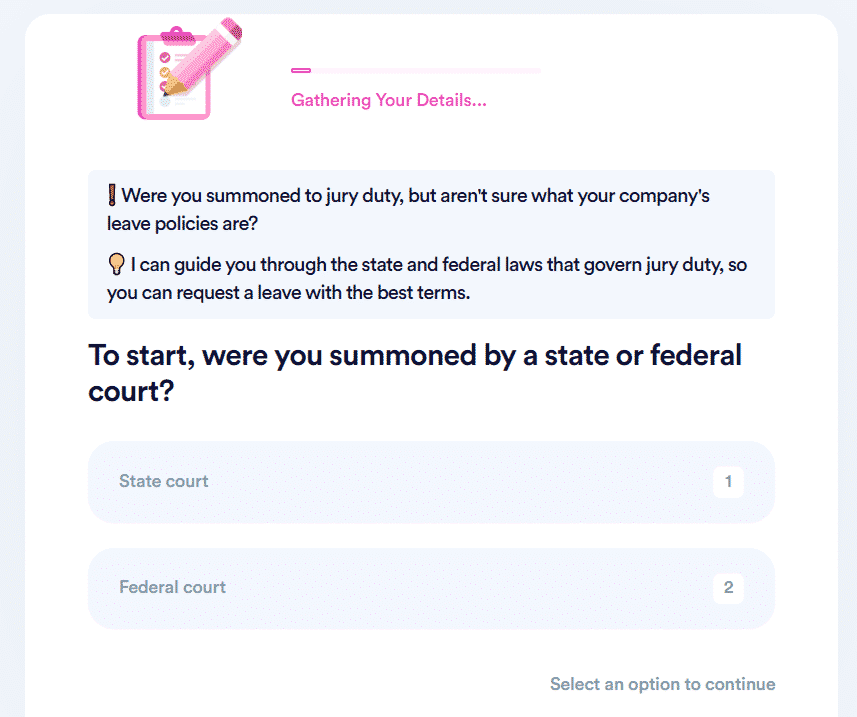 California law prohibits employers from firing employees for attending jury duty and mandates that they give their staff members time off for it. If you didn't get an exemption from the court, you should inform your employer immediately so they can review your jury summons and grant you time off.
Are you having trouble communicating with your employer? Let DoNotPay step in to help! We can assist you in preparing a leave request letter with all the required details.
After signing up for DoNotPay, here is what you should do:
Pick the Request Jury Duty Leave tool
Answer a few questions from our chatbot
Upload your jury summons
Inform us if you would like DoNotPay to forward the letter to your employer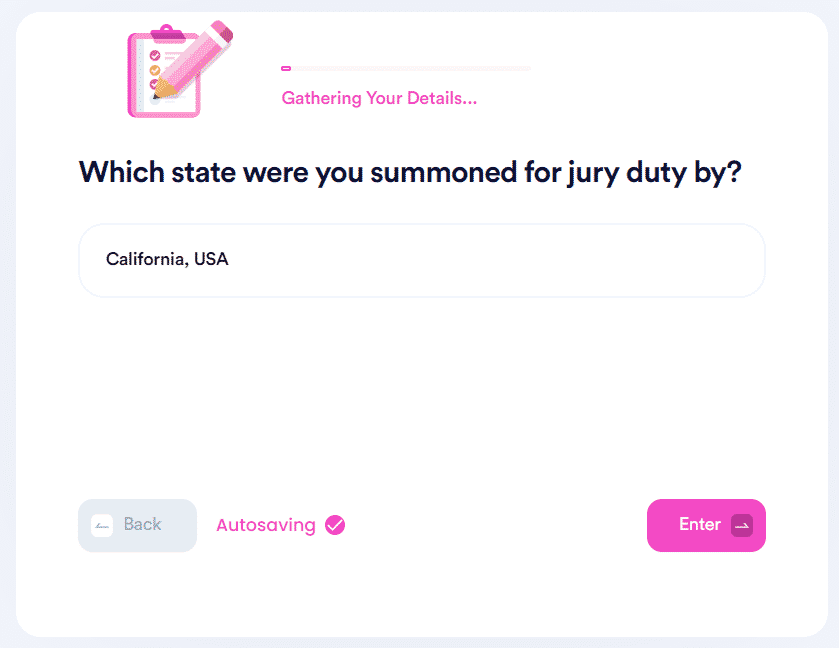 Other Los Angeles Jury Duty FAQs
Check out some other commonly asked questions about jury duty in Los Angeles, CA:
Turn to DoNotPay and Remove Bureaucratic Issues in a Snap
Does paperwork bring you to the edge of a nervous breakdown? With our help, you will skip all administrative impediments and get ready-made legal documents before you know it! No failed drafts or huge legal fees!
DoNotPay can generate:
Once you create the desired document, you can fax it online without a faxing machine or have it notarized with zero complications in the same app!
Your Info Is Safe With Our App
You don't need to leave your credit card info or personal details if you want to start free trials that won't turn into paid subscriptions without notice. DoNotPay will create a virtual credit card with a fake name and generic credit card number for you in just a few clicks. This way, greedy companies won't take a single penny from your account without your authorization!
Our app can also help you file anonymous HR complaints or create burner phone numbers to avoid disclosing your real info when signing up for apps and platforms.