The Most Useful Guide to Writing a Postnuptial Agreement

What happens if you get married without a prenuptial agreement but then change your mind? It is nothing to worry about because you can make a postnuptial agreement instead.
If you don't know how to write a contract or any other legally binding document, this article will provide you with all the necessary information.
What Is a Postnuptial Agreement?
A postnuptial agreement is a legal document created by spouses after they get legally married.
Similar to a prenup, a post-marital agreement includes the details regarding ownership of the assets, child custody, and division of debts in case of divorce.
The contract also outlines the set of rules and obligations—usually involving children—for the duration of the marriage.
When Is a Postnuptial Agreement Necessary?
Most post-marital agreements are written when the spouses are worried about the state of the union. Postnups usually focus on money and protection of the funds in case of divorce. Drawing up a postnuptial agreement is particularly recommended if one or both spouses:
Are wealthy

—to protect all of the assets in case of divorce, so both parties exit the marriage with what they brought into it

Own a business

—to protect the assets earned during the marriage

Have children from previous marriages

—to determine the share of assets the surviving spouse will get in case of death and make sure children outside the marriage get their inheritance

Have received a large inheritance recently

—to prevent inheritance assets from becoming joint assets
What Should Be Included in a Postnup?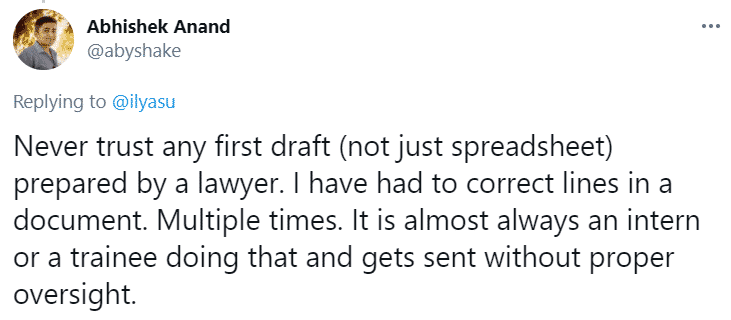 As with prenuptial and even marital settlement agreements, the terms of a postnup mostly revolve around finances and the division of responsibilities in case of divorce or separation. Here is a brief overview of the most common terms of a post-marital agreement:
Postnuptial Agreement Terms
What Should Be Discussed?

Division of assets

Vehicles

Real estate

Joint accounts

Other mutual assets

Spousal support

Dispersion of debts

Taxes

Mortgages

Personal loans

Credit card debts

Death of either spouse

Insurance policy

Division of property

Case-specific issues
Can You Write a Postnuptial Agreement on Your Own?
The short answer is—yes, you can. There are books, courses, and software that can teach you how to write legal documents. If you don't have time for that, you can find postnuptial agreement templates online. 
The long answer is that even though you can, it is not recommended. Avoiding enormous attorneys' fees is appealing, but drawing up an inadequate legal document can end up costing you even more. 
There are many loopholes and technicalities that you can overlook without proper knowledge and legal training. The lack of experience might cause you to forget to incorporate an important clause or make your contract unenforceable.
How Much Does a Post-Marital Agreement Cost?

Drawing up a postnuptial agreement can cost you a pretty penny if you decide to go through an attorney. For a standard postnuptial document, you will have to pay from $1,000 to $3,000. The expenses only go up from there—for postnups with complicated terms that require ongoing negotiations, costs start at $10,000.
What Makes a Postnuptial Agreement Valid?
A court will consider a post-marital agreement valid and enforceable if it meets certain criteria, including the following:
Postnuptial agreements must be in

written form

—oral postnups won't be considered valid

Each party to the postnuptial agreement has to sign the contract

voluntarily

and intentionally

Each spouse must make a fair and

full disclosure

to the other party of his or her assets, debts, and income—if the information on either side is not correct or complete, the agreement won't be enforceable

The agreement must be

fair

to both parties—a contract that is one-sided and exceedingly unjust toward one of the spouses will not be valid and enforceable

The postnuptial agreement is valid if it meets the requirements by its state's laws—signatures from both parties must be notarized for

valid execution

of the contract
Rules and regulations can vary from one state to another, and it is best to check the laws in your state to ensure your postnuptial agreement is valid.
Ditch the Expensive Lawyers—Make Legal Documents With DoNotPay

Not everyone who wants to make a postnuptial or other agreement is wealthy, and paying so much money for a document seems excessive. If you don't have the money for attorneys and overpriced fees, DoNotPay is the right choice for you!
To get a professional document specially made for your situation, you should follow these steps:
Access our app from any

web browser

Type in the name of the document you want to create in the search tab

Answer a couple of questions to get the most specific contract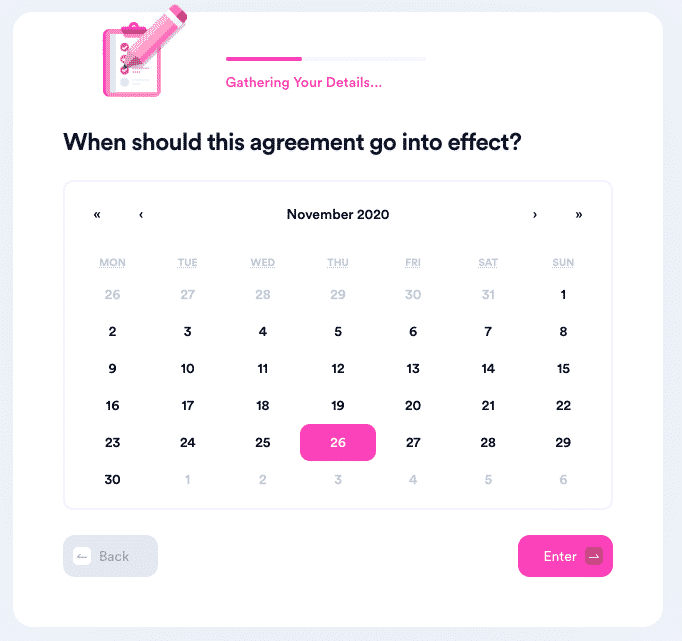 Once we generate the document, you can sign and notarize it. If you want to fax the contract to the other party to sign it, you can use our nifty Fax feature.
What Documents Can DoNotPay Help You Draw Up?
DoNotPay can help you write numerous contracts without any hassle. Here are some of the legal documents we can create for you:
General Affidavit

Estoppel Certificate

Quitclaim Deed

Intent to Purchase Real Estate

General Business Contract
Keep Your Money Safe With DoNotPay
Don't let greedy companies threaten your consumer rights by holding back refunds, refusing to cancel your subscriptions, or charging you after your free trial ends.
DoNotPay helps you try out different services without providing your credit card info or phone number—you will never again have to deal with unexpected post free trial charges!
Our app also helps you avoid paying unnecessary parking tickets, delay challenging bills, or waive your college application fees. 
If any company refuses to issue you a refund or an airline won't compensate for canceled flights, we can help you sue them in small claims court. 
DoNotPay Is a Time-Saving App
How many customer service reps do you have to deal with only to file an insurance claim or book your DMV appointment?
DoNotPay helps you sort out these tasks and much more in only a few clicks. 
Get your revenge on robocallers, report text scammers, find validated clinical trials, claim your warranties, get in touch with your loved ones in prison, and protect your creative content—all in less than five minutes. 
No more hours-long phone calls, emails, or in-person visits. 
We cover everything from freeing your inbox from spam to providing excellent prep tests for government exams! Save time with your all-in-one app!