Understand How a Postnuptial Agreement in Texas Works Before You Get One
Prenups have been popular for years, but postnuptial agreements are catching up in popularity.
Laws regarding legal documents vary from state to state, and you may be wondering how to compose a valid postnuptial agreement in Texas. We can help you draft an airtight postnup with state laws in mind and save a small fortune in lawyer expenses.
What Is a Postnuptial Agreement?
A postnuptial agreement, a.k.a. post-marital agreement or postnup, is a contract signed between a couple during their marriage to ensure a fair division of property in case they get divorced in the future.
Marital agreements should be mediated by lawyers who should be hired separately.
When To Get a Texas Postnuptial Agreement
Even if you think your marriage is fine and there's no chance you're ever getting a divorce, you could benefit from making a postnuptial agreement because:
It ensures financial stability—Spouses who are business owners or have many assets in their possession should consider making this agreement, and the same applies to spouses with considerable marital debt. Postnuptial agreements can also serve to update prenuptial agreements
It's a good alternative to a prenuptial agreement if you don't have one—Prenuptial agreements are often frowned upon, while postnuptial agreements are signed when a couple already knows each other
It protects the interests of both parties and keeps matters fair—It's better to make decisions about the division of property while you're on good terms with your spouse. Your relationship can become complicated if you end up divorcing each other
Are Postnuptial Agreements Enforceable in Texas?
Contract laws governing postnuptial agreement are not the same in California, Florida, and Texas. Each state has its laws and requirements for this agreement to be valid and enforceable. In Texas, you cannot include child support or child custody clauses in a postnuptial agreement because those provisions are laid out in separate agreements. Also, a postnuptial agreement won't be enforceable in Texas if any of its parts are unfair, unconscionable, or illegal.
A postnuptial agreement requires the following prerequisites to be valid in Texas:
Only written documents are valid
The spouses must legally and voluntarily enter the agreement
The parties must disclose all their debts and assets without withholding any information
They must both sign the agreement
Postnuptial Agreement Texas—What To Include
You can find many different templates for postnuptial agreements online, but they aren't very reliable. They often don't include all the necessary details, and relying on them can leave your document legally unenforceable. If you decide to draw up a postnup yourself, these elements should be a good starting point:
| | |
| --- | --- |
| Postnuptial Agreement Element | Description |
| Division of assets | Make sure that the division of assets is detailed, fair, and agreeable |
| Division of debt | Debt is equally important, and it needs to reasonably divided |
| Property management | You need to decide who (you or your spouse) will sell, buy, transfer, and control the property |
| Business arrangements | It's a good idea to decide who will manage the family business in case of divorce or death of a partner |
| Estate planning | The details of any existing trusts or wills should be included in a postnup |
| Alimony arrangement | Whether or not spousal support will be paid, by whom, and for how long |
How Much Does a Postnuptial Agreement Cost in Texas?
The short answer to the question of how much you should expect to pay for a postnuptial agreement is—it depends. If you're lucky, you can get a cheap package deal for prenup and postnup agreements for as little as $400.
Yes, that is the lower end of the line, while some fancy lawyers can charge up to $3,000 for the same deal. Those numbers are objectively excessive, and you shouldn't pay that much. About $1,000 is a fair price you can expect to pay.
Create Legal Documents Fast With DoNotPay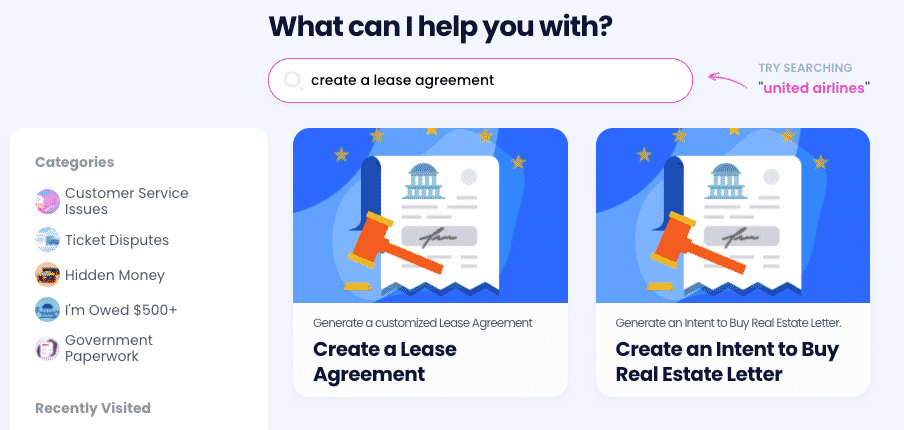 Lawyers aren't cheap in Texas or anywhere else in the U.S. If you wish to save a pretty penny, sign up for DoNotPay. We can help you write a contract, which is much better than using a free online contract template. Here's how we can create a tailored contract for you:
Enter the name of the document you need
Provide the details about the document to our chatbot
Wait until we generate a personalized document
Many documents require a notary signature, and we can help you with that too. Use our Notarize Any Document feature to get in touch with a remote notary fast.
Here is a list of some documents we can help you create:
Promissory note
Quitclaim deed
General affidavit
General business contract
Custody agreement
Child care authorization form
Intent to purchase real estate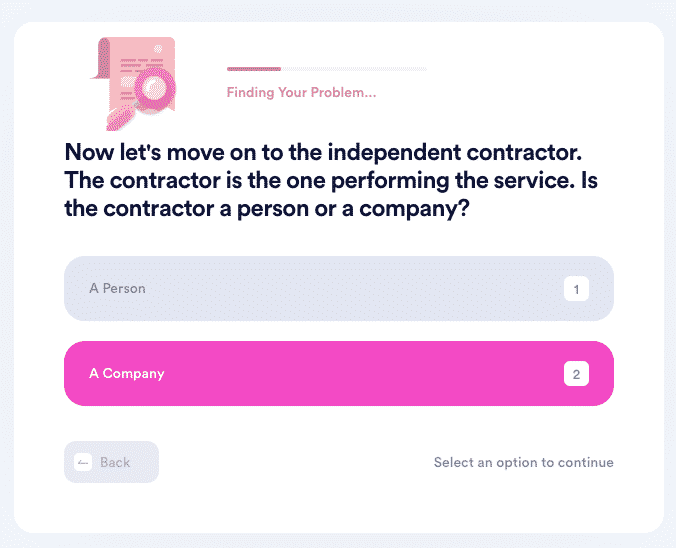 DoNotPay Has the Most Convenient Solution to Most of Your Problems
Whether you want to cancel subscriptions, request refunds for services, purchased items, or late delivery, or enjoy free trials without being charged, DoNotPay has a product for you.
We strive to help you users solve their issues as quickly and effortlessly as possible. With us, you can enter various raffles and sweepstakes, claim warranties or insurance, report copyright infringement, and reduce your property taxes in less than five minutes.
Protect Your Privacy With DoNotPay
Protecting your privacy can be challenging nowadays since most platforms require your phone number and email address upon registration. DoNotPay is here to ensure your personal info stays as secure as possible. Choose our Burner Phone product to register for services without phone verification or our virtual credit card if you want to use a randomly generated email address and payment details.
By using a fake phone number and email address, you can also avoid receiving annoying spam emails, text messages, and shady robocalls. DoNotPay can even make correspondence with inmates safer. If you don't feel comfortable sharing your address with an inmate, DoNotPay can receive the letters for you, scan them, and forward them to you risk-free.