Create a Postnuptial Agreement in NY the Right Way
Do you and your spouse wish to outline the division of your combined assets in case of death or divorce? Have you entered the marital contract without signing a prenup? You can draft a postnuptial agreement instead.
Postnuptial agreements can be tricky to create. You have to make sure the contract is fair to both spouses and discloses every asset that you individually or collectively own. If you're worried that you might miss an essential element of the agreement, DoNotPay has got you covered!
In this article, we will guide you through the process of creating a postnuptial agreement in NY. Subscribe to DoNotPay to learn how to draw up various contracts. Get the best out of your legal documents without paying a small fortune for lawyers!
What Is a Postnuptial Agreement?
A postnuptial agreement is a legal contract signed by both spouses. The contract outlines the division of financial assets in case of separation, divorce, or the death of a spouse. Unlike a prenuptial agreement that is drawn up before marriage, a postnup is drafted and signed after the couple has already gotten married. This document is similar to a marital settlement agreement, and it focuses on the financial aspect of the marriage instead of the legal one.
You might consider signing a postnup agreement if you want to:
Define separate and marital property
Outline clear division of assets
Protect yourself from your spouse's liabilities
Safeguard your assets from a financially careless spouse
Secure your children's inheritance, especially if you have kids from previous marriages
Key Elements To Include in Your Postnuptial Agreement
Although New York law clearly states how to divide and distribute property if the marriage ends, a valid postnup agreement supersedes it. The contract has the power to transfer control over your property in your hands instead of handing it over to the state.
If you want to create a postnup agreement yourself, here are a few key elements that your contract should cover:
Information on both parties
Asset details
Distribution of assets in case of death or divorce
Debts, if any
Children inheritance
Spousal support and alimony
401k accounts
Pet care
Legal issues, if any
Termination of contract
Signature of both parties
Is a Postnuptial Agreement in NY Legally Binding?
A postnup in New York can only be valid and legally binding if the contract meets the following conditions:
The postnup needs to be fair to both spouses. If the contract is unjust and favorable towards a single party, it is not legally binding
Both spouses need to disclose all assets, debts, and income
The contract must be in writing. Verbal contracts cannot hold in a court of law
Both parties must sign the contract willingly. If any spouse is coerced into signing the postnup, the court will nullify the contract
The contract must be notarized by a notary public
What Happens if a Spouse Fails To Honor the Agreement?
If any party fails to honor a postnup, they risk facing legal consequences, such as:
Specific performance
Financial compensation
Termination of contract
Should You Hire a Lawyer To Write a Postnup?
If you want to ensure your postnup is written correctly, consulting a lawyer is your safest bet. Since not all people are wealthy enough to pay lawyer fees, an alternative option is to browse for contract templates online. While postnup agreement samples are affordable, sometimes even free, most templates have numerous legal loopholes you might unknowingly overlook.
DoNotPay Can Create Various Legal Documents for You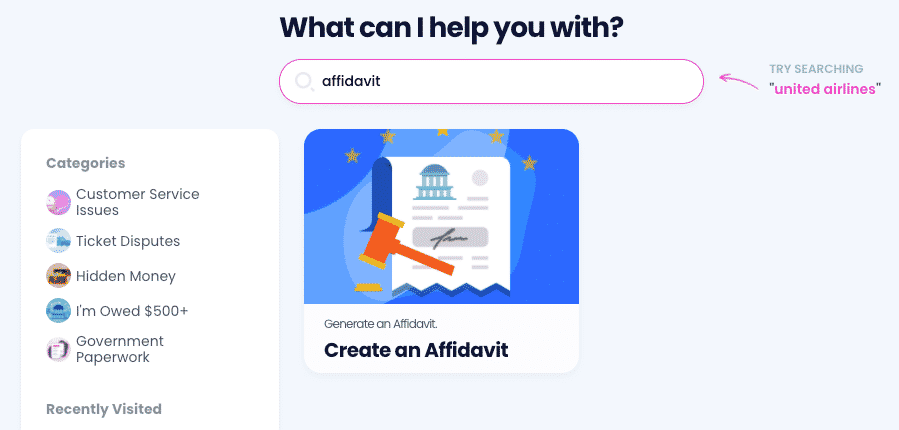 You might need to lose time and money drawing up a postnup agreement, but you don't need to go through this kind of trouble for other legal documents! For a low monthly fee, you can create all sorts of contracts in the blink of an eye. All you have to do is follow these simple instructions:
Type the name of the document you want to create
Help us personalize the document by providing your details to our chatbot
That's it! DoNotPay will draw up the contract, and you can download, print, and sign it.
In some cases, you might have to get your contract notarized by a state official. If you don't know how to find a notary, we can help schedule an online appointment with one in a few clicks!
Take a look at some of the agreements we can make for you:
Real Estate
Business Contracts
Other

Intent To Purchase Real Estate
Quitclaim Deed

General Business Contract

Promissory Note
Child Care Authorization Form
General Affidavit
Learn More About Legal Documents With the Help of DoNotPay
If you want to learn more about legal documents, DoNotPay's knowledge base has learning material about numerous contracts, such as:
More Nifty Solutions to Annoying Problems
If you're dealing with problematic neighbors or coworkers, you're not alone—our app can help you handle these issues with our Neighbor Complaints and Fight Workplace Discrimination products.
No problem is too big or too small for DoNotPay! Check out the best time- and money-saving solutions to different nuisances:
An Array of Hacks To Help You Deal With Greedy Companies
Nobody likes to spend more money than they have to. DoNotPay is here to offer many penny-pinching hacks and also stop companies from taking advantage of you.
Almost every free trial nowadays isn't free. Companies request your credit card info and auto-renew subscriptions. Fight this sneaky practice by using DoNotPay's virtual credit card next time you want to snatch a free trial. We'll also uncover any unwanted memberships you have mooching off of you and help you cancel them in a few clicks.
If you need to contact a company's customer service, avoid wasting your time and money on hold and count on our app to wait in your stead.
Do you need to get your money back, but you don't know how? Use DoNotPay to: