Forgot To Create a Prenup? Create a Postnuptial Agreement in Florida Instead

Have you married the love of your life but want to protect your financial assets in case it doesn't work out? If you have entered the marriage without signing a prenup, you can still outline asset ownership in a postnuptial agreement.
Writing postnups can be challenging because there are many prerequisites you need to consider. DoNotPay can guide you through the process of creating a postnuptial agreement in Florida to protect your possessions! Want to figure out how to write another contract? We can help you with that too!
What Is a Postnuptial Agreement?
A postnuptial agreement—also known as a postnup or a post-marital contract—is a legal arrangement between spouses. It determines the ownership and distribution of financial assets if the marriage ends.
Like prenups and settlement agreements, postnups focus on the financial aspects and do not regulate other marital issues.
Types of Postnups in Florida
There are three types of postnups:
Agreement to divide assets and provide alimony in the case of divorce
Distribution of financial assets if a spouse dies. This agreement supersedes wills and state laws
A contract stating the duties of each spouse regarding child support, spouse support, and child custody in the event of a divorce
What Are the Prerequisites for a Postnuptial Agreement in Florida?

Contract laws differ from state to state, so it's important to abide by local legislation. Florida requires that:
You put the contract in writing. Verbal agreements are not legally binding
Both parties agree to the terms and conditions and voluntarily sign the contract
You get the document notarized by a notary public to confirm the above
The parties disclose all relevant information in the contract
The contract ensures fairness to both parties, instead of favoring one over the other
You add only the terms and conditions acceptable to Florida's Statute
What Should a Postnuptial Agreement in Florida Cover?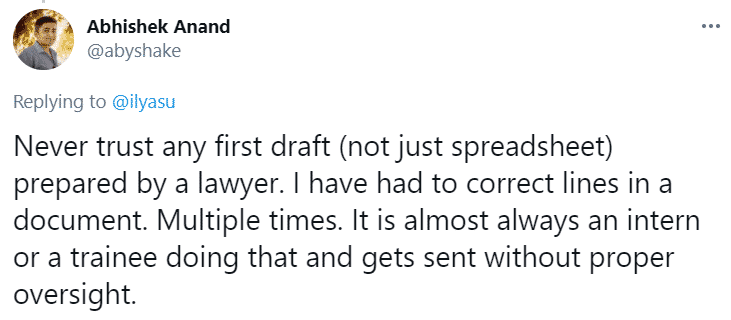 If you want to create a postnup yourself, search for contract templates online to get a basic idea of what to include. Here are a few crucial elements the agreement should cover:
Details of the property and inheritance
Division of the property—How to divide and distribute the property in the case of separation
Spousal support and alimony
Child custody and support
Shares and pensions
Debts, if any
Pet care
Liabilities and contingencies
Signature of both partners, confirming their agreement
Postnups are not one-size-fits-all agreements. Every couple has a unique financial situation, so it is necessary to personalize the contract to fulfill requirements.
Why Do You Need a Postnup?
Couples drawing up postnups are not necessarily only thinking about divorce or separation. There are other crucial reasons for entering this agreement. Consider entering a postnup if you need to:
Establish division and distribution of assets
Protect children's inheritance, especially if there are children from previous marriages
Safeguard yourself from your spouse's debts
Detach your property from a spouse careless about their finances
What Is the Difference Between a Prenup and a Postnup?
Prenups and postnups serve the same purpose of allowing the couple to ensure an equitable distribution of assets. They do have significant differences explained in the table below:
| | |
| --- | --- |
| Prenup | Postnup |
| Entered before marriage | Entered after marriage |
| Makes the asset-division principle more transparent | Leaves certain assets tricky to divide |
Are Postnuptial Agreements in Florida Legally Binding?
Postnups are legally binding in Florida. If a spouse violates the contract, they risk facing legal consequences.
It is imperative for both parties to thoroughly read and understand the contract before they sign it. If one party forces the other to sign the contract, it is not valid and will be nullified.
DoNotPay Can Create Various Legal Documents in an Instant
When creating any contract, you should obtain independent legal advice, but hiring lawyers can be quite expensive. Why put a dent in your wallet when you can use DoNotPay? For a small monthly fee, we can generate various agreements. Here's how to do it::
In the search box, type the name of the document you need
Answer our chatbot's questions to customize the contract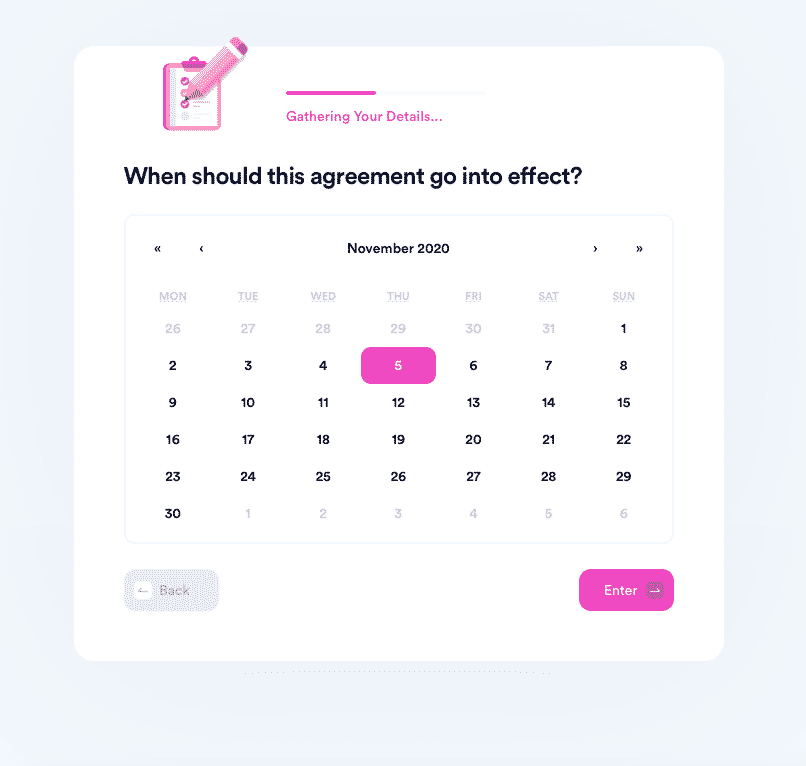 And you're done! DoNotPay will generate the document for you to download and print.
After signing the document, you may need to get it notarized. If you need help finding a notary, we can jump in!
Here are the legal documents we draw up for you:
General Business Contract
Intent To Purchase Real Estate
Quitclaim Deed
General Affidavit
Promissory Note
Child Care Authorization Form
Are you worried because your document is not listed? DoNotPay is working round the clock to extend the offer, so stay tuned to find out more!
More Nifty Solutions to Annoying Problems
If you're dealing with problematic neighbors or coworkers, you're not alone—our app can help you handle these issues with our Neighbor Complaints and Fight Workplace Discrimination products.
No problem is too big or too small for DoNotPay! Check out the best time- and money-saving solutions to different nuisances:
An Array of Hacks To Help You Deal With Greedy Companies
Nobody likes to spend more money than they have to. DoNotPay is here to offer many penny-pinching hacks and also stop companies from taking advantage of you.
Almost every free trial nowadays isn't really free. Companies request your credit card info and auto-renew subscriptions. Fight this sneaky practice by using DoNotPay's virtual credit card next time you want to snatch a free trial. We'll also uncover any unwanted memberships you have mooching off of you and help you cancel them in a few clicks.
If you need to contact a company's customer service, avoid wasting your time and money on hold and count on our app to wait in your stead.
Do you need to get your money back, but you don't know how? Use DoNotPay to: