How To Write a Postnuptial Agreement in California the Right Way
Do you and your spouse wish to outline asset ownership details in case of divorce? If you entered the marriage without a prenup, signing a postnuptial agreement is the best solution. Writing a postnup can be a challenge since there are various state rules and regulations you need to consider. In this guide, you'll find out more about postnups and learn how to create a postnuptial agreement in California correctly. 
and learn how to write a contract without paying a pretty penny for a lawyer.
What Is a Postnuptial Agreement?
A postnuptial agreement—also known as a postnup and post-marital agreement—is a legal contract signed between spouses or civil union partners. As opposed to a prenup that's created before the marriage, a postnup is signed when a couple is already married. The main purpose of a postnup is to outline how the assets will be divided in case of divorce or the death of one spouse. 
When Should You Consider Signing a Postnup?
While postnups are usually signed when a couple is thinking about getting a divorce, that's not always the case. You can draw up a postnuptial agreement if you and your spouse want to:
Specify your wishes for the property you brought into your marriage 

Protect children's inheritances 

Make sure you're not responsible for the other person's debts

Protect your business assets 
You should also consider signing a postnup if you or your partner get an inheritance, win a lottery, and similar. Another situation where a postnuptial agreement can be useful is if one of the spouses stops working to be a stay-at-home parent. The agreement will ensure that the party in question has enough financial resources if the marriage ends. 
What Makes a Postnup Valid in California?
Your agreement won't be valid automatically. For a postnup to be legally enforceable in the State of California, certain requirements have to be met:
The agreement has to be in writing

Both parties must sign the agreement willingly (you should consider getting your document notarized)

Spouses have to disclose all their debts, assets, and income

The contract needs to ensure a fair division of assets

You need to file your postnuptial agreement with the family court, and the judge has to accept it
Which Info Should Your Postnuptial Agreement Cover?
Postnuptial agreements are complex contracts because they need to cover various important information. Your postnup should spell out what will happen with:
Assets and property

Inheritance

Investments

Debts

Child custody and child support

Premarital assets

Pet care

Retirement

401k accounts

Alimony

Spousal support

Legal issues if one of the spouses passes away
Should You Hire a Lawyer To Create a Postnup?
While you can find numerous postnuptial agreement templates, not all of them will be appropriate for your situation. Each marriage is different, and every couple has different requirements regarding assets, property, and other important aspects. Finding a contract template that's a good fit for everyone is almost impossible. 
You can try to draw up the agreement on your own, but you risk making mistakes, which can make your document invalid. Even if you create a valid agreement, you might forget to include an important clause. Should this happen, the state will make a decision regarding that clause on your behalf.
The safest solution is to hire a lawyer who will create the agreement according to your and your spouse's situation. Lawyers can be expensive, but making a mistake while writing the agreement can cost you even more. 
There's No Need To Hire a Lawyer for Each Document! Write Contracts in a Snap With DoNotPay!
If you're on a budget and can't hire a lawyer for every document, you can rely on DoNotPay. You don't have to waste hours trying to find a perfect template online. With our app, you can create a myriad of legal documents in California—including a prenup, lease agreement, and operating agreement—hassle-free.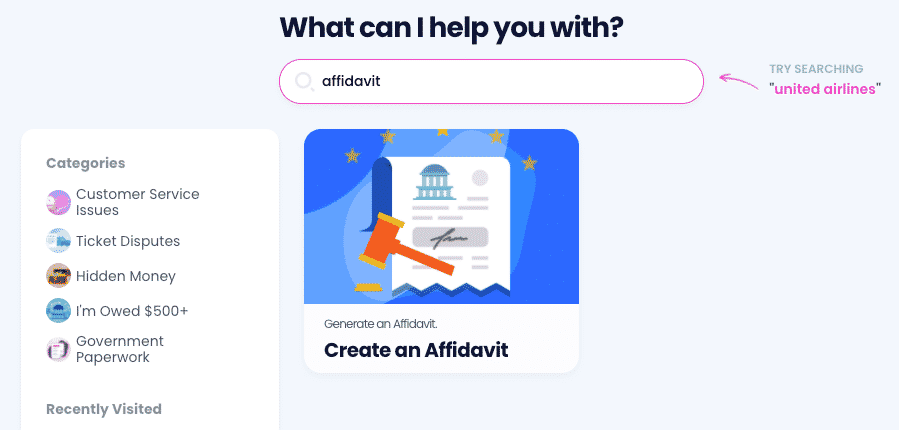 To draw up your contracts from your tablet, laptop, or smartphone in under five minutes, follow these steps:
Enter the name of the document you want to create 

Provide the required info

Print your personalized contract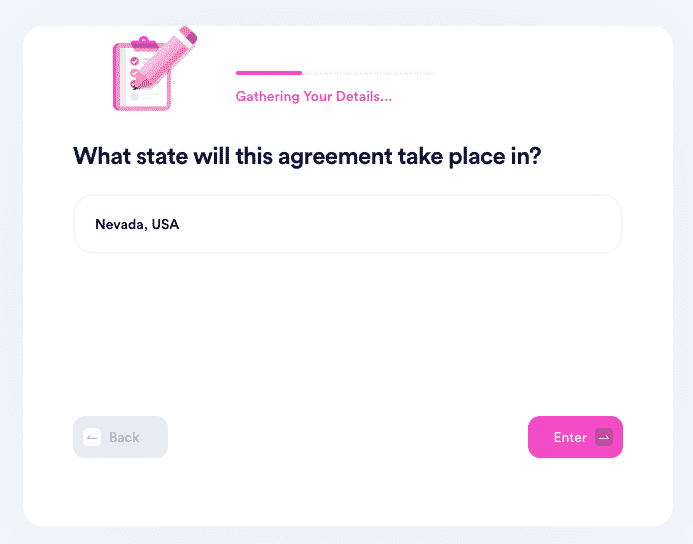 Your document won't become valid until you sign it and get it notarized. If you need help finding an available notary, DoNotPay can help you with that too. Our app can connect you with a 24-hour remote notary who will notarize your business contracts, real estate agreements, or any other document in a flash.
Which Documents Can I Create With DoNotPay's Help?
Take a look at some of the documents DoNotPay can help you write in a matter of minutes:
Document Types

Documents

Business Agreements

General Business Contract

Real Estate Contracts

Estoppel Certificate

Intent To Purchase Real Estate

Quitclaim Deed

Other Documents

Promissory Note

General Affidavit

Prenuptial Agreement

Child Care Authorization Form
DoNotPay Has the Most Convenient Solution to Most of Your Problems
Whether you want to cancel subscriptions, request refunds for services, purchased items, or late delivery, or enjoy free trials without being charged, DoNotPay has a product for you. 
We strive to help you users solve their issues as quickly and effortlessly as possible. With us, you can enter various raffles and sweepstakes, claim warranties or insurance, report copyright infringement, and reduce your property taxes in less than five minutes. 
Protect Your Privacy With DoNotPay
Protecting your privacy can be challenging nowadays since most platforms require your phone number and email address upon registration. DoNotPay is here to ensure your personal info stays as secure as possible. Choose our Burner Phone product to register for services without phone verification or our virtual credit card if you want to use a randomly generated email address and payment details.
By using a fake phone number and email address, you can also avoid receiving annoying spam emails, text messages, and shady robocalls. DoNotPay can even make correspondence with inmates safer. If you don't feel comfortable sharing your address with an inmate, DoNotPay can receive the letters for you, scan them, and forward them to you risk-free.