How To Find the Best Political Science Scholarships
Political science scholarships can be more challenging to obtain than most. There are numerous colleges that offer Political Science courses, but the scholarship information is spread out over multiple websites, which makes them harder to find.
Getting an undergraduate or graduate degree in political science doesn't have to leave you broke if you know where to look for scholarships. If you are not willing to waste valuable time and energy, use DoNotPay to get a customized scholarship list in a few minutes!
What Kind of Political Science Scholarships Can You Apply For?
Political science scholarships may be awarded based on:
Merit (i.e., academic achievement)
Financial need (i.e., to students from low-income families)
Ethnicity
Extracurricular activities
Non-educational achievements
A Breakdown of Scholarships for Political Science Majors
Depending on the scholarship, awarded amounts can range from $400 to full-ride scholarships. International students, high school seniors, college freshmen and sophomores, even doctoral students can find opportunities to suit their needs as long as they fulfill the requirements.
The following table shows the kinds of scholarships you can find, the amounts they offer, and their application requirements:
| Scholarship | Amount Awarded | Requirements |
| --- | --- | --- |
| ACBH Stipend Program for an Internship on Capitol Hill | $400 for in-state applicants and $1,000 for out-of-state participants, per month | Applicants must be U.S. residents and have a relevant educational background |
| AFSCME Union Scholars Program Summer Internship | $4,000 and paid housing and travel | Varies |
| ¡Adelante! Fund Gilbert G. Pompa Memorial Scholarship | $1,000 | The applicant must be a Hispanic student enrolled in an accredited university in the state of Texas, with a minimum GPA of 2.75 |
| Anthony C. "Tony" Russo Scholarship | $3,000 | The applicant must be a U.S. citizen enrolled in a graduate program |
| Antonio Jorge Political Economy Scholarship | $500 | The candidate must be pursuing an undergraduate degree in a field related to political economy |
What Other Scholarships for Political Science Can You Find?
Political science scholarships and grants are awarded based on multiple factors. To apply for some, you have to belong to an underserved group. For example, there are many scholarships available only to women, minorities, or veterans.
Here are a few such opportunities that may interest you:
Davidson Fellows Scholarship
EPP Undergraduate Scholarship Program
Gloria Barron Wilderness Society Scholarship
GWCF National Scholarship Competition
ISF National Scholarships
Matt Fong Asian Americans in Public Finance Scholarship
Nellie Martin Carman Scholarship Fund
The Saul Kagan Fellowship in Advanced Shoah Studies
Army Staff Sgt. Special Agent Richard S. Eaton Jr., Scholarship
Ashbrook Scholar Program
Barbara Odom-Wesley Spirit of Achievement Scholarship
Charles Koch Foundation Dissertation Grant
COAG Scholarship
Enid Hall Griswold Memorial Scholarship
Boren Fellowships
Betty Rendel Scholarship
National Pathfinder Scholarship
Women in Defense HORIZONS Scholarship
Are There Any Political Science Scholarships for Graduate Students?
Having a graduate degree in political science comes with numerous advantages. You are more likely to receive teaching opportunities or high-paying jobs with such a degree. This is one of the key reasons why thousands of aspiring graduate students apply for scholarships each year.
Here are a few options you can look into as a graduate political science student:
American Political Science Association Minority Fellowship Program
Gloria Barron Wilderness Society Scholarship
Hsiao Memorial Social Sciences Scholarship
The Beinecke Scholarship Program
How Can You Apply for Political Science Scholarships?
Scholarship applications differ depending on the type and institution. There are certain opportunities that require applicants to write scholarship essays or submit other documents. Here are a few documents you can expect to see in the list of requirements:
Letter of recommendation (sometimes more than one is needed)
Resume and cover letter
Income statements (if the scholarship is based on financial need)
External scholarships may require a separate application from the institution. It's best to gather as much information as possible before starting the application process.
Skip the Hassle—Use DoNotPay To Discover All the Scholarships Available to You
Looking for scholarships is a long and arduous process. There are hundreds of pages you would need to sift through to find one that fits your profile. Scholarships for low-income students, for instance, might be found on a different website than scholarships for community colleges.
You can simplify the search process instantly by using our AI-powered app!
All you have to do is follow these steps:
Log in to DoNotPay and look for the Apply for Scholarships feature
Select your current and intended level of education
Type in a few details about yourself
Submit your request for a scholarship list
Our app will show you a tailor-made list of scholarships that you are eligible for. You can even choose to apply for no-essay scholarships automatically through the app! All you need to do is select the ones you like.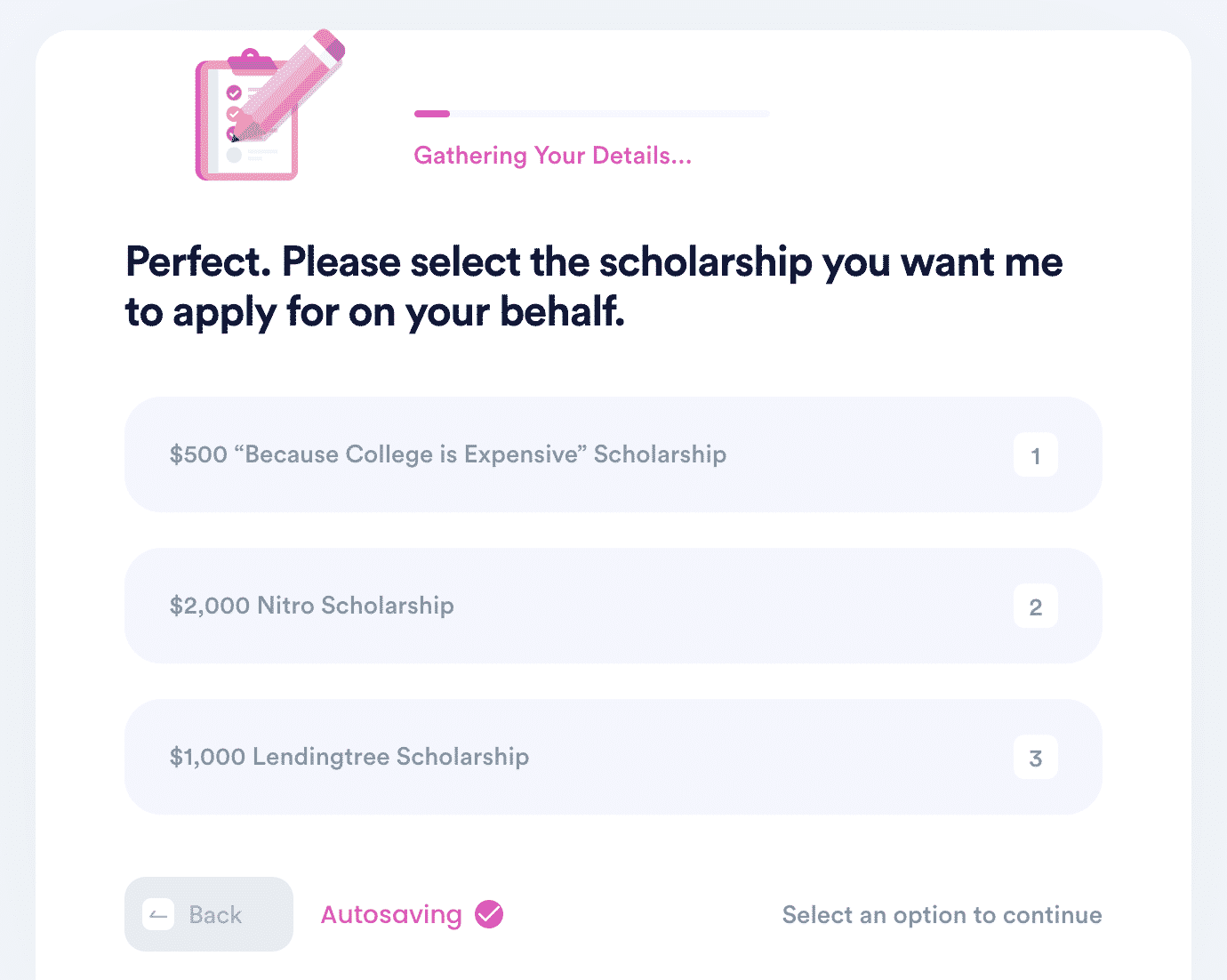 Don't Stop There—Check Out DoNotPay's Product Range
DoNotPay has many tricks up its sleeve—no matter the admin or legal issue at hand, our AI-enabled app can power through it in a split second. Look into our product range to find out how you can:
What Else Do You Need? DoNotPay Will Provide!
If you want to cancel a subscription before your free trial expires so that you don't get charged, you can count on our virtual credit card to do it in your stead! We can also make sure that you get what's rightfully yours—be it a refund, insurance, warranty, unclaimed money, flight refund, raffle ticket, or gift card cash back.
You no longer have to go through legal or administrative hurdles on your own—as soon as you sign up for DoNotPay, you'll get access to our app's assistance and will be able to use it to fight injustice.