Find Out What Info a Well-Written a Policy Document Template Should Cover
Have you recently started a business, and now you're figuring out how to create policies and procedures for your employees to follow? Are policy document templates useful for businesses? In this article, we will help you understand the pros and cons of a policy document template. Sign up for DoNotPay to find out how to write any contract and get the best out of professional documents.
What Is a Policy Document?
A policy document establishes guidelines and expectations that your employees should adhere to. It also outlines the business's mission, vision, and ethics and focuses on representing the culture of the organization.
There are several types of policy documents for various aspects of a business, such as:
Personal and professional ethics
Use of the company's software, hardware, and office equipment
Interaction with colleagues and customers
Discrimination and sexual harassment
Disclosure of confidential information to third parties
Environment-friendly practices
Although policies themselves are not legal documents, you might still have to sign other legally binding agreements along with a policy. This can include confidentiality, severance, intellectual property, and at-will agreements.
For a policy to be legally enforceable, four essential elements need to be present:
Offer
Acceptance
Consideration
Mutual acceptance
How To Create a Policy Document Yourself
If you want to draw up a policy document on your own, make sure you use clear and concise language to prevent any misunderstandings. For every policy document that you draft, you should specify crucial details, including:
What is the statement of purpose?
What is the intended scope and objective of the policy?
How does the policy align with the overall business strategy?
Who is the policy applicable on?
Which individuals are exempted from the policy?
What is the effective date of implementation?
Are there any key elements?
How should employees follow the instructions?
What happens if an employee violates the policy?
How should you deal with an employee with multiple violations on their record?
How To Create an Effective Policy Document
If you want to make an effective policy document, it's crucial to understand the following:
No policy is set in stone. You should keep updating your policies according to the requirements of your business. Be flexible with the policy structure
Policy statements should include actionable content. Every policy should contain a procedure for employees to follow
You need to keep in mind the external and internal factors affecting a policy. Adjust all guidelines to engage with your employees and all key stakeholders
Policy statements should be written in the third person
The document should be in line with the applicable business laws
Is a Policy Document Legally Binding?
A policy document is not legally binding, and an employer can change the document's content whenever he or she wants. It is only enforceable if it is mentioned in a business contract. The employer must ensure adherence to all applicable policies. If an employee violates the policy, they can face disciplinary action, such as:
Warnings and eventual termination
Financial compensation
Corrective remedies
DoNotPay Can Create Various Contracts and Agreements for You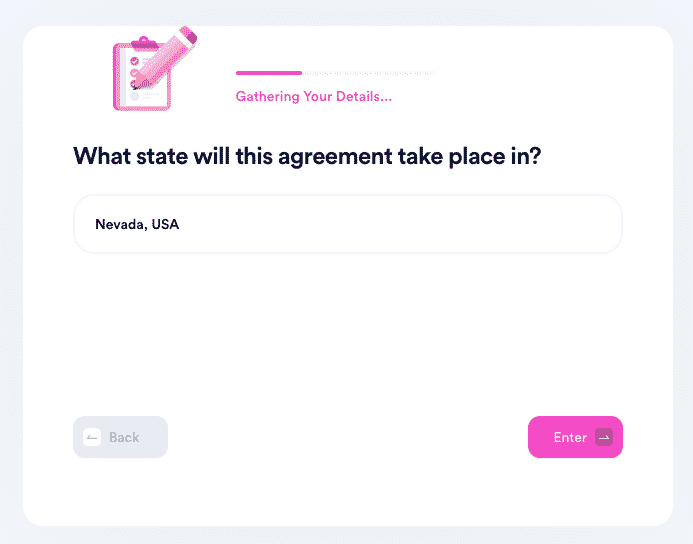 Do you want to create a legal document and don't know how to start? Most people recommend hiring a lawyer, but not everyone can set aside enough money for sky-high fees. If you're searching for a budget-friendly alternative, you can browse the Internet for contract templates to get an idea of how to shape your document. Want an even better alternative? Rely on DoNotPay!
For an affordable monthly fee, DoNotPay can compose various contracts and agreements in an instant. Here's what you need to do:
Enter the name of your document in the search box
Provide details to our chatbot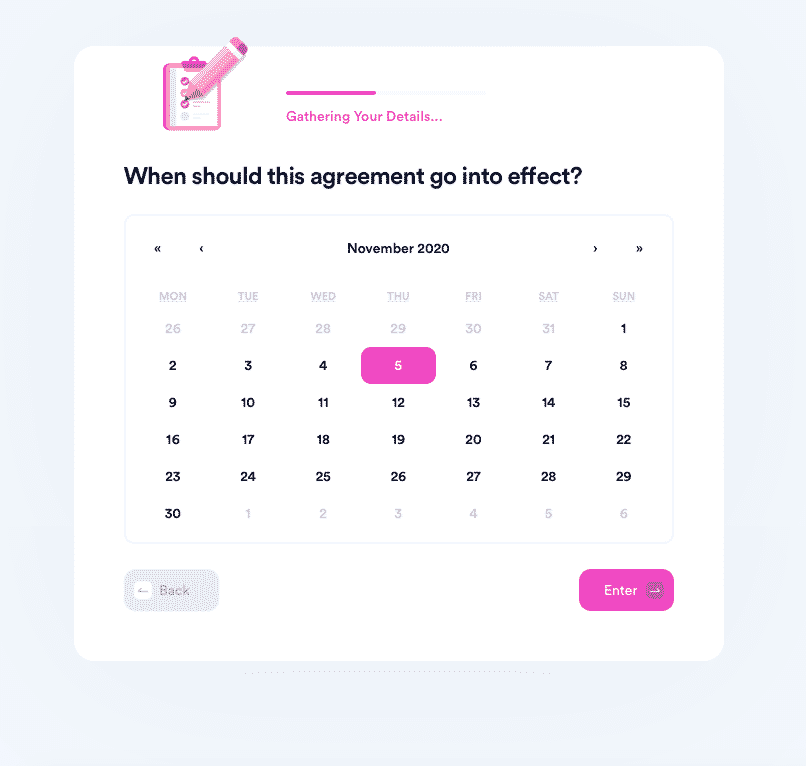 DoNotPay will send you the agreement within minutes. For some legal documents, you are required to get them notarized by a state official to confirm you are signing the document of your own free will. If you're not sure how to find a notary, we can help you schedule a virtual appointment within minutes!
What Contracts Can DoNotPay Create?
Here are some documents DoNotPay can draw up for you:
Real Estate
Business Contracts
Other

Intent To Purchase Real Estate
Quitclaim Deed

General Business Contract

Promissory Note
Child Care Authorization Form
General Affidavit
We work on adding more documents to the list, so stay tuned to find out more!
If you want to learn more about other business documents, DoNotPay's knowledge base has a vault of information on numerous contracts, such as:
When You're In Over Your Head, DoNotPay Swoops In
With your virtual assistant extraordinaire, many tasks will be a breeze to deal with.
No fax machine? No problem! Use DoNotPay to send faxes online. If you don't want to waste time waiting in lines or on the phone, we come to the rescue with many of our products that will help you:
What Else Does DoNotPay Have in Store for You?
You can count on our assistance when you want to get rid of:
Our app has even more to offer—try out our hacks that will save you money and do the heavy lifting in numerous tasks: