Poland Tourist Visa—Is a Visa a Must-Have To Enter the Land of Fields?
Are you a U.S. citizen headed to Poland for tourism? You must be wondering whether or not you need a Poland tourist visa. This country is a part of the Schengen Agreement, which means that the Schengen visa rules apply to it.
If you want to learn more about the visa and other requirements to enter Poland, you should consult DoNotPay's guide. We can call embassies, check whether you need a visa, and provide you with visa forms if you sign up for our service!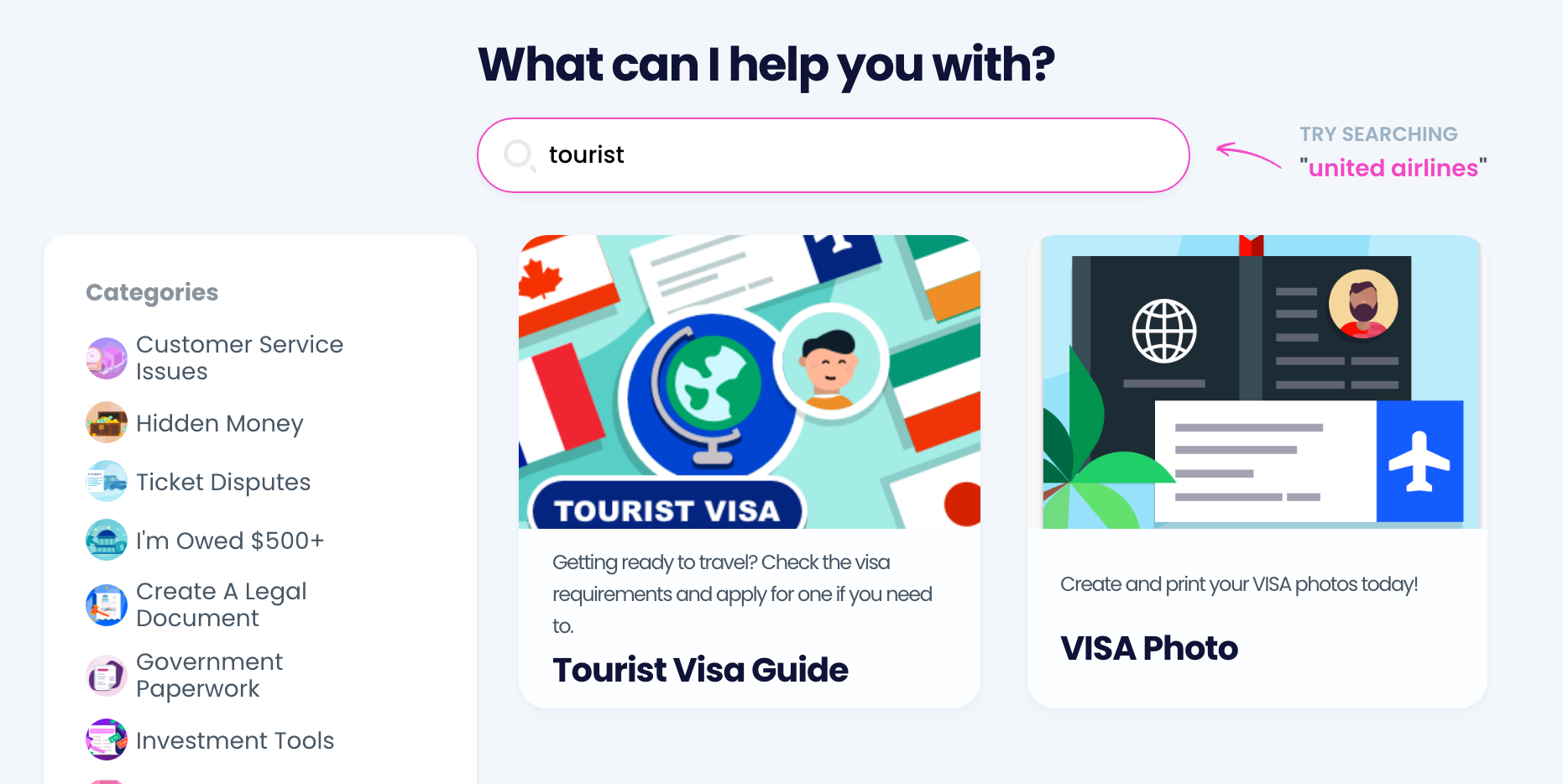 Do U.S. Citizens Need a Tourist Visa for Poland?
U.S. passport holders do not need a tourist visa for Poland if they stay there for up to 90 days in a period of one year. While you might not need to obtain a visa, you still need to fulfill some requirements when entering the country:
You must have a valid passport that doesn't expire for at least three months after your departure date
Upon initial entry into the Schengen zone, you must get a stamp in your passport. Otherwise, you may have difficulty leaving the area
If you are a Polish-U.S. citizen with dual nationality, you can enter Poland only with a Polish passport (your U.S. passport won't be accepted)
You need to present a bank statement showing you have enough funds for your trip
Showing a return plane ticket is mandatory upon entry in the Schengen zone
You may need to prove the purpose of your visit to Poland to the government officials at the border or airport
The U.S. military personnel and Status of Force Agreement visitors may enter Poland with the Department of Defense ID and travel orders (they do not need a passport). They should still consult with their unit for clearance before departing to Poland.
COVID-19 Measures You Must Follow When Entering Poland
To enter Poland during the COVID-19 pandemic, you must fulfill one of the following requirements:
Confirm that you are fully vaccinated against coronavirus and that you got your second shot at least 14 days before departure to Poland with a proper document in English or Polish
Provide evidence of recovering from the SARS-CoV-2 virus up to six months before entering Poland
Remain in a ten-day quarantine upon entry
Children under the age of 12 accompanied by adults who are vaccinated against COVID-19 are exempt from those rules, and so is every person that falls into the category of Article 3 of the Regulation of the Council of Ministers.
Poland National Visa D Requirements
What if you wish to stay in Poland for longer than 90 days during one calendar year? In this scenario, you'll need a National Visa D. To get this document, you must obtain the following documents:
Completed and signed visa application form
Proof that you paid the visa fee
Passport that remains valid for at least one year after you enter Poland
Medical travel insurance documents
Bank statement proving you have sufficient funds for your stay
Proof of your travel intentions and duration of stay
Polish National Type D Visa Application Process Explained
Getting a type D visa for Poland isn't easy. Refer to the table below to learn how to apply:
In-Person Application
Online Application

Open the e-Konsulat website
Select the United States of America from the Country dropdown menu
Choose the nearest Polish Consulate in the U.S. (Washington D.C., Houston, Chicago, Los Angeles, or New York)
Contact the embassy via phone, fax, or email and inquire about your visa
Make an appointment with the Consulate of choice
Fill in and print out your application
Submit the application form and other required documents to the Polish Consulate on the appointed date

Open the online visa applications page
Select the date for your appointment
Click on Make Reservation
Complete the image verification
Choose Continue
Enter your personal details and proceed to follow the on-screen instructions
Note that there's a chance you won't be able to get an appointment until a certain date due to a high number of applicants.
DoNotPay Is Here To Save the Day When You're Struggling With Visas!
Handling visa applications on your own can be exhausting and confusing. If you need a nudge in the right way, consult with DoNotPay. We can tell you whether you need a visa in under five minutes if you follow these prompts:
Click on our Visa Tourist Guide feature
Confirm that you have a U.S. passport
Select a destination country
If you do need a visa, we can assist you further by:
Calling embassies in your stead and checking if you can make an appointment
Providing you with a PDF visa application form and guide
Giving you a direct link to a country's online visa application portal (if available)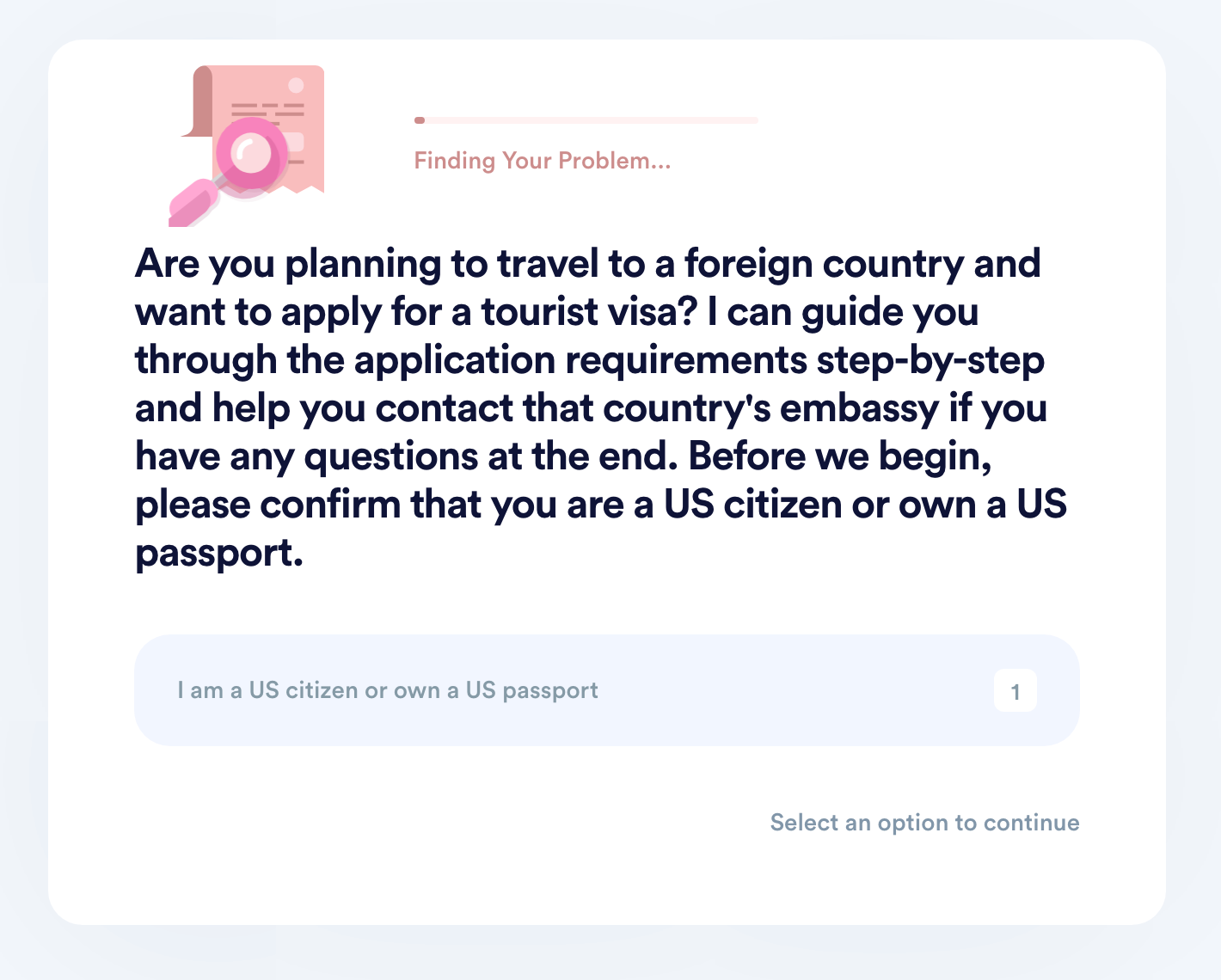 DoNotPay Can Help You With All European Tourist Visas!
Why stop in Poland when you can visit the rest of Europe? Make a proper Euro trip, and let us help you with the visa guides! You can check them out in the table below:
Explore DoNotPay's Vast Database To Handle Administrative Issues Head-On
Dealing with administrative issues is never a fun experience, but you can save yourself from unnecessary hassle with our app! Once you sign up for DoNotPay, there is little you can't do. Aside from helping you deal with everyday tasks, such as reaching customer services, you can also use our app to:
Make Your Legal Troubles Disappear
Is a company giving you a hard time? Don't fret! DoNotPay can walk you through the process of suing it in small claims court and help you get the justice you deserve!
The best part is that assisting you take companies to court isn't all our app can do! We can also help you with: