POA Meaning Clarified—Power of Attorney in a Nutshell
Do you need a power of attorney for your personal, business, or medical affairs? Since POA meaning and use are pretty broad, we explain this legal document to a tee.
Access DoNotPay to learn why and when you would need a power of attorney. You can even create it with our POA generator.
What Does POA Stand For?
A POA is a legal document granting a person the power to act on behalf of another person. While the former individual is called the agent or attorney-in-fact, the latter is the principal.
By choosing the appropriate type of POA, the principal can give the agent limited or broad legal authority over their business, real estate, financial, or medical matters. A person can choose to draft a power of attorney document to:
Deal with current affairs that they need help with, e.g., they cannot be present for the signing of certain important documents
Cover potential future events, e.g., if they are out of the country or become physically or mentally incapacitated
Power of Attorney Information To Keep in Mind
You can terminate a power of attorney for a number of reasons, some of which entail an automatic cancellation. We listed the most common ones below:
The principal:

Dies
Revokes the POA
Divorces his or her spouse (who was the agent)

A court invalidates the power of attorney
The agent can no longer meet the defined obligations
While there are different types of powers of attorney, they can all be put in two groups—general power of attorney and limited POA. Here's a brief overview of both:
General POA
Limited POA
The agent acts instead of the principal in all matters allowed by the state of residence. He or she can have the authority to do the following:

File taxes
Handle bank accounts
Sell real estate and assets
Sign checks and documents

The agent has the authority to represent the principal only in specific events or matters. For instance, the agent has the power to:

Manage the retirement accounts
Deal with certain matters only during a specific period, e.g., in the principal's absence
Most POAs end automatically when the principal becomes mentally incapacitated. If the involved parties want the arrangement to continue, they should prepare a springing or durable power of attorney.
Who Can Act as an Attorney-in-Fact?
You should know that a power of attorney agent doesn't have to be an actual attorney. The principal can appoint anyone, including their friend, cousin, colleague, or an independent expert.
Since a POA can grant immense powers over financial, medical, or property affairs, the principal should choose a reliable and capable person to serve as the agent to:
Make sure the principal's wishes and needs are met
Prevent any mistakes, mishandle, or abuse
The principal can also opt for an expert in a particular area, such as an accountant or lawyer. Hiring professionals can be pricey, so a lot of people appoint a family member instead.
What Are the Risks of Granting the POA?
When appointing a person to handle the affairs, the principal must be aware of potential dangers and wrongdoing, such as fraud, misconduct, or theft.
To minimize or prevent the risks, it's crucial to:
Prepare a rock-solid power of attorney document specifying all responsibilities as per related state laws
Ask the agent to submit reports regularly. If the principal's not knowledgeable about some matters, the agent could report to a professional (e.g., an attorney or personal banker)
Check, amend, or revoke the original POA if needed
How To Prepare a Power of Attorney
You can create a power of attorney using one of the following options:
Prepare a POA
Additional Tips
Alone
As different states have different regulations regarding powers of attorney, you'll need to get familiar with them to prepare a POA document by yourself
Use online templates
Since most templates are too general, you'll probably need to change some parts and add particular sections so that the document fulfills your and the state (legal) requirements
Hire an attorney
You might end up paying handsomely for the service
Subscribe to DoNotPay
DoNotPay can:

Draft a POA tailored to your specific needs
Have it notarized smoothly
DoNotPay Is Your Trustworthy POA Generator
You don't need to spend time checking your state legislation or waste money on hiring an attorney.
Sign up for DoNotPay and take the following steps:
Choose the Power of Attorney product
Provide answers to our chatbot's questions to get the appropriate document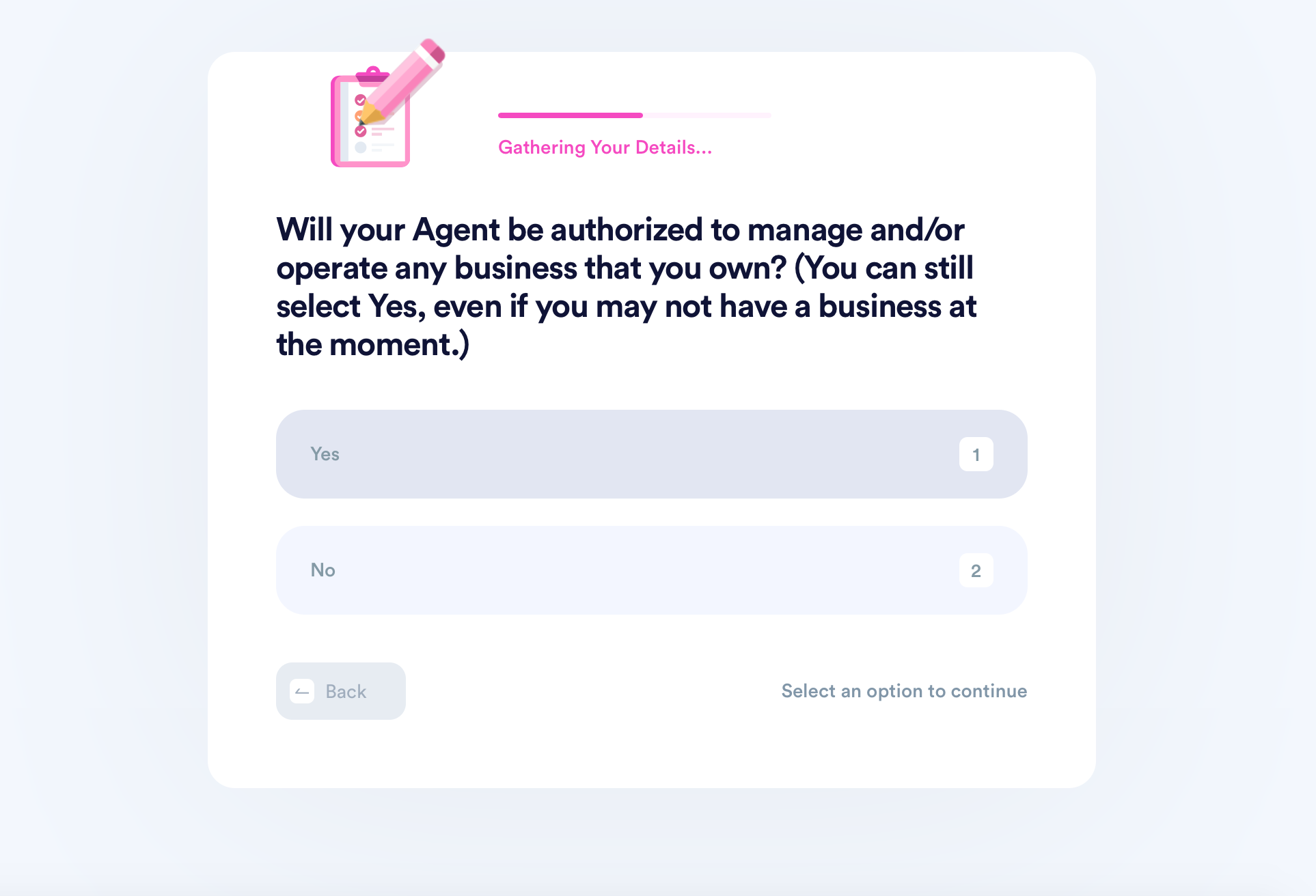 As soon as you finish, DoNotPay generates a customized POA and delivers it to you with two additional notes both parties should review before signing the document.
Do you know that most states require POAs to be notarized? Is that yet another step you need to take and pay for? No, because DoNotPay takes care of this issue! We can connect you with an online notary who will notarize your POA via a live audio-video call.
Communication Troubles? Say No More!
Yes, communication is the key, and DoNotPay vows to provide you with the best, most convenient methods to relay or protect your message—whether it's correspondence with your business partner or a loved one who's serving time.
Check out what you get by using our platform:
Use DoNotPay for a Better Shopping Experience
If you have a tendency to shop till you drop, some issues with purchases are bound to happen. Customer rights and satisfaction is what DoNotPay is passionate about.
With your subscription, you will be able to: