Rock Your Plymouth Rock Insurance Claims With DoNotPay's Help
Plymouth Rock Assurance is an insurance company that offers protection for cars, homes, commercial vehicles, renters, condos, and motorcycles. The company stands out because it also provides Umbrella and New Jersey teachers' auto insurance.
If you experienced an event that caused damage to your property, such as a fire, flood, car accident, hurricane, hail storm, or similar, DoNotPay can help you file an insurance claim in a few easy steps.
How To File a Plymouth Rock Insurance Claim Manually
Plymouth Rock Assurance offers two ways you can file your insurance claim. You can do it:
Via your

user account

Over the phone
Before filing your claim, you should collect all the required information. The data you need to provide is:
Full name

Contact information—yours and of any witnesses involved

Details about the damage

Plymouth Rock policy number
Even if you don't have all the information, the company encourages you to file a claim since you can update it if or when the data becomes available.
How To File Plymouth Rock Insurance Claims via Your Online Account
Follow the steps featured below to file your Plymouth Rock insurance claim online:
Sign in to your account using your

Policy Number

or personal information

Fill out the required fields in the claim form

Hit

Submit
The Process of Filing Plymouth Rock Insurance Claim over the Phone
If you decide you want to file your insurance claim over the phone, you need to have the contact information for your area. Check out the table below for contact information according to your state:
State

Contact Information

New York

Phone number: 844-208-1933

New Jersey

Phone number: 844-346-1225

New Hampshire

Connecticut and Massachusetts

Pennsylvania
Follow these steps to report the damage and file a claim:
Call the number that is available in your state

Tell the claims representative about your case

Provide them with your general information and policy number

Follow their further instructions to file the insurance claim
What Happens After You Submit the Insurance Claim
The claims process is more or less the same for every type of insurance claim. After you report an accident and submit your insurance claim with the company, the following will happen:
The company will assign you a claim number and a personal claims representative

An adjuster will come to assess the damage at the scheduled time—usually within two business days from filing your claim

The company will pay to replace or repair the damaged vehicle or property, based on your policy and the adjuster's assessment
How Can DoNotPay Help With Insurance Claims?
There's no room for mistakes when it comes to filing claims because companies will reject your claim if you miss anything. DoNotPay can shorten the process of filing insurance claims significantly. If you use our platform, you only need to complete a few simple steps to submit your insurance claim.
By answering our chatbot's questions, you will provide us with the essential information that we'll use to generate a claim letter and help you get your money.
Our feature works with any company and for the following types of insurance claims:
Auto and vehicle insurance

Property insurance
If you're in an accident that another driver caused, DoNotPay can help you file a third-party insurance claim.
Aside from helping with the general insurance claims, our app can help you make an unemployment insurance claim request too.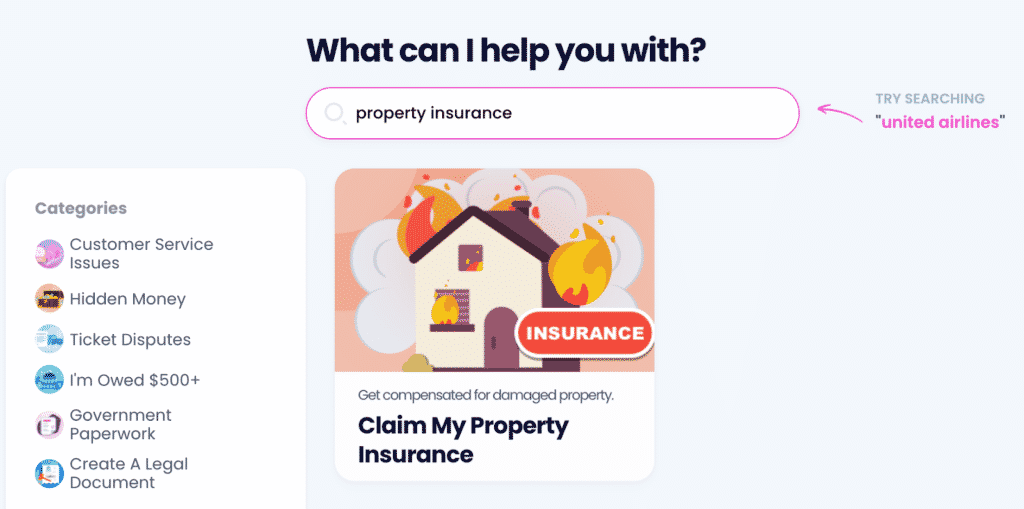 How Does Filing Insurance Claims via DoNotPay Work?
Filing claims with DoNotPay is a simple, five-minute procedure. There is no need to make any phone calls or navigate a confusing company website. You can start the process by opening our platform in your web browser. After you access the app, take the following steps:
Log in to your DoNotPay account

Find the

Claim Insurance

feature by typing the keyword into our search field

Fill out the fields that require general information, such as your full name, insurance company's name, policy number, etc

Provide the details about the incident you experienced

Submit the insurance claim
DoNotPay will file your claim immediately, and Plymouth Rock should contact you if they have further questions.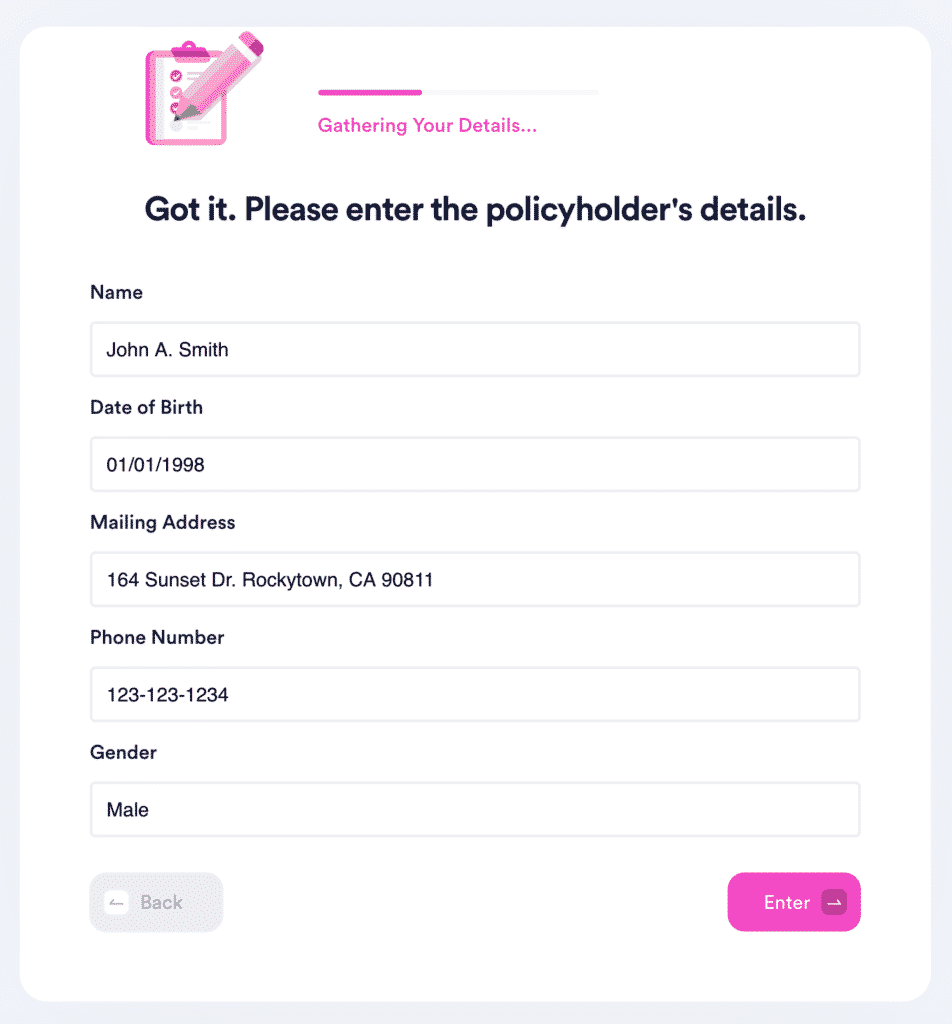 Fight Any Rejected Claims With DoNotPay's Help
The company might deny your insurance claim if you made an error, forgot to add a piece of information, or didn't read your policy properly. Don't be discouraged by a rejected claim because it happens all the time.
Companies will do everything in their power to drag out customers' cases and evade payment. Fortunately, you can always file an appeal against any company's decision, which will maximize your chances of claiming the money.
DoNotPay can help you fight against companies that reject your claim. We will make sure you write the perfect insurance appeal letter that will get you the money you deserve.
DoNotPay Helps You Fight for Your Right
Do you feel like a company has wronged you? Don't let them win—sue them in small claims court with our assistance! Our app will prepare all of the necessary documentation and help you win the case stress-free!
Apart from helping you sue any firm or individual, DoNotPay also makes it easy for you to set up a DMV appointment, deal with any credit card issue, start a free trial without your credit card info, protect your work from copycats, and much more!
Sign up for our app to take advantage of all its features!
Tired of Bureaucratic Hurdles? Our App Will Step In
As soon as you sign up for the world's first robot lawyer, you won't have to worry about any administrative mess you find yourself in. We can help you resolve anything from reporting stalkers, robocalls, spam emails, and spam text messages to applying for clinical trials in any U.S. city.
With our AI-powered app's assistance, you can even get a refund from any merchant or airline you can think of. We can also help you save money by resolving your problems with high bills, canceling any subscription you no longer need, or assisting you with parking ticket appeals.