Pittsburgh Paid Sick Leave 101
Don't know whether you can get paid sick leave? The laws are different in every state, city, and county. Understanding how Pittsburgh paid sick leave legislation works will help you avoid having to work when sick.
Our article will break down the necessary details, tell you all you need to know about the law and calling in sick in Pittsburgh, Pennsylvania, and show you how to ask for time off effortlessly with DoNotPay's Request Sick Leave tool!
Pittsburgh Paid Sick Days Act
Effective since March 15, 2020, the Pittsburgh Paid Sick Days Act guarantees the opportunity of taking time off for the following individuals:
Full-time and part-time employees who work in Pittsburgh, PA
Members of a construction union covered by a collective bargaining agreement (CBA)
Seasonal employees who are notified in writing that they won't work more than 16 weeks during the year when they signed the contract
Employees eligible for paid sick leave in Pittsburgh accrue one hour of sick time off for every 35 hours they work. Accumulated time can be used after the 90th day of their employment, and any unused sick days must be carried over to the following year.
You can use paid time off to take care of your or your family member's illness, injury, or health condition.
What Are Pittsburgh's Geographic Boundaries Covered by the Paid Sick Leave Act?
The following ZIP codes belong to the Pittsburgh's geographic boundaries:
| 15201 | 15203 | 15206 | 15207 | 15208 |
| --- | --- | --- | --- | --- |
| 15211 | 15213 | 15217 | 15219 | 15222 |
| 15224 | 15230 | 15232 | 15233 | 15204 |
| 15205 | 15210 | 15212 | 15215 | 15214 |
| 15216 | 15218 | 15220 | 15221 | 15226 |
| 15227 | 15234 | 15235 | 15120 | 15106 |
Request Paid Sick Leave in Pittsburgh
If your company doesn't have a formal system that allows you to notify your employer of your paid sick leave, you can either inform them over the phone or write an email. You will need to:
Provide a reason for your absence
Tell the employer how many days you will be absent
Submit any necessary documentation (e.g., a doctor's note, prescription, and similar)
Would you rather avoid talking to your boss about your sick leave? Does writing an email seem like a tedious task? and let our AI-powered app do all the work for you!
Draw Up a Leave Request Letter in a Snap With DoNotPay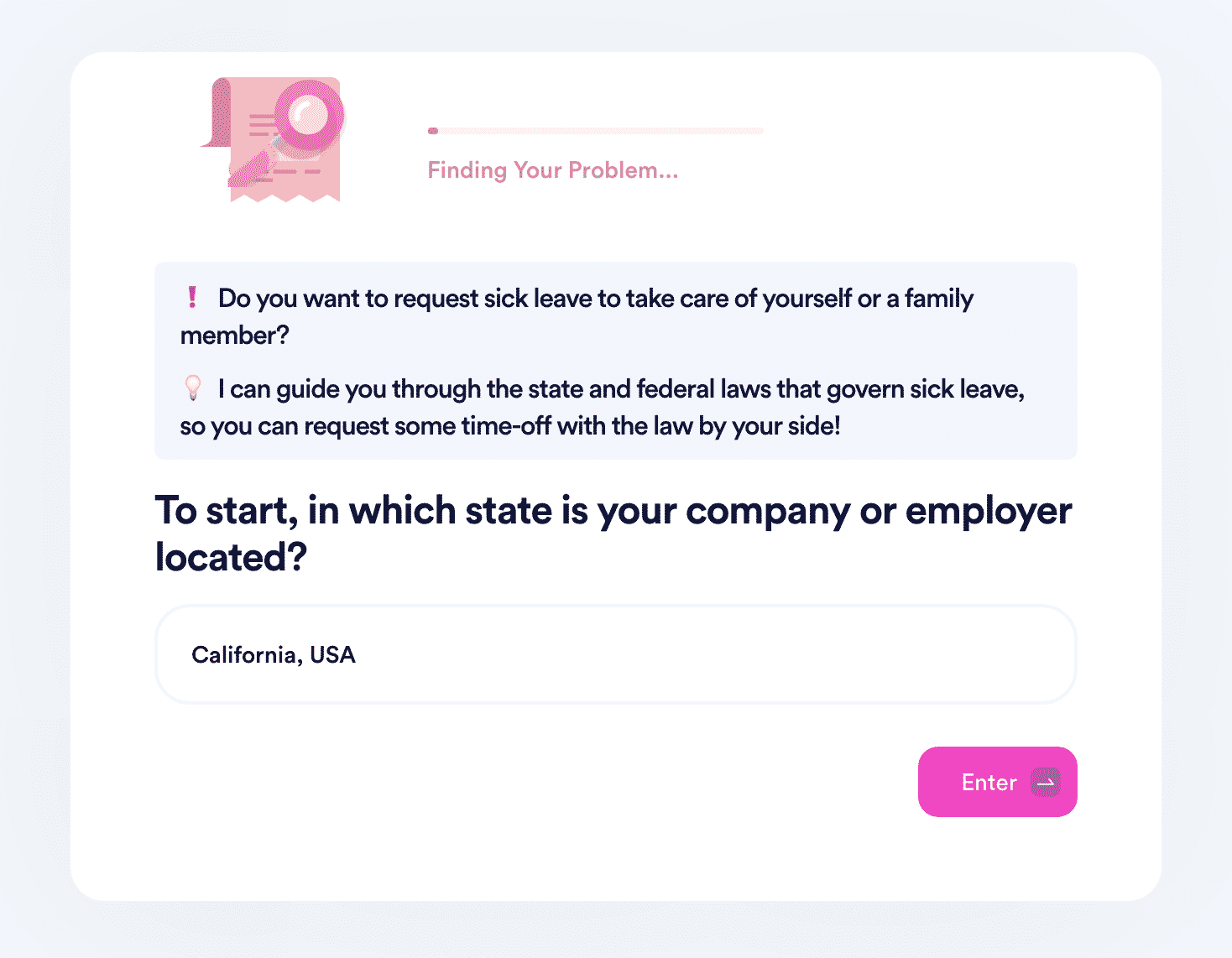 No one should have to be sick at work but informing your boss that you won't be showing up can be awkward, especially if you are doing it over the phone. That's why you should ! We will generate a sick leave request for you, in which we'll include all the necessary details your boss needs. Want to use our app? Here's how you can do it:
Select our Request Sick Leave tool
Give us details about your employer
Specify how many days you'll be absent from work
Explain why you need sick leave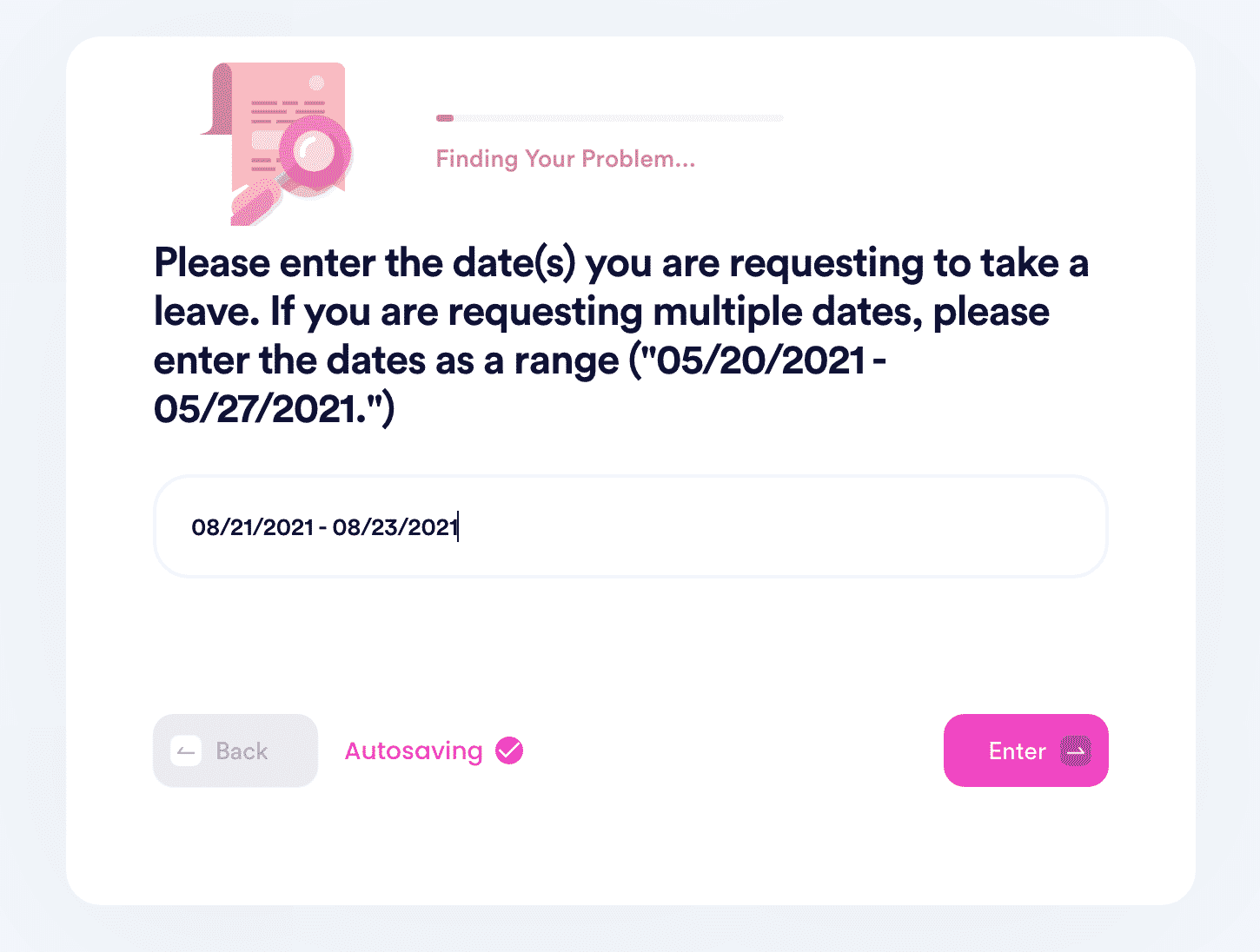 We will generate a leave request letter for you and either send it to you or forward it to your employer, depending on your choice. If your employer threatens to fire you or lower your wage for taking time off, DoNotPay can help you take them to court.
Does Pittsburgh Have a Law for Emergency Paid Sick Leave?
Supplementing Pittsburgh's Paid Sick Days Act, the COVID-19 Emergency Sick Leave Act allows employees to take time off if they:
Need to get vaccinated or take their family to get vaccinated
Are unable to work or telework due to the COVID-19 virus or any of its variants
Need to self-isolate and take care of themselves or a family member
Under the COVID-19 Emergency Sick Leave Act, employers are required to provide up to 80 hours of paid sick leave to their employees.
Our Virtual Lawyer Has Got Your Back
DoNotPay has solutions for all those burdensome tasks you would rather avoid or entrust to someone else. Our AI-empowered app can assist you with copyright protection, clinical trial applications, DMV appointments, FOIA requests, mailing services, item returns, and delivery refunds. It also generates standardized legal documents and gets them notarized or faxed with zero fuss!
Through the same app, you can:
File tourist visa applications
Make Education More Accessible and Affordable With DoNotPay
College expenses can be quite a burden for the entire family. Luckily, DoNotPay can have your tuition expenses waived or assist you in applying for various types of financial aid, such as scholarships.
We also offer you a chance to prepare for government tests in a much simpler way or contact embassies or consulates quickly and efficiently if you want to travel abroad to continue your education. If you are a parent who wants to withdraw their kid from a standard school, we will help you draft a notice of intent to homeschool and send it to the local authorities with no stress!