Finalize a Pinal County Divorce in No Time
Getting divorced can be a struggle. You need to get familiar with the legal requirements and procedures to get a divorce in Arizona or any other state.
DoNotPay provides information on Pinal County divorce papers and steps you need to take to help you file for divorce smoothly. We also offer assistance with an uncontested divorce by generating a reliable divorce settlement agreement.
How To Get a Simple Pinal County Divorce
Arizona state laws require you to wait 60 days after you have served the divorce papers to your spouse. After these two months have passed, you'll need to take the appropriate steps to get a divorce, depending on your specific circumstances.
How long your divorce will take depends on different aspects, e.g., if you have:
Underage children
Complex or significant property and debts
Been married for a long time
Agreed on all divorce matters with your spouse before filing the petition (uncontested divorce)
Getting an uncontested divorce is a simple and low-cost option. You don't even need to hire a lawyer to finalize this friendly divorce. If you and your spouse need help with certain matters, you could get a mediator.
Steps to Getting a Divorce in Pinal County
The following table lists the steps you will have to take during your divorce process:
Steps To Take for a Divorce With Children
Steps To Take for a Divorce Without Children
The petitioner:

Files a Petition for Dissolution of Marriage With Children with the court
Has the Petition and other required documents served to the respondent—Make sure to do this within 120 days of filing the papers with the court
Waits for 20 to 30 days for the other party to file their response

The petitioner:

Files a Petition for Dissolution Without Children with the court
Has the Petition and additional necessary documents served to the other party
Waits for the respondent to file a response with the court within 20 (30 days if the respondent lives outside Arizona)

The respondent files:

Response
Parenting Plan
Parent's Worksheet

The respondent files a response
Your case is set for a hearing and trial unless you reach an out-of-court agreement on all divorce aspects, including:
The court sets a hearing or trial if the spouses don't agree on everything independently or through mediation
If you and your spouse agree on all issues, you can prepare and sign a Consent Decree and submit it to the court for review and signature. Make sure you get the document notarized beforehand.
Pinal County Divorce Papers
To start a dissolution of marriage—what a divorce is called in Arizona—aside from a Petition for Dissolution of Marriage, you need to complete and file the following documents:
Summons
Preliminary Injunction
Family Court Cover Sheet
Affidavit of Minor Children
Notice Regarding Creditors
Confidential Sensitive Data Form
Order to Attend Parent Education
Notice of Right to Convert Health Insurance
All required forms are available at the:
Keep in mind that the petitioner has to settle a fee of $294 when filing the papers, and the respondent needs to pay $219 when filing a response to the petition with the court.
Finalizing a Pinal County Divorce Without a Lawyer
You can get a DIY divorce using the provided forms and save time and money. This way, you don't have to get a lawyer and go through lengthy procedures, especially if you and your spouse go for an uncontested and no-fault divorce.
Once you've reached an agreement on all divorce aspects, you should draw up a divorce settlement agreement stating all the agreed matters and conditions. When the judge has reviewed, approved, and signed the document, it becomes legally binding.
to prepare a divorce settlement agreement that includes state requirements and the decisions you and your spouse have made.
DoNotPay Can Draw Up a Rock-Solid Divorce Settlement Agreement for You
It might be overwhelming to create a divorce settlement agreement yourself if you don't have the necessary legal expertise. If you'd like to hire an attorney to draft the document for you, you need to bear in mind that this service can be costly.
There's another reliable yet more affordable option—DoNotPay. When generating the agreement for you, our app takes the following into account:
State requirements
Your wishes and decisions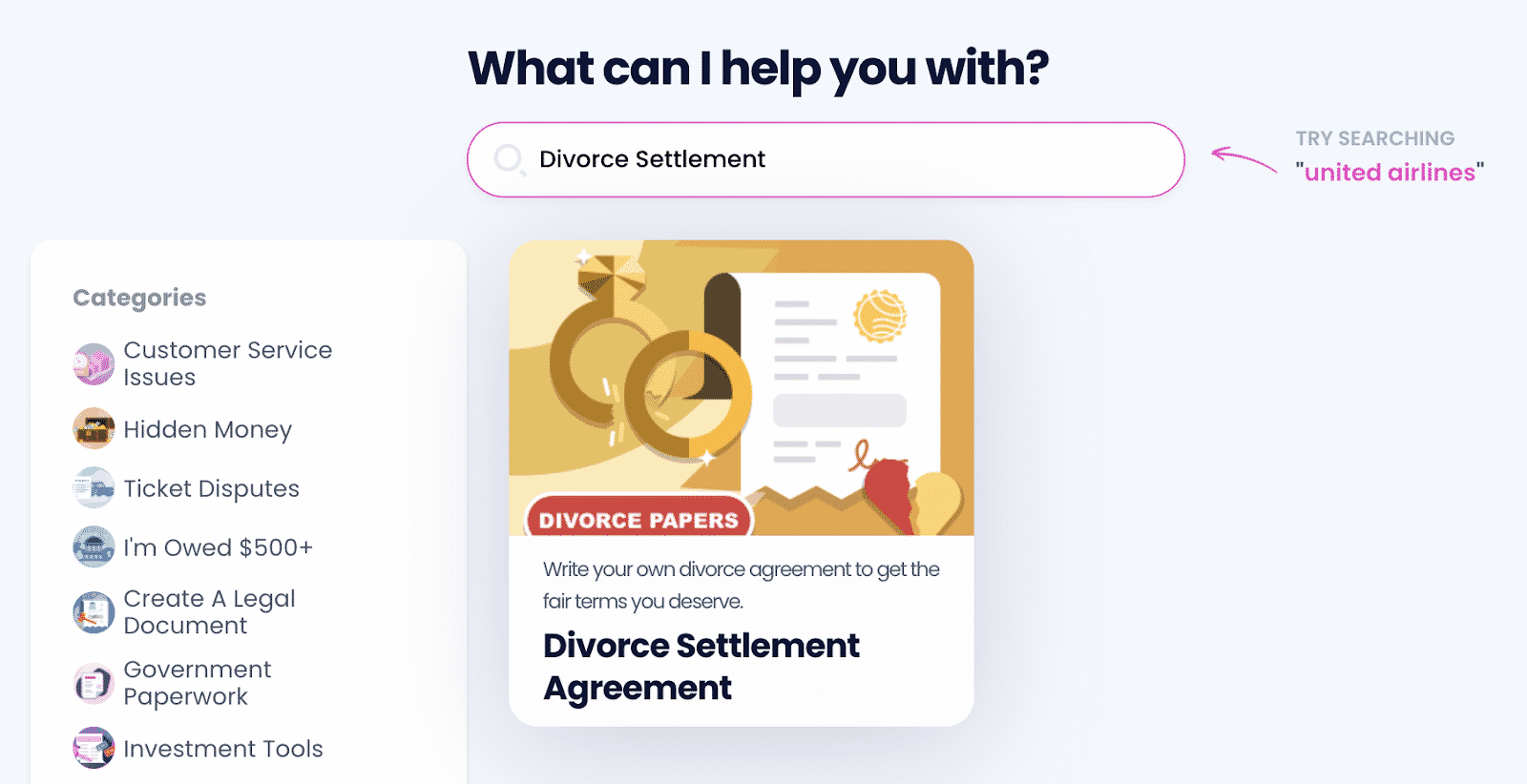 and follow these steps to get the document:
Type Divorce Settlement Agreement in the search box
Answer our chatbot's questions regarding your divorce
Provide information on your property, income, and debts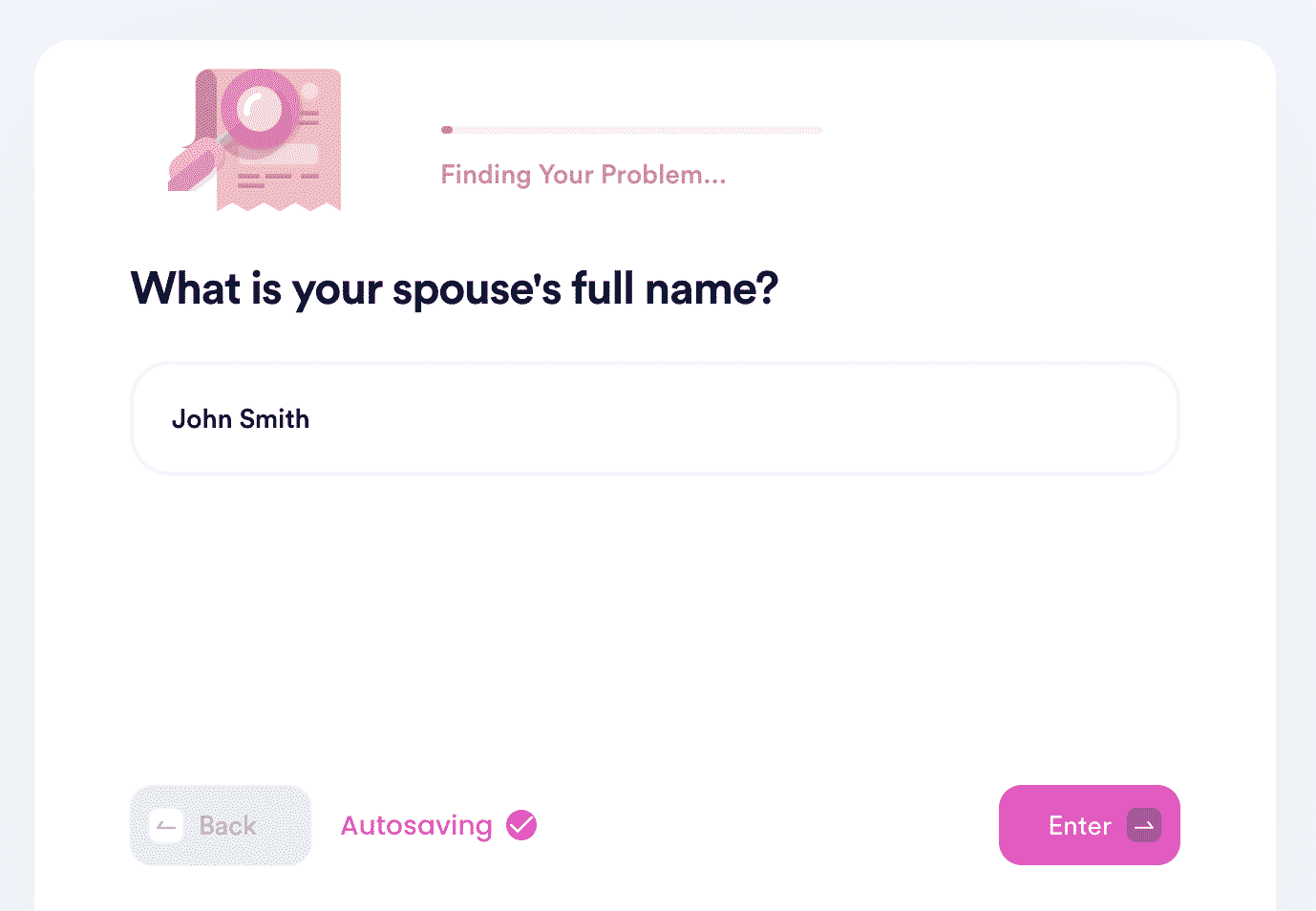 Based on the data you provide, our AI-powered app evaluates your situation, preferences, and needs and generates a document most suitable for your case.
Would you like to explore other divorce-related issues? Browse through our learning center and find lots of relevant information, such as:
DoNotPay Goes the Extra Mile for You
We are dedicated to providing solutions to difficult and time-consuming tasks you may have on your to-do list. If you are struggling to reduce your monthly bills, contest parking tickets, or set DMV appointments, DoNotPay will help you do it in no time!
We have also created numerous easy-to-use features that can make the following procedures run smoothly:
Get Justice From Companies That Wronged You
Do you feel like you have been played by a company? Instead of wasting your time writing requests, demand a chargeback or refund or claim a warranty via DoNotPay! If the company doesn't seem too cooperative and keeps refusing to return your money, our app can assist you in suing it in small claims court.
To help you save some coins or regain what's yours, DoNotPay will also help you locate unclaimed funds, submit insurance claims, lower your property taxes, and cash out gift cards.