Get the Scoop on Pierce County Divorce
Knowing your county's divorce rules and regulations can go a long way when ending your marriage. If you want to get a Pierce County divorce and don't know where to begin, fret not—DoNotPay has a guide for you!
We'll tell you all about terminating your marriage in Pierce County without breaking the bank. and finalize your divorce on the terms you deserve, thanks to an airtight marital settlement agreement.
Pierce County Divorce—The Basics
Before filing for divorce in Pierce County, Washington, you should familiarize yourself with the basics. Check out the table below to get the answers to commonly asked questions in this county:
Questions
Answers
What are the grounds for divorce in Pierce County?
You don't have to play the blame game when terminating your marriage in Pierce County. You can file for a no-fault divorce and on the grounds of an irretrievably broken marriage
How is property divided in Pierce County?
All debt and property acquired by the couple during the marriage belong to both parties. It will be divided between them fairly, instead of 50/50
What are the residency requirements for getting divorced in Pierce County?
Residency requirements in Pierce County require you to at least:

Be a resident of Washington State
Be a member of the Washington armed forces
Know your spouse's current address

How long does a divorce in Pierce County take?
On average, contested divorces can take up to a year to complete, or even more. Whereas uncontested, amicable cases can be completed in three months
How much does a divorce in Pierce County cost?
Divorces in Pierce county cost around $13,000. If you have marital children, you may need to set aside $20,000. Uncontested divorces are significantly cheaper as they cost between $500 and $5,000, including the $300 filing fee
Requirements for Getting an Uncontested Pierce County Divorce
To get a cheap and uncontested divorce in Pierce County, you must meet the state's residency requirements and agree on the following issues with your spouse:
If you and your spouse can't reach a compromise, try divorce mediation. This way, you will get professional help and guidance on finding a middle ground.
Where To Get Pierce County Divorce Papers
You can find the necessary divorce papers at:
Pierce County Law Library
County-City Building
Washington State's Courts website
If you need help finding papers in other Washington counties, we can help you in:
How To File for an Uncontested Divorce in Pierce County
Once you gather the necessary divorce papers, you will need to follow these steps to get an uncontested divorce:
Step
Explanation
File the forms
Visit the Pierce County Superior Court at 930 Tacoma Ave Street Rm 334, Tacoma, Washington 98402.

To make an appointment, dial 253-798-3654. Keep in mind that an appointment costs $20, whereas the filing fee is around $280. You can request a fee waiver if you can't afford the fee

Deliver the divorce papers
Washington divorce laws don't require you to hire anyone to serve your divorce papers. Instead, you can hand them over yourself, but your spouse needs to sign the Acceptance of Service, which acknowledges the reception
Finalize the divorce
After the 90-day waiting period passes, the judge will review your forms and divorce settlement agreement. Once they make sure everything is valid, they'll sign the Findings of Fact and Decree of Dissolution, finalizing your divorce
Why Is a Divorce Settlement Agreement Important in an Uncontested Divorce?
If you don't have a properly written divorce settlement agreement, the judge may not finalize your divorce, and you might have to start the whole process from scratch. Hire a professional to draw one up for you or use DoNotPay if you don't want to spend a fortune on sky-high lawyer fees! We'll generate a top-notch divorce settlement agreement in a few clicks!
DoNotPay Is Your Go-To for Getting a Divorce Settlement Agreement
if you want a divorce settlement agreement that will:
Comply with your state's laws
Be fair to both parties
Not cost an arm and a leg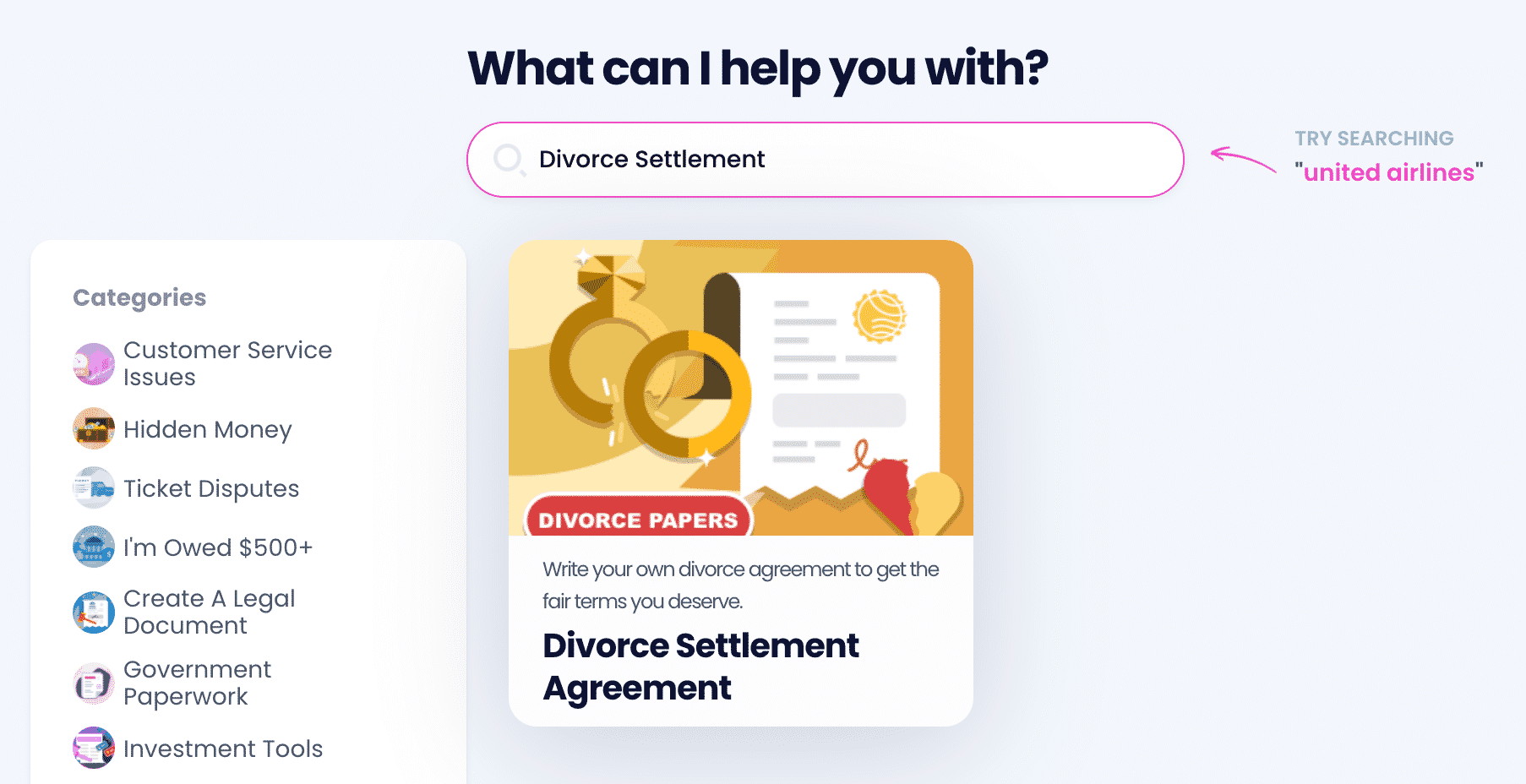 We'll generate this document for you in no time, and all you have to do is:
Select our Divorce Settlement Agreement tool
Answer our chatbot's questions about your spouse, income, assets, and marital children
State whether you want to have your document notarized online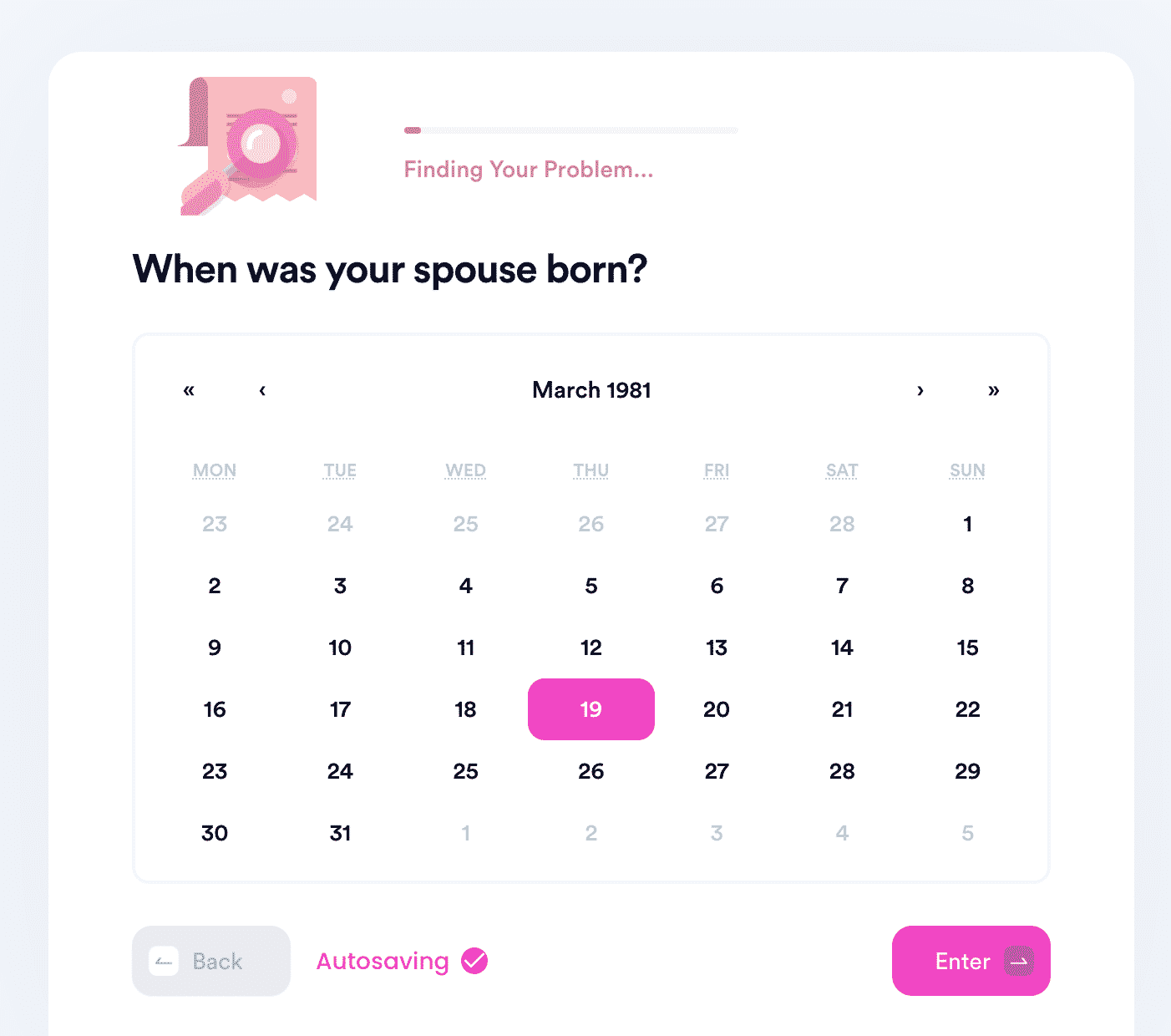 You will receive the desired document in a matter of minutes upon submitting your request. Want to have it notarized via a video call? We'll help you schedule an appointment with an online notary.
DoNotPay's help doesn't end here! Read our articles and find answers to the following questions:
Discover the Entire Spectrum of Our Features
A click or two will be enough to discover the amazing universe of DoNotPay's tools and products. Our app is here to show you the best way to get:
Financial Issues? Let DoNotPay Take Care of Them!
DoNotPay can track down your unclaimed money, submit insurance claims, or request compensation for delayed flights on your behalf. This way, you can save some money and get what you're owed. Our app can also make it easier for you to lower your utility bills, cancel active subscriptions and stop further charges, or appeal parking tickets.