How To Create a
Photography Contract
Fast and Easy 
Creating any legal document is not an easy task. If you need to make a photography contract, you must pay attention to various factors, including each party's specific requirements.
While it is essential to create a photography contract that meets all legal and individual standards, there are ways of doing it by yourself. 
DoNotPay will explain what constitutes a photography contract and show you how to create one with a few clicks of a mouse!
What Are
Photography Contracts,
and Why Are They Important?
Every type of photographer, including sports, fashion, or a wedding photographer, needs to establish job conditions with their customer. A photography contract is a written agreement between the photographer and a client. It covers important items, such as:
Liability

Services

Payment terms

Dispute resolution

Cancelation policy

Intellectual property rights
As a photographer, you will be under a contract with the person who is paying and the person you are photographing.
Photography contracts are important for several reasons. By stipulating all parties' conditions, you will have a clear image of relevant expectations and obligations. A quality contract serves to anticipate and prevent any future disagreements between the involved parties. By signing a photography contract, you establish a relationship with your client based on trust and mutual respect.
What Should a
General Photography Contract
Include?
While every photography contract is different depending on individual needs, there are elements every photography agreement should include. 
After you add the required details and sections to your photography contract, you and your client must provide your signatures to make the contract legally valid.
If you intend to use a second photographer, you should consider creating a separate contract to outline their responsibilities and payment details. 
Elements of a
Sample Photographer's Contract
Here is the overview of the most important sections your photography contract should have:
Photography Contract Item
Description

Contact information

Your photography contract should include your and your client's:

Legal name

Address

Phone number

Email address

Payment details

Payment terms should cover:

Total price of your services

Payment schedule

Extra editing prices

Deposit your client has to pay

Necessary retainers

Additional expenses (travel costs, special permits)

Clear description of the consequences for late invoices

Time and date of services

You need to provide start and end dates for your services, especially if you are handling multiple clients at the same time

Services

Photographer and client both need to include each other's expectations in the agreement 

Intellectual property

You should address

image copyright

matters when creating a photography contract, including:

Whether you want to transfer the complete usage right to your client

If you will allow them to edit images further after they obtain them

Whether you will permit clients to use the images however they want

Cancellation conditions

Cancellations may occur on both sides. You should outline:

Each party's responsibilities, including prior notice

Circumstances under which one of the parties has to pay a portion of the cost or get a refund 

Liability limitation

This clause can protect you from paying a full client's deposit back in case something unexpected happens

Dispute resolution

You should indicate how any potential disputes will be handled, for example, via a mediator
Can I Use a
Photography Contract Template
?
There are various ways to create a photography contract, including:
Photography contract templates are available online and easily accessible. The downside of most photography contract templates is that they are fairly general. While they contain all crucial contract elements, you will have a hard time finding one that fits your and your client's specific needs. 
Before you use a photography contract template, make sure to add your and your client's requirements and have a lawyer review it for possible mistakes.
Create a Picture-Perfect Contract With DoNotPay
DoNotPay has designed a special feature to help you create numerous legal documents from scratch! After you provide the essential info about your circumstances, we will use it to generate personalized contracts according to your needs. You can use our app to create:
Quitclaim Deed

Promissory Note

General Affidavit

Estoppel Certificate

Residential Lease Agreement

Intent To Purchase Real Estate

General Business Contract

Parenting Plan (Child Custody)
DoNotPay can generate any legal document within minutes! The best news is—there is no limit to the number of contracts you can obtain.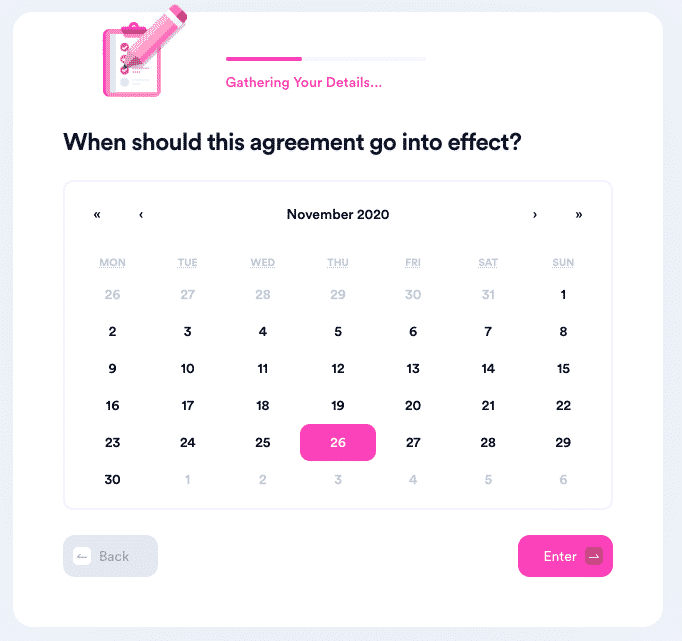 Start using our services easily by accessing DoNotPay from any web browser. Next, you need to:
Find our

Standardized Legal Documents

feature

Type

the name of the document

in the search field

Answer a few basic questions from our chatbot

Wait for our app to create a legally-valid, tailor-made, professional-looking contract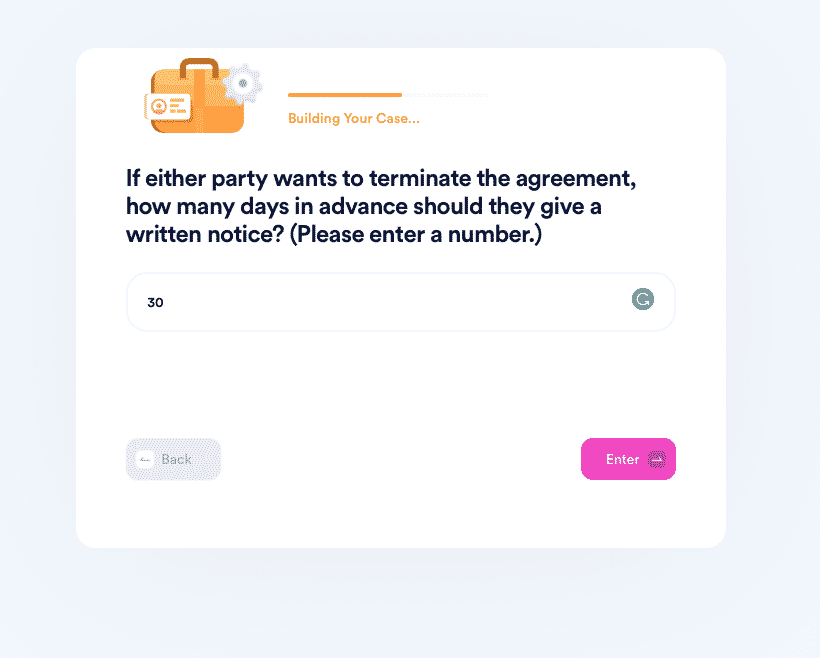 DoNotPay Leads the Way Against Spammers
Browsing the internet has never been more popular than today, but you must not forget to keep your private and financial information safe. You know you can cancel any streaming service or magazine subscription easily, but that won't stop them from using your personal details for marketing purposes.
DoNotPay has a solution for that! 
Is a company pestering you with incessant robocalls, spam emails and text messages? Use our Virtual Credit Card to catch them in the act and claim compensation for your troubles. 
To prevent that from happening ever again, use our card to sign up for free trials—not only will you not pay a dime for the service, but you will be automatically unsubscribed as soon as the trials are up! 
If you want to avoid revealing your personal phone number, we'll generate a temporary burner phone for you so the company won't have any way to reach you.
Already Been Scammed? DoNotPay Knows the Way!
If you've already made the mistake and divulged your personal info to the wrong party or experienced any other kind of crime or injustice, you don't have to sit tight and suffer the consequences. DoNotPay can assist you in taking anyone to small claims court!
We'll help you gather evidence—correspondence proving stalking or harassment took place, customer service call recordings, denied chargeback and refund claims, online fax transcripts, or proof of copyright violation. Then, we'll fill out the relevant legal documents for you and draft a court script that you can use in your hearing.